In this article, you'll learn about the Seal Subscriptions element and how to use it. In order to use this element, the Seal Subscriptions app has to be installed on your Shopify store.
Install Seal Subscriptions
Install PageFly
About Seal Subscriptions element
The Seal Subscriptions element is designed to present your subscription and recurring business to convince visitors about the product's quality and ultimately increase your conversion rate. You can use this element to display the subscription orders of a specific product or all of your products.
Before using this element, you have to install the Seal Subscriptions app to your store and configure all the options in the app and then come back to PageFly to use the element(s) for the corresponding product(s) you want.
Access Seal Subscriptions element
Step 1: In your PageFly Dashboard, head to the Integrations section > search for Seal Subscriptions > Enable Seal Subscription element.
Step 2: Open your PageFly page editor. Seal Subscriptions element will be listed under the Subscriptions category and called Seal Subscriptions.
Step 3: Click on the Seal Subscriptions element in the dropdown menu
Step 4: Choose the variant you want then drag and drop it to the editor page
For the full widget configuration, you need to go to the settings area of the Seal Subscription application.
Seal Subscriptions element configuration
Step 1: Set up the Seal Subscriptions element by your Shopify Account.
Go to your Shopify Admin > Apps > Choose Seal Subscriptions to set it up.
Step 2: Set up subscription rules for your products.
From the Seal Subscriptions Dashboard, head to the Subscription Rules tab, and Enable the Seal Subscriptions widgets.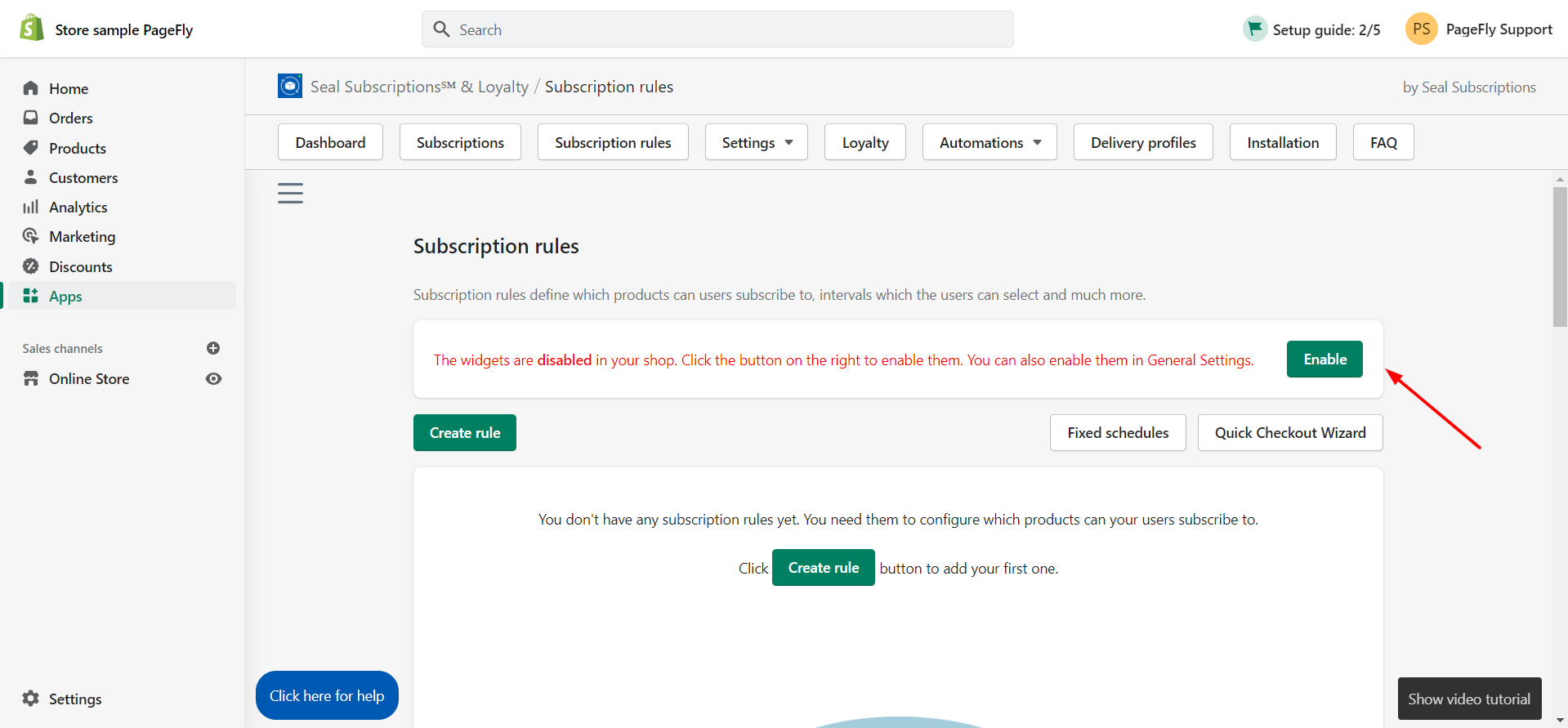 Choose Create rule to set up your subscription rules. There are two types of subscription rules you can set up:

Auto-charging subscription rule: This rule can only work with Shopify Payments, Shop Pay, Apple Pay, Google Pay, Stripe, PayPal Express or Authorize.net. 
Recurring invoices: This rule doesn't auto-charge your customers, and it can work with other payment gateways.

Next, set up your subscription rule. 
After you finish setting up your subscription rule, choose Save Rule.
PLEASE NOTE that each product can be included in only one rule. If you have the same product in an auto-charging rule, then the auto-charging rule will have priority over the recurring invoices rule.
Step 3: Set up Seal Subscriptions element on PageFly page(s). 
After configuring the options in the Seal Subscriptions app, go back to PageFly editor. In your product page editor > Add third-party elements > drag and drop the Seal Subscriptions element into your Product Details section. Seal Subscriptions element comes in 1 variation:
The Seal Subscriptions element can be displayed on any page such as the home page, regular page, collection or product pages, etc. You can use the Seal Subscriptions element many times on a page. 
NOTE that the Seal Subscriptions element must stay inside the Product Details element. You cannot configure this element in PageFly page editor. All settings have to be done in the Seal Subscriptions app.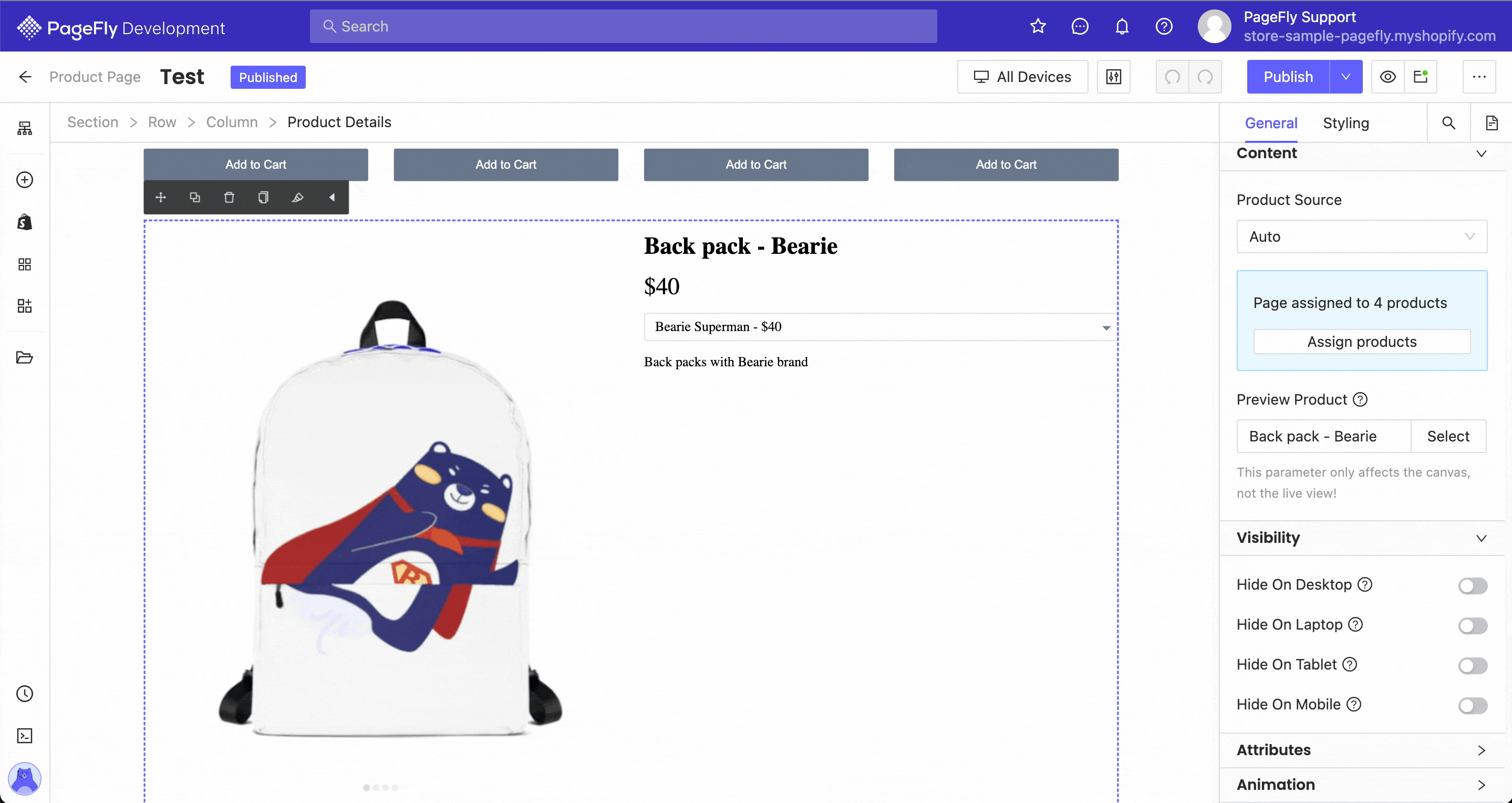 That's it! Don't forget to Save and Publish your product page to see the element on your PageFly page.