In this article, you'll learn about the PickyStory element and how to use it. In order to use this element, the Product Bundles app has to be installed on your Shopify store.
Install PickyStory
Install PageFly
About PickyStory
PickyStory element is designed to recommend related products to upsell and cross-sell your product and eventually improve your conversion rate.
PickyStory element comes with 5 variants:
PickyStory Combo Product
PickyStory Bundles
PickStory Bundle Builders
PickStory Kits
PickStory Looks
Access the PickyStory element
Step 1: Go to Add third party elements in the left toolbar > Click on the Edit your 3rd party elements button.
Step 2: In Integrations popup page, you can search "PickyStory" on the search bar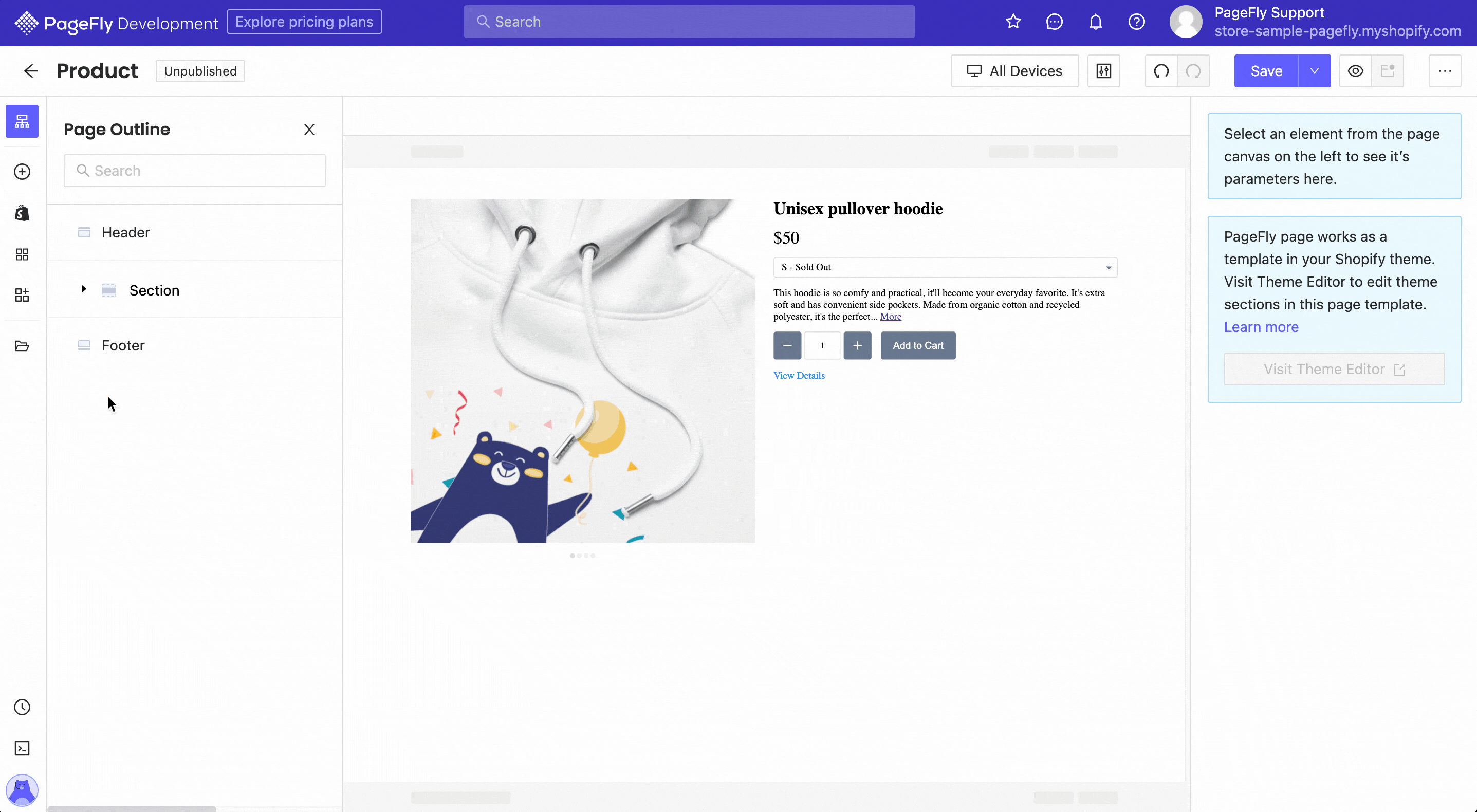 Step 3: Click on PickyStory element in the dropdown menu
Step 4: Choose the variant you want then drag and drop it to the editor page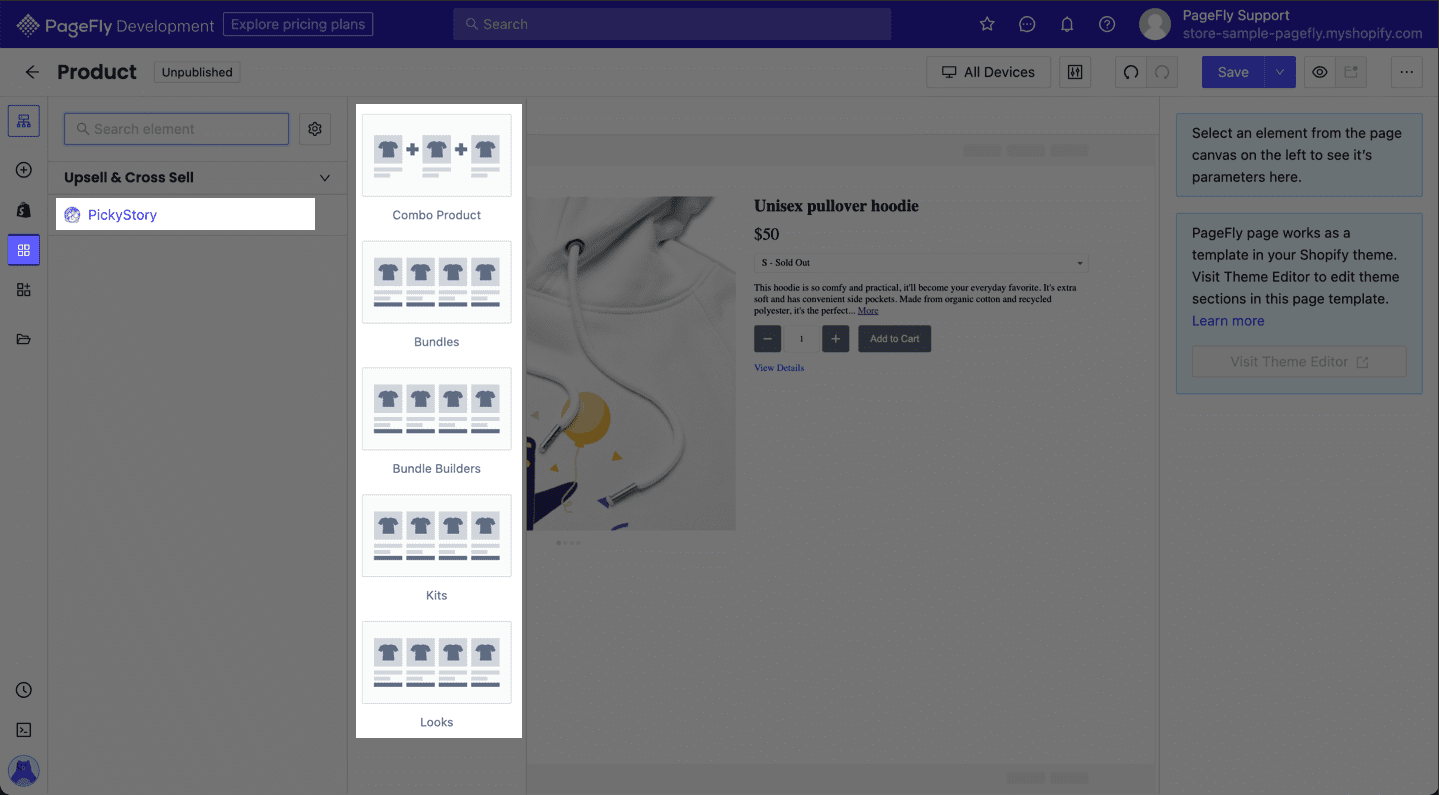 Styling configuration
You can customize the styling of the PickyStory element in the Styling Tab.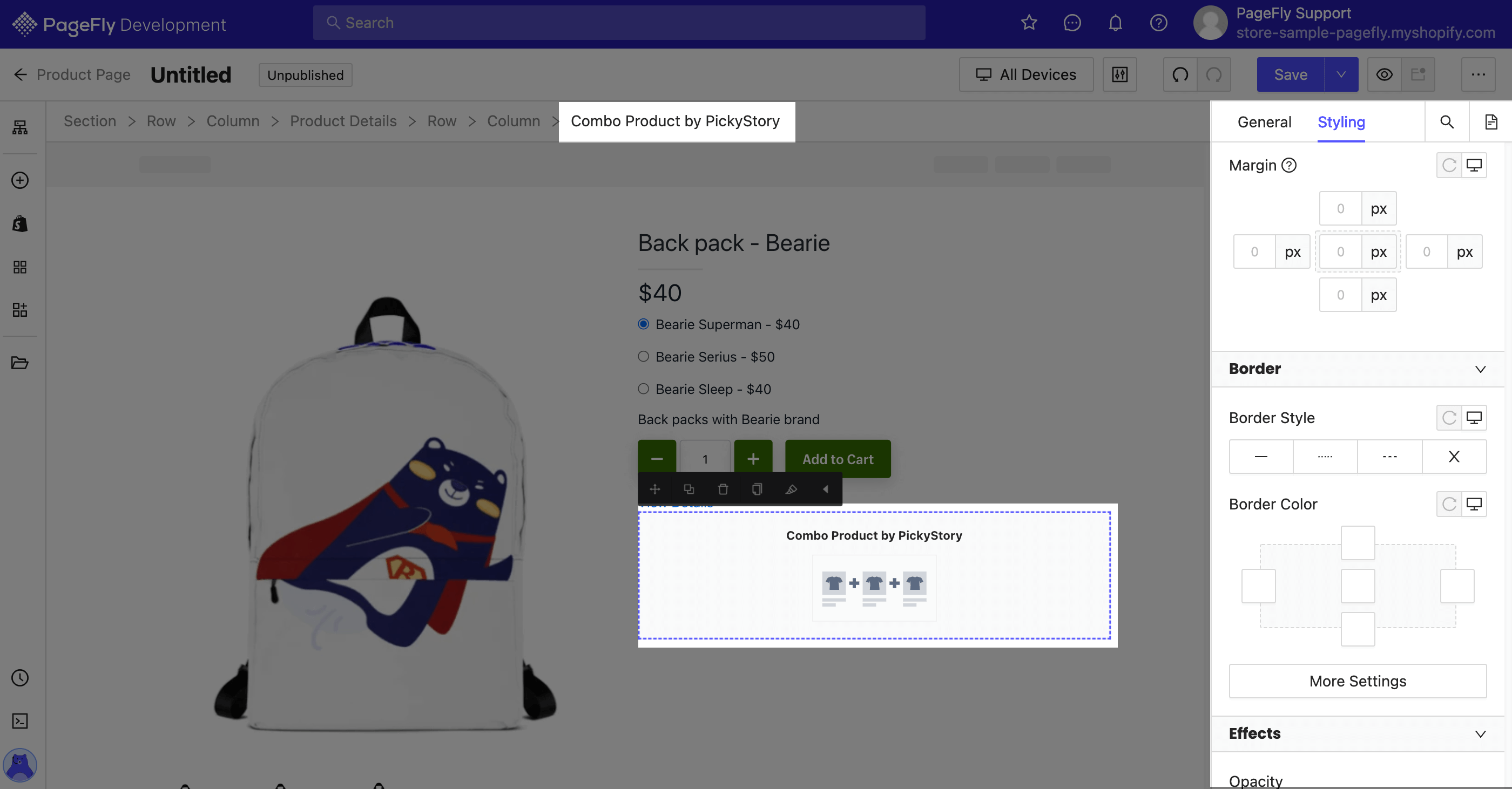 You can check more information about the Styling tab here.
PickyStory element configurations
Before using this element, you have to install the Product Bundles app to your store and configure all options in the app.
In the main dashboard, choose the kind of bundle you want. There are 1 option to create Combo Products and 4 bundle options that you can choose: Bundles, Bundle Builders, Kits and Buy the Look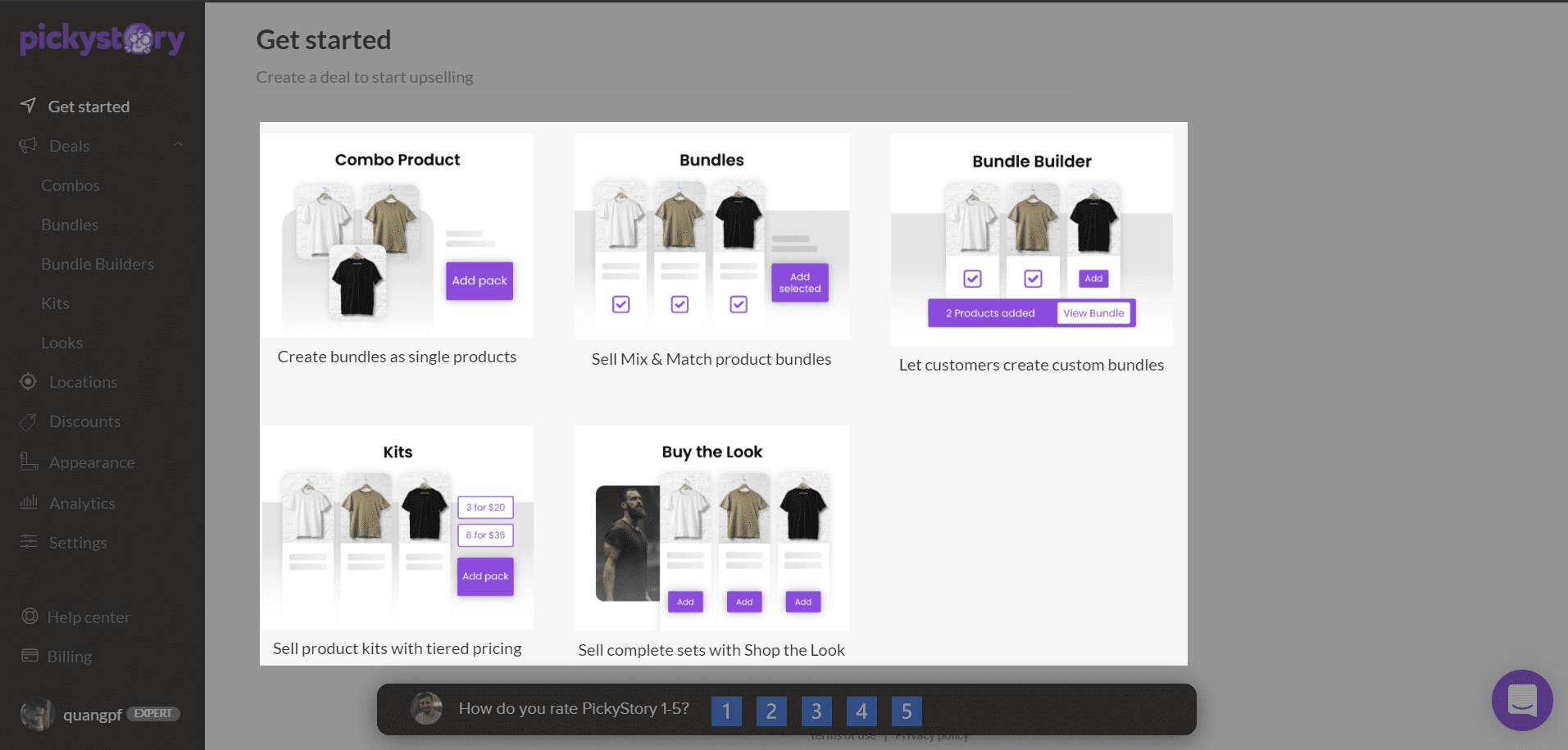 PickyStory Combo Product is used when you want to combine products together into a single product and add to cart with one click
To create a combo product, select Combo Products option in the main dashboard then select "+ Combo" to create Combo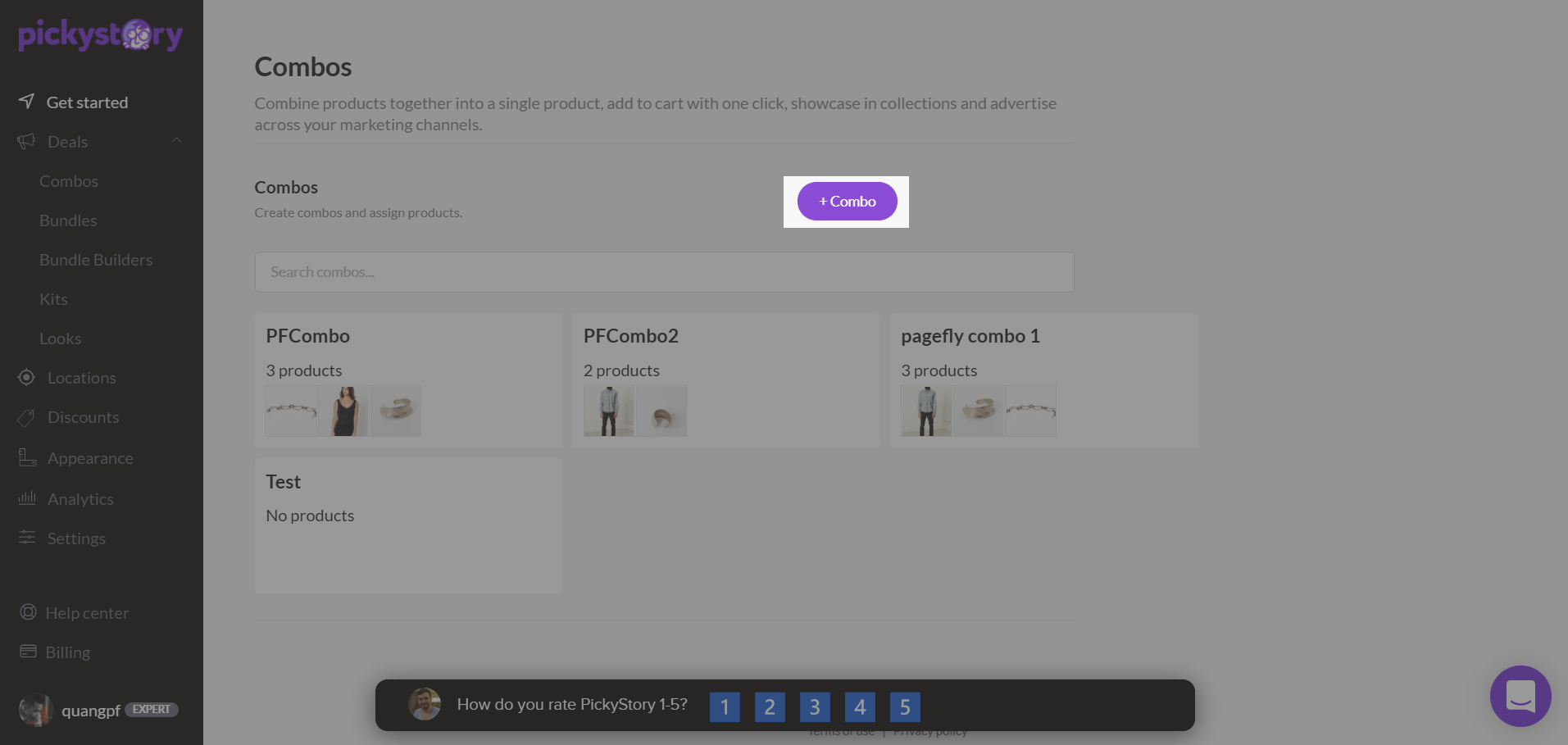 Then Enter the name of the combo and click "Create"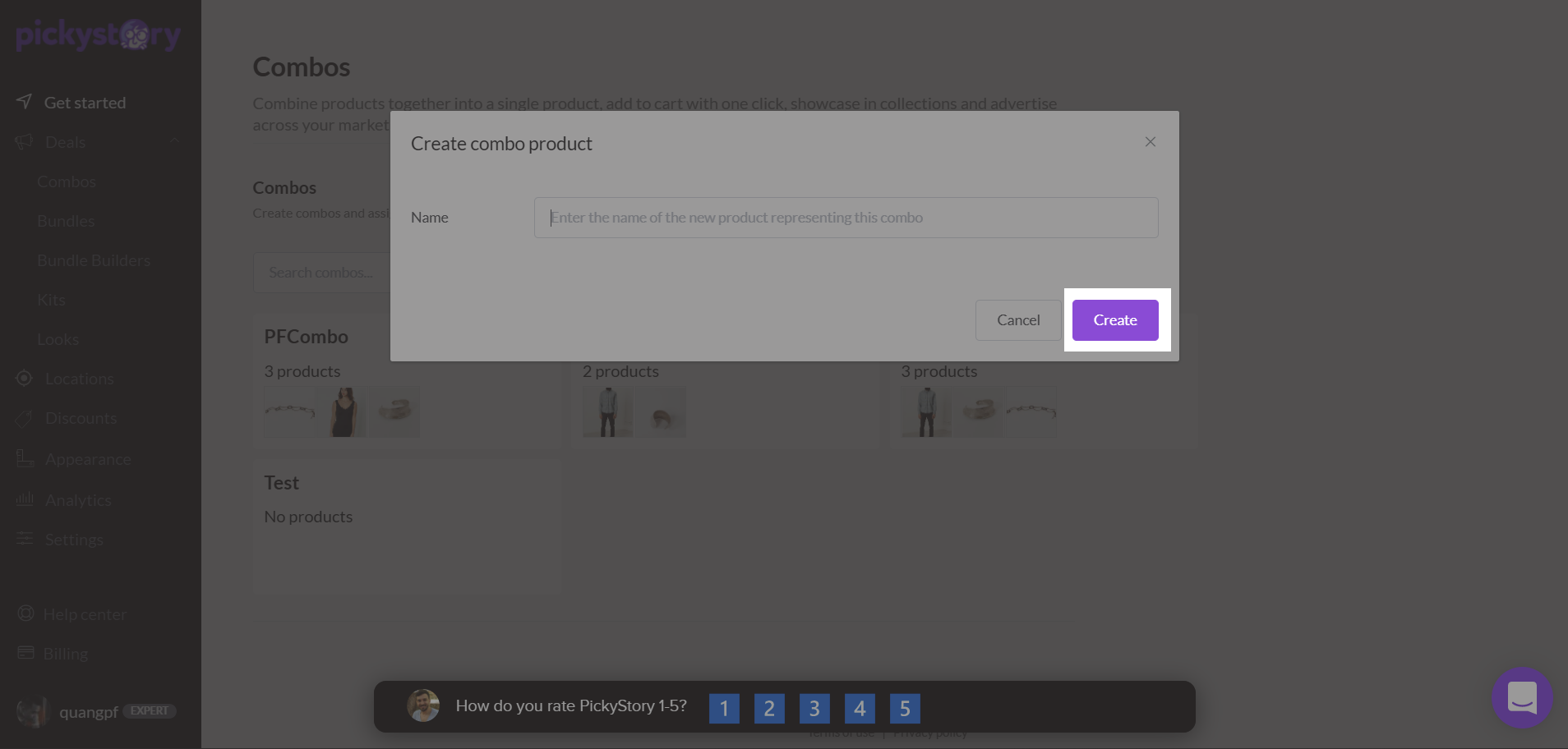 Then, you can will have these configurations :
Enable combo: Enable or disable showing the combo to your store
Preview: Preview the combo page on your store
Combo product: Refer to the Shopify product representing the combo. You will edit this in Shopify
Target price/discount: Enter the final price of the combo, regardless of the product variants chosen by the customer. Fixed amount and percentage discounts are deducted from the total price of the selected product variants of the combo
Compare at price: Compare at price is calculated automatically. You can override it manually to set a custom value
Maximum quantity: The highest number of combo instances that can be added to cart together
Finally, you can add or remove your products in the combo by select "+ Product"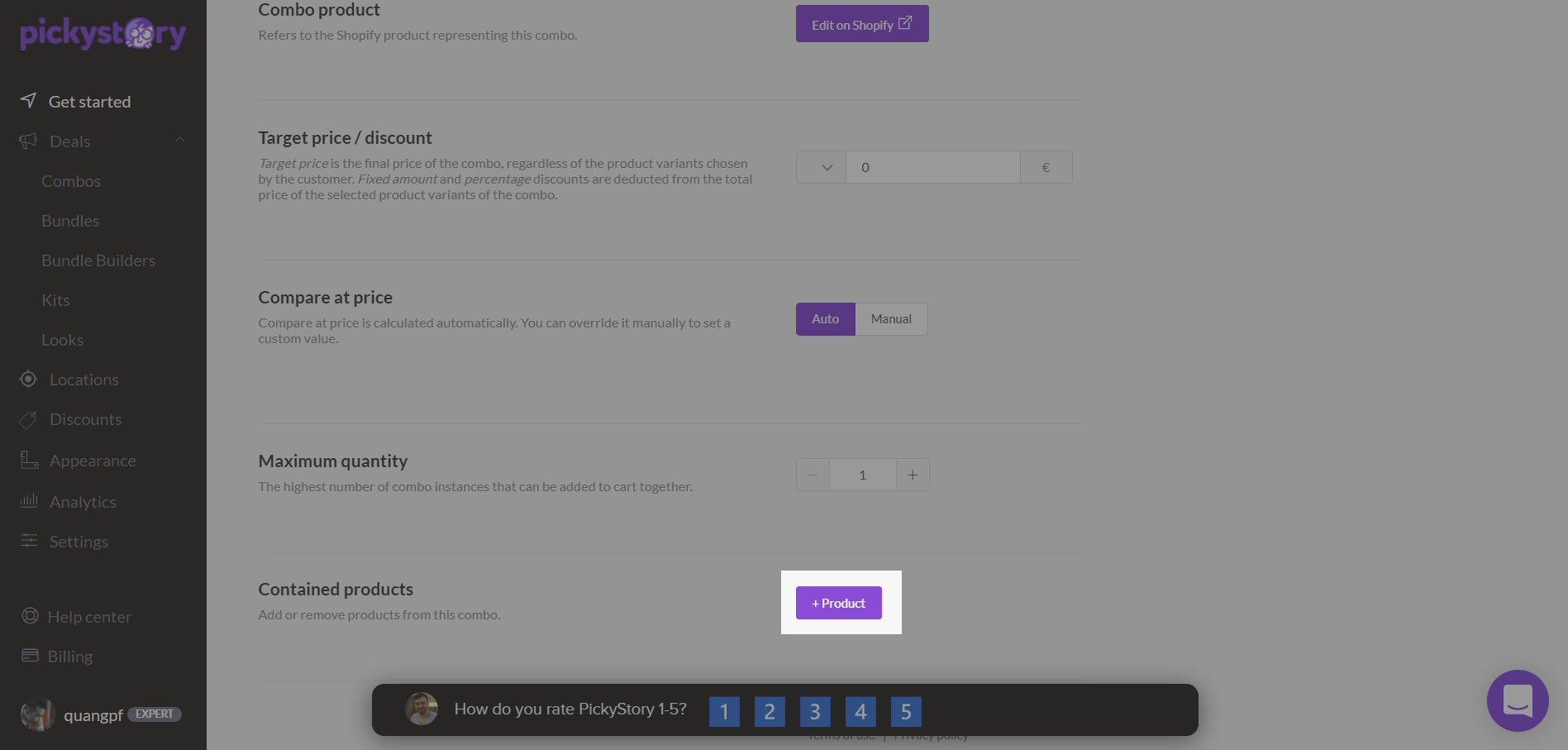 In PageFly editor, you will see this element like this:
4 Bundle options include:
PickyStore Bundle: Offer Mix & Match bundles across your store. Customers can pick different product variants and quantities to get a discount (optional).
PickyStory Bundle Builders: Customers can choose their own products to create a bundle and receive a discount.
PickyStory Kits: Offer product kits, each containing one or more quantity tiers. Every tier represents a fixed quantity of items that must be purchased together and a unique discount value may be configured for each tier.
PickyStory Looks: Offer complete product sets across your store by creating looks, assigning products and applying discounts to them.
Most of them will have some common configurations:
Name: Name of the bundle. For reference only, not displayed in the store.
Enable bundle: Enable or disable showing this bundle in your store.
Products: Add or remove products from this bundle.
Discount: Select a discount to apply to this bundle.
Locations: Select locations for displaying this bundle.
However, there are some differences in configuration among these bundle options:
Maximum product quantity: The highest number of products from this bundle that can be added to cart (PickyStory Bundle Builders)
Tiers: Kit tier defines a specific quantity of items that must be added to cart together. Each tier may be assigned a unique discount value. (PickyStory Kits)
Image: Upload a photo presenting the entire look to the customer. Ideally, all look products should be shown. (PickyStory Looks)
To set up location for each type of bundles on your page, go to Locations then select "+ Location"
After creating Location, you will have these configurations.
Enter a name for the location, enable it then select shop pages the location refers to. After that, select the combos to display in this location and enable widgets in this location and choose their page positions.
To create Discounts, please go to Discounts and select + Discount
After that, please configure the discount you need.
Once you finish configuring options in the PickyStory app, come back to the PageFly Product page and use this element by drag and drop it to the product page.
Here is how these elements will display in your PageFly editor