Cross Sell and Upsell Configuration
The Cross Sell element is designed to offer suggested product widgets to cross-sell your products and, as a result, increase your conversion rate. Depending on your app settings, you can use the Cross Sell Section element to display handpicked choices of a specific product or global products.
Before using this element, you have to install the Cross Sell app and configure all options in this app.
Note that to display the correct elements in Pagefly pages, you need to change the section's settings in Cross Sell app.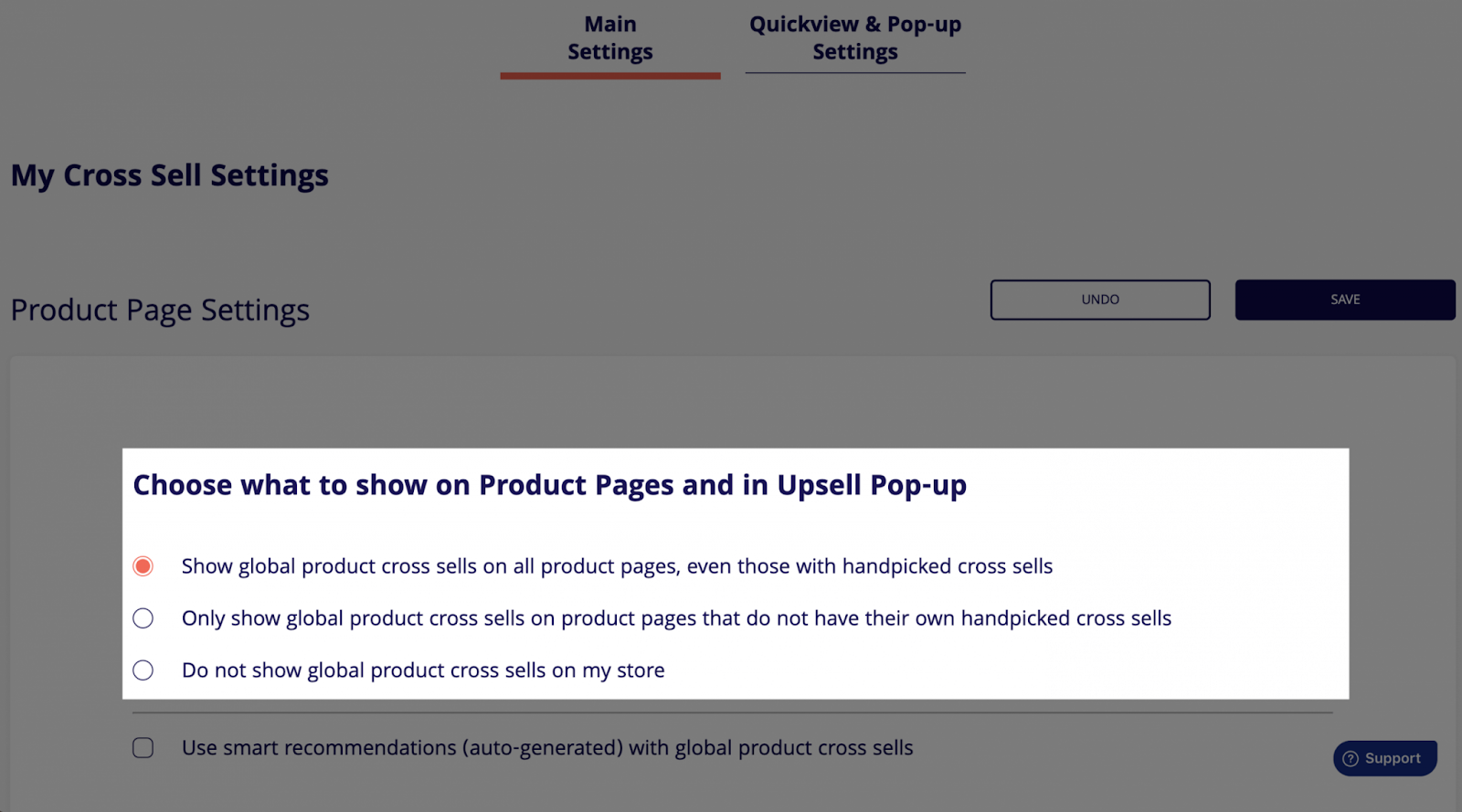 How to use this app in PageFly
Firstly, to use this element, you must download Cross Sell app to your Shopify store.
Step 1: Go to Add third party elements in the left toolbar > Click on the Edit your 3rd party elements button.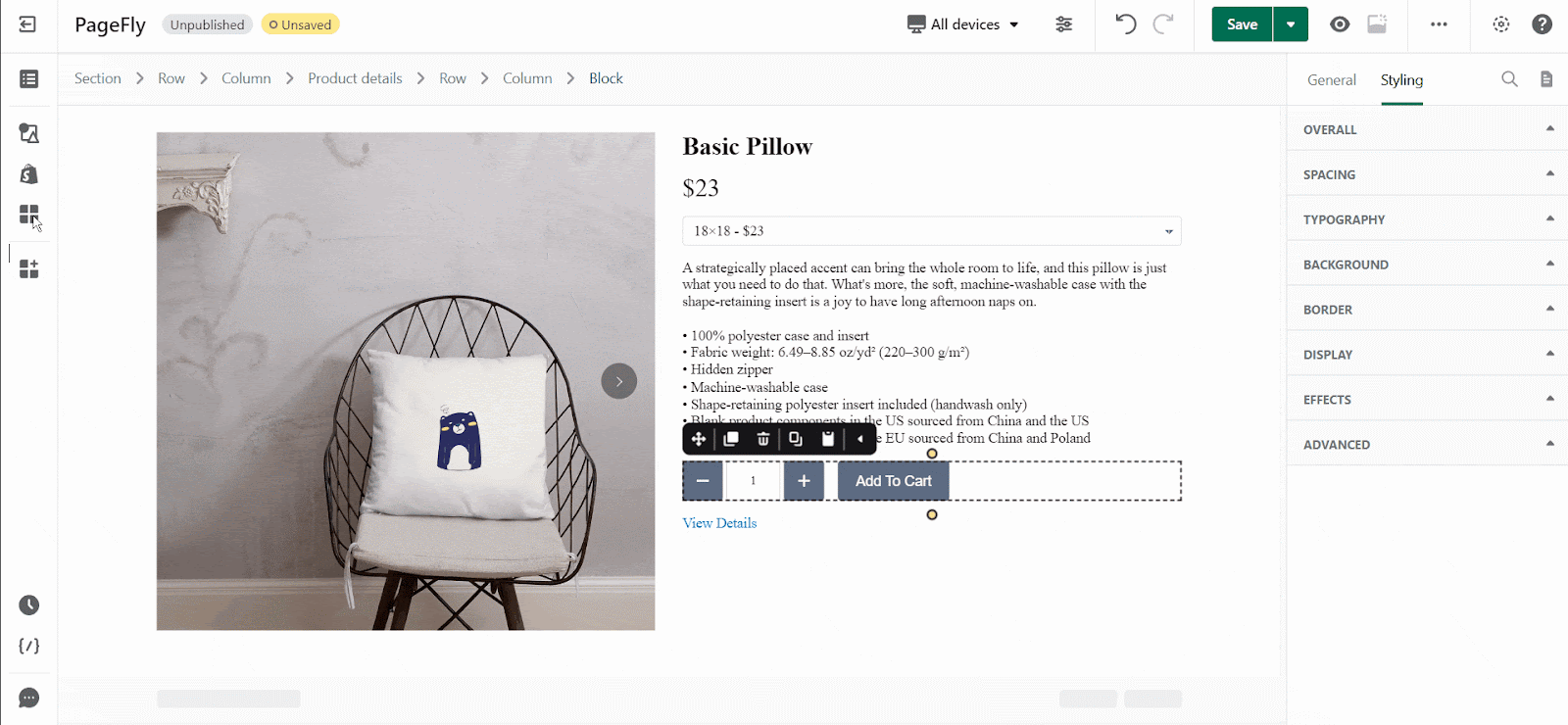 Step 2: In the Integration popup page, you can search "Cross Sell & Cart Upsell" on the search bar
Step 3: Click on the Cross Sell & Cart Upsell element in the catalog
Step 4: Drag and drop the Cross-sell element on the canvas
Please note that the Cross Sell Section variant is only available on Product Pages.
The Cross Sell & Upsell element on the Product page is determined by the products you pick in the Page Settings modal.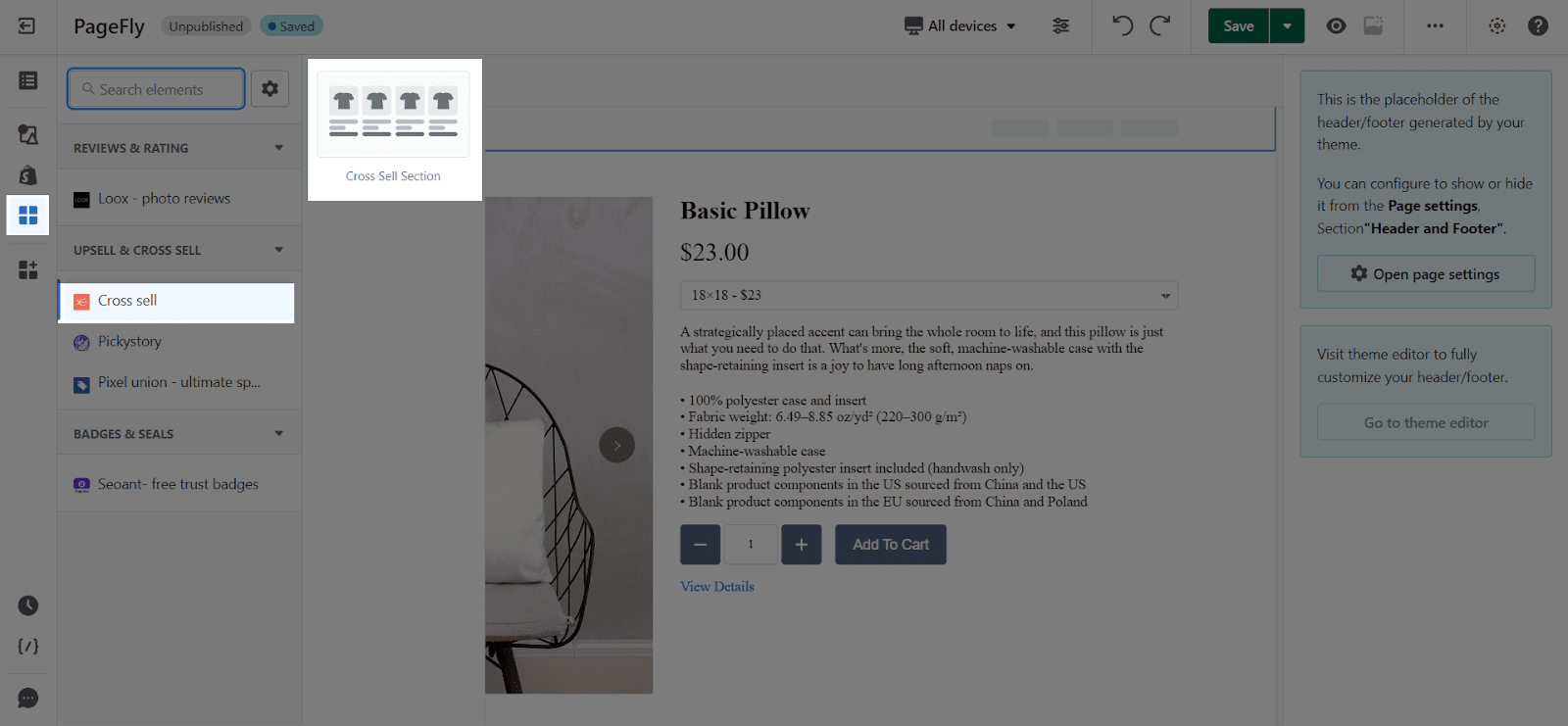 Assign
In the Assign tab on the top bar, you can manually select the products for Handpicked Cross-sell, Upsell, Frequently Bought Together, like this: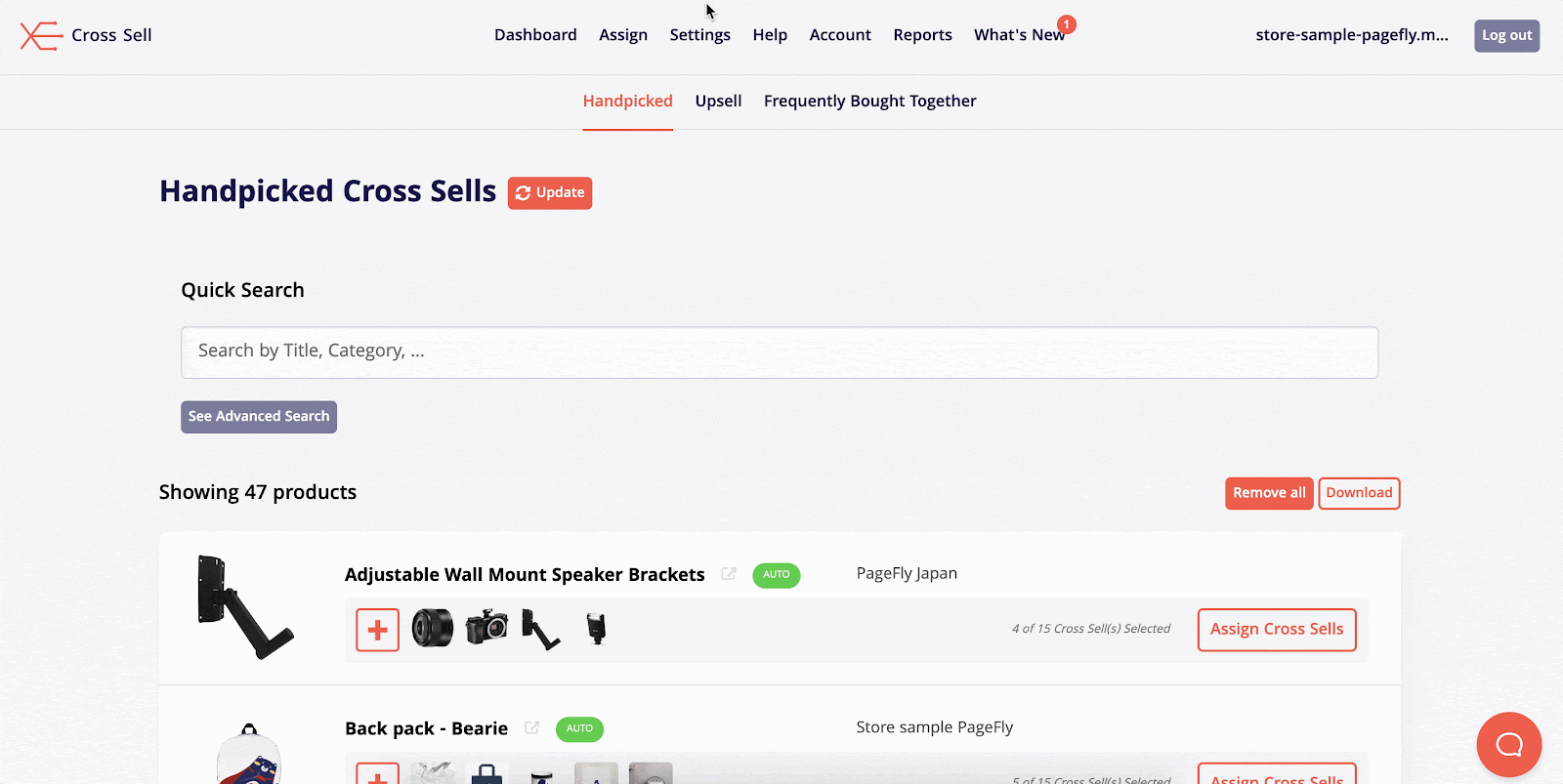 Configure The Settings
You can customize Cross Sell elements in Product page, Post Purchase page, other pages and enable Cross Sell analytics in this Settings tab: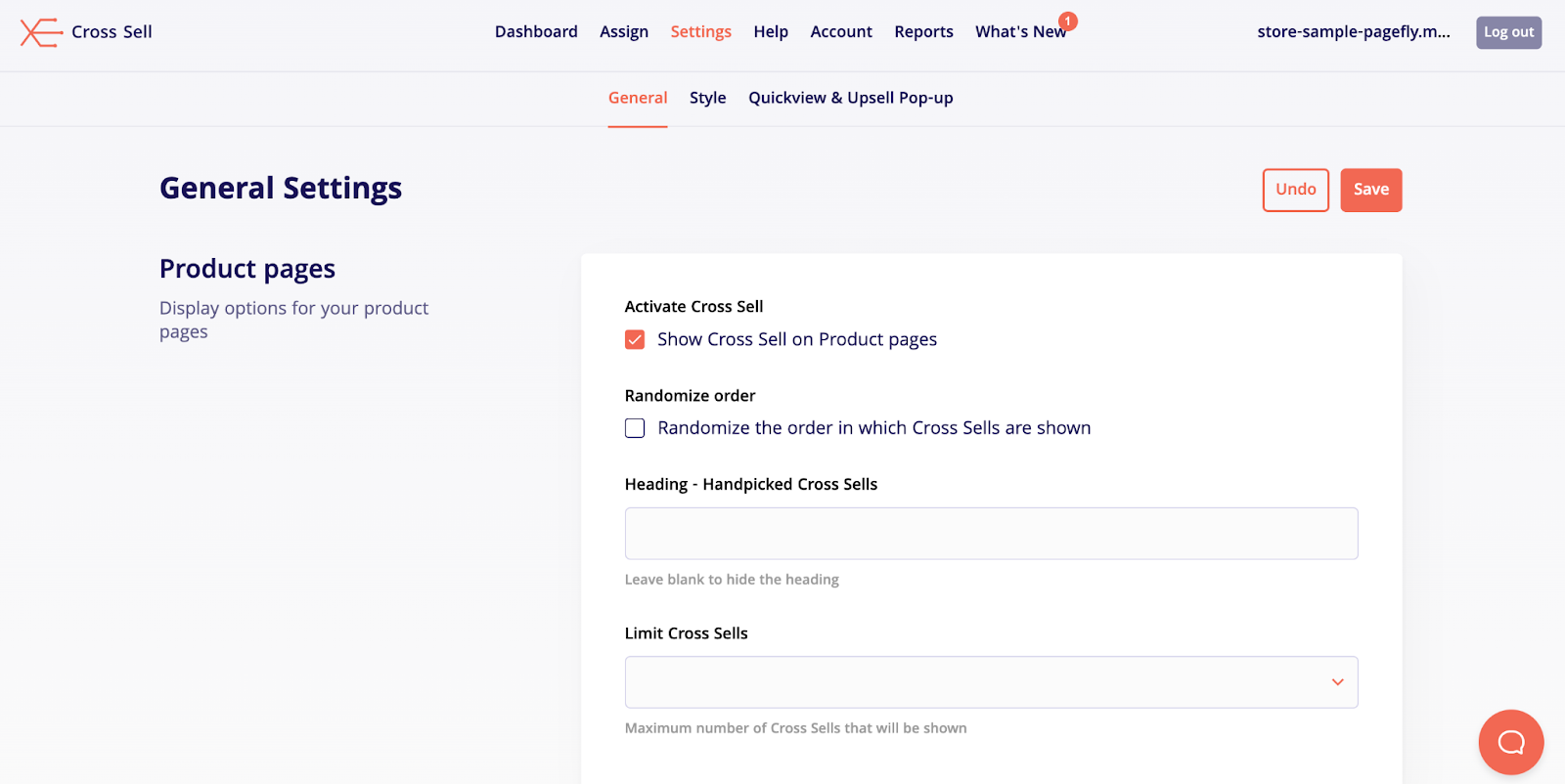 Once you are done with the configuration in Cross Sell app and drag the element into the Editor, it will pull all product recommendations of the assigned product onto your live page.
Finally, hit Publish and check the results on your live page.
Cross-selling is one of the most effective techniques to raise your store's average order value (AOV). You can read this guide to learn more about its significancesignificant and other methods.
You can check the video tutorial below
How to avoid the 3rd Party Elements Do Not Work in PageFly #1 Shopify Page Builder
PageFly Configuration
When you finish configuring options in the Cross Sell app, you can go to a PageFly page and use this element.
General settings
In the General tab, there is a widget configuration giving you a short explanation of the Crosapp and its link to app listing, and you can edit the Content, Visibility, Attributes, and Animation of the product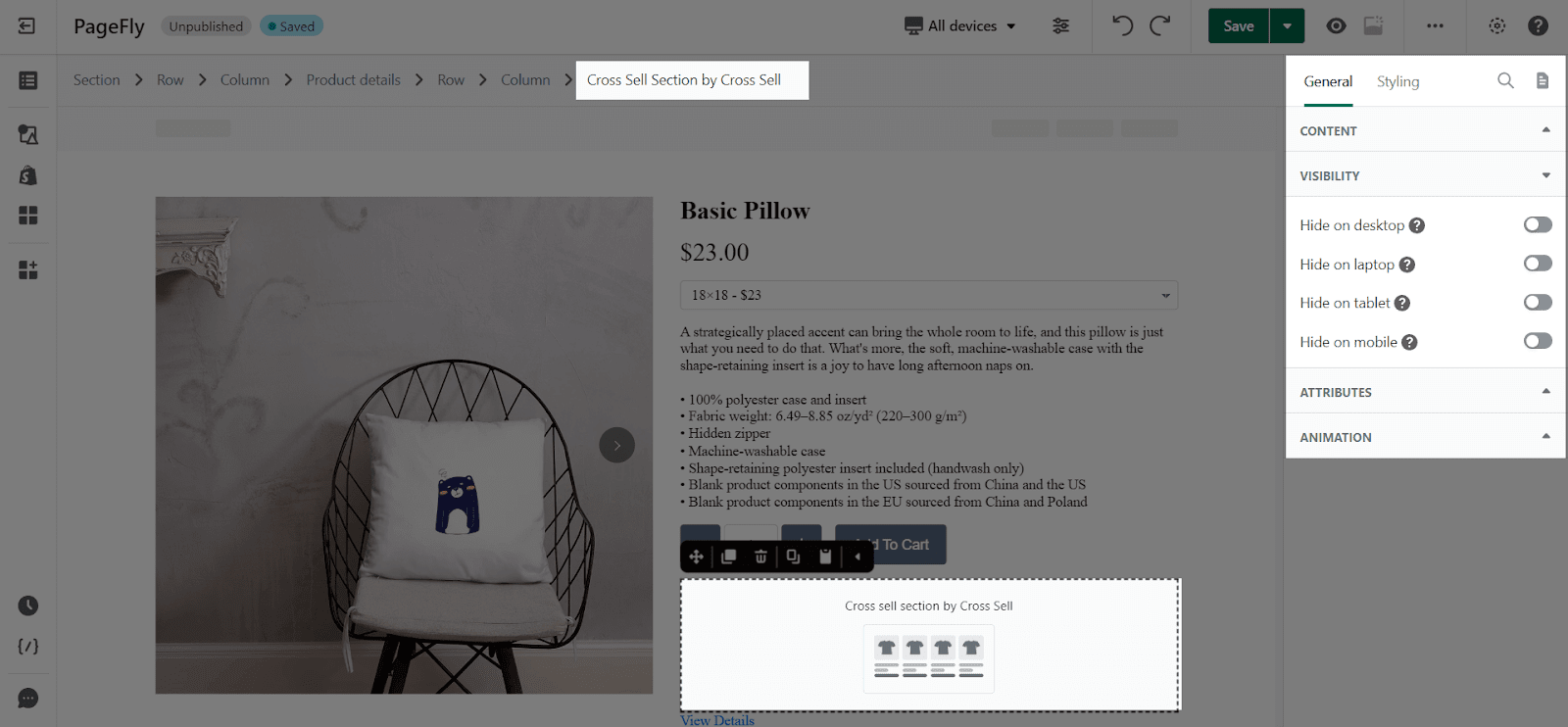 You can read more about the parameters in the General tab.
Styling settings
You can customize the styling of the Cross Sell element in the Styling Tab.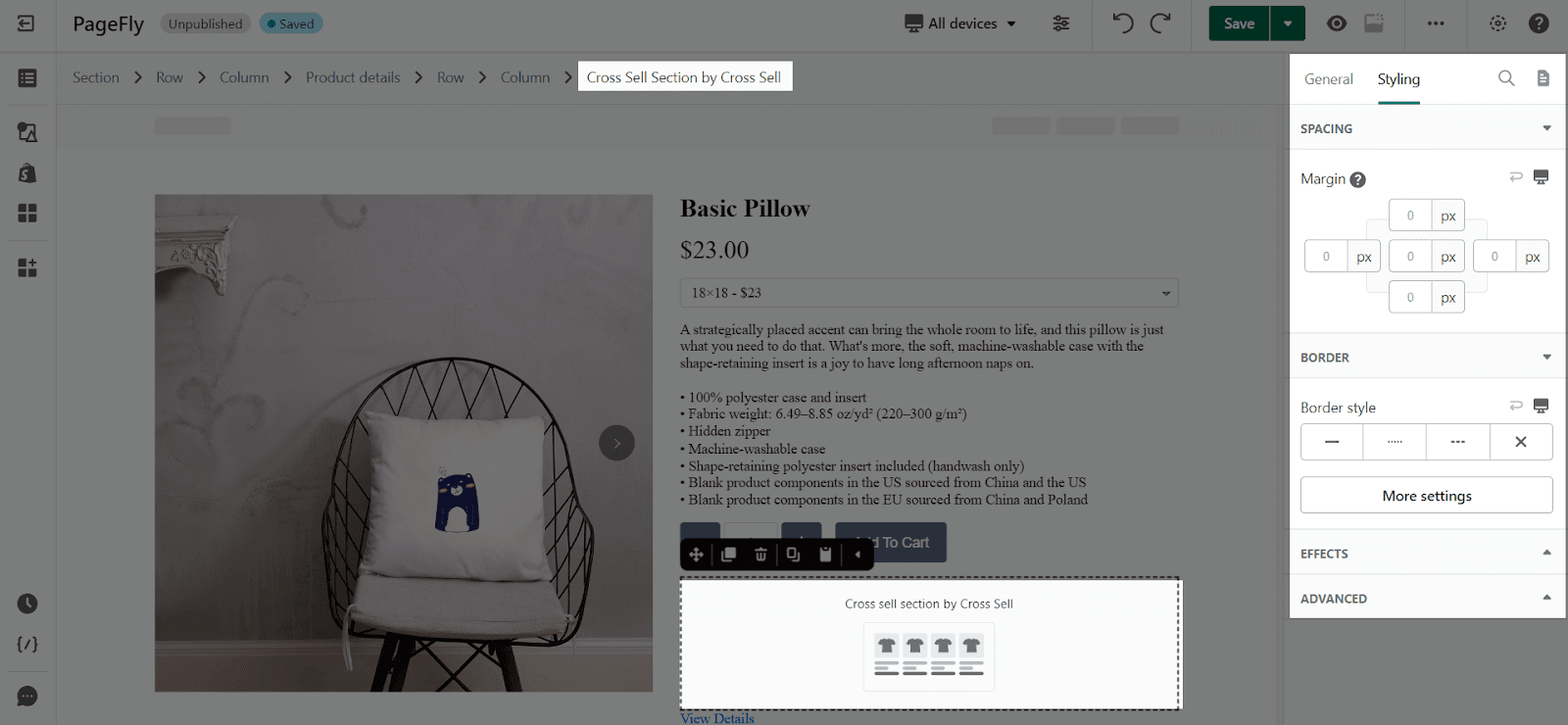 You can check more information about the Styling tab here.
Key Takeaways
As you can see, Cross Sell & Upsell Element is an essential choice for your Shopify store, to enhance better user experience by showing the right cross-product to your audience using AI technology!
Frequently Asked Questions
Overview
| | |
| --- | --- |
| When was Cross Sell and Upsell created? | 2015 |
| How much is Cross Sell & Upsell? | $29.99/month |
| Can I use Cross Sell & Upsell on PageFly Editor? | Yes |
| Who created this app? | Cross Sell |
| How many locations are available on the Cross Sell and Upsell plan? | Max of 8 locations |
What is Cross Sell and Upsell?
Cross Sell & Cart Upsell is an app to drive better revenue, therefore enhance AOV through personalized Cross Sell, Upsell, and bundle recommendations
Benefits of Using Cross Sell & Upsell Elements?
This app is available for product pages, post-purchase page, homepage, collections page and checkout page, as it used auto-generated smart suggestions to customize the pop-ups. Therefore, users can add QuickView buttons and quantity-discounted bundles to different locations.
What are the standard highlights of every pricing plan?
Visible on Product, Cart pages & Upsell Pop-Ups, recommendation clicks a month (Depends on the plan) and remove branding (Not available in free-plan).