1. About COD Forms and Upsell
1.1 What is COD Forms and Upsell?
Releasit COD Forms and Upsell can create a fully customizable COD order form with native Upsells, Quantity Offers, Downsells, and OTP phone number verification. This easy-to-use form builder makes it simple to increase your average order value (AOV) and minimize fake orders.
In this article, you will learn how to create a COD order form by using the Releasit and PageFly app.
1.2. Install COD Forms and Upsell
Important: To use this element, you must first install the Releasit COD Form & Upsells app in your Shopify store and configure all of its options. Once you have done that, you can return to PageFly and use the element on any of your PageFly pages.
Note: This element can be used with all types and at any position on the page
1.3. Access COD Forms & Upsell element
Step 1: Go to Add third party elements in the left toolbar > Click on the Manage Integrations button.
Step 2: In the Integrations popup page, you can search "COD Form & Upsell" on the search bar and then Enable it.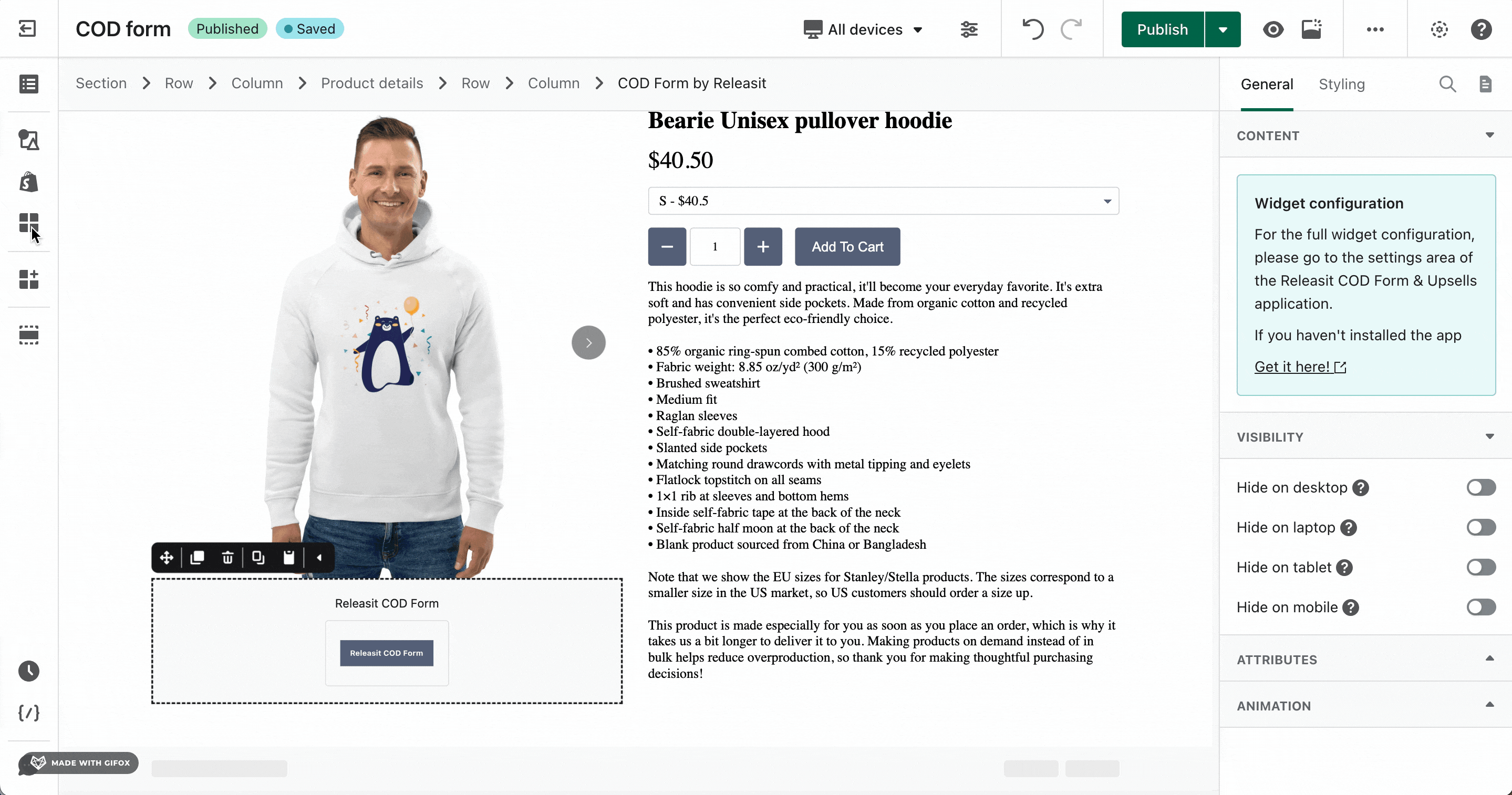 Step 3: Choose the element you want then drag and drop it to the editor page
1.4. COD Forms & Upsell Element
The COD Forms & Upsell element has 1 element which is the Releasit COD Form element in the Upsell & Cross Sell category.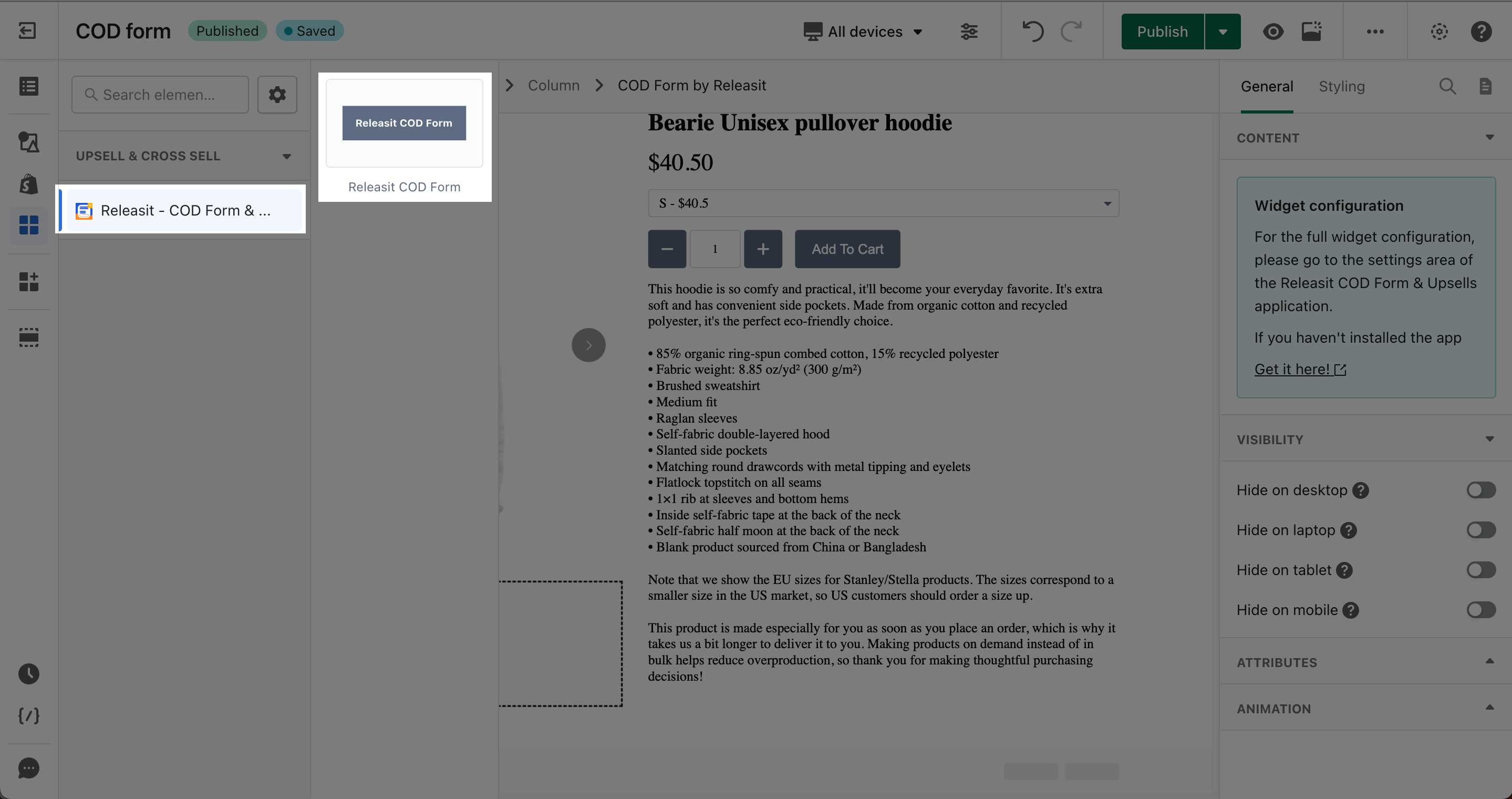 2. Configuration
2.1. Elements Configurations
All configuration of the COD form must be done in the Releasit COD Forms & Upsell app. However, you can customize some parameters in the Styling tab, such as margin, border style, opacity, shadow, overriding theme styling, and CSS code area.
You can check more information about the Styling tab here.
In the PageFly page, you just need to drag and drop the Releasit COD Forms element onto the position you want. Then remember to Save & Publish the page, you can check these elements in liveview.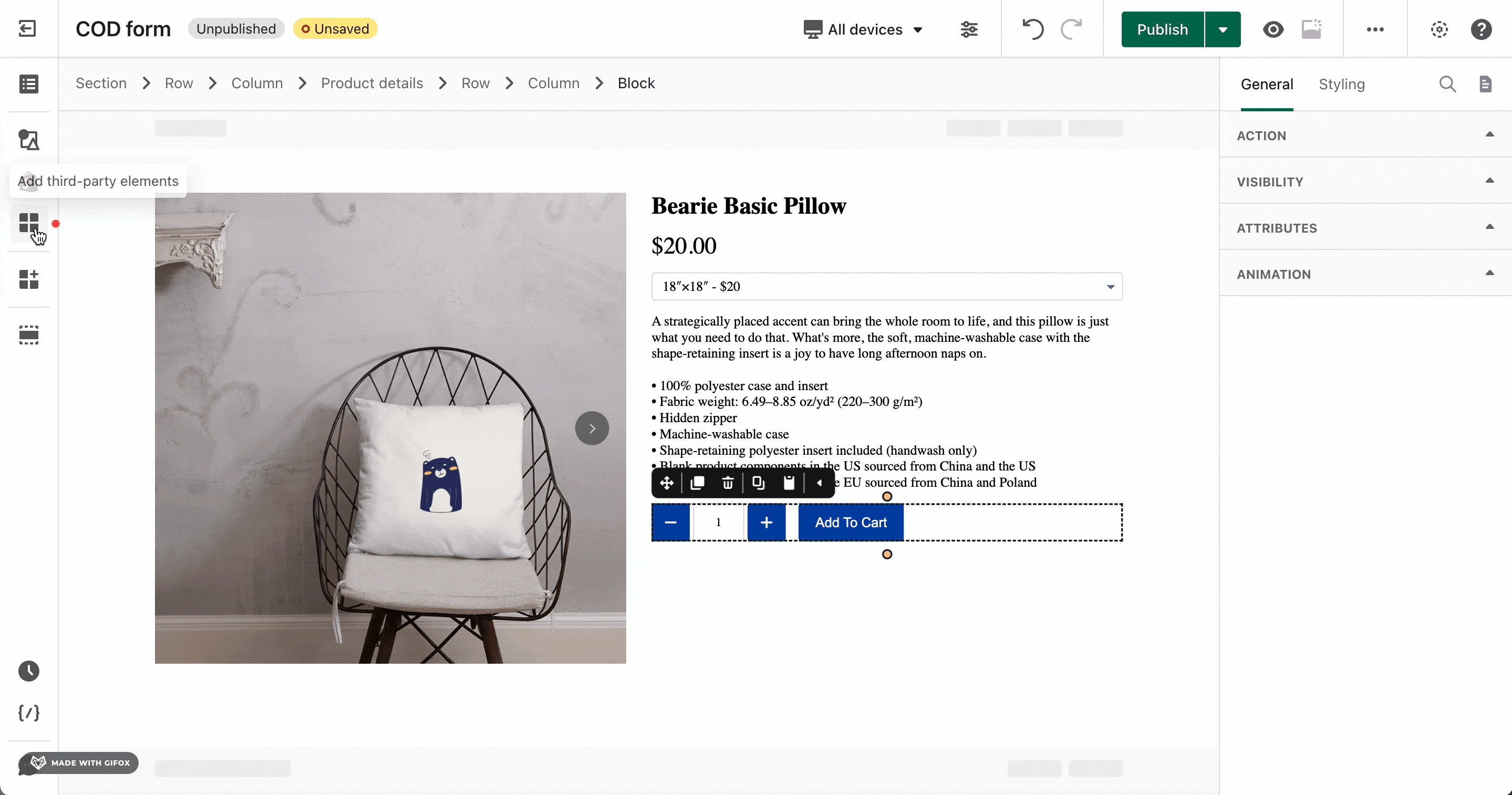 2.2. COD Forms & Upsell Configurations
2.2.1. Enable app in App embeds
Before configuring, please follow these steps to enable Releasit COD Forms app in the App embeds of the theme:
Access Online store > Theme > Current Theme > Customize
Click the 3rd icon on the left hand which is the App embeds settings modal
Search for "Relesit COD form" in search box
Enable the app and hit Save button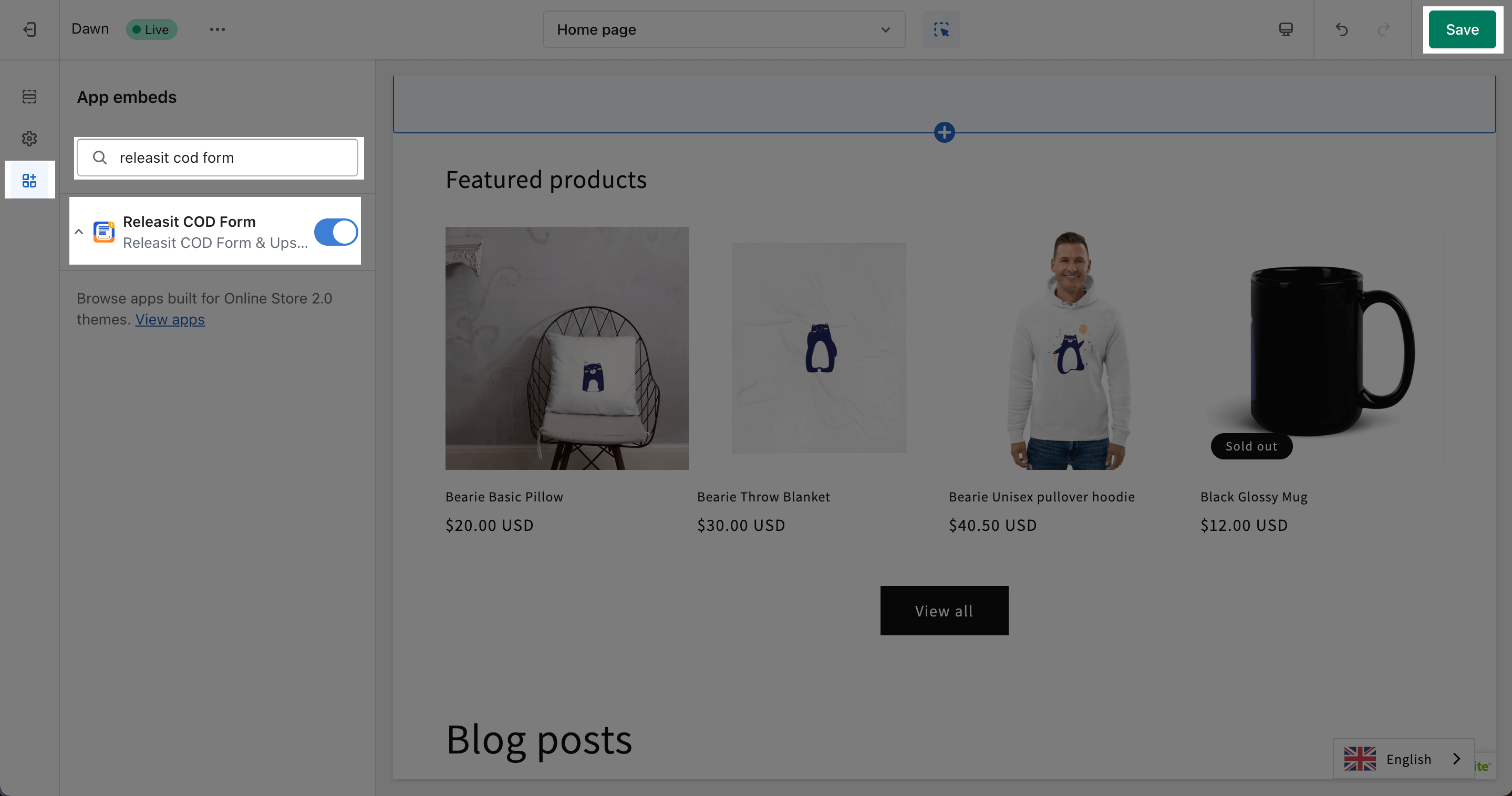 To edit the button in the Releasit COD Form & Upsell Dashboard, click on the "Buy button" in the left menu. This will open the button editing modal.
In the modal, you can add button text, button subtitle, select animation, text typography, background color, icon, and sticky option.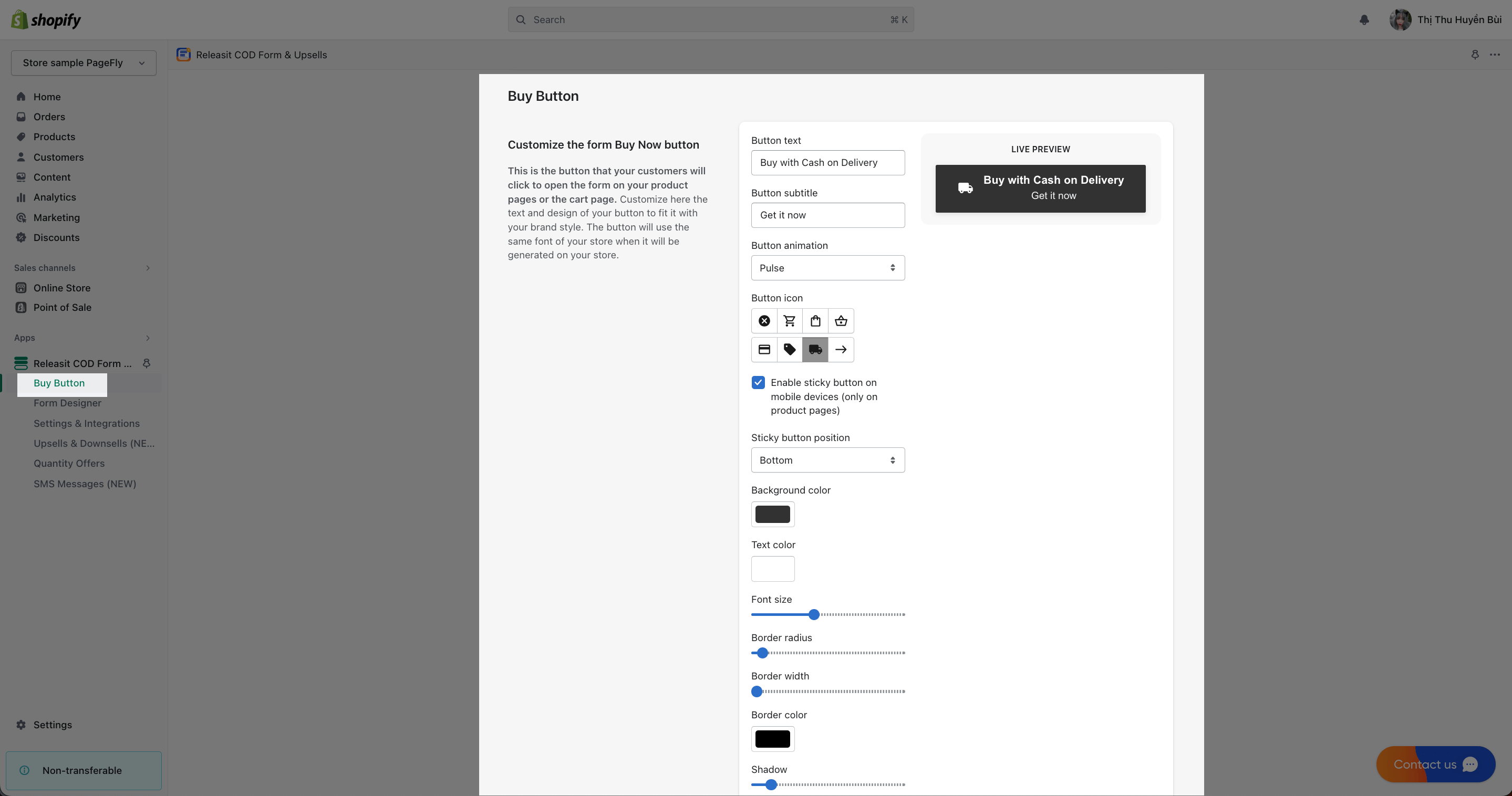 2.2.3. Customize Form Designer
To customize for the form, click on Form Designer on the left menu.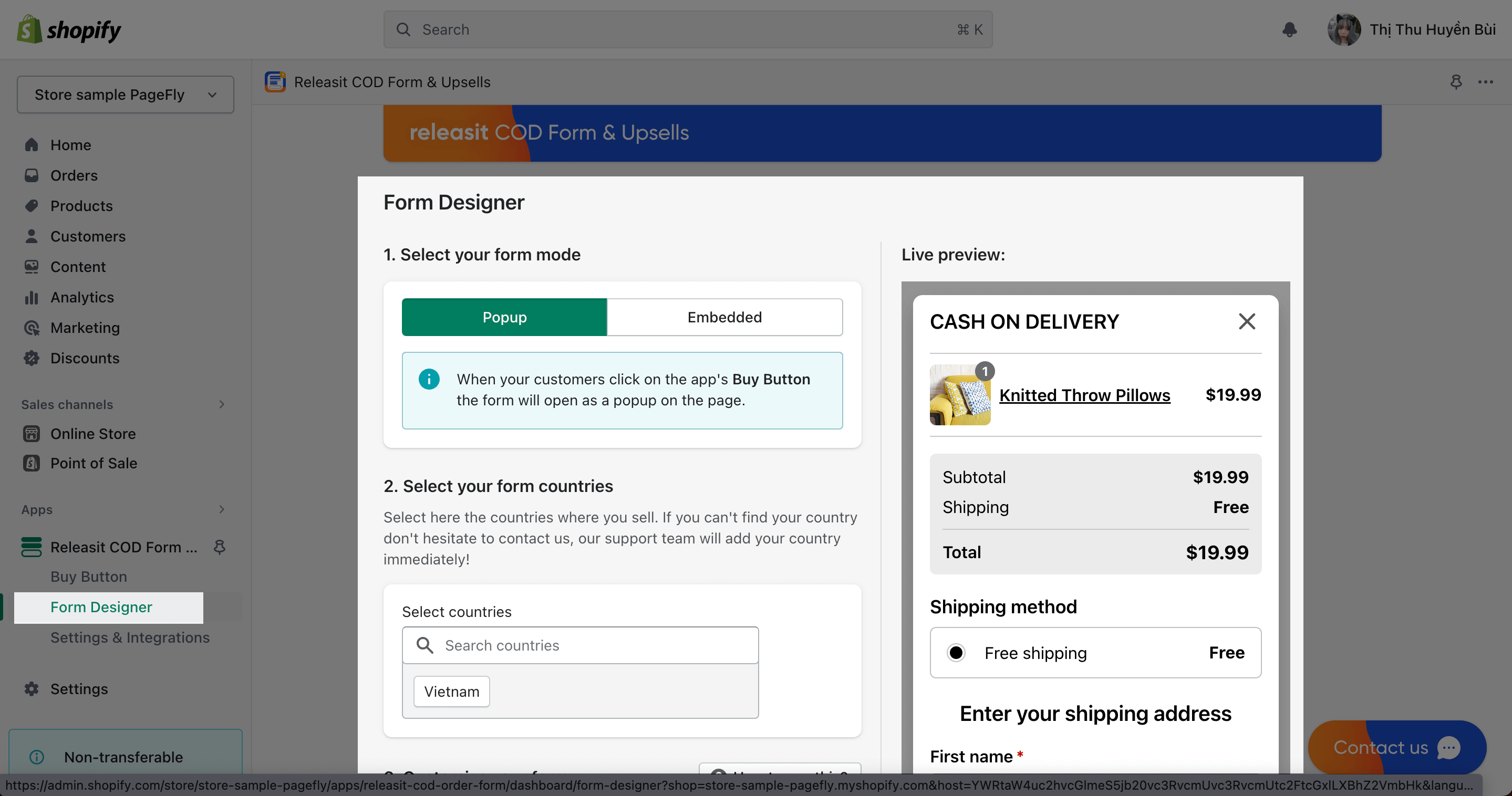 Releasit COD supports for 2 form types:
Popup: the form will show as a popup after clicking on the Buy button
Embed: the form will show directly on the page
Note: You can only choose one type to show on live view.
The settings for these types are similar. You can select countries that you are selling, fields that will show on the form, form style and customize the generic form texts.
After finishing customizing, don't forget to hit the Save button to apply the changes on Liveview.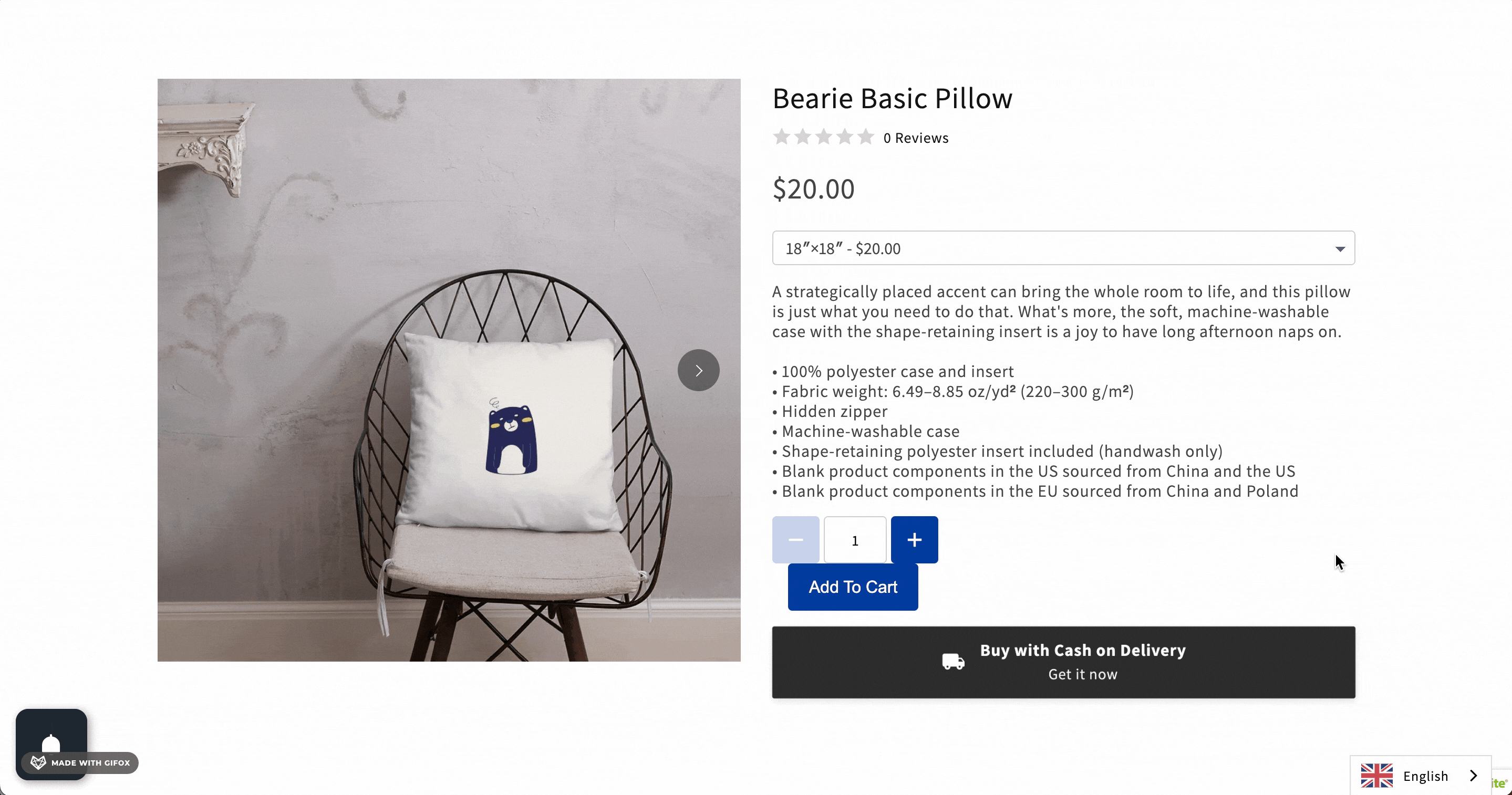 3. Key Takeaways
Only 1 Click to activate Releasit COD order form with Upsells, Offers and more, which helps to increase conversion rate and AOV.
4. Frequently Asked Questions
4.1. Overview
| | |
| --- | --- |
| When was Releasit COD Created? | 2021 |
| How Much is Releasit COD ? | From $9.99/ month |
| Can I use Releasit COD  on PageFly Editor? | Yes |
4.2. What is Releasit COD?
Releasit COD is the best way to create a 1 Click COD order form with Upsells, Offers and more, which helps to increase conversion rate and AOV
4.3. What Are Included in Releasit COD Plans?
60 orders per month, 24/7 support, Multi Pixels, Shipping rates, Abandoned checkouts, Discounts, Upsells, Quantity offers, Google Sheets and OTP SMS
4.4. Who are currently in partnership with Releasit COD?
PageFly, GemPages, Zipify Pages, Wide Bundles, Awesome Quantity, Google Sheets