In this article, you will learn about the Accordion element and how to use it.
About Accordion element
The Accordion element is used to create collapsible content on a page to provide a cleaner user experience and increase your conversion rate. You can use the Accordion element as the content for Tabs, Slideshow element or to show FAQs of your store.
Access the Accordion element
Step 1: Click on the Plus icon which is the Add element function
Step 2: Click on the Accordion element in the dropdown menu
Step 3: Drag and drop the element you want into the page editor and then start using it.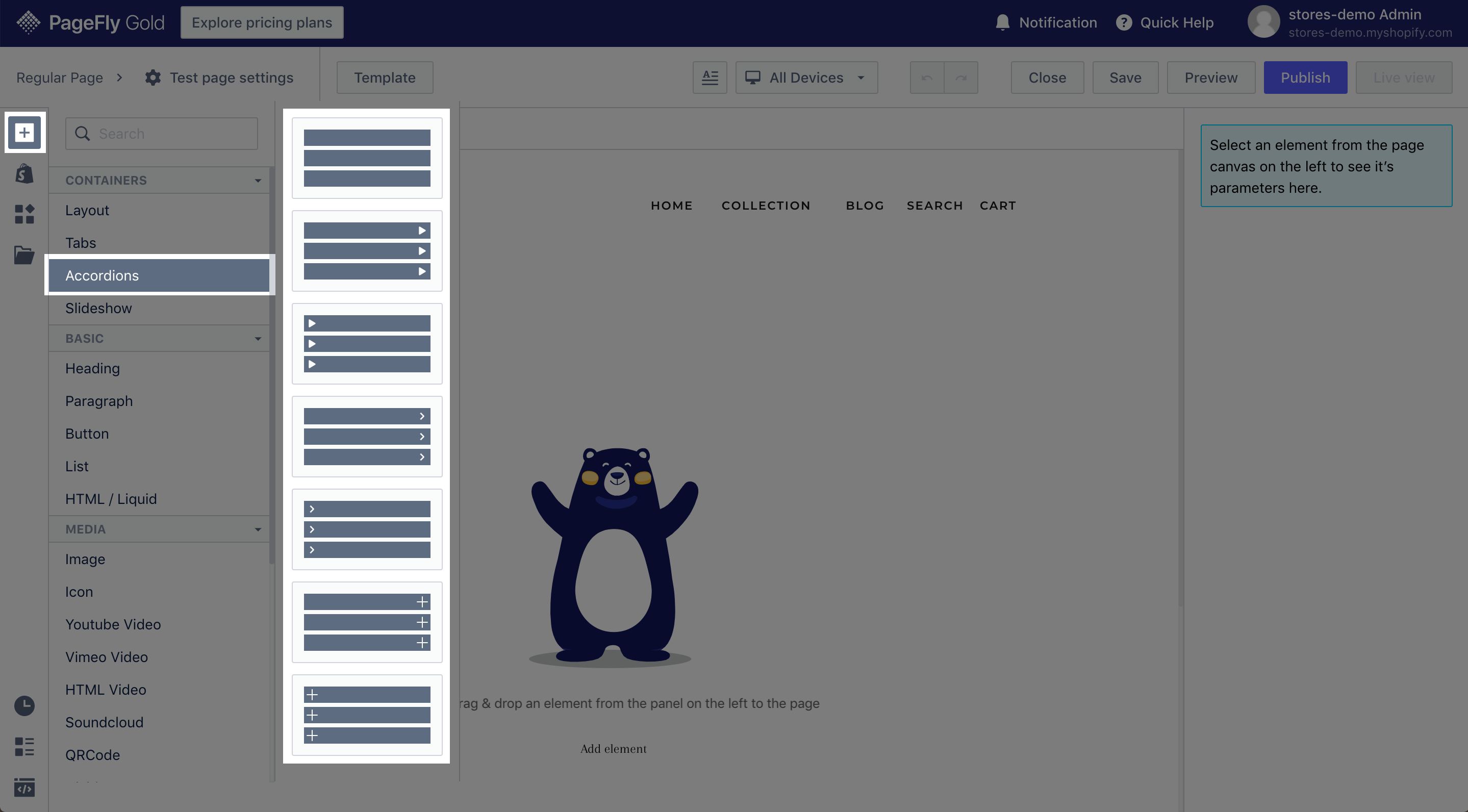 The Accordion element comes with multiple variations covering most needs. But we will continue to add more variations to help you save time.
Drag a variation to the layout and see how it can be configured.
Accordion element configuration
Accordion element comes with plenty of parameters allowing you to fine-tune content appearance for the best possible conversion rate.
Select the element in the layout to see its parameters.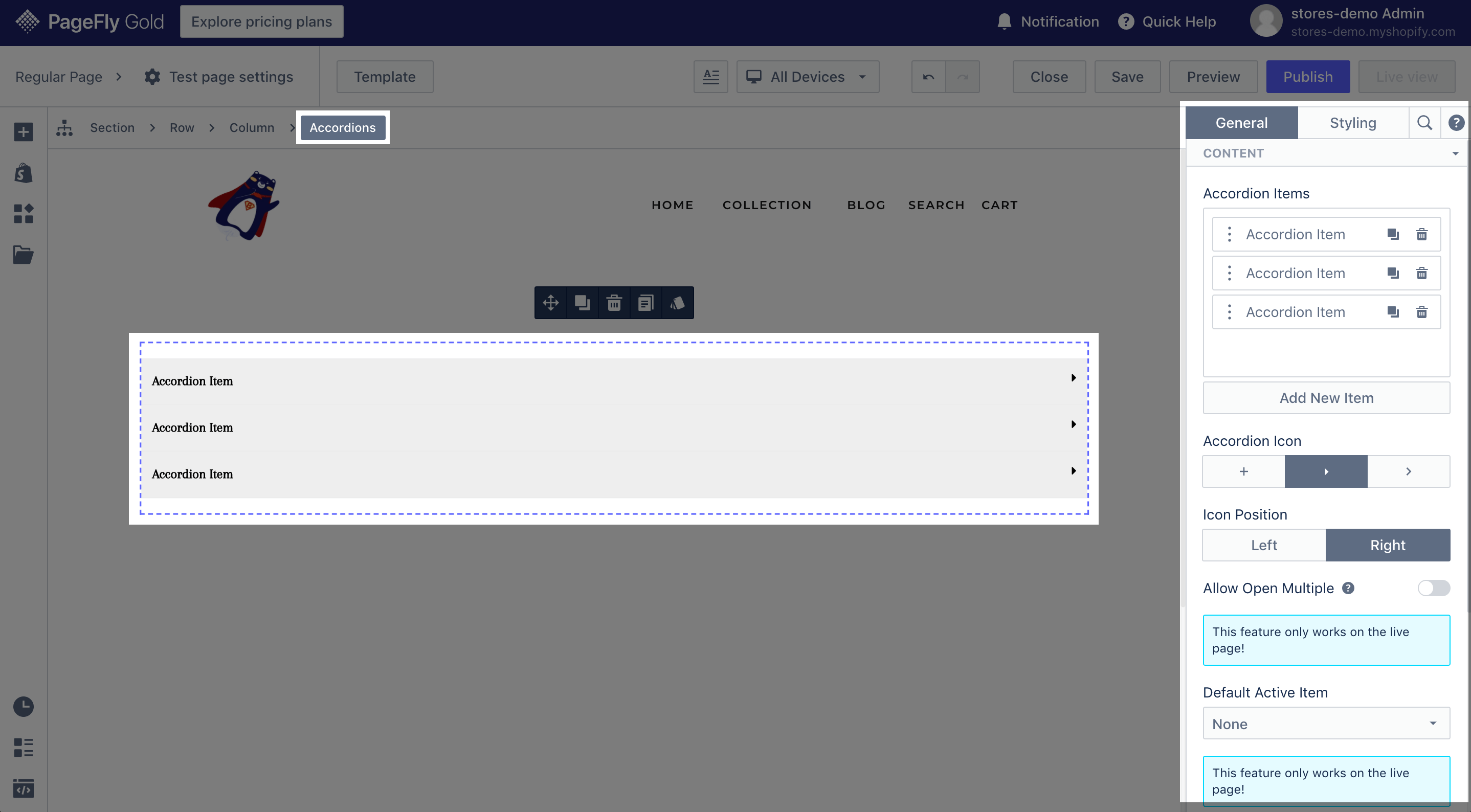 In this article, we'll show the parameters of the General and Styling tabs for the Accordion element.
General tab's parameters
1. CONTENT

Accordion items:

Add/remove/duplicate accordion(s) here.You also can rearrange the order of these accordions by dragging the 3 dots icon on the left of the accordion's name.

Accordion icon:

There are 3 styles of icon for your preferences.

Icon Position:

Choose between left or right.

Allow Open Multiple:

Allow your visitors to open more than one tab at a time.

Default Active Item:

The default accordion item to be opened without being clicked on.

2. ACTION
You can read more about the ACTION parameter here.
3.ATTRIBUTES
This is a parameter that all elements have. You can read more here.
4. VISIBILITY
This is a parameter that all elements have. You can read more here.
5. ANIMATION
This is a parameter that all elements have. You can read more here.
Styling tab's parameters
You can choose to style for:

Accordion Header
Accordion Content

For Accordion Header Styling, aside from the below parameters, you can choose Header State for it, which contains 3 options: Normal, Hover, Selected.


1. OVERALL
You can read about the OVERALL parameter here.
2. SPACING
You can read about the SPACING parameter here.
3. TYPOGRAPHY
You can read about the TYPOGRAPHY parameter here.
4. BACKGROUND
You can read about the BACKGROUND parameter here.
5. BORDER
You can read about the BORDER parameter here.
6. DISPLAY
You can read about the DISPLAY parameter here.
7. CUSTOM CSS
You can read about the CUSTOM CSS parameter here.
Contained element setting
The Accordion element is a group of multiple contents. You can edit Accordion Content by dragging and dropping other elements in it as a normal section.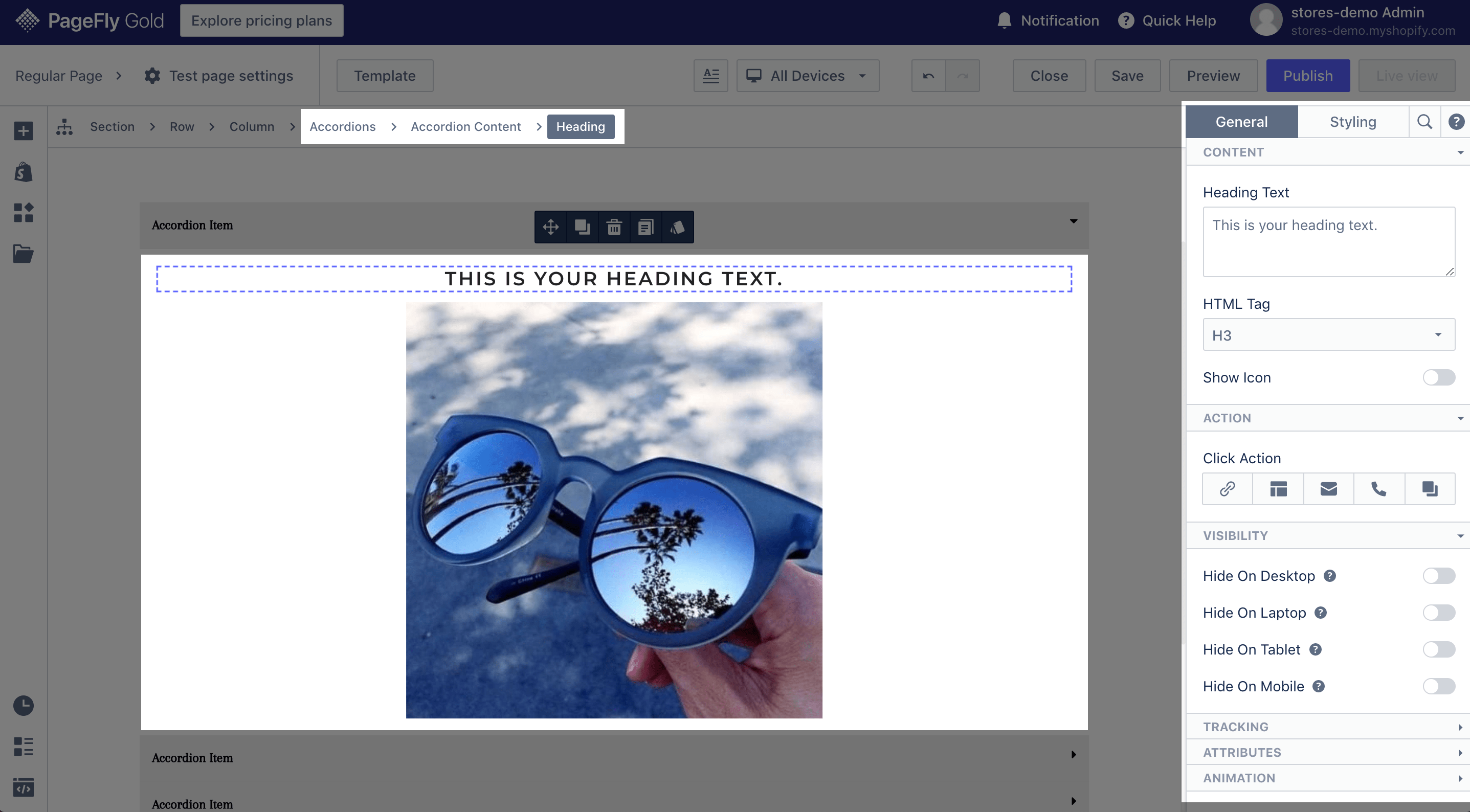 With this in mind, you can drag and drop any other elements inside accordion content.
Check the video tutorial below about the Accordion element