1. Track123 Shopify Configuration
1.1. What is Track123 Shopify?
Track123 Shopify is the Order Tracking Upsell solution, to automate importing and updating of order shipping information in real-time from any carrier. It provides a multilingual tracking page and intelligent notifications to drive traffic, boost sales and save time.
1.2. Access Tracking123 Shopify – The Order tracking upsell
Important: To use this element, you must first install the Tracking123 Shopify app in your Shopify store and configure all its options. Once you have done that, you can return to PageFly and use the element on any of your PageFly pages.
NOTE: This element works on all Page Types (Home Page, Product Page, Regular Page,…) and each page will only show ONE element.
If you're accessing the Track123 app for the first time, you'll need to complete the following four steps:
Step 1: Go to Add third party elements in the left toolbar > Click on the Edit your 3rd party Elements button.
Step 2: In the Integrations popup page, you can search "Track123" on the search bar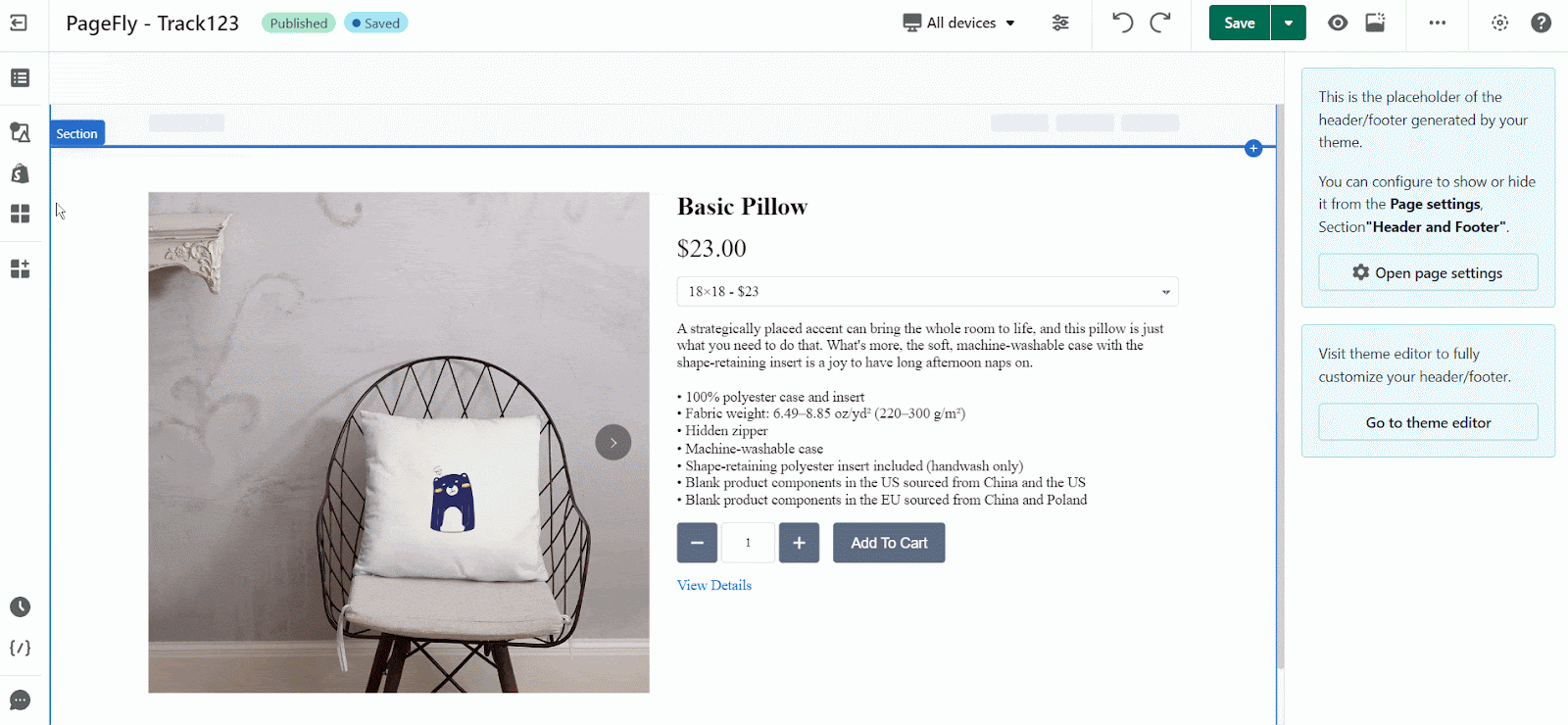 Step 3: Click on Tracking by Track123 element in the dropdown menu
Step 4: Choose the variant you want then drag and drop it to the editor page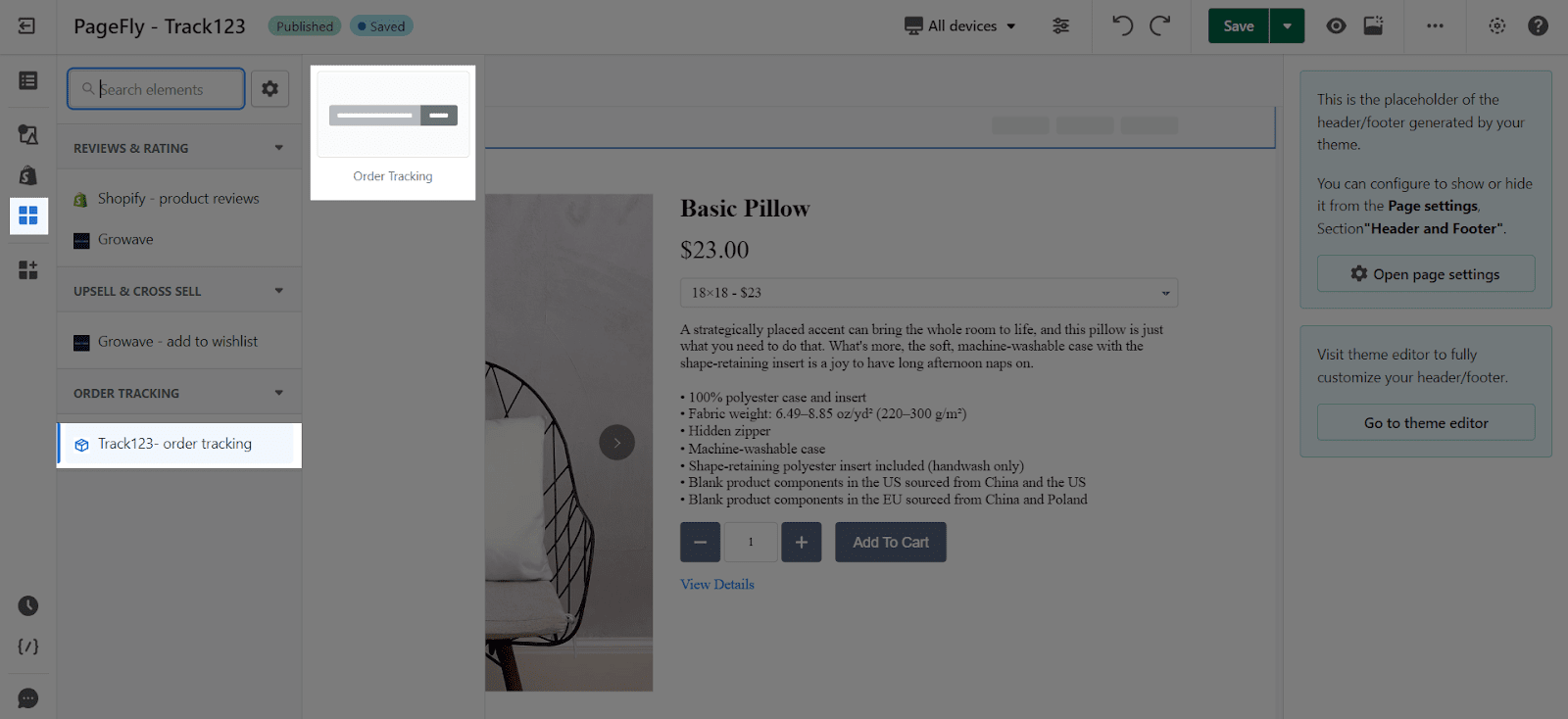 If you've used this app before, you can simply click 'Add third party' elements to find and access this element.
2. PageFly Configuration
Once you finish configuring options in the Track123 app, you can go to a PageFly page and use this element.
2.1. General Settings
In the General tab, there is a widget configuration giving you a short explanation of theTrack123 app and its link to app listing, and you can edit the Content, Visibility, Tracking, Attributes, and Animation of the product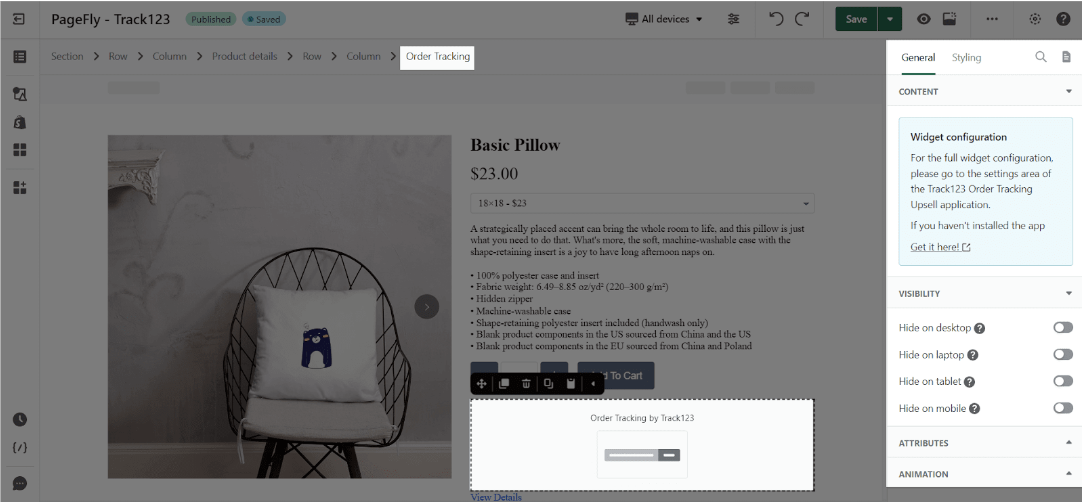 2.2. Styling Settings
In the Styling tab, you can edit the Margin, Border, Effect of Opacity for the element.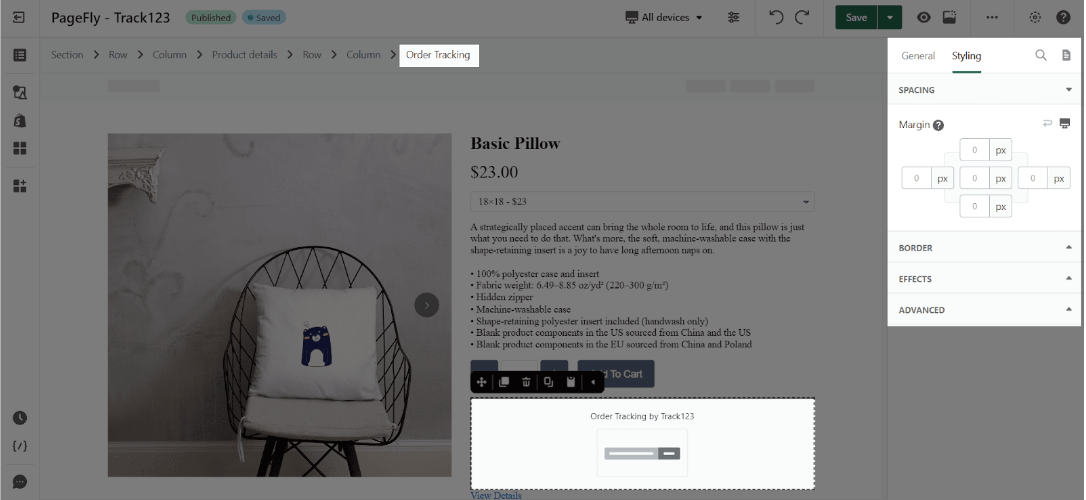 You can check more information about the Styling tab here.
2.3. Track123 Shopify Settings
All configurations must be set up in the Track123 Order tracking upsell app.
You can set up for the appearance of the form by accessing the Track123 Order tracking upsell > Page editor like this: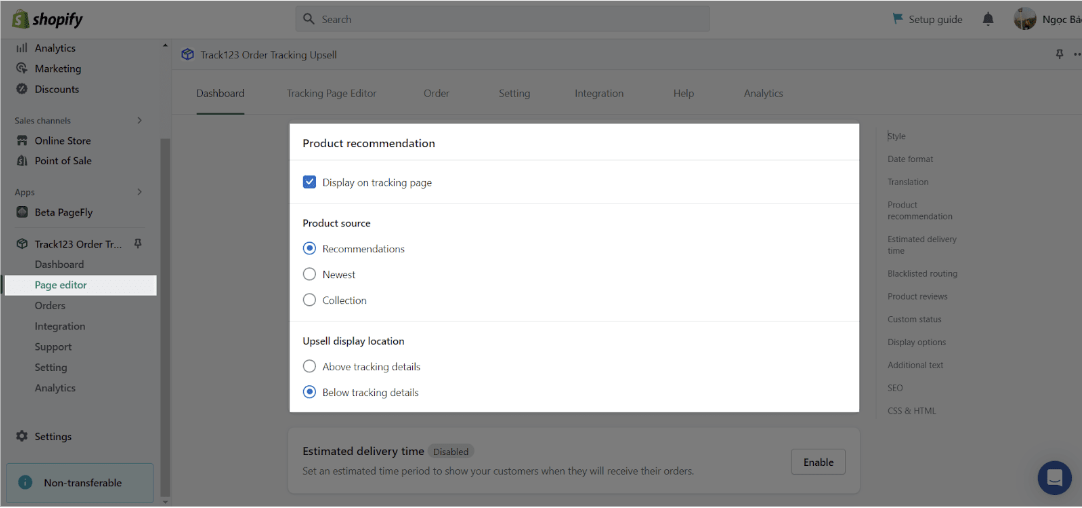 Drag & drop that 3rd-party element into the page editor, then save and publish to check the result on the Liveview page.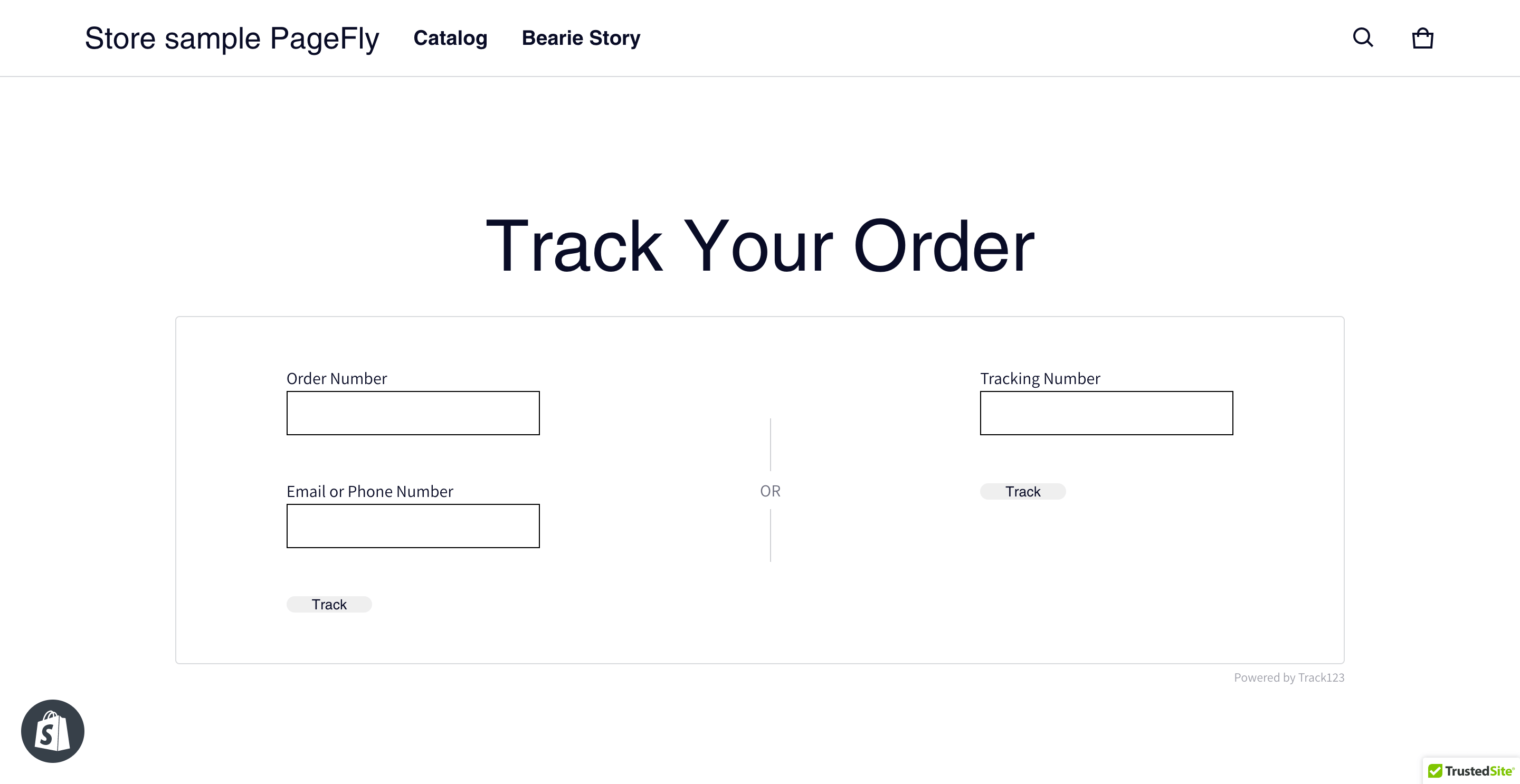 3. Key Takeaways
Track123 Shopify App is a powerful all-in-one shipment and tracking to help boost sales and business operations with an efficient delivery system. It takes no time to install and use together with PageFly, with no code or complicated instalment required.
4. Frequently Asked Questions
4.1. Overview
| | |
| --- | --- |
| When was Track123 Shopify created? | 2022 |
| How much is Track123 Shopify? | $9/ month |
| Can I use Track123 Shopify on PageFly Editor? | Yes |
4.2. What is Track123 Shopify App?
Track123 is a Shopify App with all-in-one shipment and tracking page management, which helps to boost sales and improve business operation efficiency.
4.3. What Are Included in Track123 Shopify Plans?
A free plan from Track123 includes 200 orders per month, branded tracking page, automatic shipment import, real-time tracking, delivery notifications and access to 1500+ carriers.
4.4. Who are the Track123 Partners?
Shopify Flow, Loox, Judge.me, Stamped, OrderlyEmails, Weglot, Klaviyo.