1. TrustedSite Configuration
1.1. What is Trusted Site?
TrustedSite provides a set of certifications to minimize the common issues people experience when shopping online. Get these certifications to display the TrustedSite Trustmark on your website and convince visitors they can trust your company.
1.2. Set up Trusted Site – Trust Badges
Before using this element, you must set up the TrustedSite- Trust Badges app in your store and configure all options before returning to PageFly and using the element(s) on all of your PageFly pages.
To use this element, install the TrustedSite – Trust Badges app from the Shopify Store and then go to PageFly.
1.3. Access TrustedSite – Trust Badges element
Step 1: In the left toolbar, go to Add 3rd party elements button > Click on the Edit your 3rd party elements button
Step 2: Search "TrustSite- Trust Badges" on the Integrations popup page and then Enable it.
Step 3: In your PageFly editor, drag and drop the TrustedSite- Trust Badges element.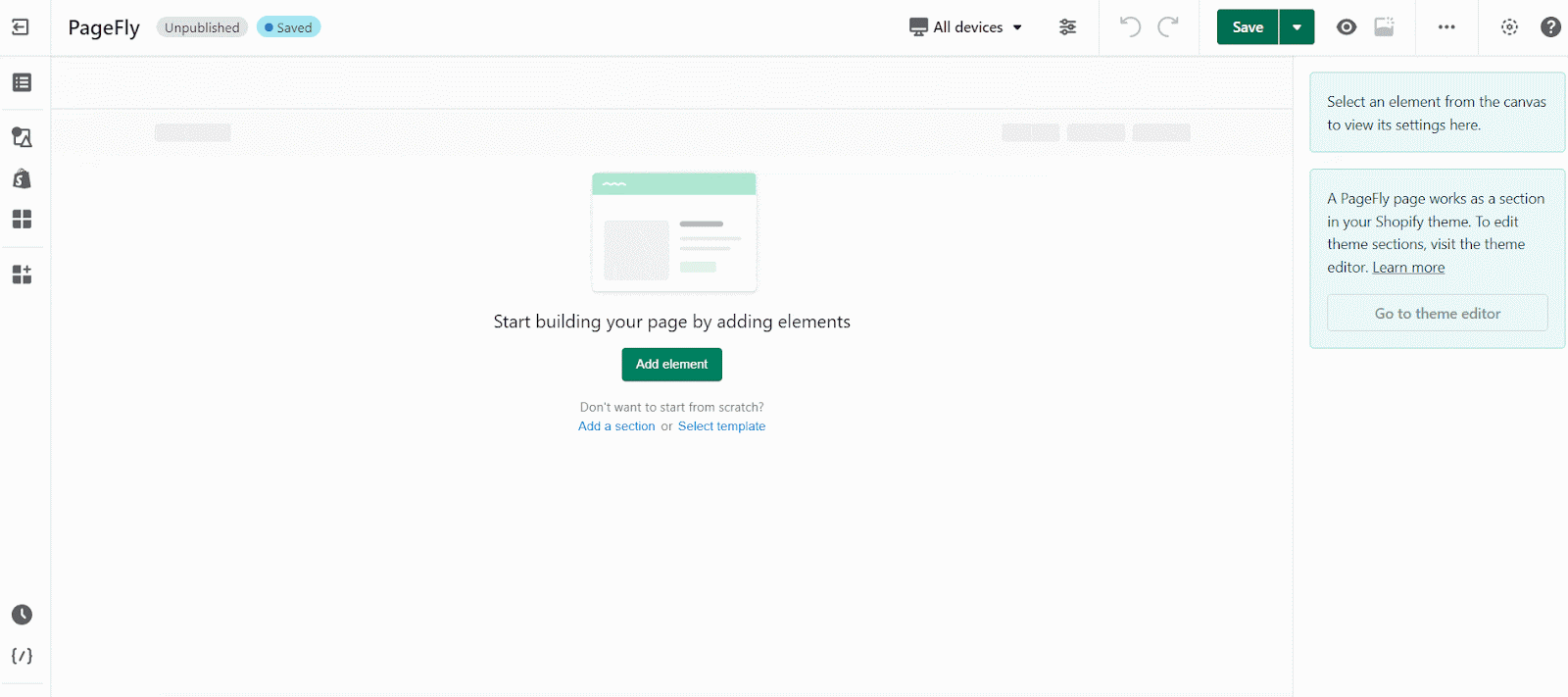 2. PageFly Configuration
When you finish configuring the TrustSite- Trust Badges options, you can go to a PageFly page and use this element.
2.1. General settings
In the General tab, there is a widget configuration giving you a short explanation of the TrustSite app and its link to the app listing and a TrustSite code editor where you can paste the embedded codes from your created product into the TrustSite app.
Code editor to past the embedded codes from TrustSite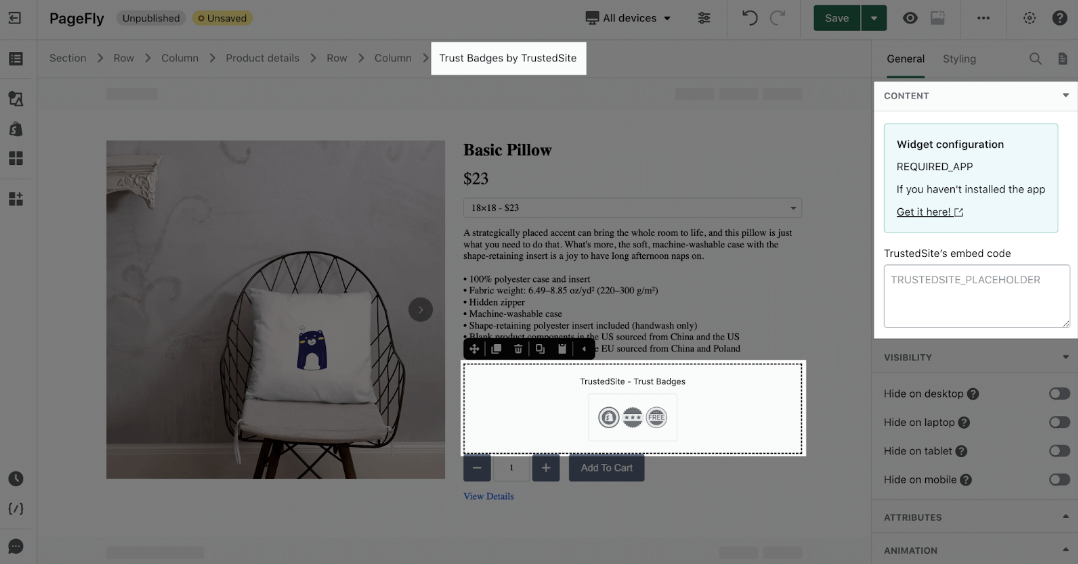 2.2. Styling settings
In the Styling tab, you can edit the element's Margin, Border, and Effect of Capacity.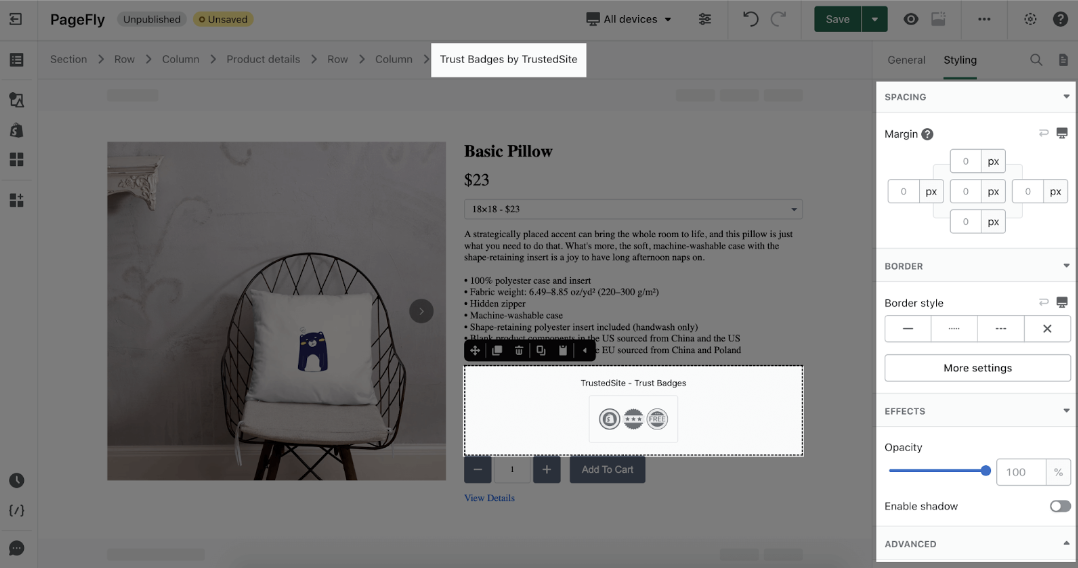 2.3. TrustedSite Configuration
Step 1: Link your Shopify account to the TrusedSites- Trust Badges element
Go to your Shopify Admin > Apps > TrustedSite – Trust Badges to set it up
Step 2: Set up Trustmarks for your store
Get Store Certifications for your store
There are 2 sections in the TrustSite – Trust Badges Dashboard that require your attention: Certifications and Trustmarks.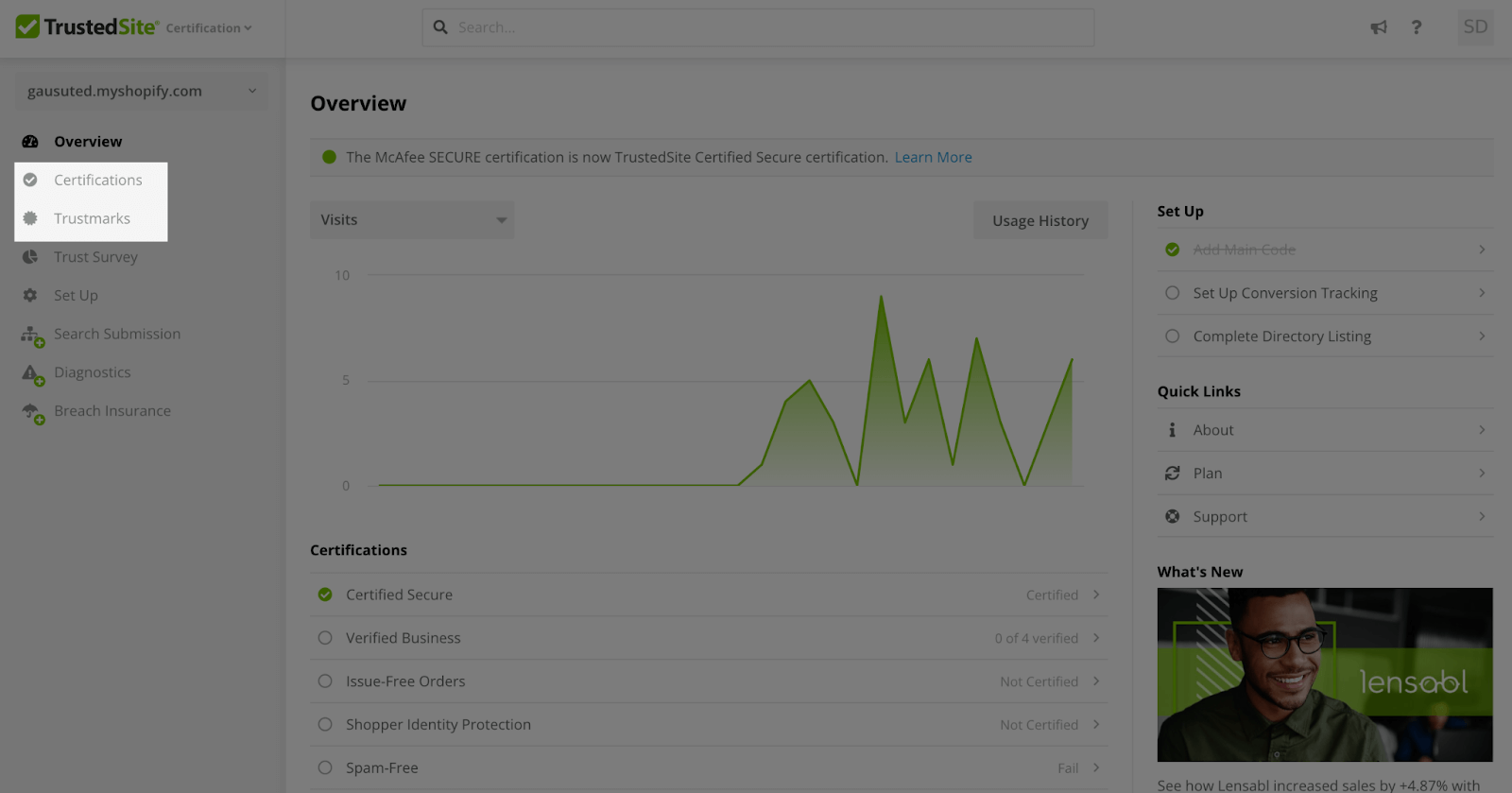 There are various types of Certifications to display that your store is secure and your business is valid.
To get the Certifications, click on each type and follow the requirements.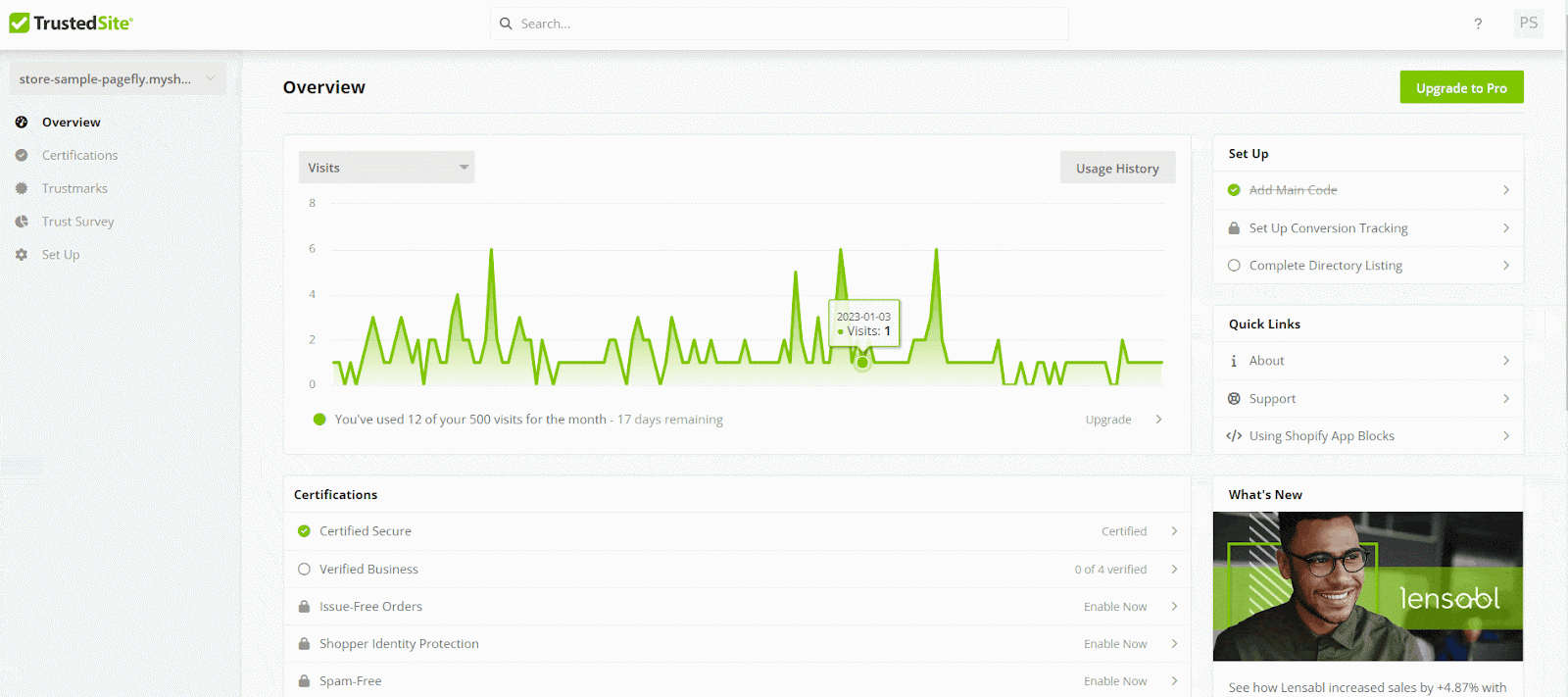 After getting your Certifications, go to Trustmarks and select your Trustmark.
There are 4 types of Trustmark: Engagement, Banner, Testimonials, and Identity Protection.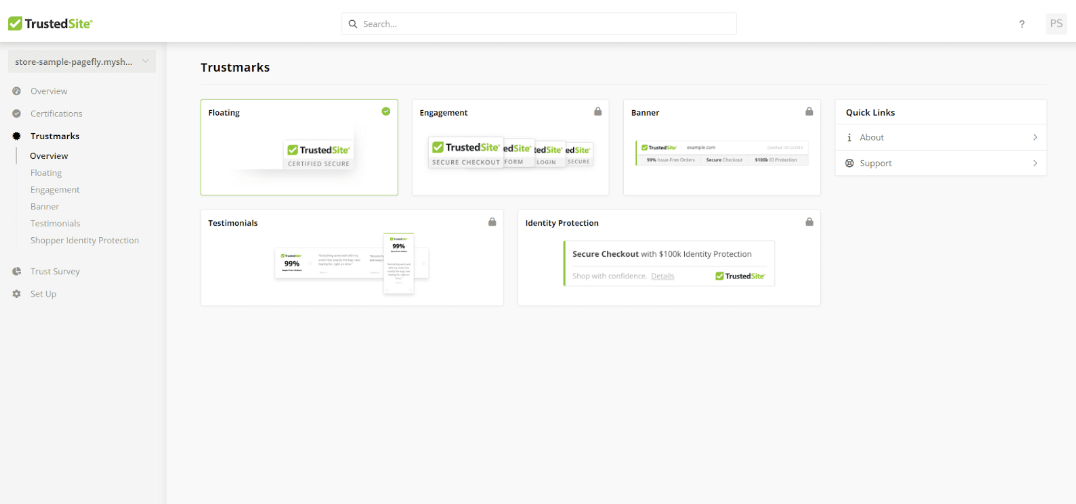 Next, get the embed code of the trustmark.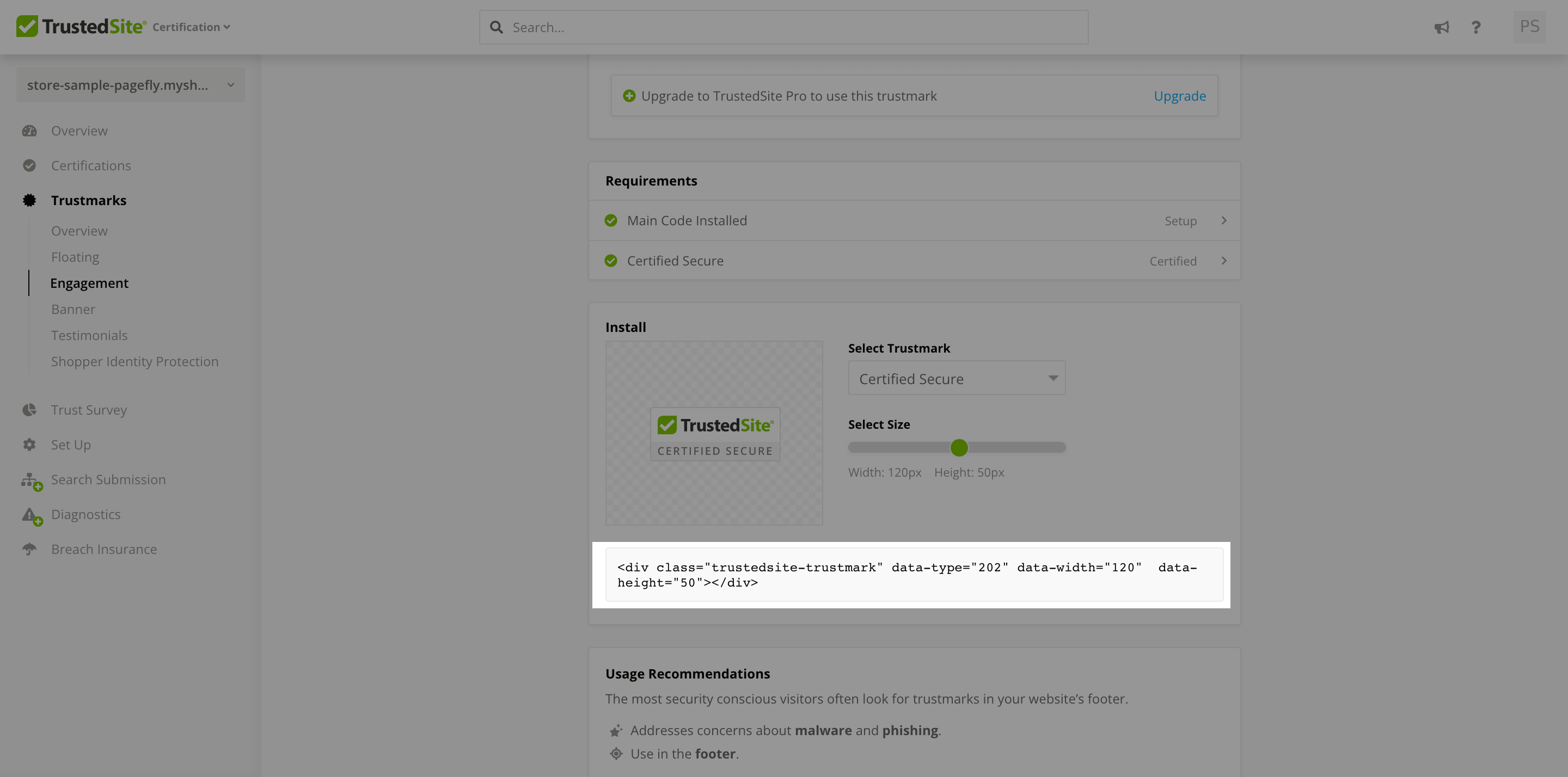 Then, paste the code into your PageFly editor. You can get instructions from this GIF: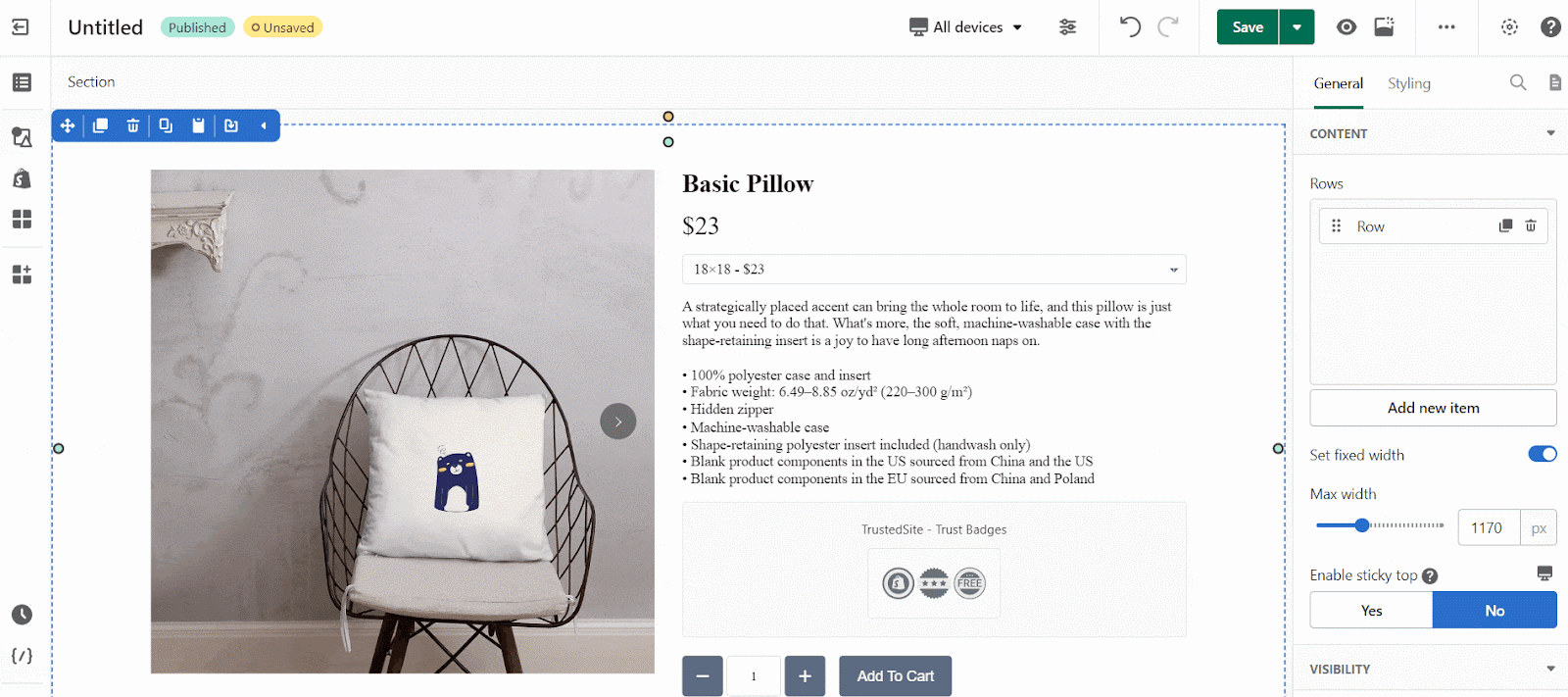 Now, Save and Publish your page again to see it on the Live page.
3. Key Takeaways
Trusted Site is the best Third-Party App to show authority based on seller efforts of making their store looks and performs better! Once the store sellers've installed the TrustedSite app, Trusted Site will verify the site security, to see if the business is legitimate.
4. Frequently Asked Questions
4.1. Overview
| | |
| --- | --- |
| When was Trusted Site – Trusted Badges Created? | 2014 |
| How much is Trusted Site – Trusted Badges? | $39/ month |
| Can I use Trusted Site on PageFly Editor? | Yes |
4.2. What is Trusted Site – Trust Badges App?
Trusted Site is a Shopify App offering a suite of certifications, which helps alleviate common concerns people have when shopping online. This is a certificate that stores must to gain better trust with customers. The returned reward is a trusted certificate after store fulfilment of all criteria.
4.3. What Are Included in Trusted Site Plans?
From a Free Plan, Trusted Site Package includes up to 500 monthly visits, Certified Secure certification, Verified Business certification and TrustedSite floating trustmark. 3 monthly plans are available, including $39, $75 and $125 for one month, charged monthly.
4.4. Who are currently in partnership with the Trusted Site App?
Checkout, ResellerRatings, Trustpilot, Verified Reviews, Reviews.io