In this article, you will learn about an element that can help you save a bunch of time – Content list element.
About Content List element
The Content List is designed to help you save time on styling similar items and building content boxes with pre-made variants, so that you can spend time on other tasks.
With Content list, you only need to customize an element in one Content list item and the style will be applied to that element in Content List. In Particular, you can change the content in each item.
You can check more details in the video tutorial below.
Access the Content List element
Step 1: Click on the Add element function on the left toolbar
Step 2: Click on the Content List element in the Containers menu
Step 3: Drag and drop the variants that you need into the page editor and then start using it. There are 5 types for you to choose.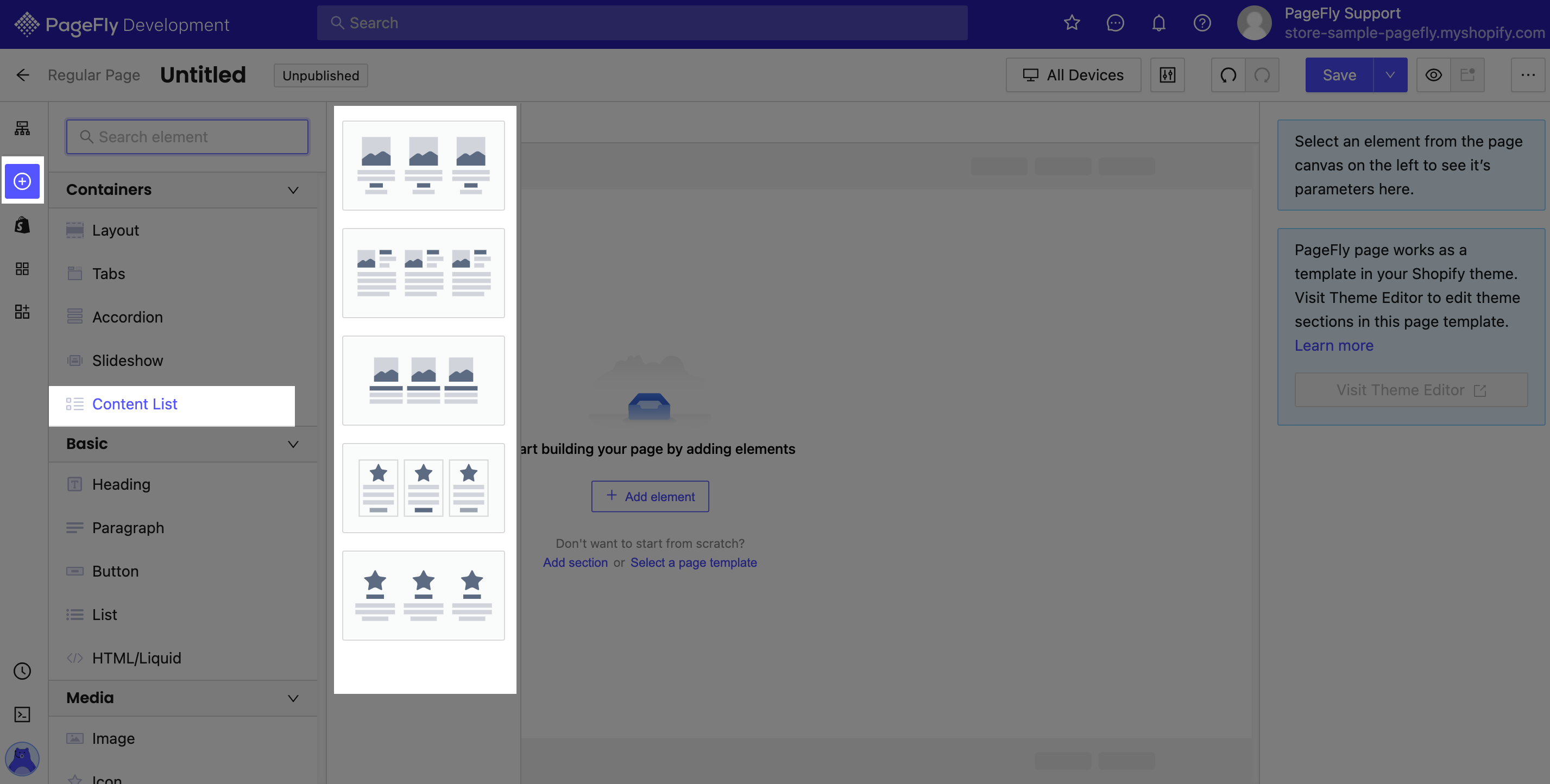 Note that you can search this element by using the search function instead of finding it in the sidebar.
Content List element configuration
A Content list contains one or more items. It's possible to control the number of items in a Content list via the General tab.
Select a Content list to see its parameters.
The parameters in the General and Styling tab are specific to this element.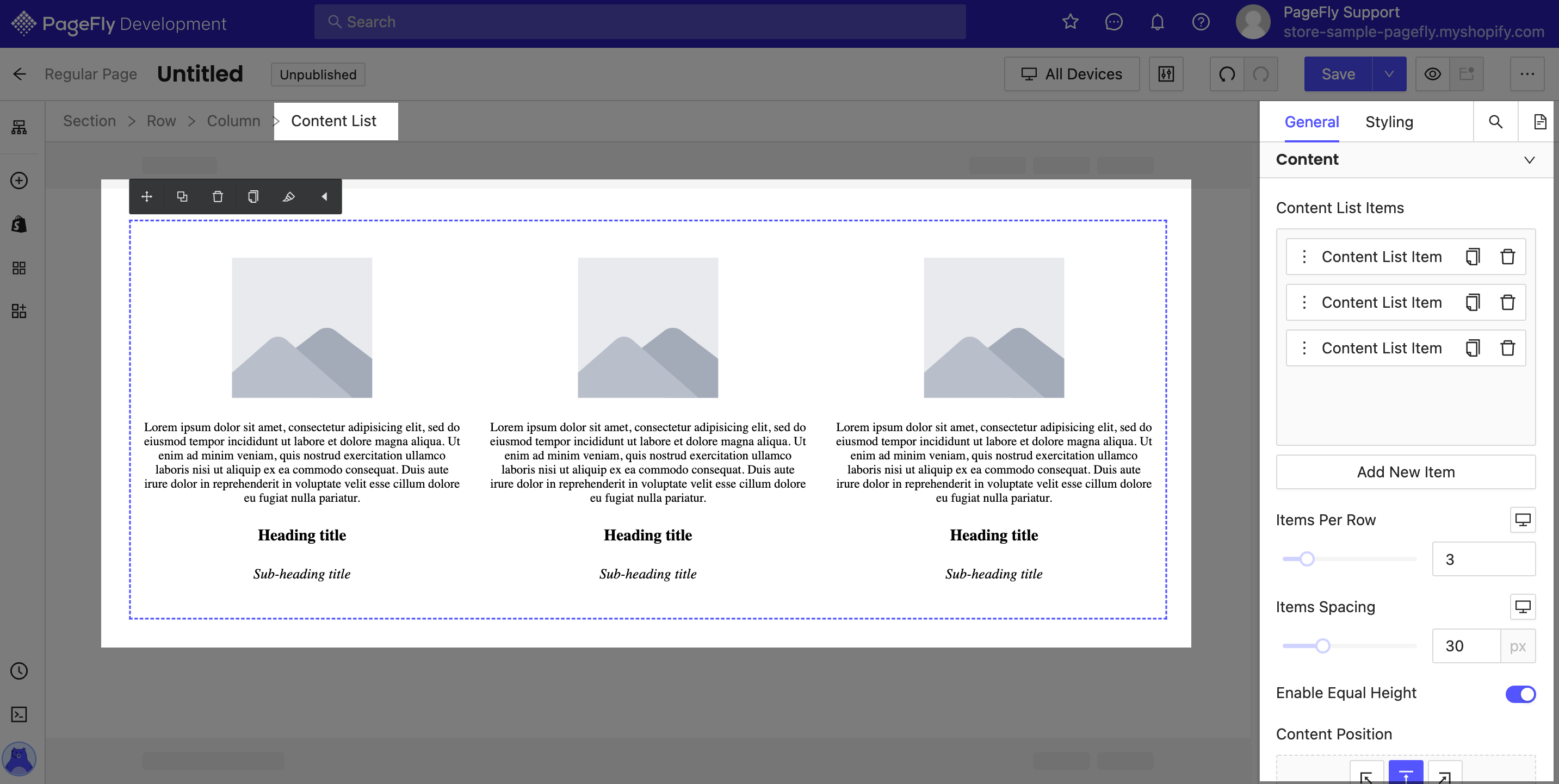 General configuration
CONTENT
Add Items: 

the number of items in a Content list is unlimited

Items: 

Move, delete a item

Items Per Row: 

The maximum of items per row is 12

Items spacing: 

Adjust the spacing among the items in the Content list.

This setting is defaulted by 30 px and you can edit this parameter

Enable Equal Height: 

Make all items inside this Content list have equal height

Content Position: 

Specify the position for the content inside this Content list
You can get further information about ATTRIBUTES, VISIBILITY, ANIMATION parameters.
Styling configuration
You can check more information about the Styling tab.
IMPORTANT NOTE
You can only add elements from Basic and Media categories in the Content list element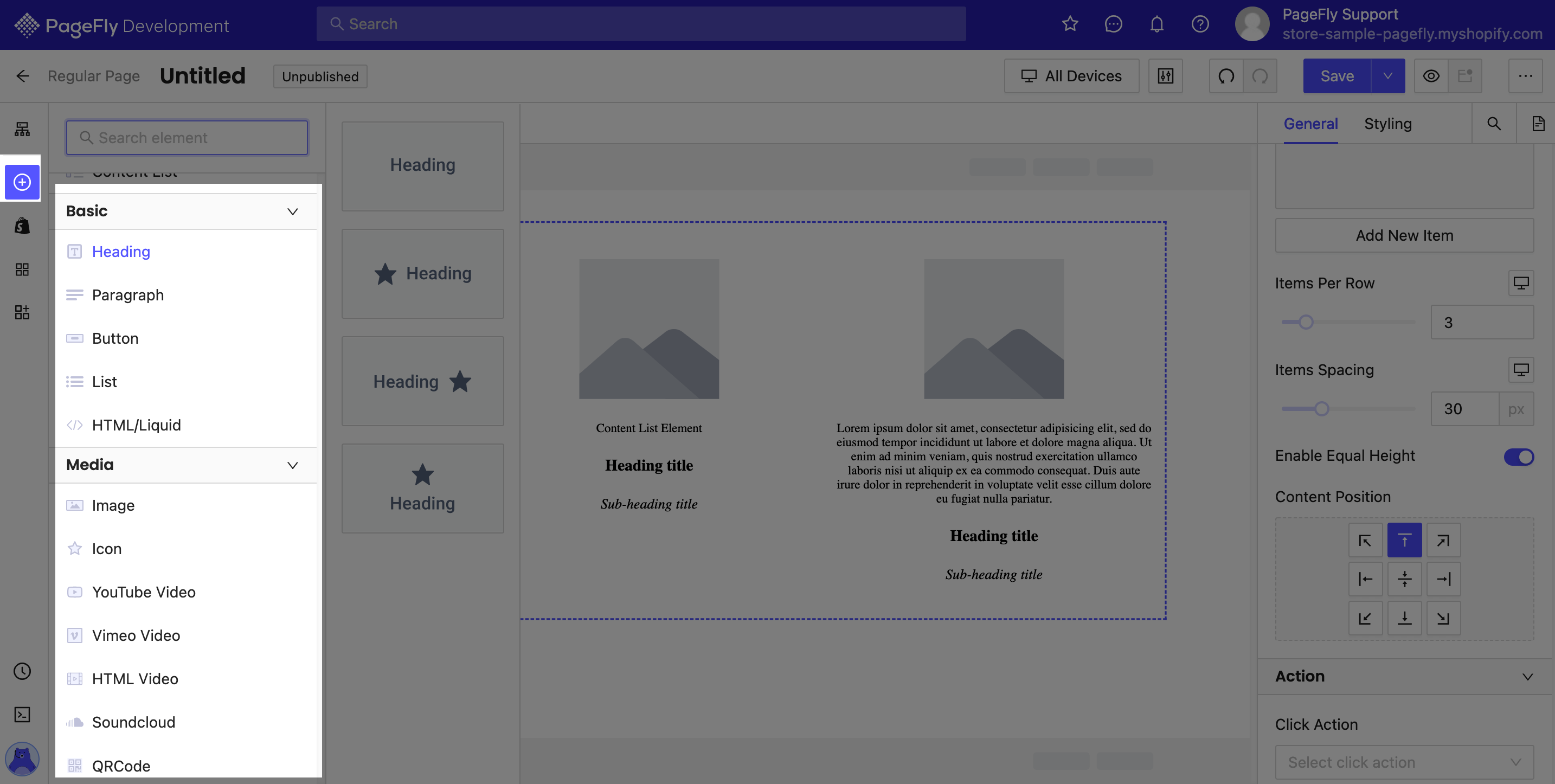 Beside adding new elements in the Content list, you also can delete some elements in pre-made variants.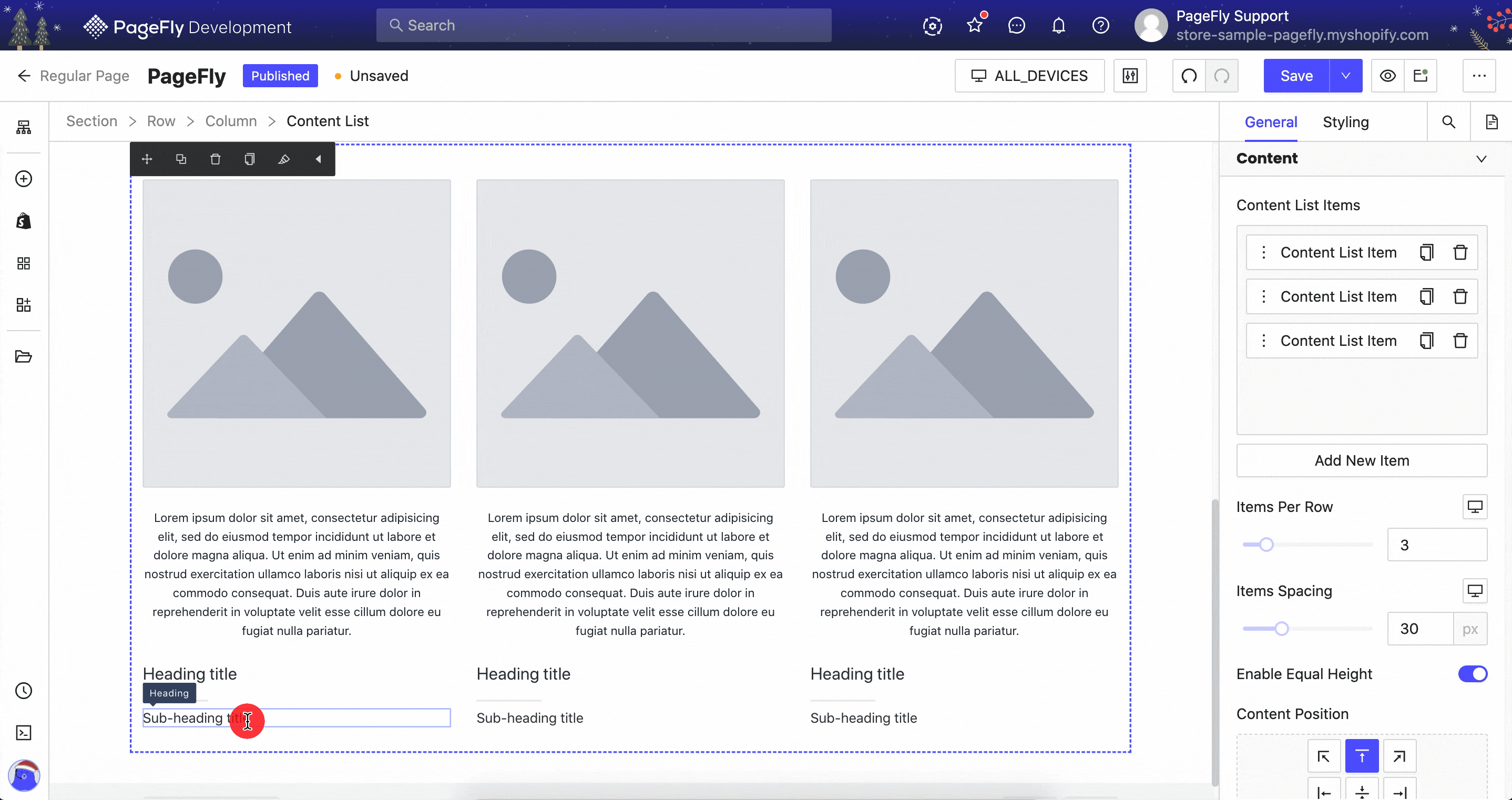 Content list item configuration
With Content list items, you can choose how to sync styling between Content list item elements in Styling Synchronization.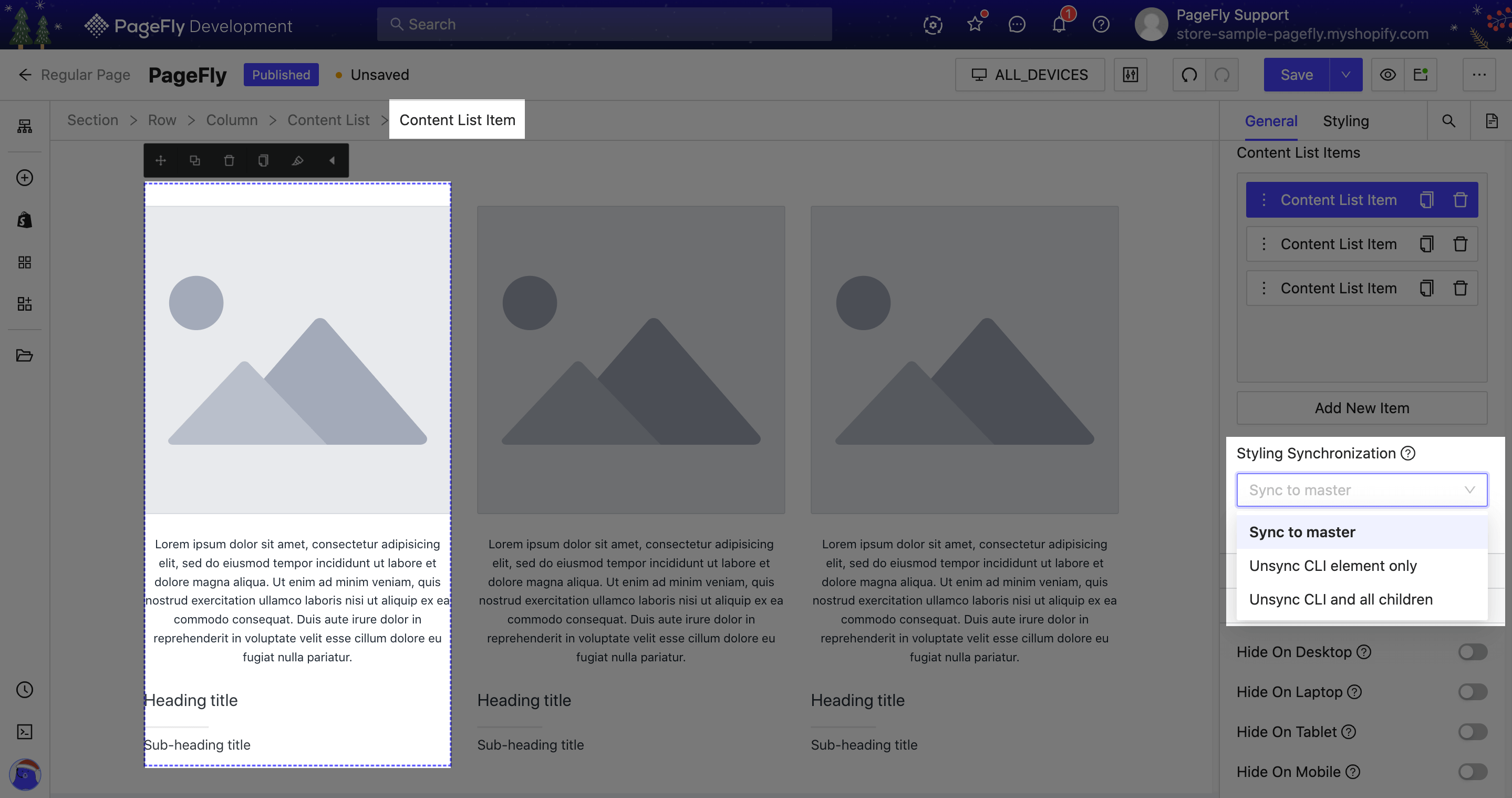 Sync to master: Content list item and all elements inside it will be synced with others items
Unsync CLI element only: not sync the Content list items styling, all elements inside it still sync styling with others
Unsync CLI and all children: not sync the Content list item and all elements inside to others
When you select this type, you can edit for a single Content list and this changes will not be applied to others
The parameters in the General and Styling tab of items are the same with Basic and Media features.
You can check more information about these elements here: