What is Wishlist Hero – Revamp?
Revamp – Add to Wishlist element by Wishlist Hero is designed to enable customers to bookmark their favorite products and pick up where they left off when they return. Wishlist Hero works on product, collection and quick views.
This will improve the buying experience and bring customers back to your store.
API & JavaScript API and Facebook pixel is available for installment and tracking
Benefits of using Wishlist-Hero App
Setup in just a minute, as it's, compatible with all Shopify themes
This plugin is mobile friendly, with multi language support
Sellers can export store data
Can share the list via email or social media (Facebook…)
How to use Wishlist Hero
To use this element, you will need to install the Wishlist Hero app from Shopify Store and go to PageFly to use the element.
Access Wishlist Hero
Step 1: Go to Add third party element in the left toolbar > Click on the Edit your 3rd party elements button.
Step 2: In the Integrations popup page, you search "Wishlist Hero" on the search bar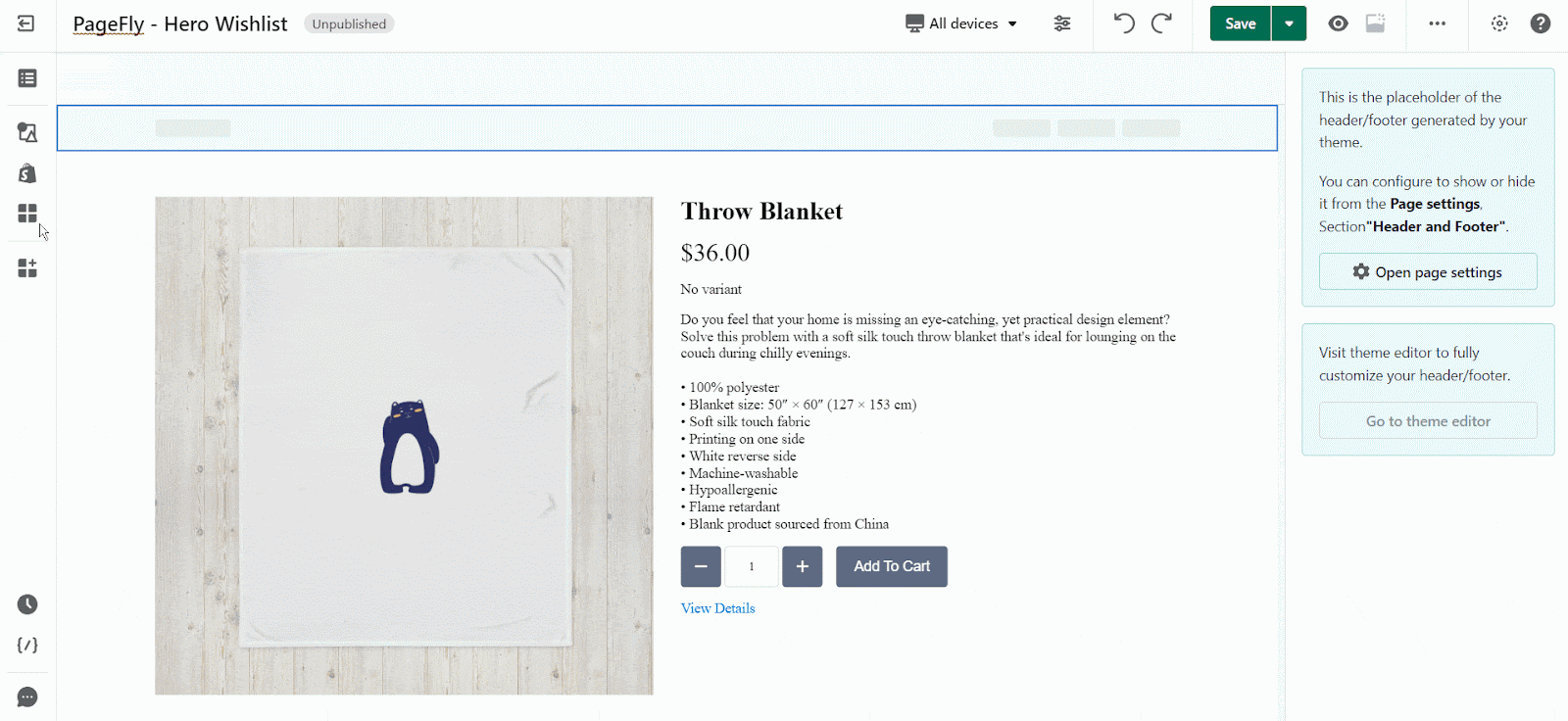 Step 3: Click on the Hero Wishlist element in the Catalog
Step 4: Select the variant you want then Drag and Drop the Hero Wishlist element on the canvas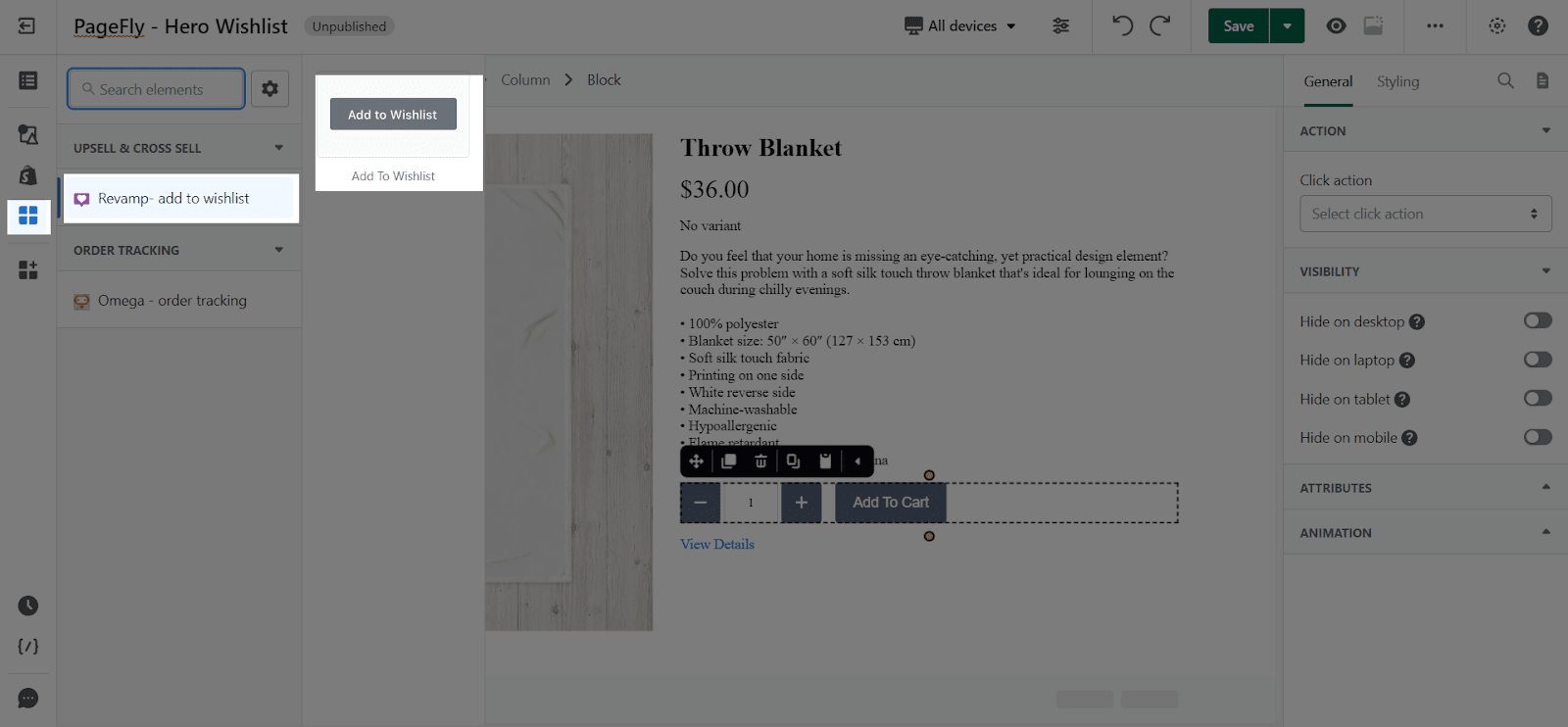 PageFly Configuration
Once you finish configuring options in the Hero Wishlist app, you can go to a PageFly page and use this element.
You can take a look at this gif for instructions on how to drag and drop it in the editor canvas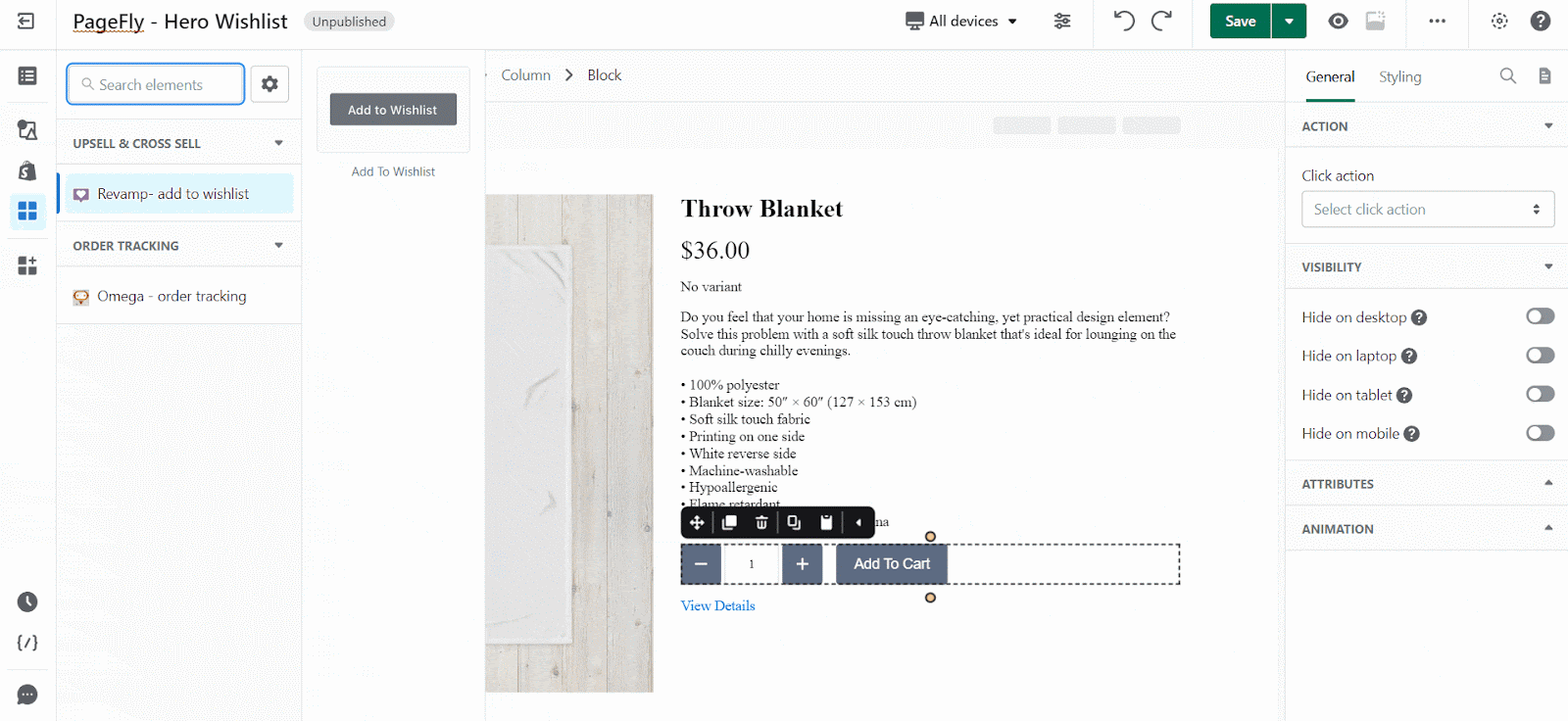 General Settings
In the General tab, there is a widget configuration giving you a short explanation of the Hero Wishlist app and its link to app listing, and you can edit the Visibility, Tracking, Attributes, and Animation of the product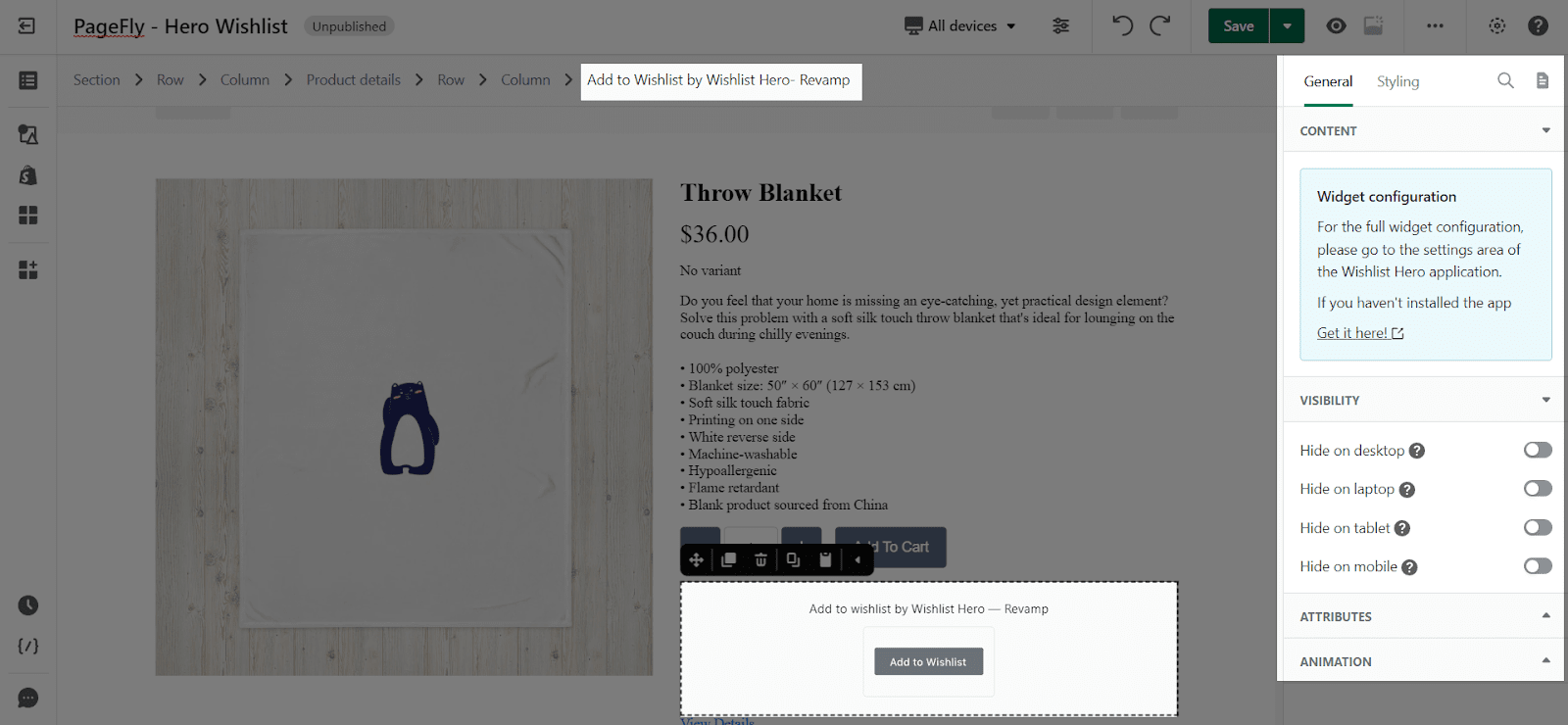 Styling Settings
In the Styling tab, you can edit the Margin, Border, Effect of Opacity for the element.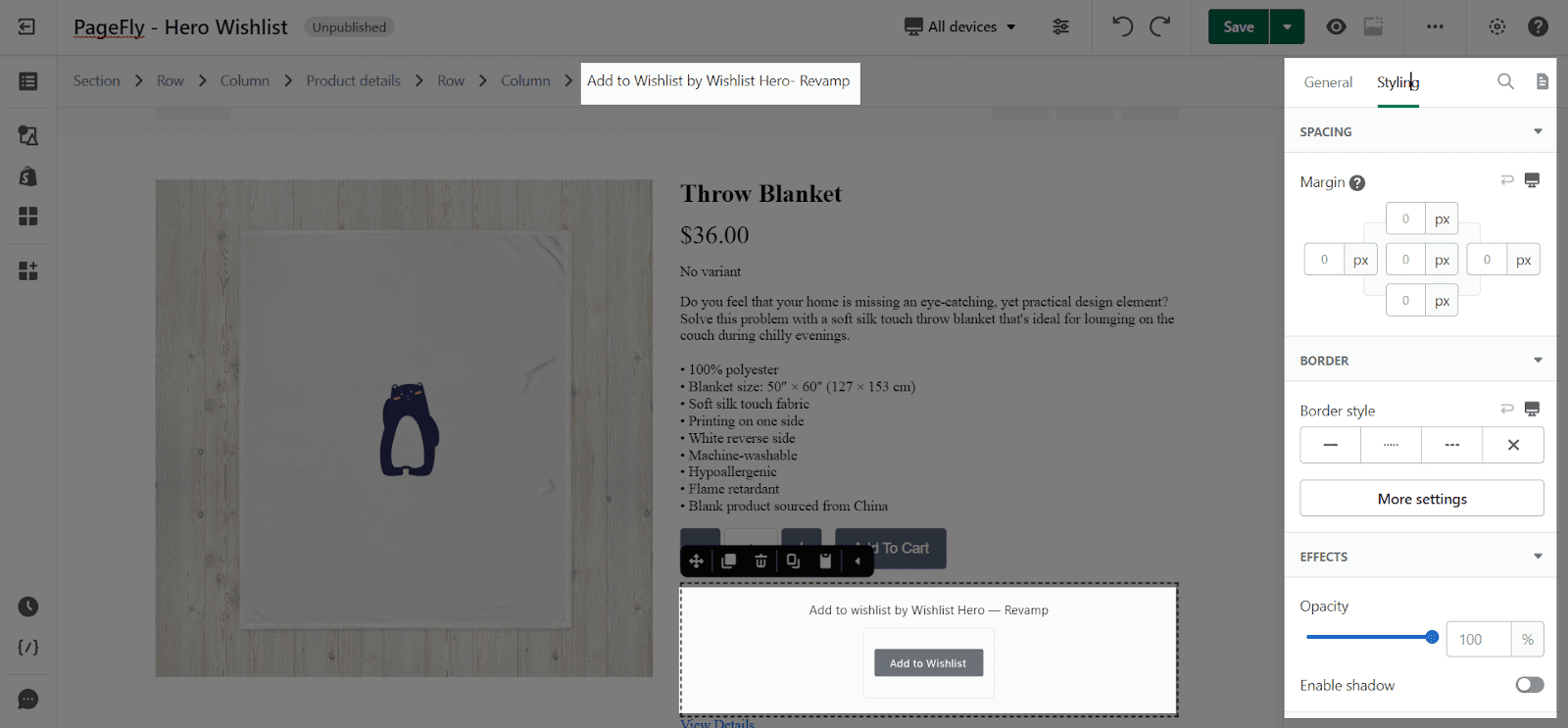 You can check more information about the Styling tab here.
Then, hit the Save & Publish button to save the page you have just edited.
Click on the View Live Page to check the page with the Hero Wishlist element.
Note that the Revamp – Add to Wishlist element can only be activated in the Product details section with the Product variant element.
Revamp – Add to Wishlist Configuration
Step 1: Log in to Hero Wishlist by using your Shopify store account
Firstly, access to your Shopify store.
Then, go to the Apps page in the left toolbar > Click on the Hero Wishlist app to open the app.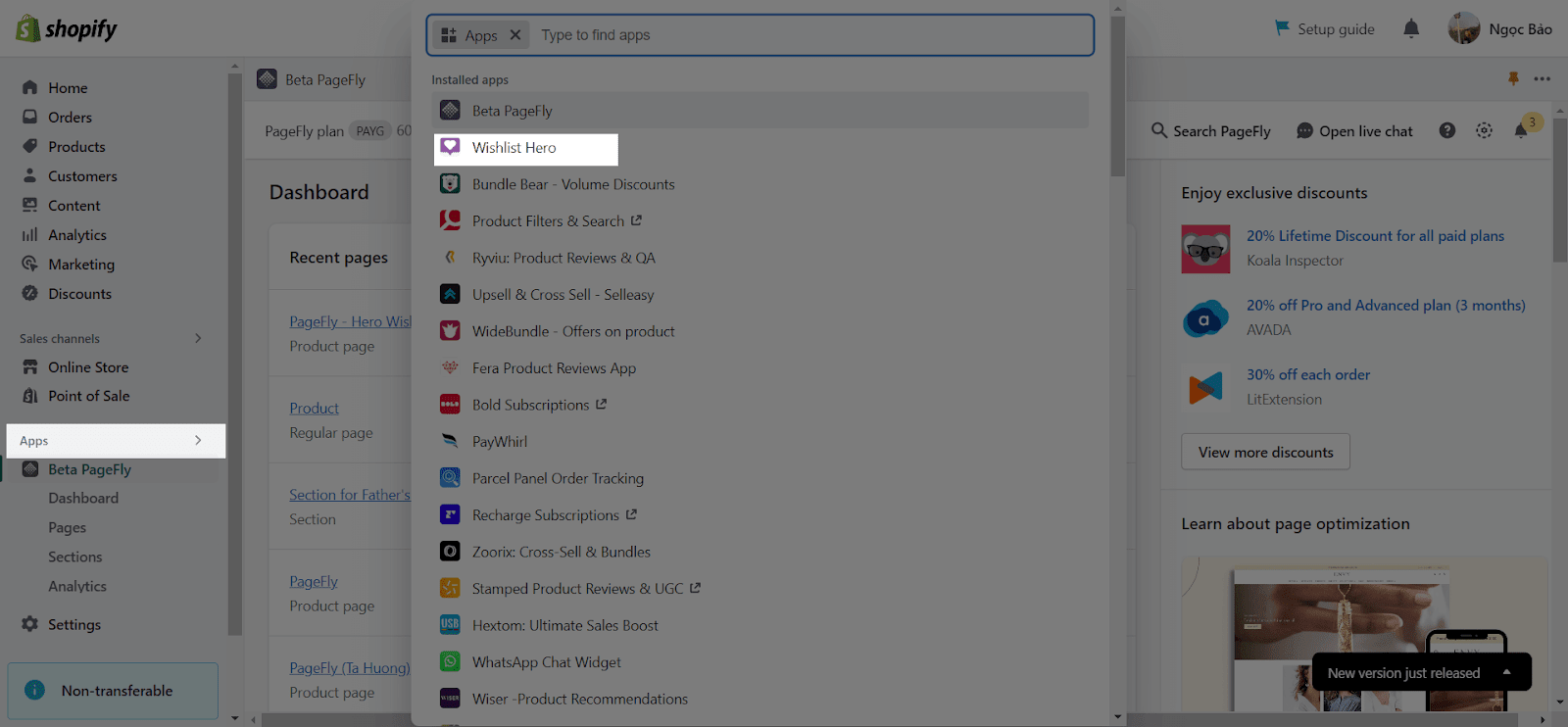 Step 2: Configure Wishlist appearance
Go to Settings tab > Scroll down for Customize Wishlist Appearance > Hit Configure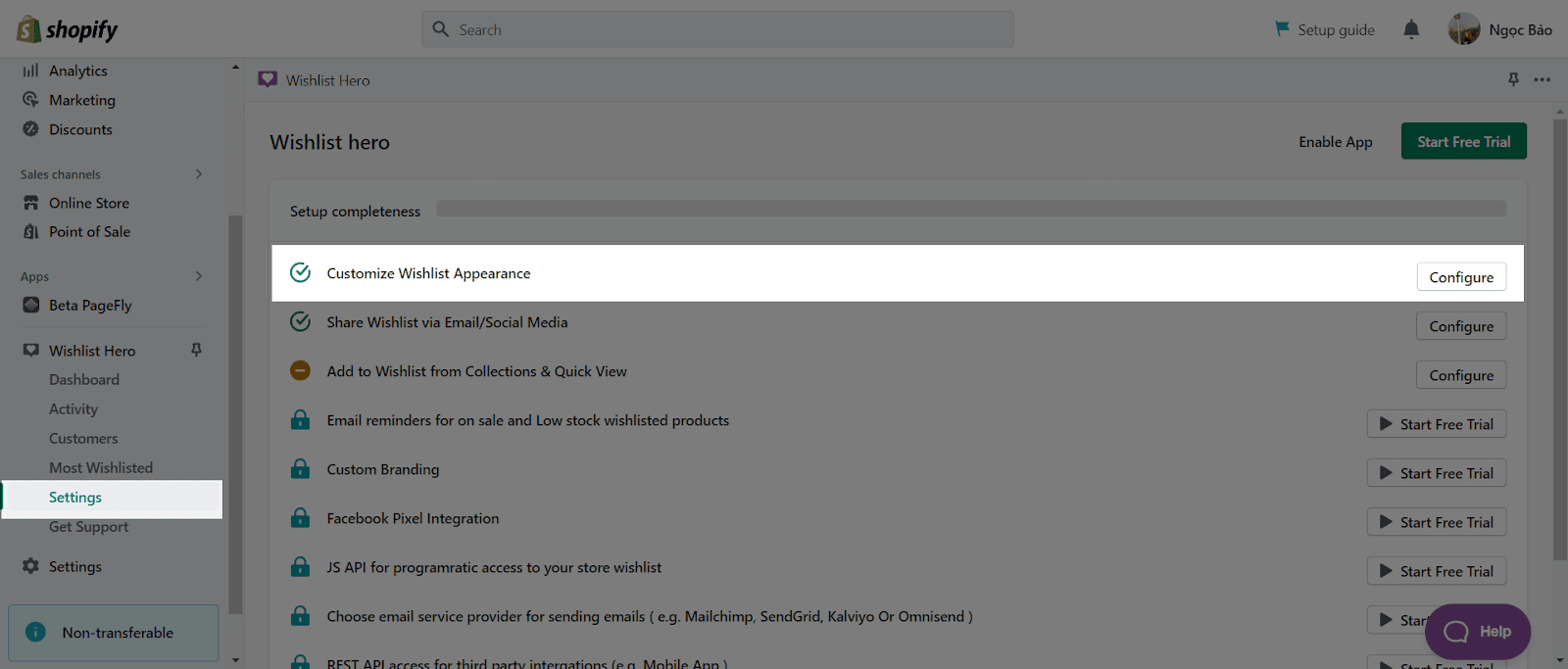 You can set for Launch point Type, Display the Wishlist module, Button Details.
After you finish setting up your plan, click the Save button.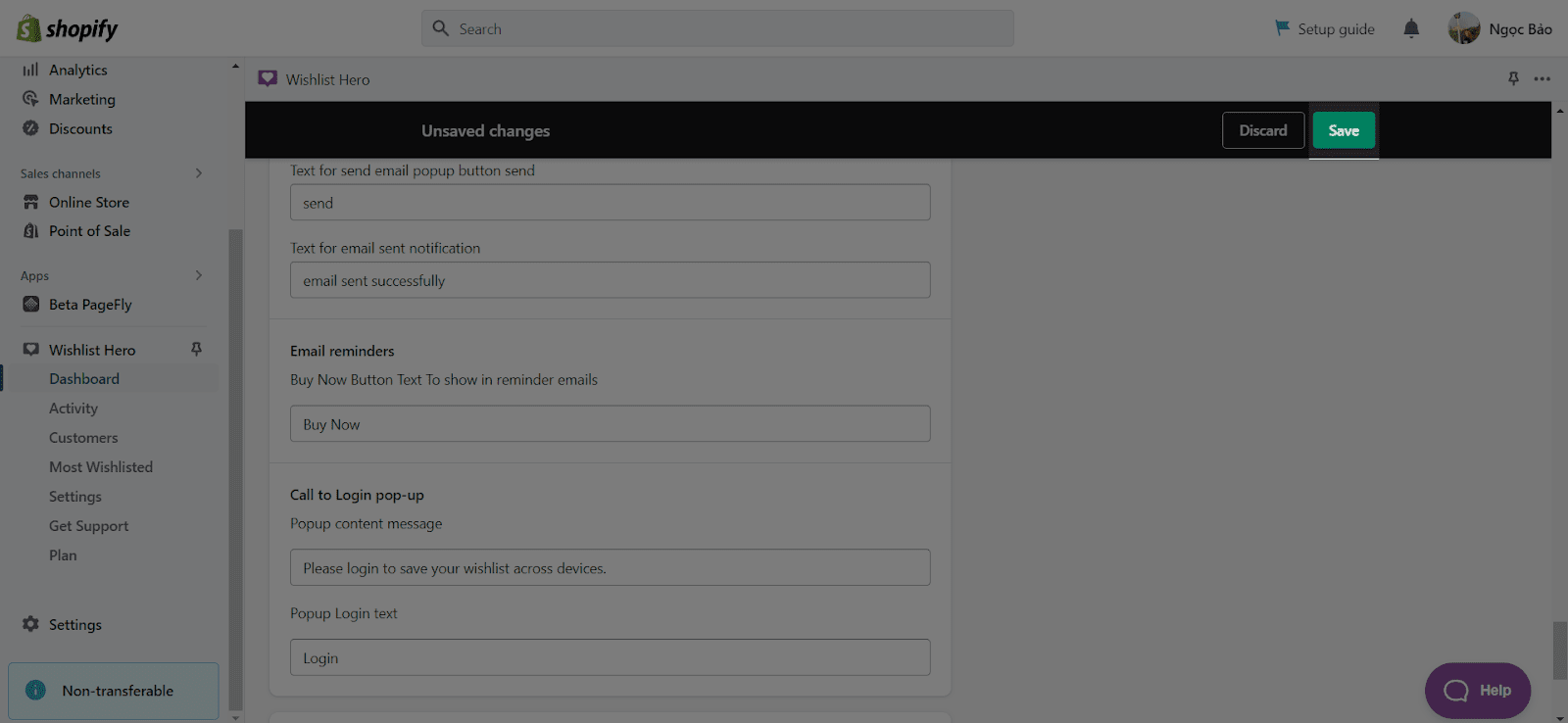 Please get in touch with us via 24/7 in-app Live Chat so we can help you directly with any problem while using PageFly.
Frequently Asked Questions
Overview
| | |
| --- | --- |
| How much is Wishlist Hero? | $4-$29/ month |
| Who owned Wishlist Hero? | Revamp |
| How many apps does Revamp own? | 1 |
What does a free plan from Wishlist Hero cover?
500 wishlist items/ month, non-english-support, can share the list via email and social media. No coding required, with detailed data report.
What does "add to wishlist" mean?
A wishlist allows buyers to create a personal collection of products they 'wish' to buy, as they can save those items to their account, for future use.
Does Wishlist-Hero work with PageFly?
Yes, you simply have to drag and drop Wishlist Hero items to the Product Details element on the Product page to start using.