1. About Shopify Collection Image Element
1.1. What is Shopify Collection Image?
The Shopify Collection Image Element is designed to display the images of your Shopify collections on your page to increase your conversion rate. You can use the Collection Image element to promote your collection on any non-collection page or use it on a collection page.
1.2. Overview of Shopify Images
| | |
| --- | --- |
| Shopify Collections Image size? | Square Ratio |
| What size are Shopify store collection images? | 4472px x 4472px |
| Maximum Shopify Image Size? | 20MB |
1.3. Access Collection Image Element
Step 1: Click on the Add Shopify element icon in the Element Catalog
Step 2: Click on the Collection Image element in the dropdown menu
Step 3: Drag and drop the element into the page editor and then start using it.
Collection Image element comes with one common variation but we will continue to add more variations to help you save time.
Note that you can search for this element by using the search function instead of finding it in the sidebar.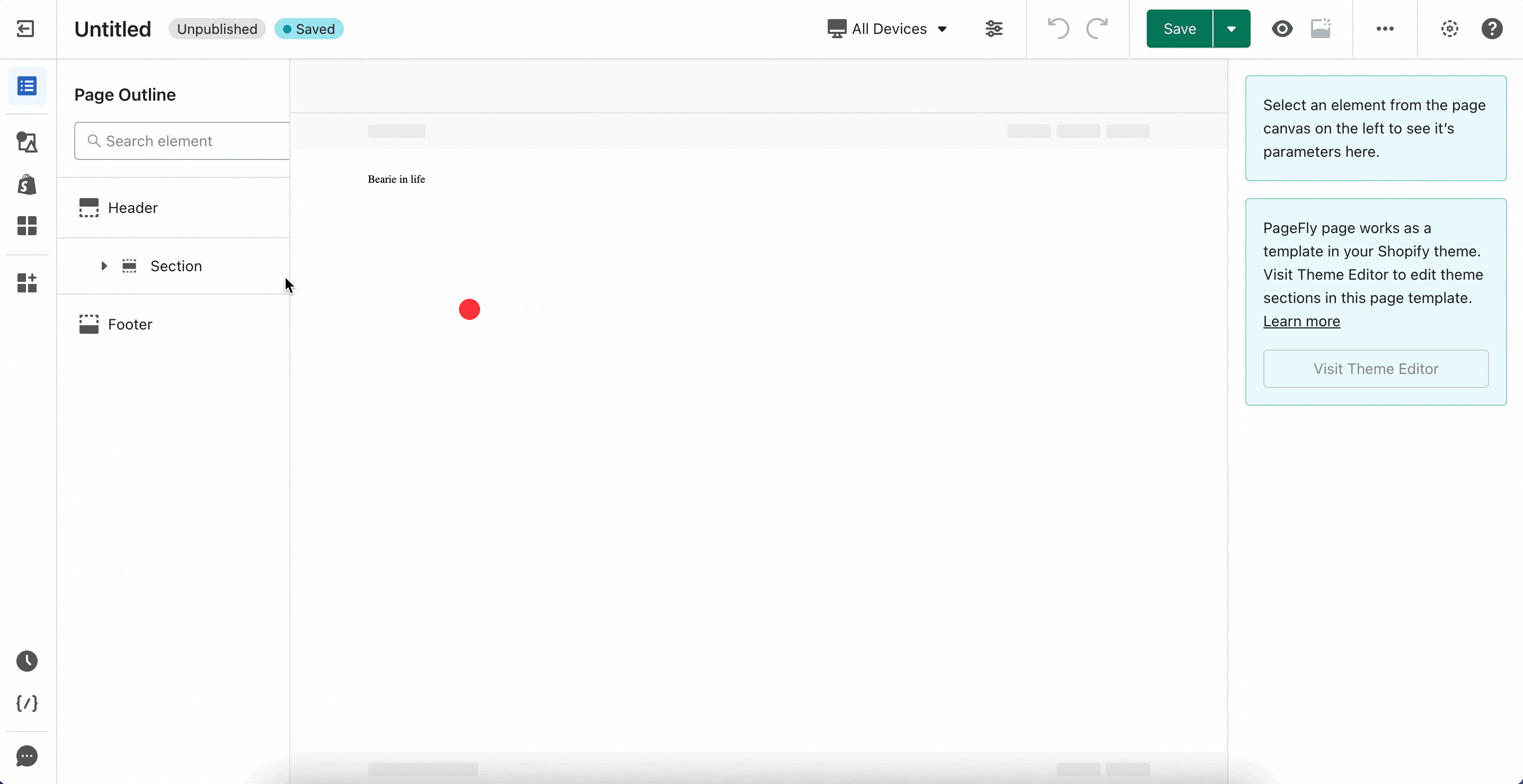 2. Collection Image Element Configuration
Collection Image element comes with plenty of parameters allowing you to fine-tune content appearance for the best possible conversion rate.
Select the element in the layout to see its parameters.
When you drag and drop this element into the editor page, there are 2 choices for the Collection Source for you to choose from: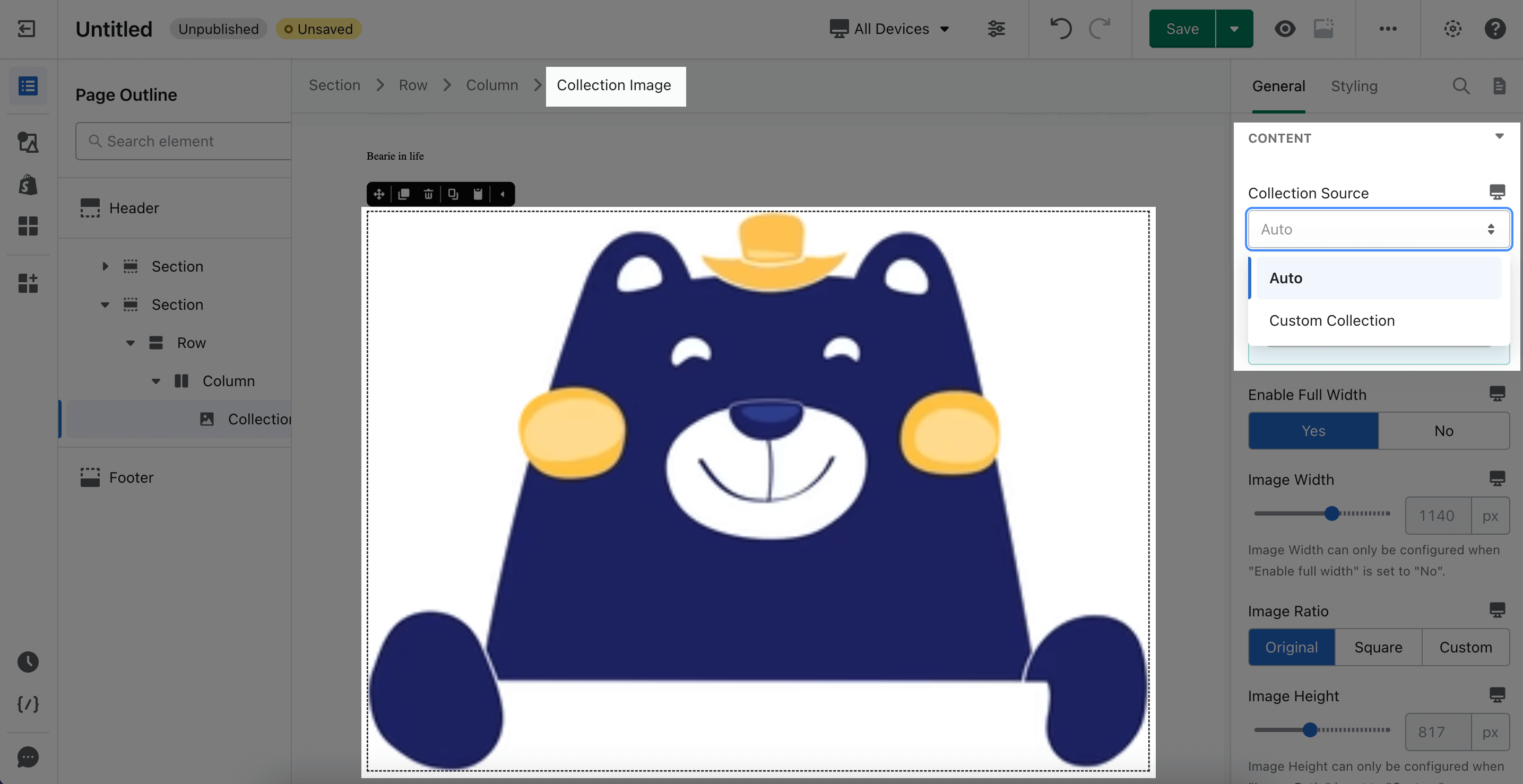 Note that if you are in the Collection Page and use the Collection Image element, then you can choose the Collection Source option. However, if you are in a Regular Page and use this element, the Collection Source option is disabled and the Custom Collection chosen by default.
If you choose Auto, then the collection that was assigned when you created this collection page will be displayed in the page editor. The Auto option is the default when you use the Collection Image element.
You can choose Custom Collection and select the collection you want.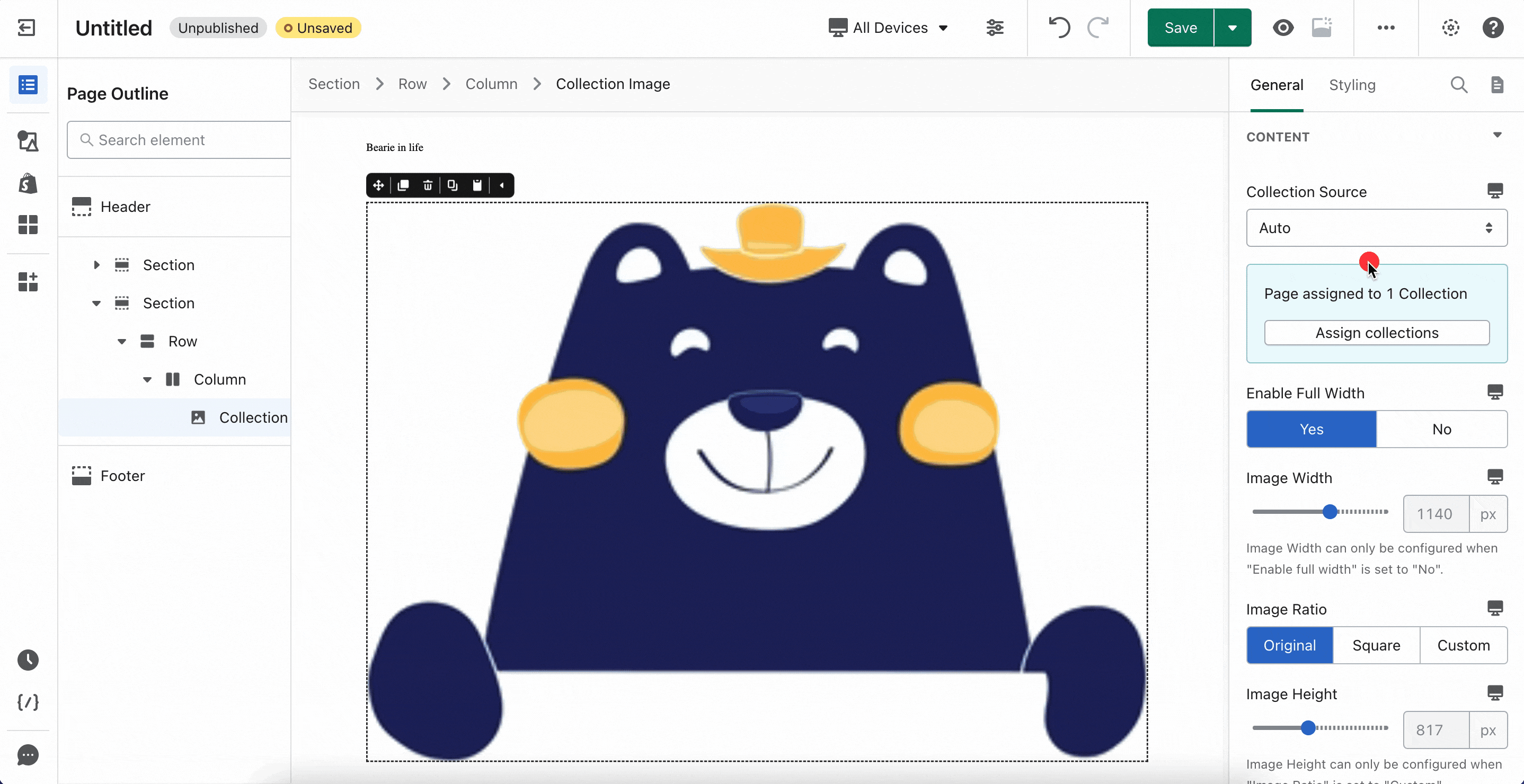 3. General Tab Configuration
CONTENT

3.1. Enable Full Width

Make the Image to fit with the width of its container (example: column).

3.2. Image Width

You can adjust Image Width when turning Enable Full Width off.

3.3. Image Ratio

There are three types for you to choose:

Original : Image will show in original size
Square : Image will show in square shape

Custom : You can adjust height of the image

3.4. Image Height

You can adjust Image Height when selecting Custom in Image Ratio.

3.5. Image Object Fit

In Square and Custom type, you can resize image to fit its container.

Cover: Image will stretch to fit with the container

Contain: Image will squeeze to stay inside its container

3.6. Image Position

In Square and Custom type, you can select specify the position for the image inside its container.

If the image fit with its container, the Image position will show like this

3.7. Link To Collection

Enable this option if you want to link the image to the corresponding collection page when a user clicks on it.
You can get further information about ATTRIBUTES, VISIBILITY, ANIMATION parameters here
4. Styling configuration
You can check more information about the Element Style Settings