In this article, you will learn how to use Email, SMS & Loyalty Rewards by Marsello to create a newsletter on your page to have professional and attractive email marketing.
In order to use this element, you will need to install the Marsello app from Shopify Store and go to PageFly to use the element.
Install Marsello
Install PageFly
About Email, SMS & Loyalty Rewards by Marsello element
Marsello is your all-in-one marketing platform that combines data-driven automation, email marketing, SMS campaigns, and loyalty programs that gets results. You can use Marsello to launch marketing campaigns or send automation SMS and emails on your Shopify page with PageFly.
Note that PageFly only supports Marsello Landing page form.
Access the Email, SMS & Loyalty Rewards by Marsello element
Step 1: Create a section with Email, SMS & Loyalty Rewards by Marsello element
1.  Go to Add third party elements in the left toolbar > Click on the Edit your 3rd party elements button, OR click in symbol settings next to the search bar.
2. In Integrations popup page, you can search "Email, SMS & Loyalty Rewards" on the search bar and then Enable it.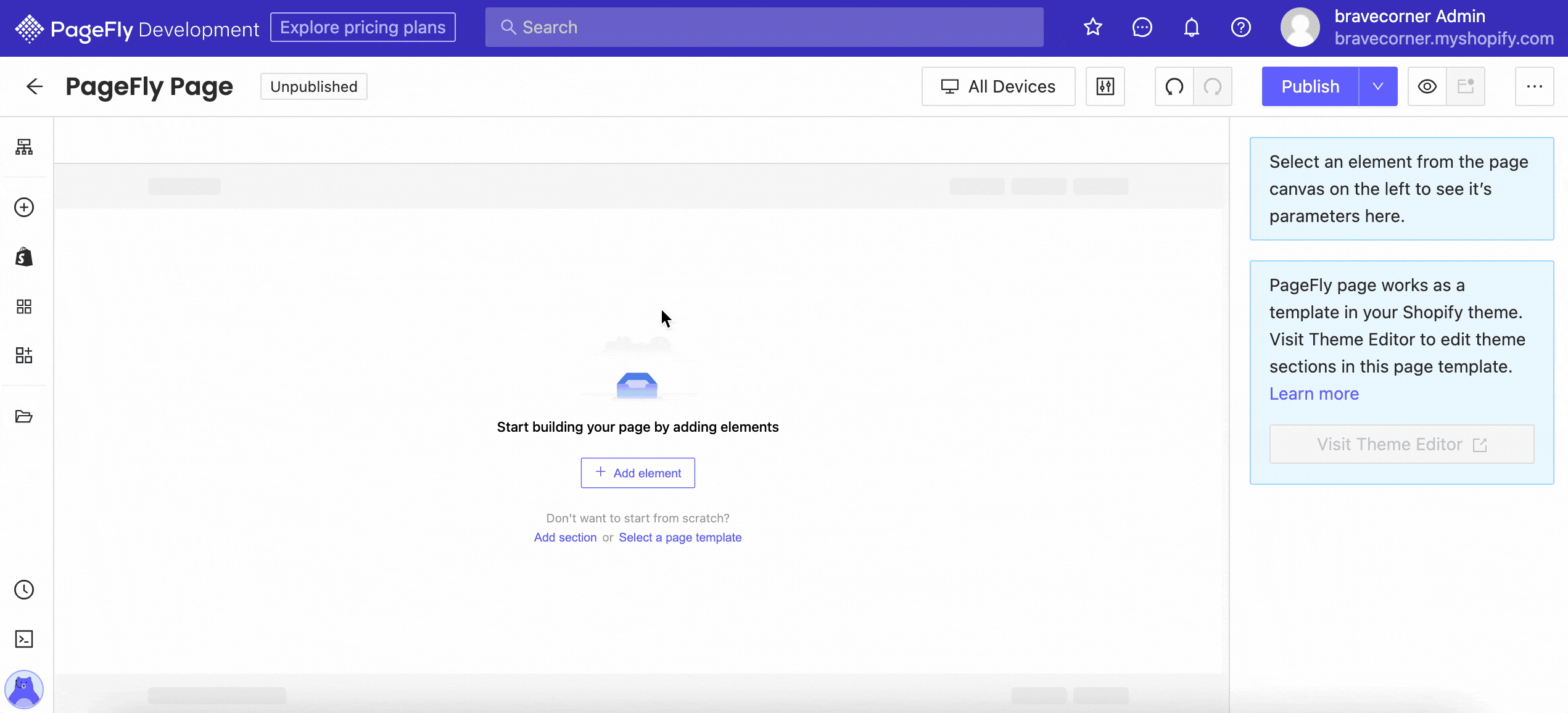 3. Drag and drop Landing Page Signup Form element into the editor.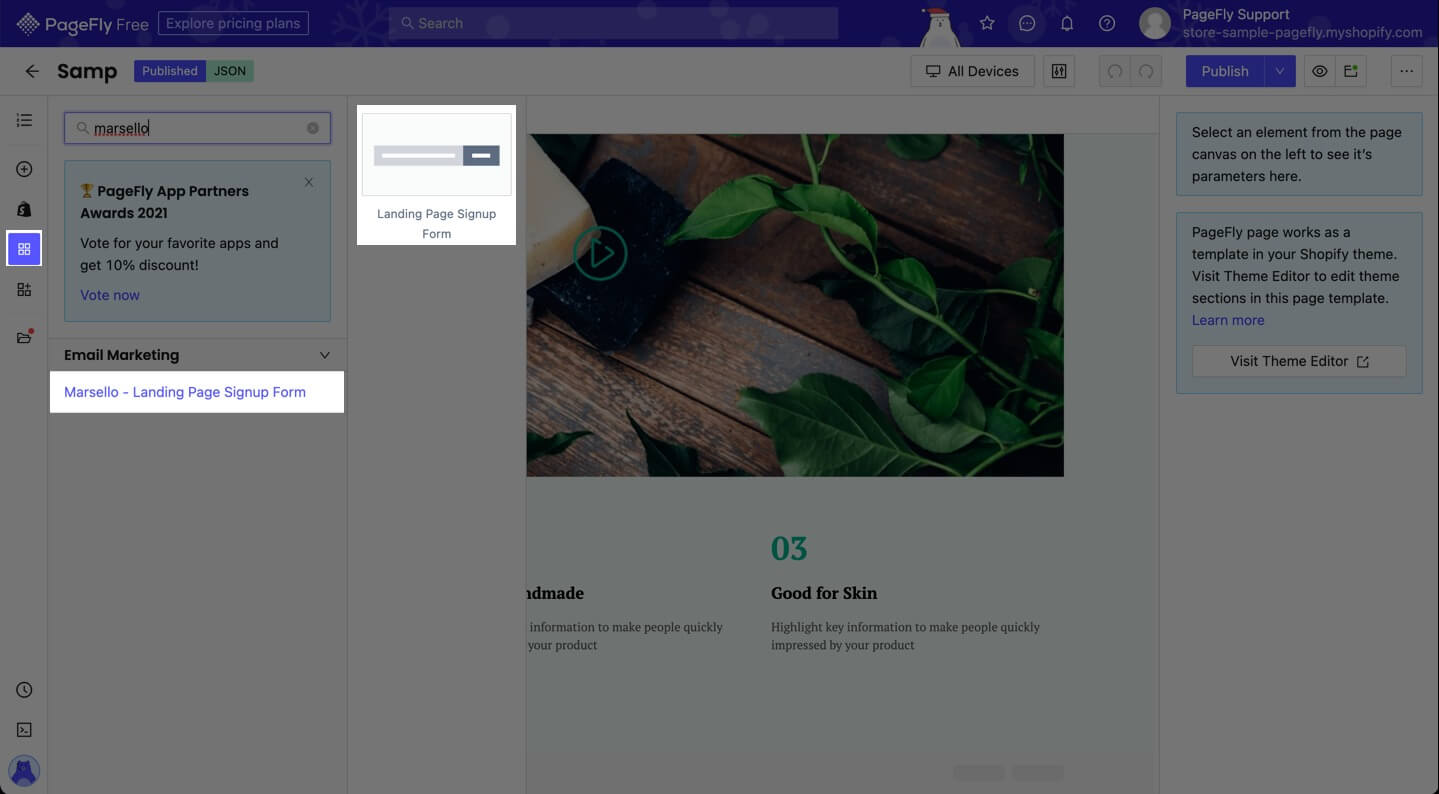 Step 2: Add Marsello – Landing page form's link
Click on the Landing page form element > go to General tab > Landing Page Link > Paste the link after you finish the setting in the Marsello app.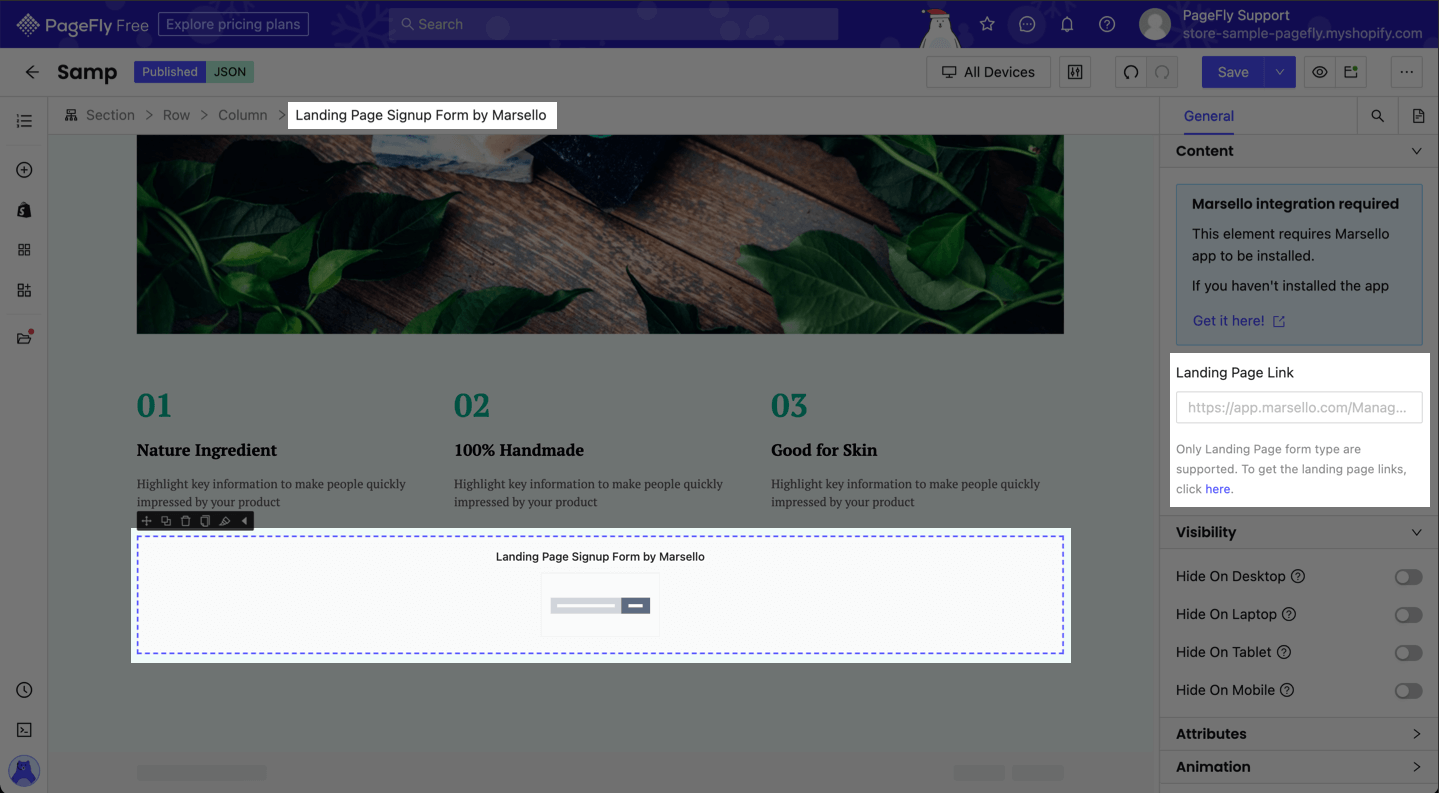 The form will show up on the editor page after you paste the link.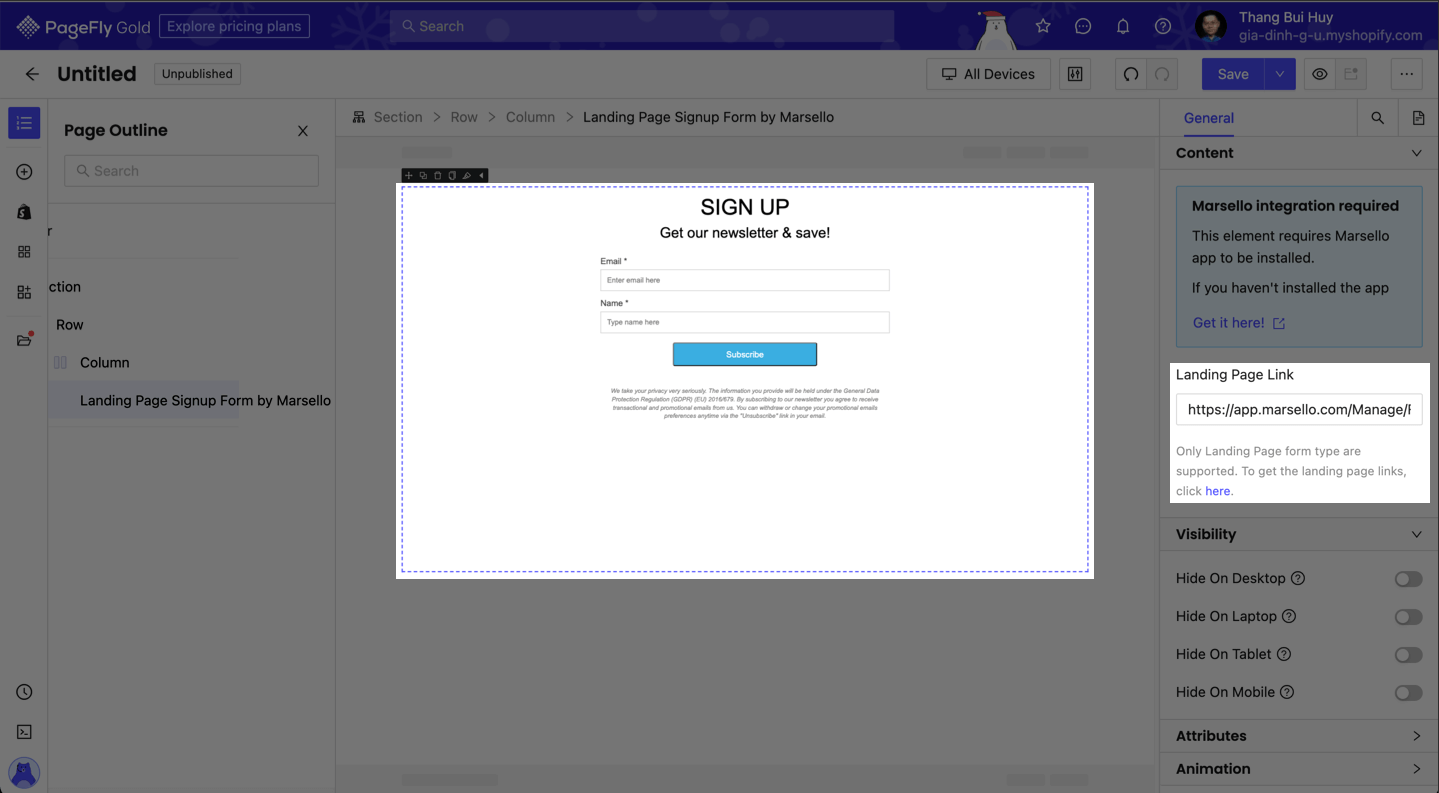 Styling Configuration
You can customize the styling of the Marsello element in the Styling tab.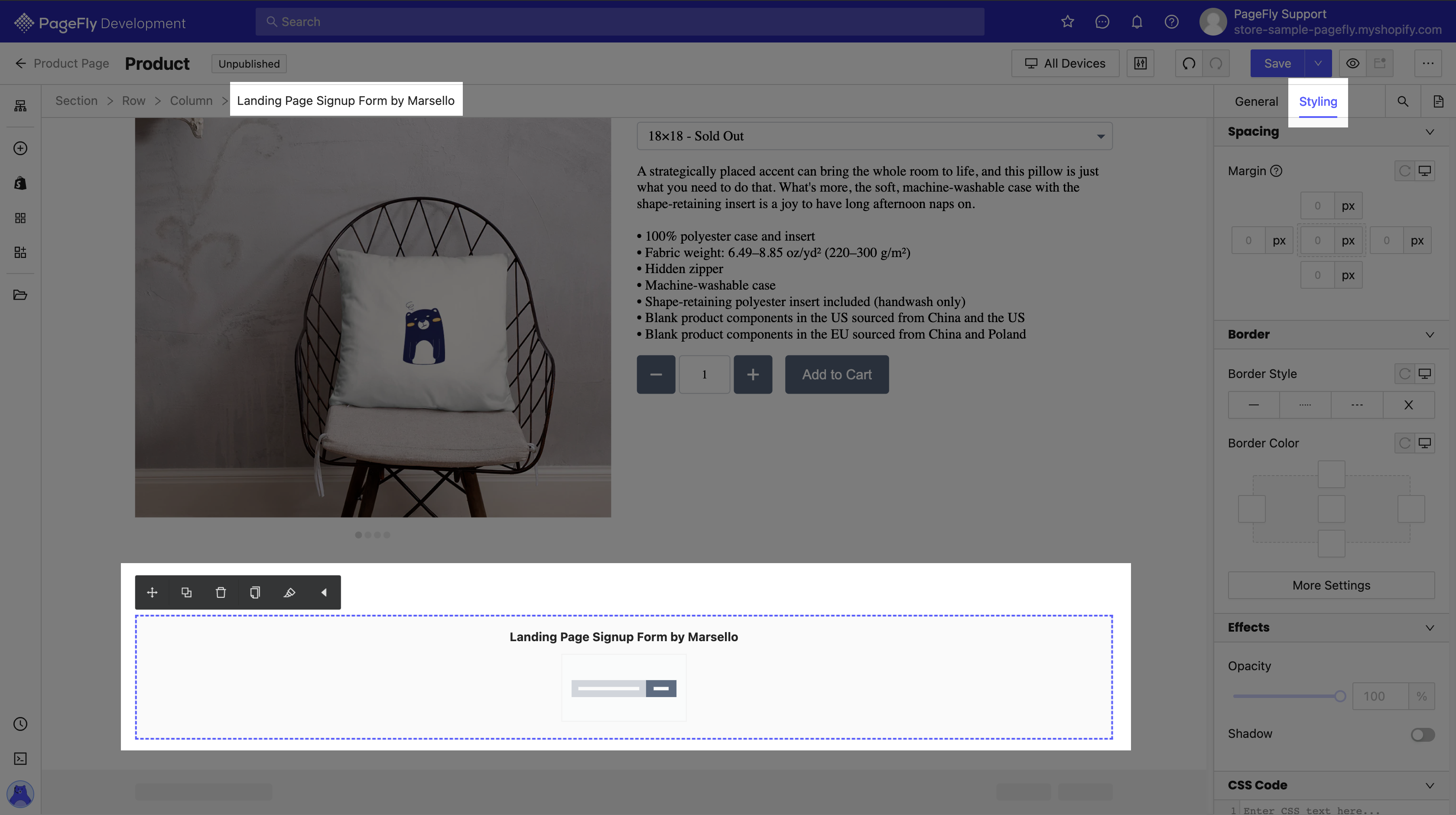 You can check more information about the Styling tab here.
Then, hit Save & Publish button to save the page you have just edited.
Email, SMS & Loyalty Rewards by Marsello element configuration
Step 1: Log in to Marsello by using your Shopify store account
Firstly, access to your Shopify store.
Then, go to the Apps element in the left toolbar > Click on the Marsello app to open it in the new tab.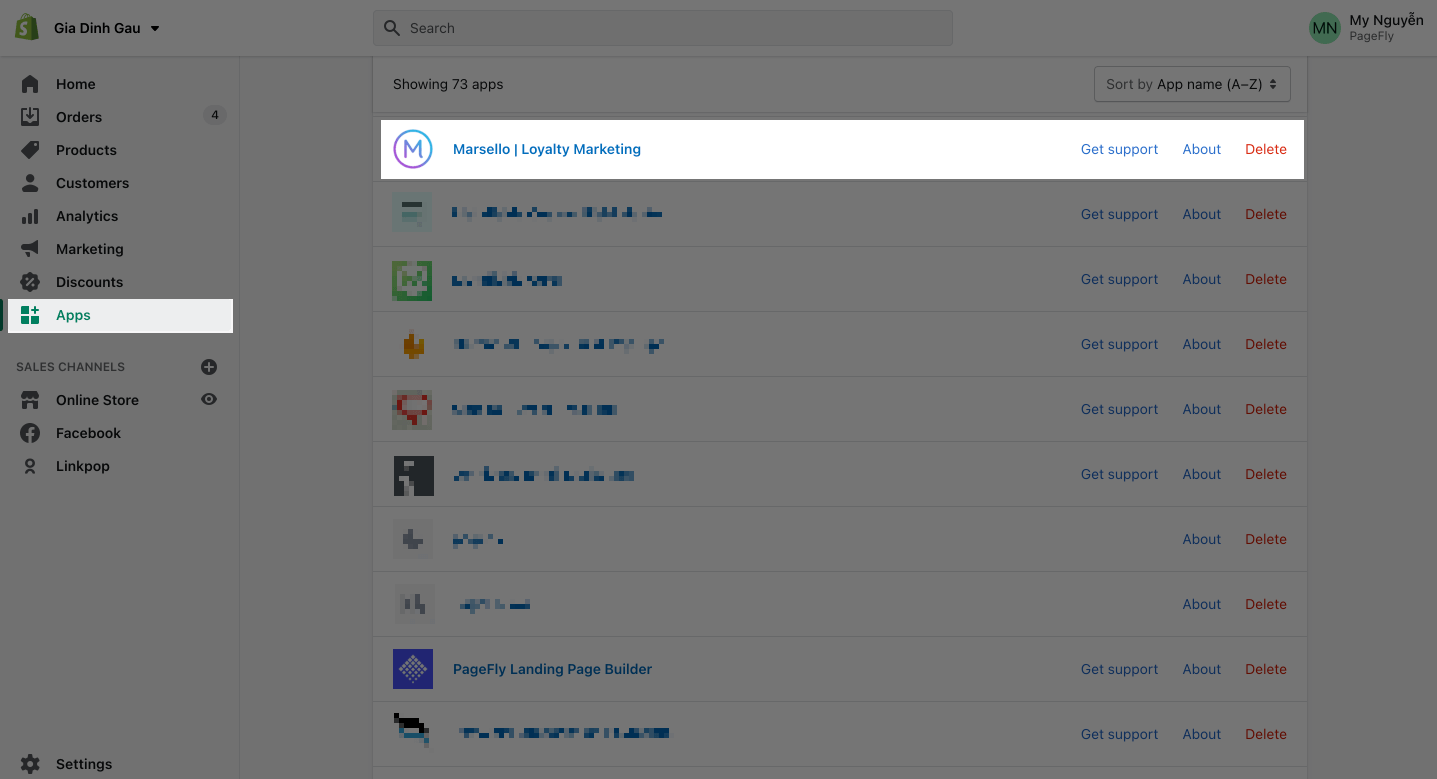 Step 2: Create Landing page form
Click on Marketing menu in Marsello dashboard > Scroll down to Forms > hit Create forms.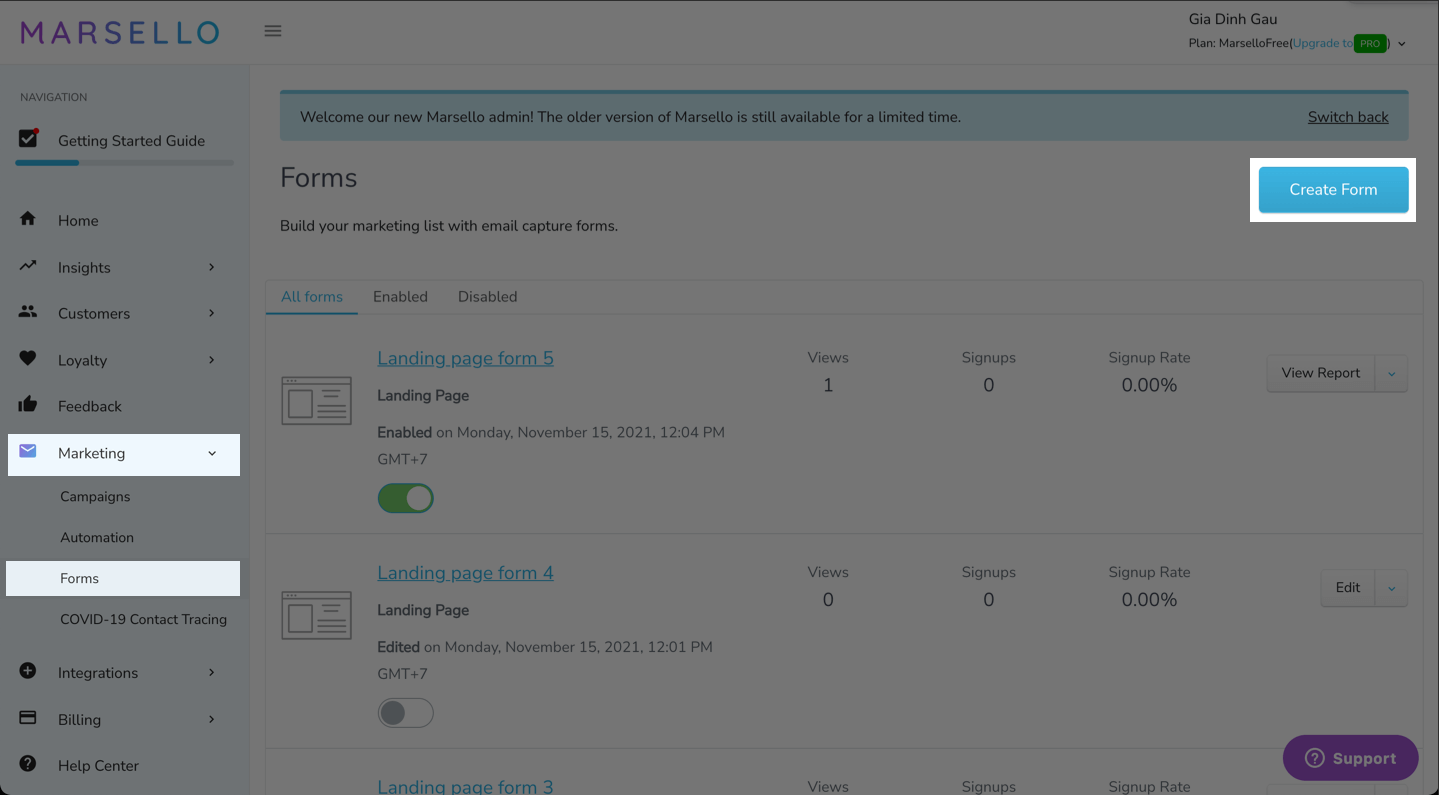 The form types screen will appear. Then choose Landing page form > hit Create this form.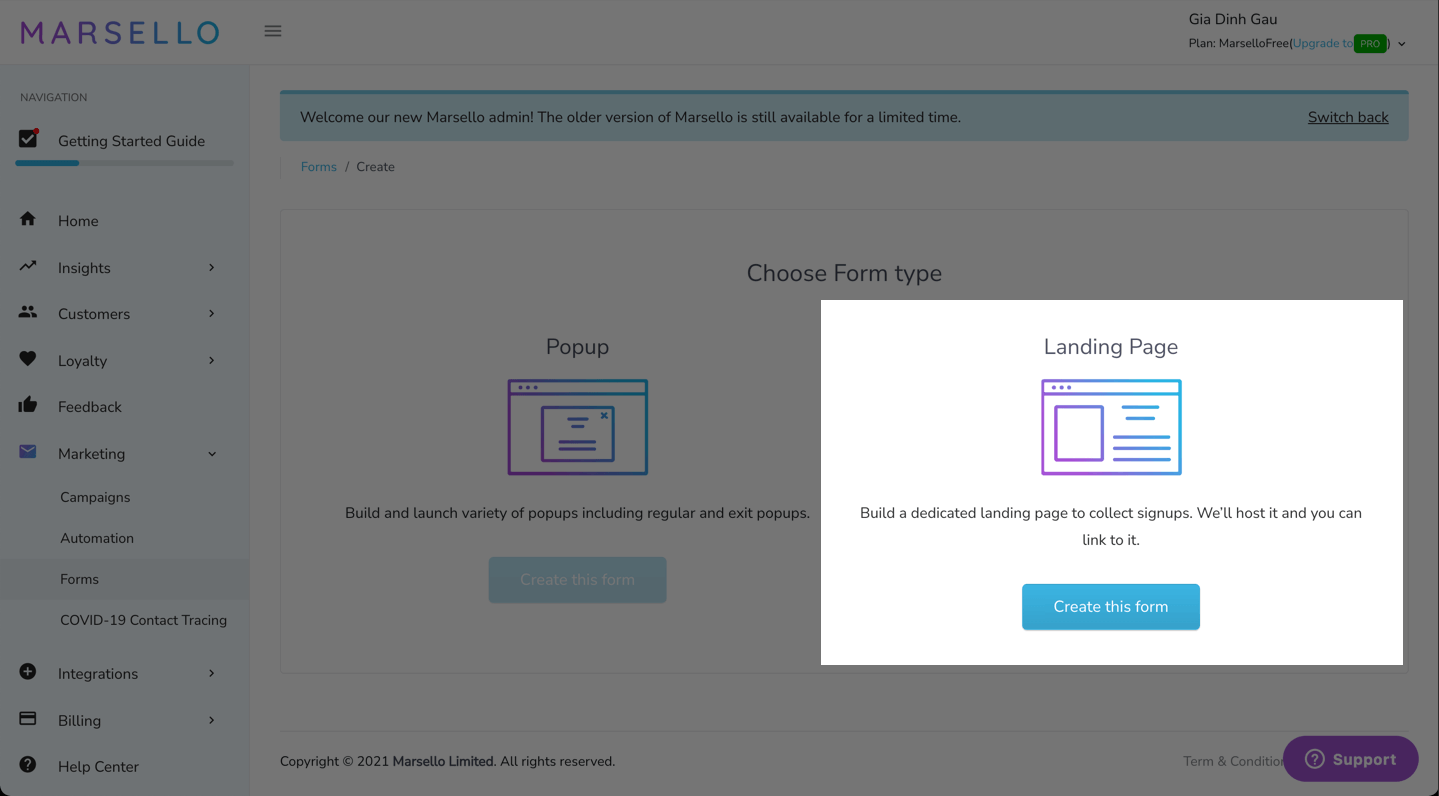 You can adjust the form and also the Success page.
You can find the toolbar on the right of the screen with elements in Content, Blocks, Body and Images.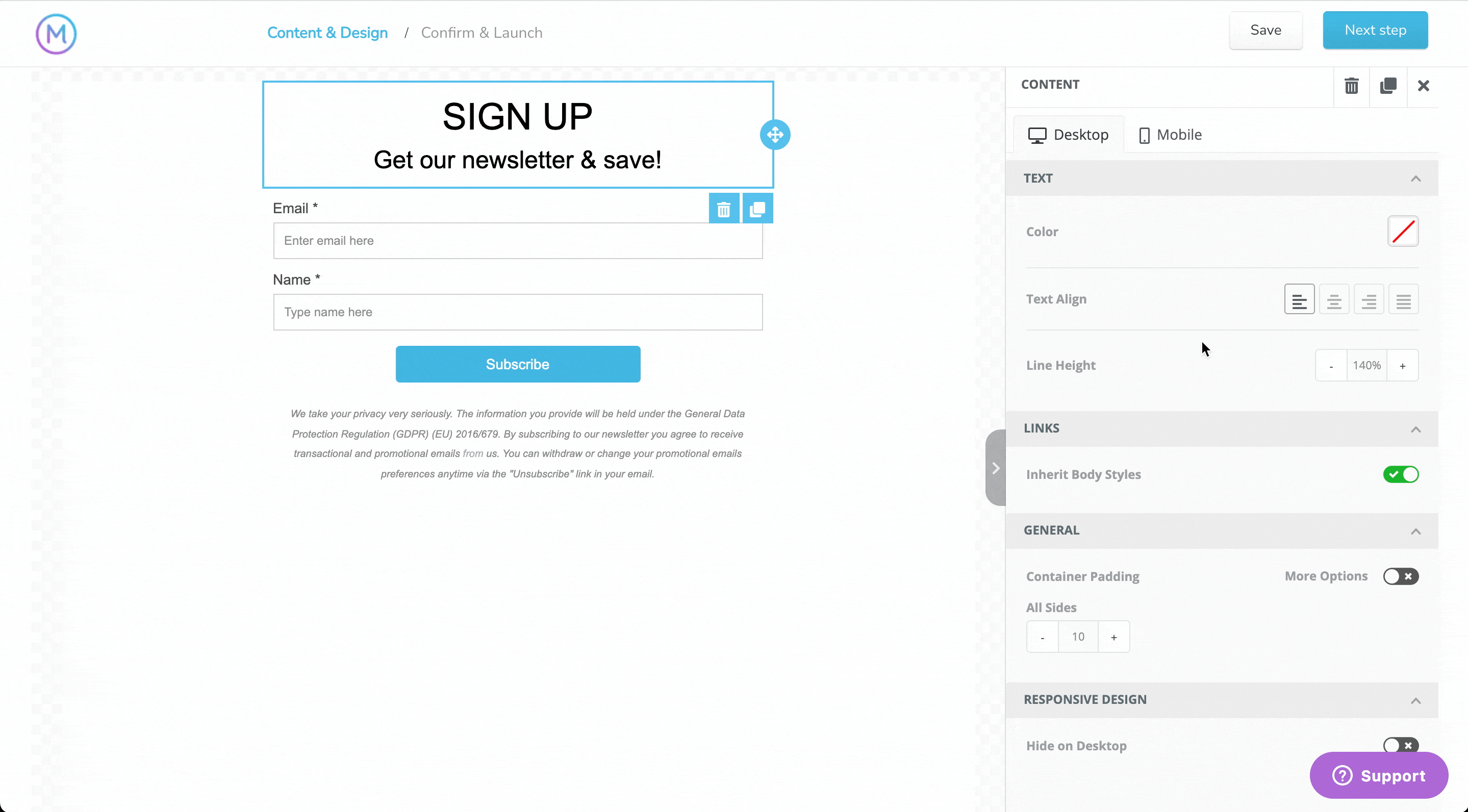 After dragging elements onto the page, you can adjust the visual of them on desktop and mobile devices.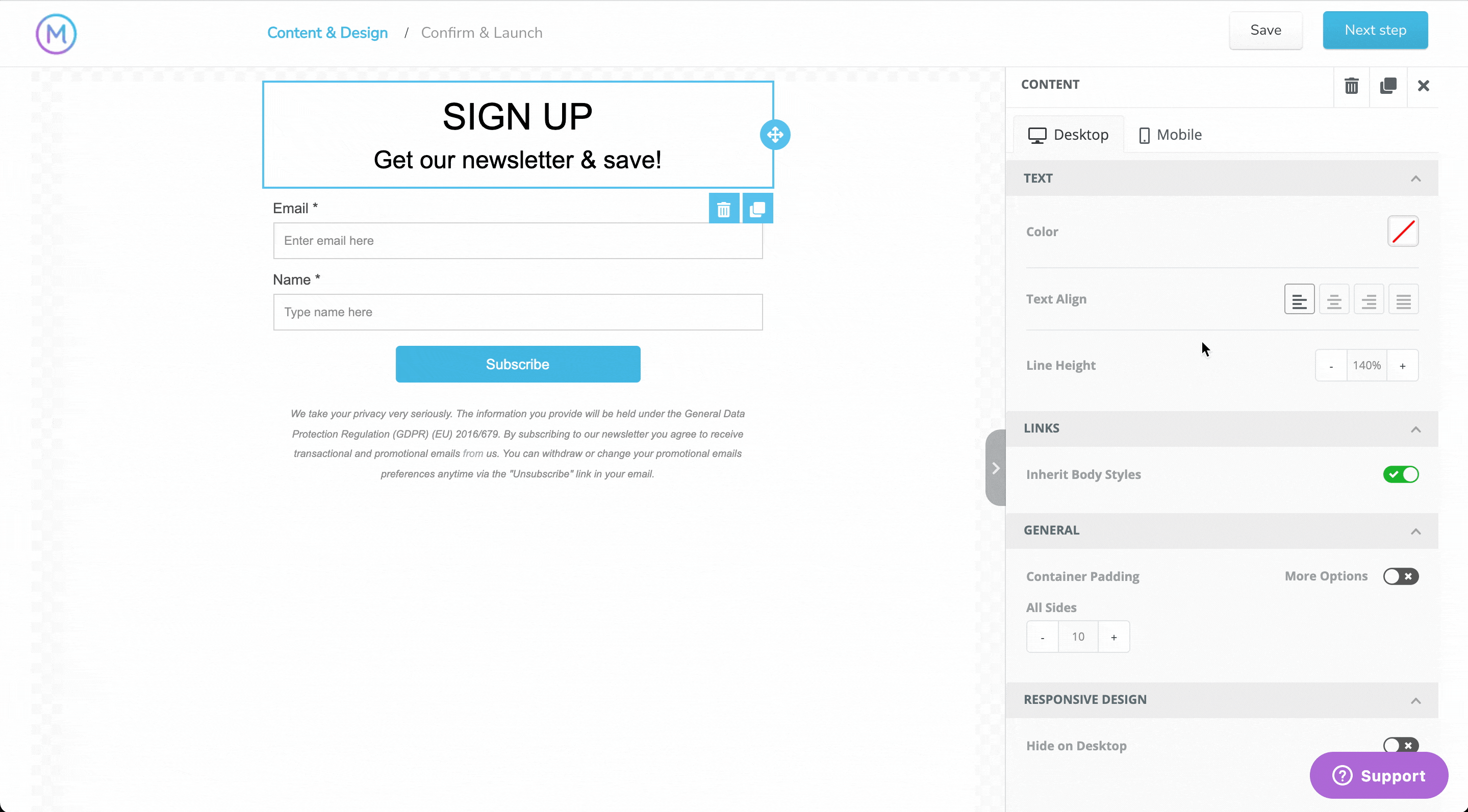 After finishing adjust the form, hit the Next step button on the top right to save and enable the form.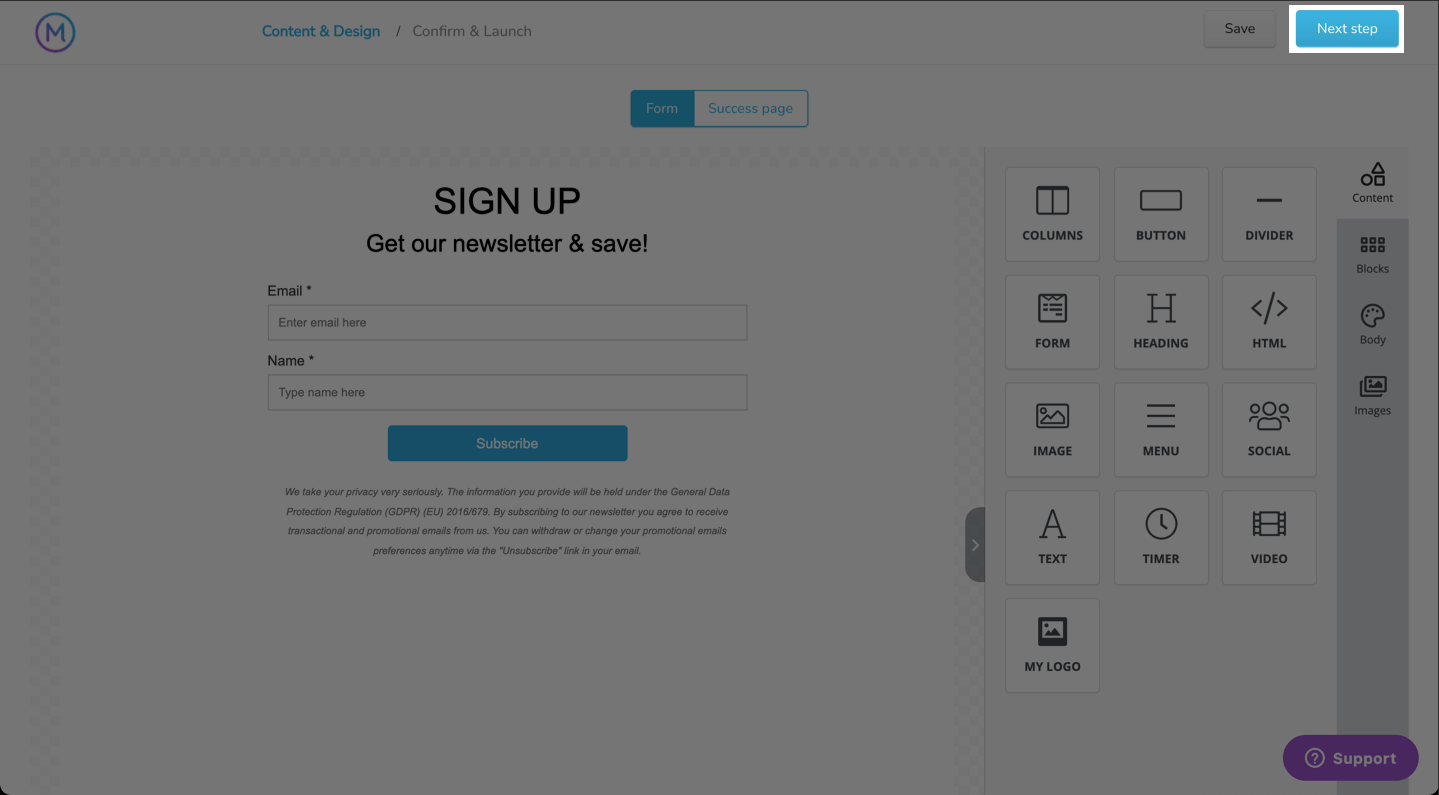 The Confirm&Launch page will show up > Hit Save & Enable to make the form work.
Note that you need to copy the Landing page link here to apply it to the PageFly page.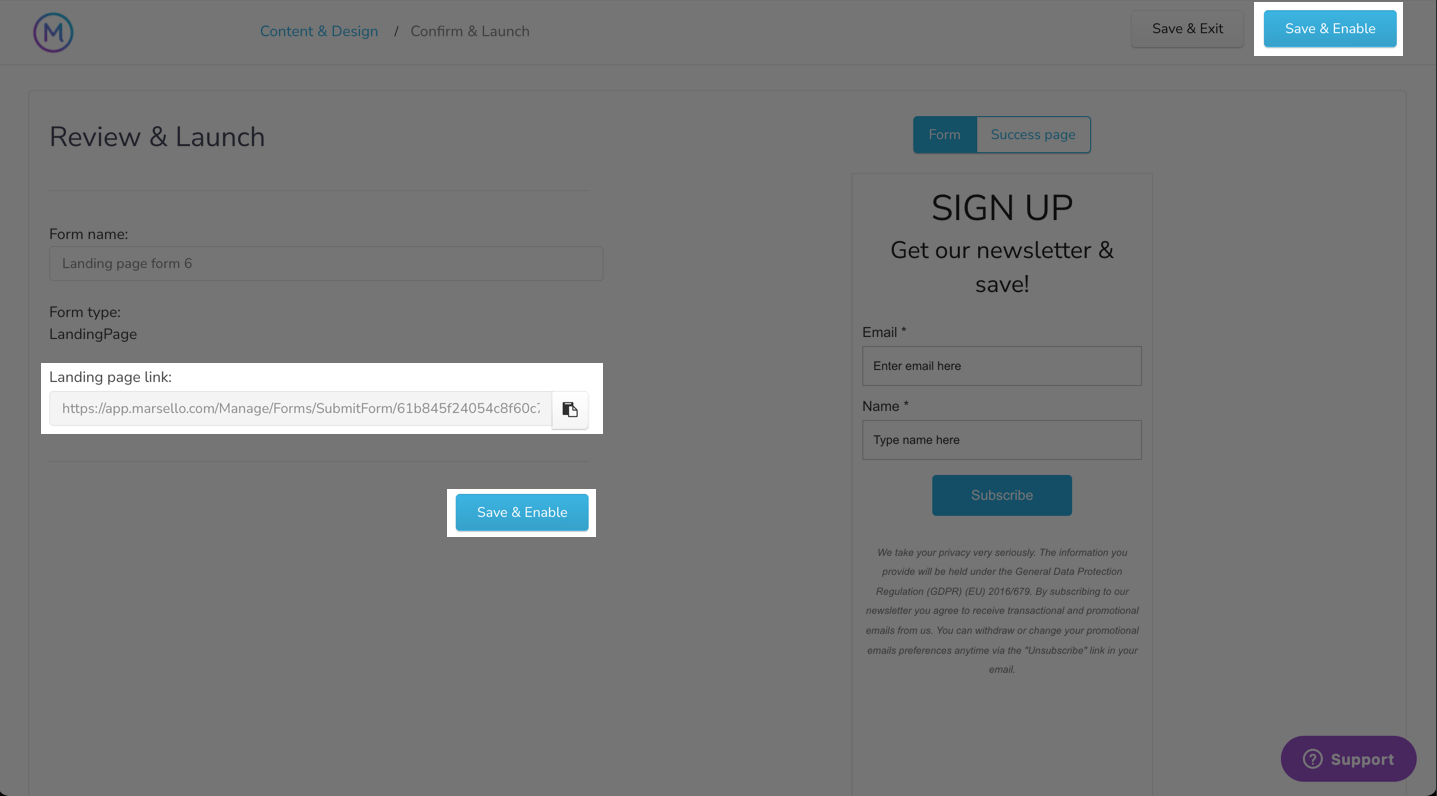 You can also access the form from the dashboard to take the Landing page link to use on the PageFly page.