What is Wishlist Plus – SWYM Shopify?
SWYM Shopify – Wishlist Plus allows customers to bookmark their favorite products and pick up where they left off when they return. This will enhance the purchasing experience and encourage customers to return to your store.
Benefits of using Wishlist Plus
Support sellers to enhance sales by helping customers bookmark favorites for later purchases, as Wishlist Plus works by connecting extensive APIs with your store. Additionally, sellers can utilize Wishlist Plus for its powerful event-triggered email campaigns.
Therefore, Wishlist Plus is a powerful tool for sales and service teams to access for better collaboration with shoppers.
Using Wishlist Plus is a way to reduce cart abandonment by enabling shoppers to save products for later.
Finally, buyers can share their wishlists to love-ones, via email, text message and social media.
Download Wishlist Plus
To use this element, the Wishlist Plus by Swym Shopify has to be installed to your Shopify store.
Access the Swym – Add to Wishlist element
Step 1: In the left toolbar, Go to Add third party elements > Click on the Edit your 3rd party elements button.
Step 2: In Integrations popup page, you can search "Wishlist Plus" on the search bar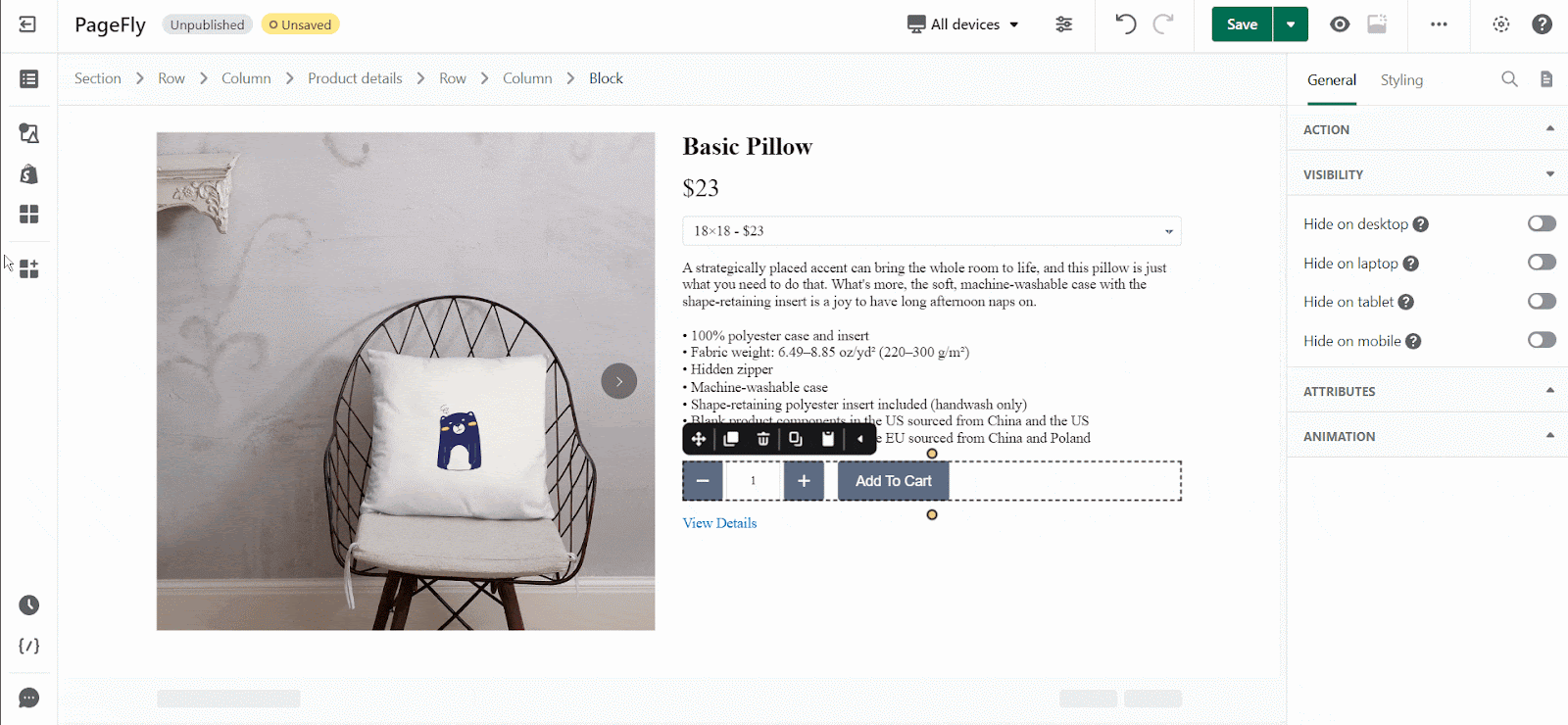 Step 3: In the dropdown menu, Click on Bold Bundles element
Step 4: Select the variant you want then drag and drop it to the editor page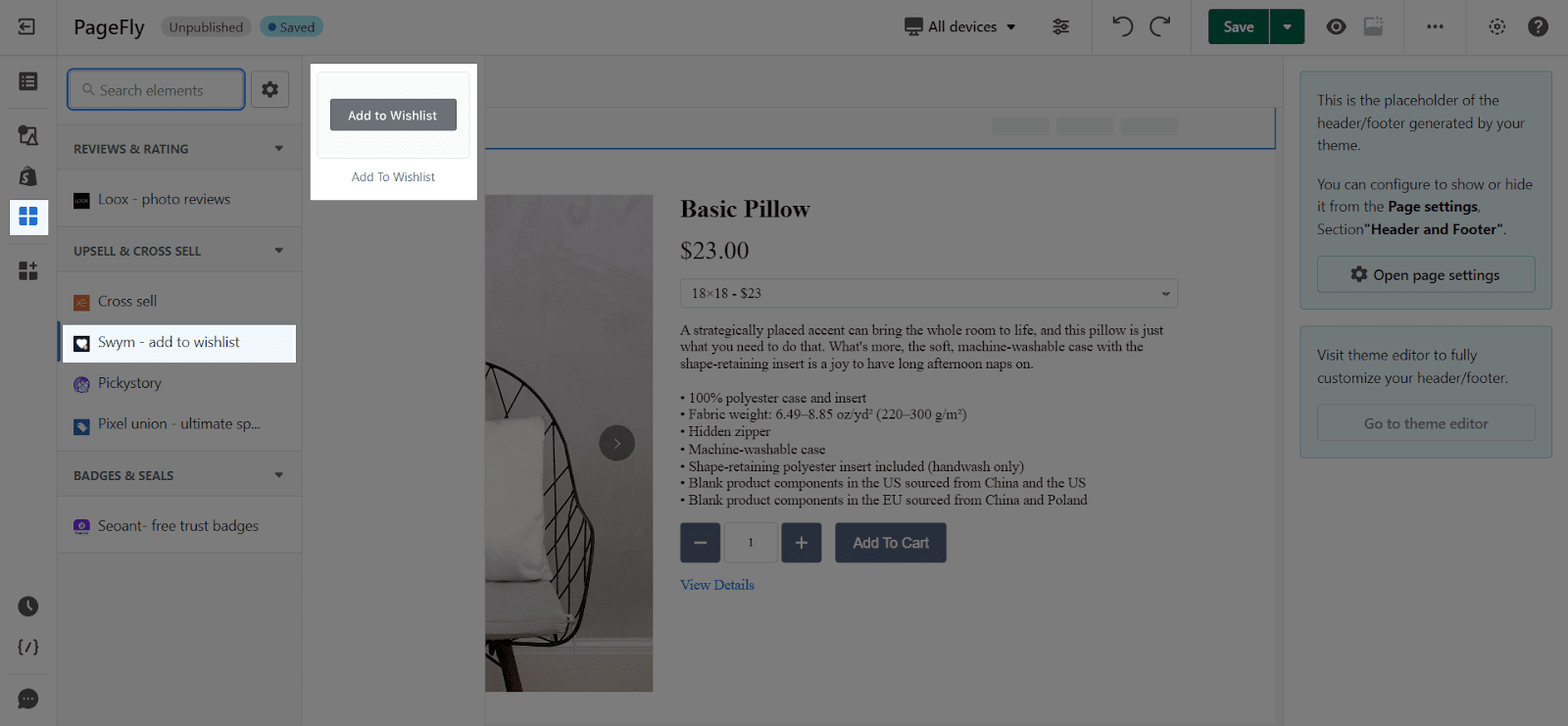 PageFly Configuration
After finishing the configuration of the Wishlist Plus app, please go to a PageFly page.
General settings
In the General tab, there is a widget configuration giving you a short explanation of the Wishlist Plus app and its link to app listing and you can edit the Content, Visibility, Attributes, and Animation of the product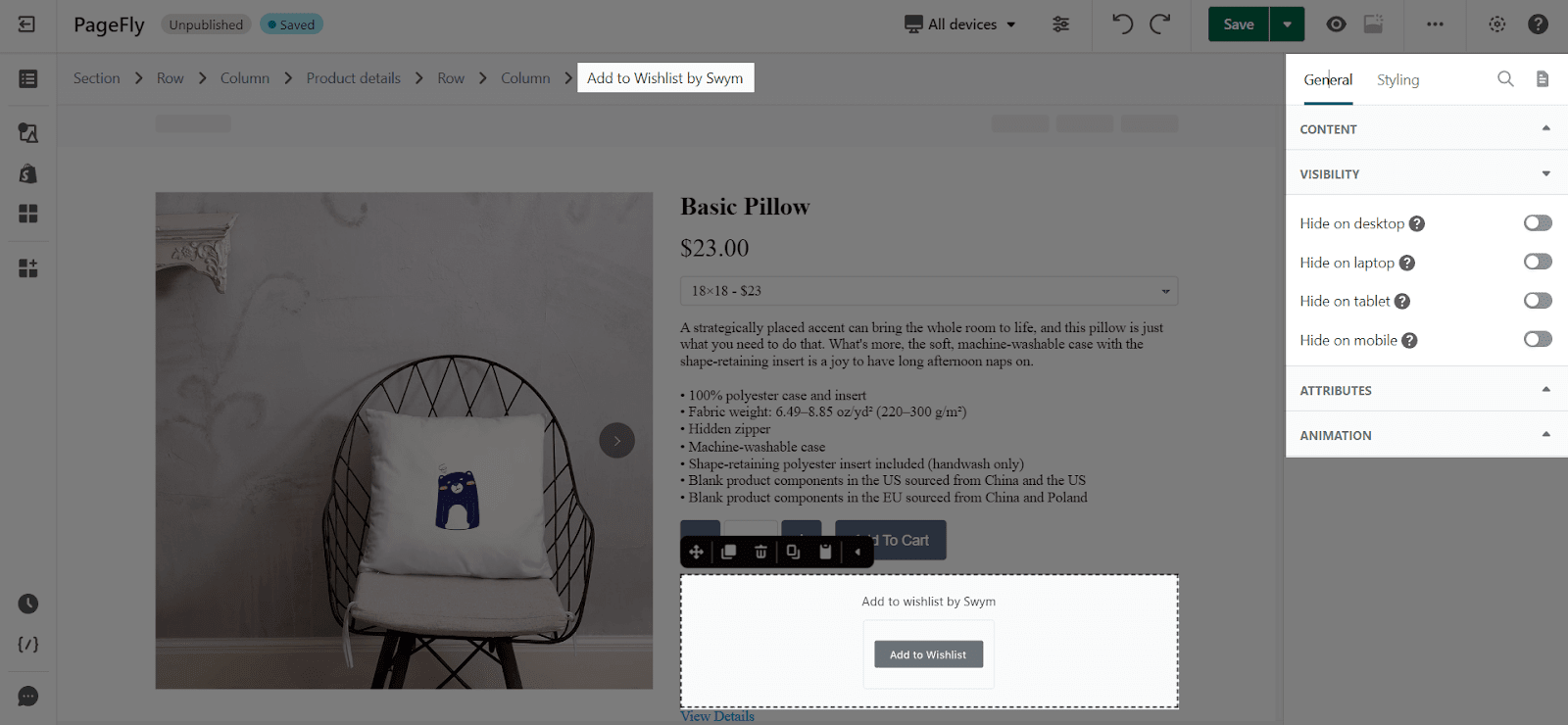 Styling settings
You can customize the styling of the Bold Bundles element in the Styling Tab.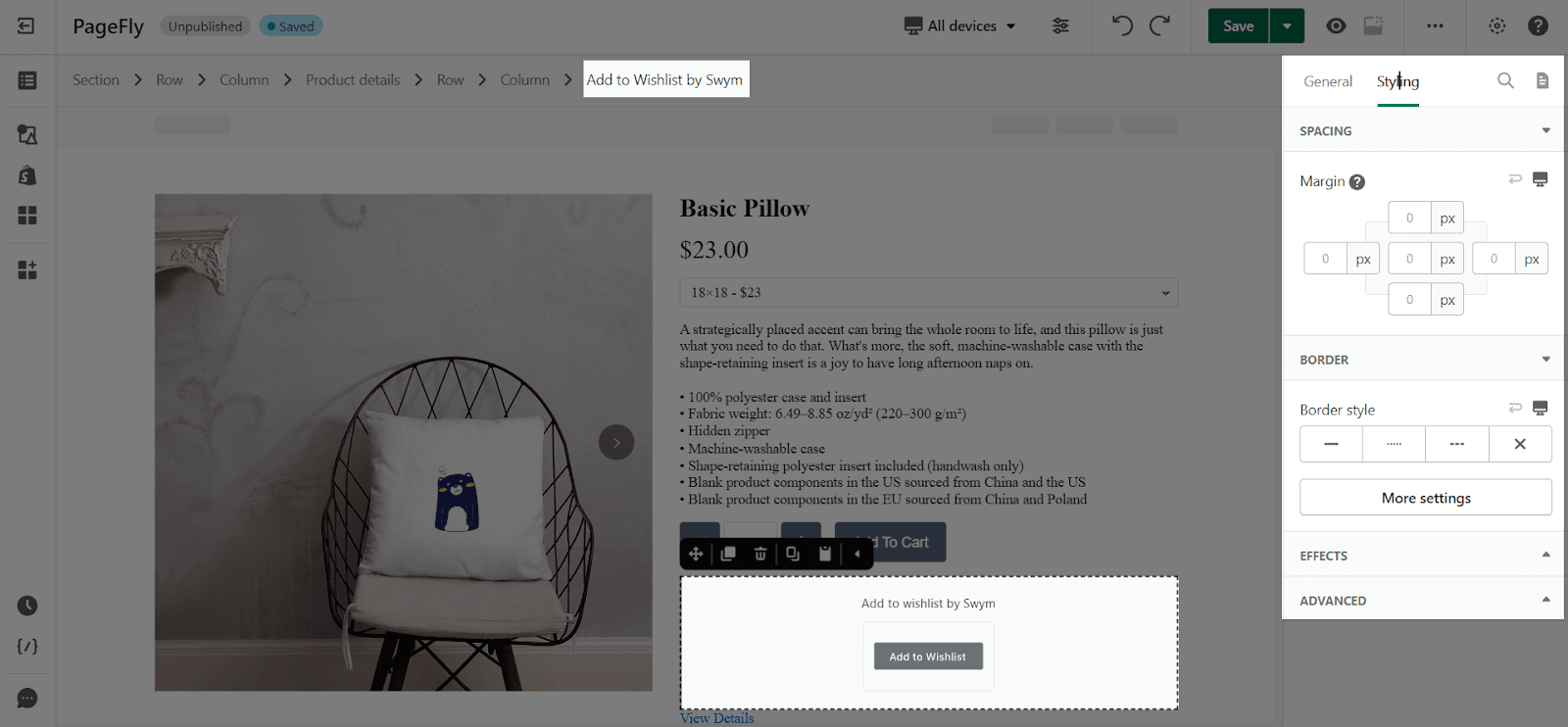 You can check more information about the Styling tab here.
Wishlist Plus – Swym Shopify Configuration
Before using the element, you must install the Wishlist Plus app to your store and configure/enable it inside the app, then return to PageFly to use the element for the corresponding product(s) you want.
Please access Wishlist Plus app from your Shopify admin then select Wishlist Plus, then Configuration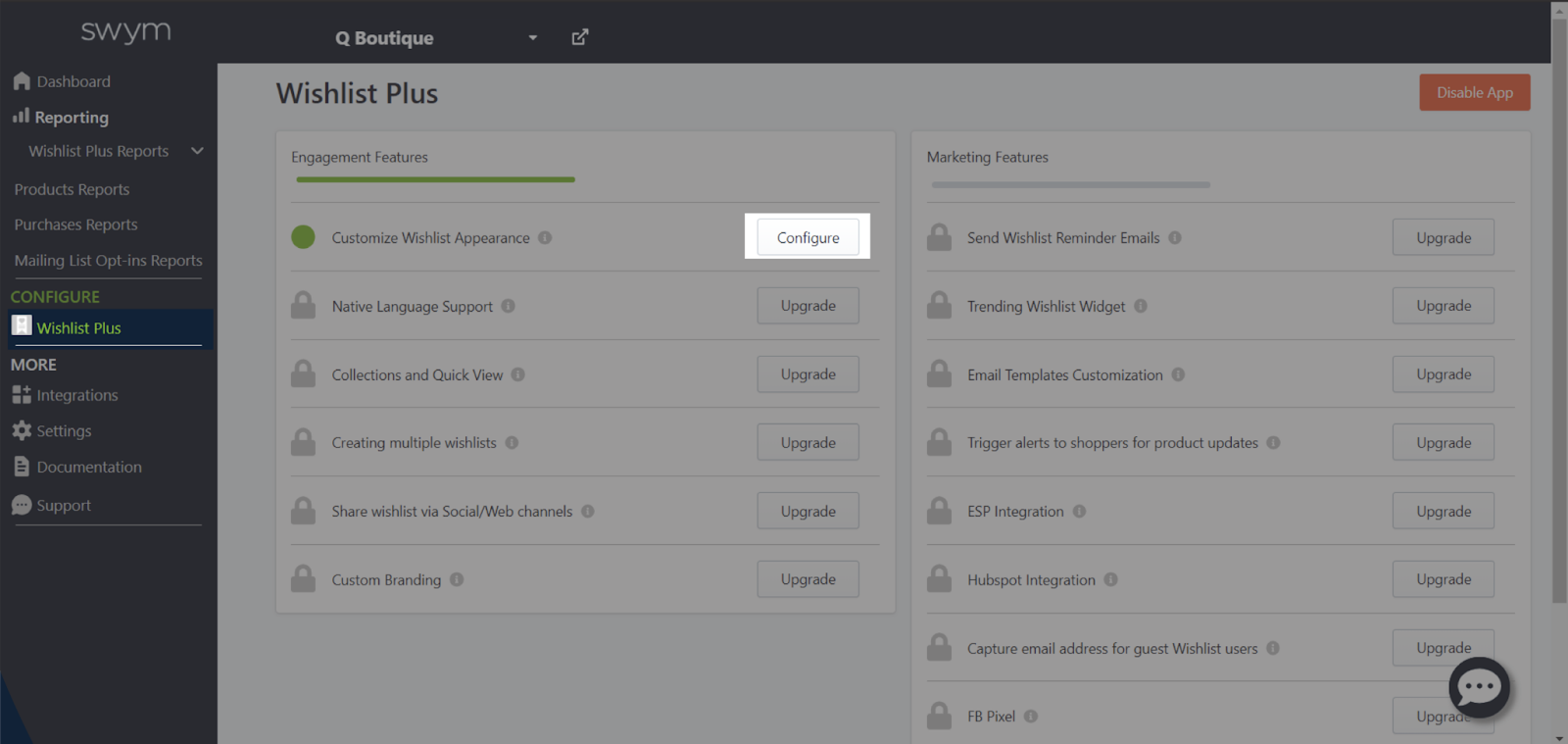 Then you will see configuration like this. Please complete all necessary configurations and click "Save Settings" button.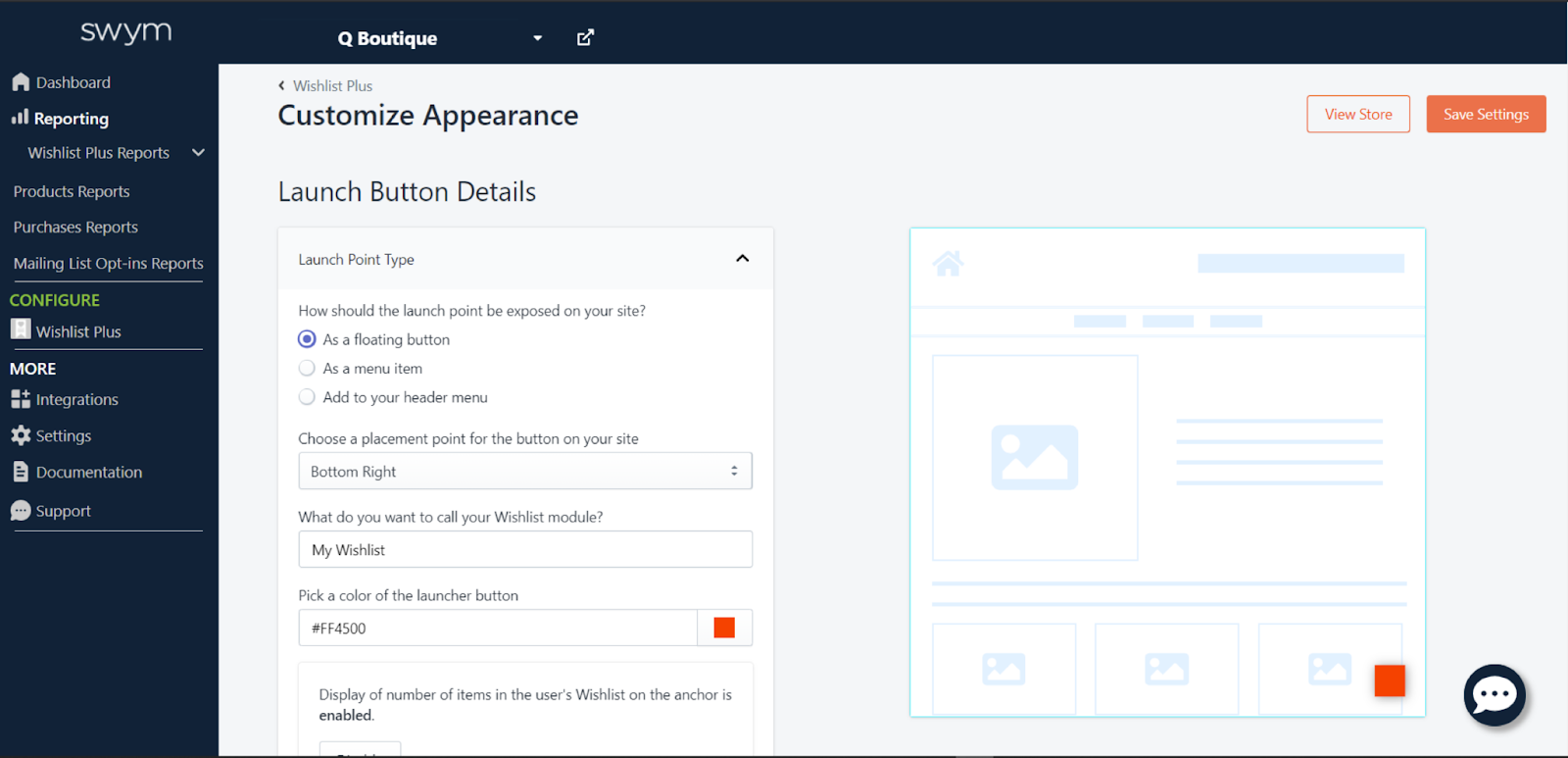 The element will look like this in the PageFly editor.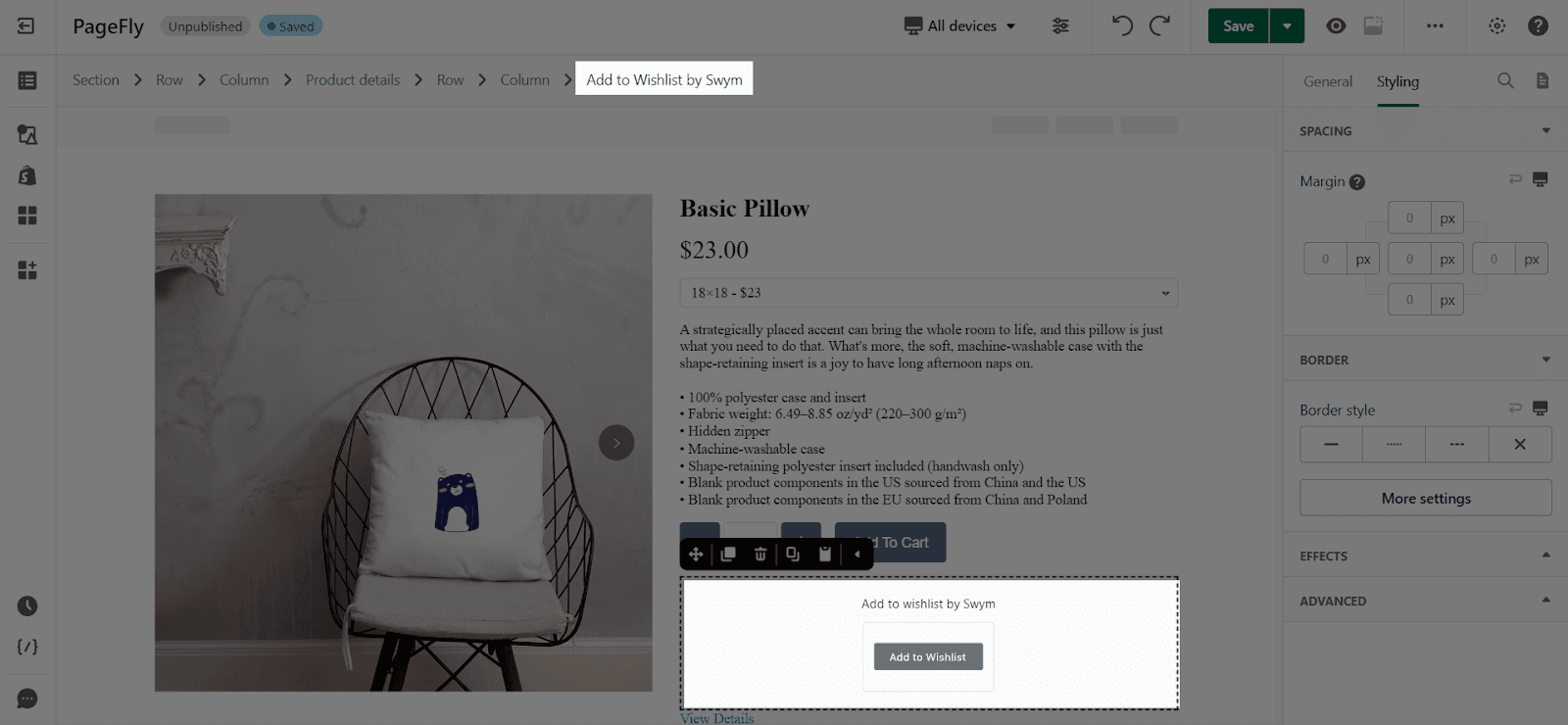 For further information about ATTRIBUTES, VISIBILITY, ANIMATION parameters here
Please note that Swym – Add to Wishlist only works on product page,
Finally, hit Publish to see the result on your live page.
The Add to Wishlist button will look like this in live view. The style of the button is determined by your app settings.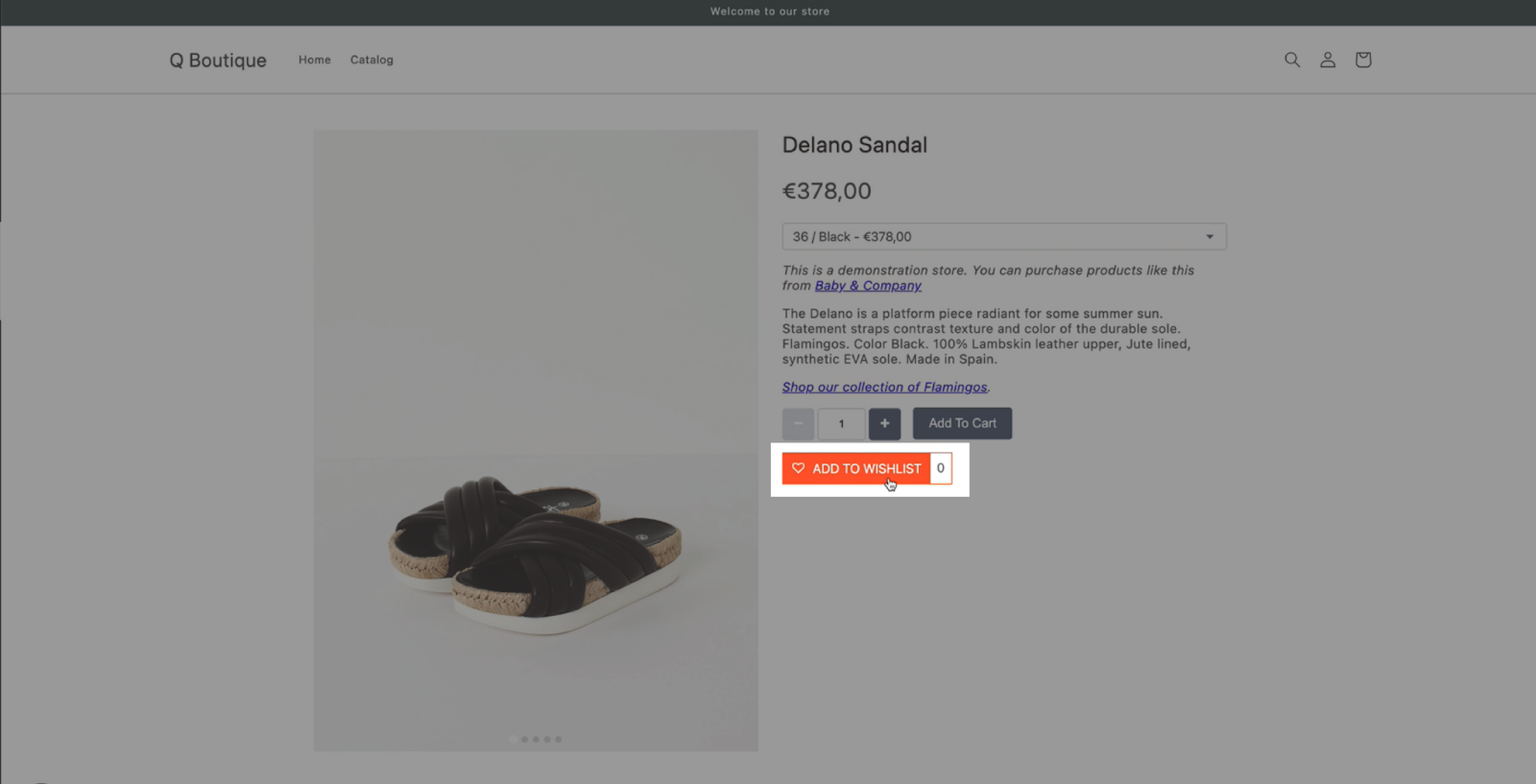 Customers can view which products have been added to their wishlist by clicking on this button in the live view.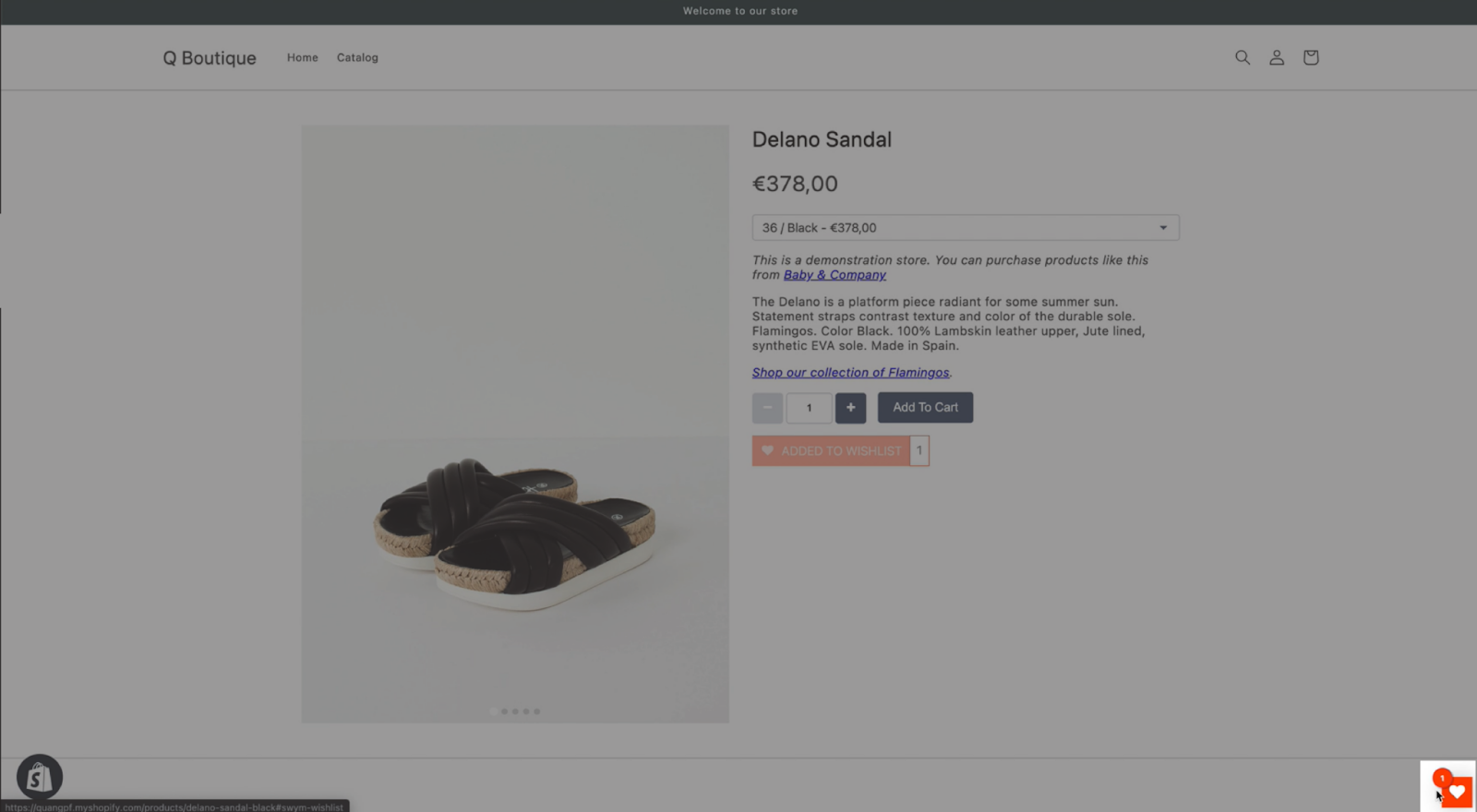 Frequently Asked Questions
Overview
| | |
| --- | --- |
| How much is Wishlist Plus | $49.99/ month |
| When was SWYM Shopify founded? | 2012 |
| Other apps by SWYM Shopify? | Swym Back in Stock Alerts, Swym Gift Lists and Registries, and Engage |
| Free Trial available? | Yes, 30 days |
Who is SWYM Corporation?
SWYM was founded in 2012 as  SWYM is a shopper engagement platform for e-commerce merchants, available on turnkey platforms like Shopify, BigCommerce, and Magento…
What is SWYM Shopify?
SWYM Shopify is easy to set up Wishlist app that increases conversions. Popular integrations to market your store.
Who are partners with Wishlist Plus?
PageFly Page Builder, Klaviyo – Omnisend, Sailthru – Listrak, Bluecore – ReSci, Tapcart – Bloomreach, Cordial – Ometria and dot Digital – Optimizely