In this article, you will learn about the List element and how to use it.
About List element
List element allows you to put a list of items on your page to help increase your conversion rate. You can use this element instead of using bullet points or numbered lists in the Paragraph element in order to have more customization options. It's also faster.
Before jumping to the detailed steps, you can watch this video below:
Access the List element
Step 1: Click on the Plus icon which is the Add element function
Step 2: Click on the List element in the dropdown menu
Step 3: Drag and drop the element you want into the page editor and then start using it.
List element comes with multiple variations covering most needs. But we will continue to add more variations to help you save time.
Drag a variation to the layout and see how it can be configured.
List element configuration
List element comes with plenty of parameters allowing you to fine-tune content appearance for the best possible conversion rate.
Select the element in the layout to see its parameters.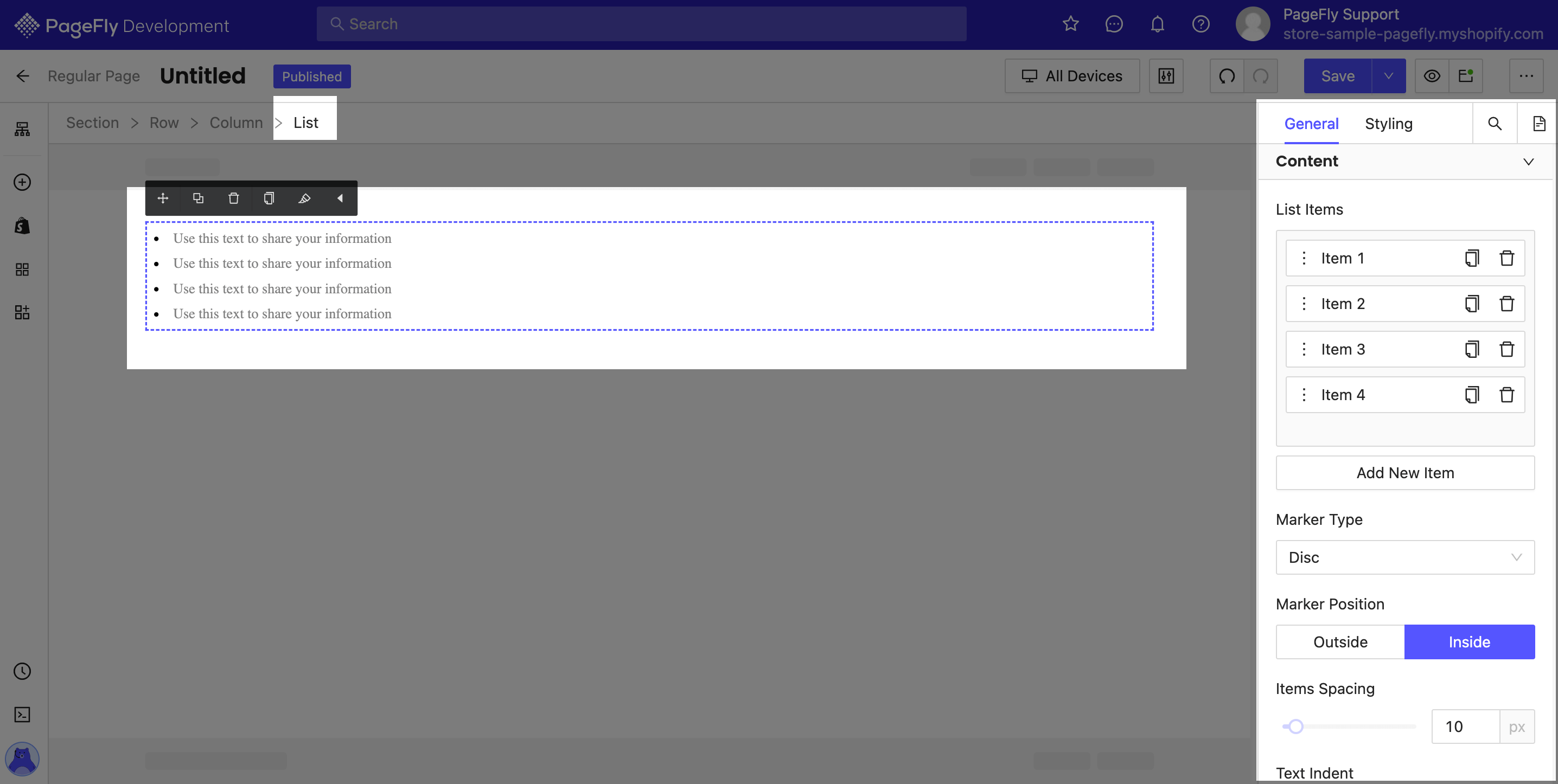 In this article, we will show the parameters of the General and Styling tabs for the List element.
General configuration
CONTENT
List Items: Add/Duplicate/Remove new tabs to the element.
 
Marker Type: There are 14 marker types for you to choose from for the list.
Marker Position: Choose the position of the marker type (outside or inside) in the list item.
Items Spacing: Adjust the spacing between the list items. By default, it is set for 10px and maximum is 100px.
Text Indent: Adjust the spacing between the text and the icon of the list item here.
You can get further information about ATTRIBUTES, VISIBILITY, ANIMATION parameters here
Styling configuration
You can check more information about the Styling tab here
List Item configuration
General configuration
CONTENT
List Items: Add/Duplicate/Remove new tabs to the element.
You can Duplicate/Delete/Copy style/Paste style for each list items in the toolbar right above it here.

Or use the list items parameter in the General tab like this
Item Text: Insert and style the content of the List item
Show icon: Choose to show the icon of the list item or not.
ACTION
You can direct to a link, a section, a pop-up, an email address or a phone number by Click Action.

Please read more about the ACTION parameter here.
Styling configuration
You can check more information about the Styling tab here
You can watch this page about using the List element to list your content