In this article, you'll learn about the LAI Product element and how to use it. To use this element, the LAI Product Reviews app has to be installed on your Shopify store.
About LAI Product Reviews
What is LAI Product?
LAI Product element is designed to help merchants Increase product conversion with a star rating under the product title, showcase the most powerful reviews right on the homepage and create a dedicated page to show all reviews in one place.
Access LAI Review Element
Before using this element, you have to install the LAI Product App to your store, configure all options in the app, and then return to PageFly to use the element for the corresponding page(s) you want.
How to use LAI Product
Step 1: Go to Add third party elements in the left toolbar > Click on the Edit your 3rd party elements button.
Step 2: In the Integrations popup page, you can search "LAI Review" on the search bar
Step 3: Click on the LAI – Reviews element in the dropdown menu
Step 4: Choose the variant you want then drag and drop it to the editor page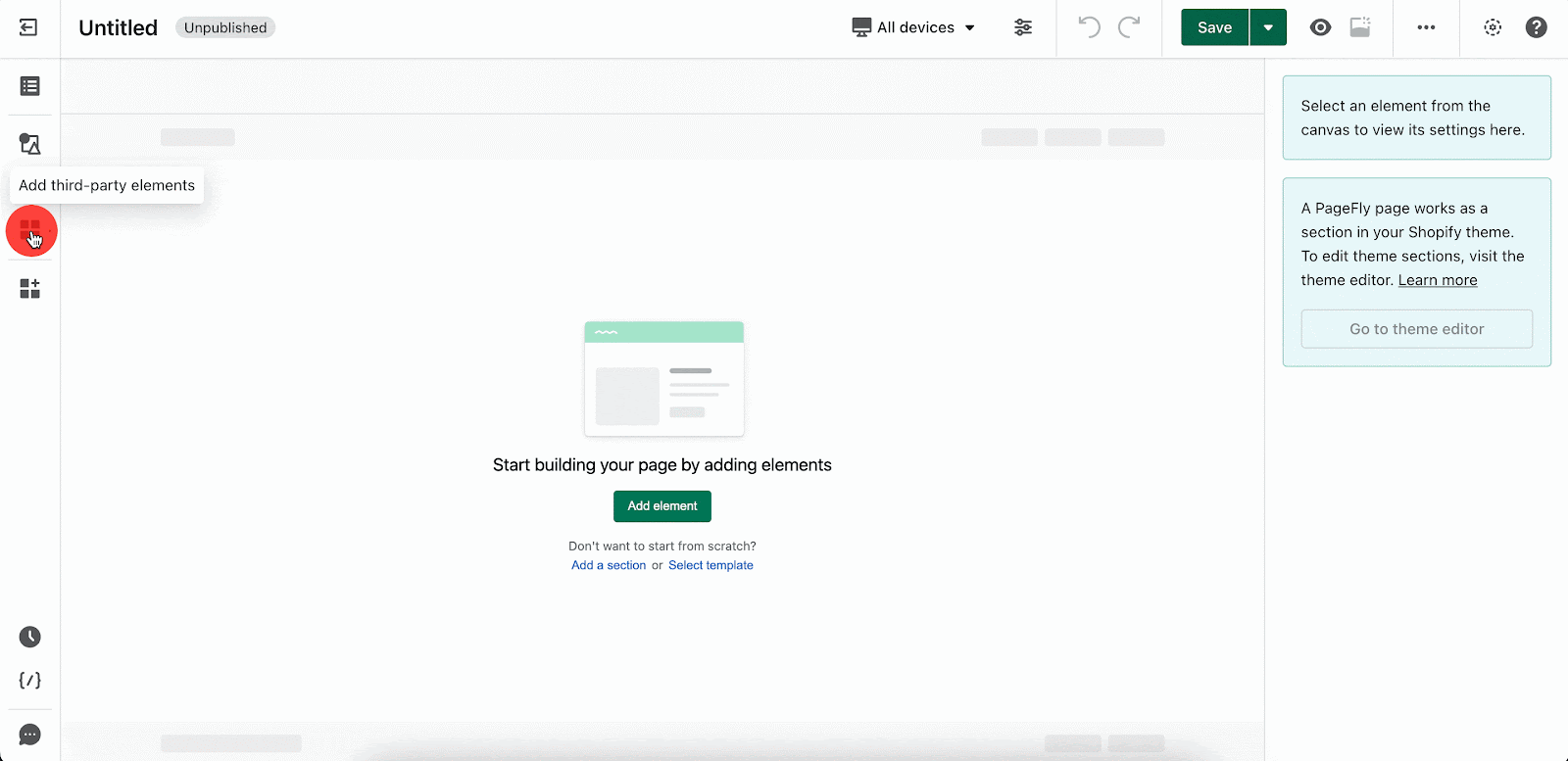 This element comes with 4 variants for different page types:
Star Rating
Reviews Widget
Home page Reviews
Review Showcase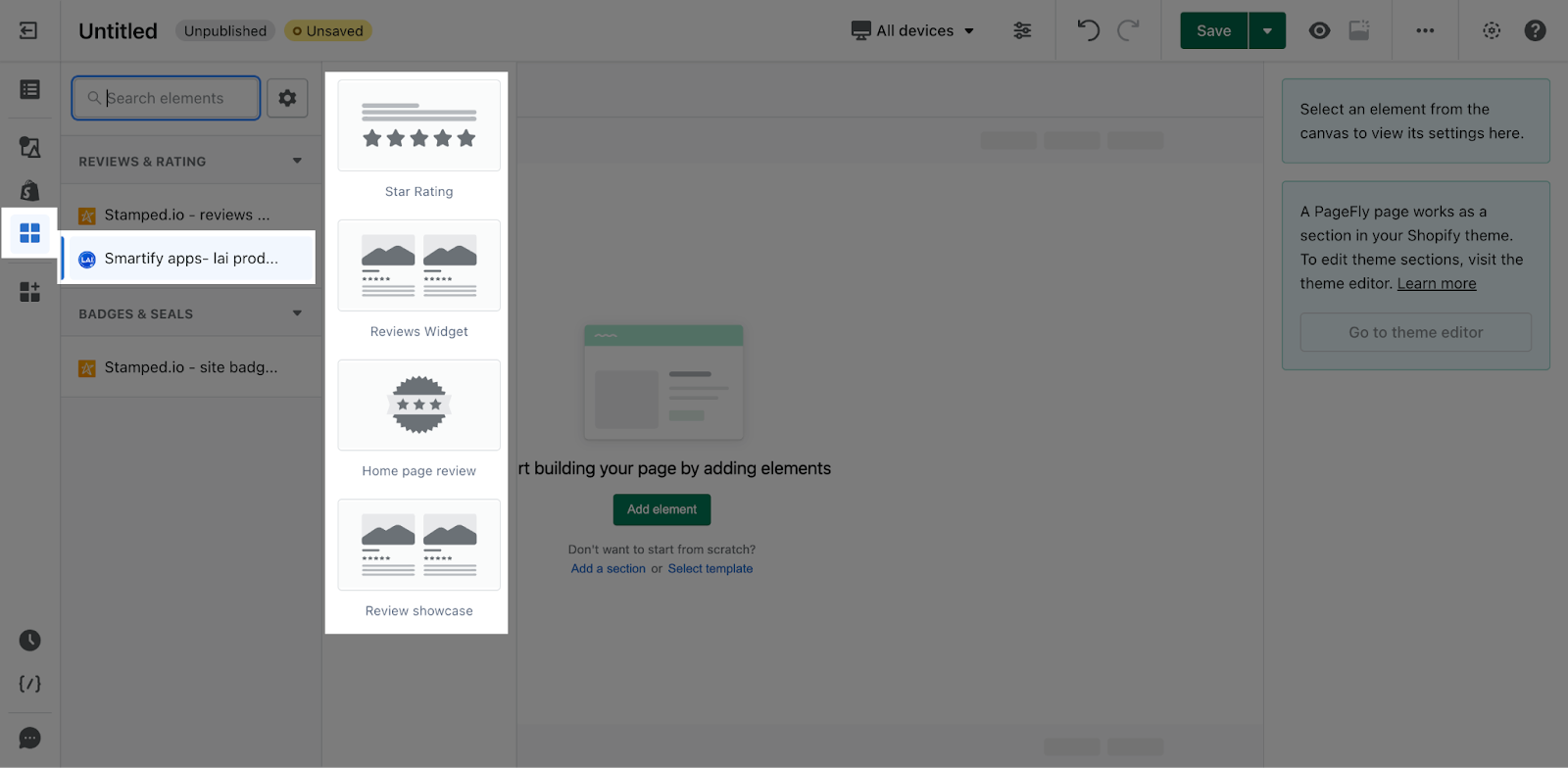 Configuration
PageFly's General Settings
In the General tab, there is a widget configuration giving you a short explanation of the LAI app and its link to the app listing.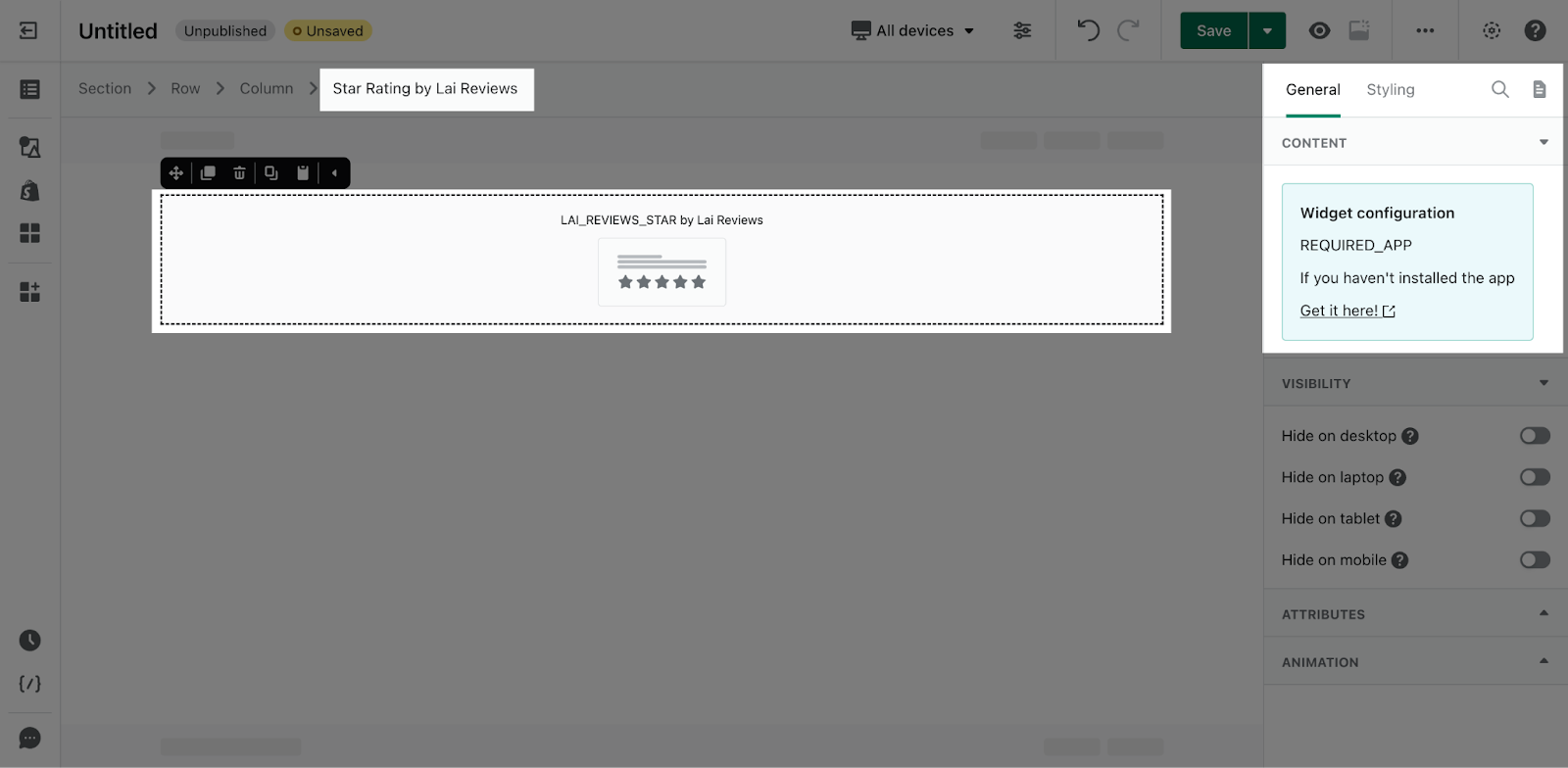 Important note:
All 4 elements of the LAI Product Review app only show in Live View mode so you need to Publish the page to check how they look.
You can only use one of three elements: Home page review, Review Showcase, and Review Widget on a page.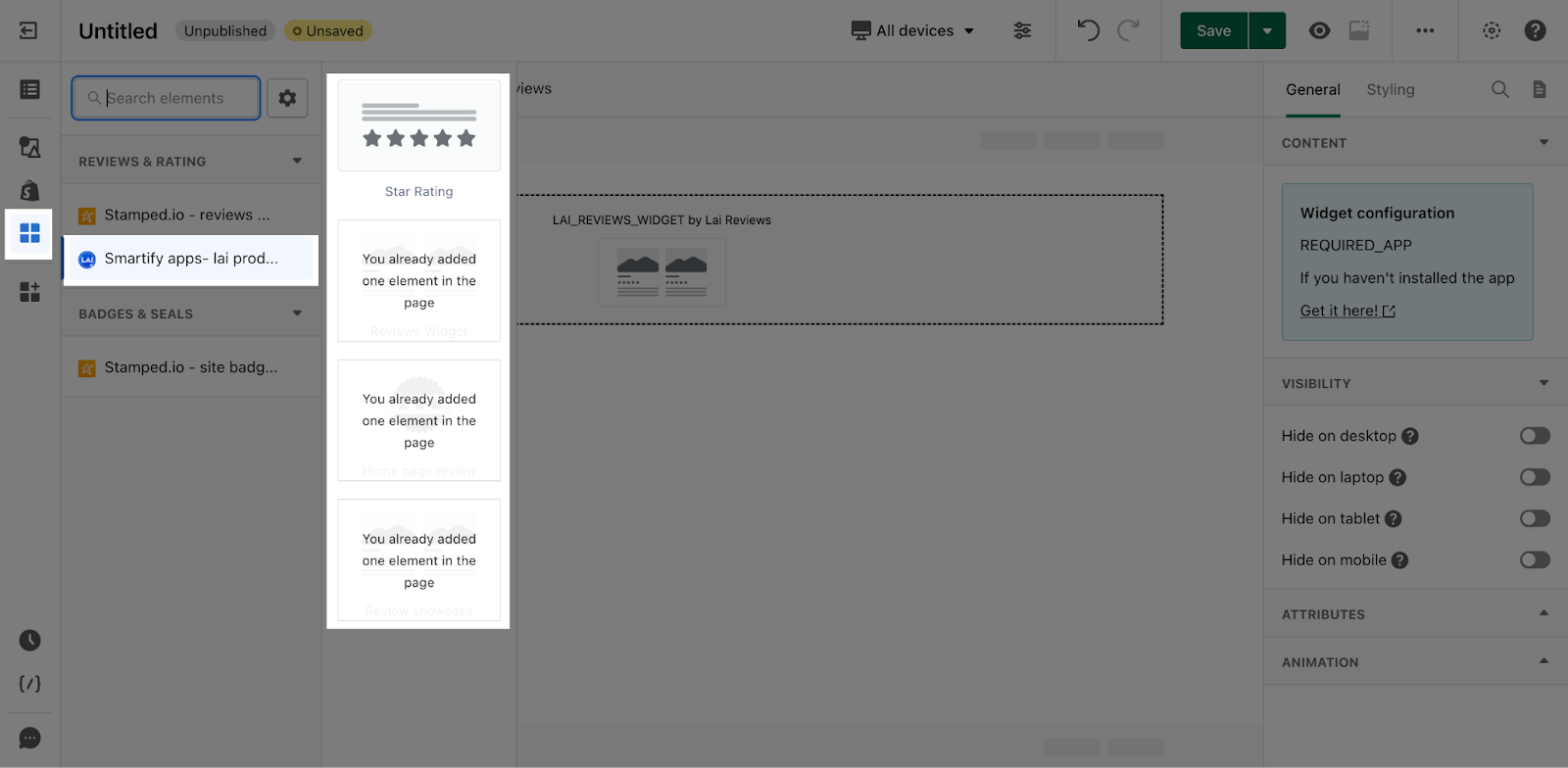 | | |
| --- | --- |
| Star Rating | This element can be used to show the number and the star rating of your product review. |
| Reviews Widget | This element can be used to display all product reviews. |
| Home page Reviews | This element can be used to show off the best product reviews from different products. |
| Review Showcase | You can use Review Showcase Element to build up trust for visitors who first come across your store. |
PageFly's Styling Settings
You can customize the styling of the LAI Product Reviews element in the Styling tab.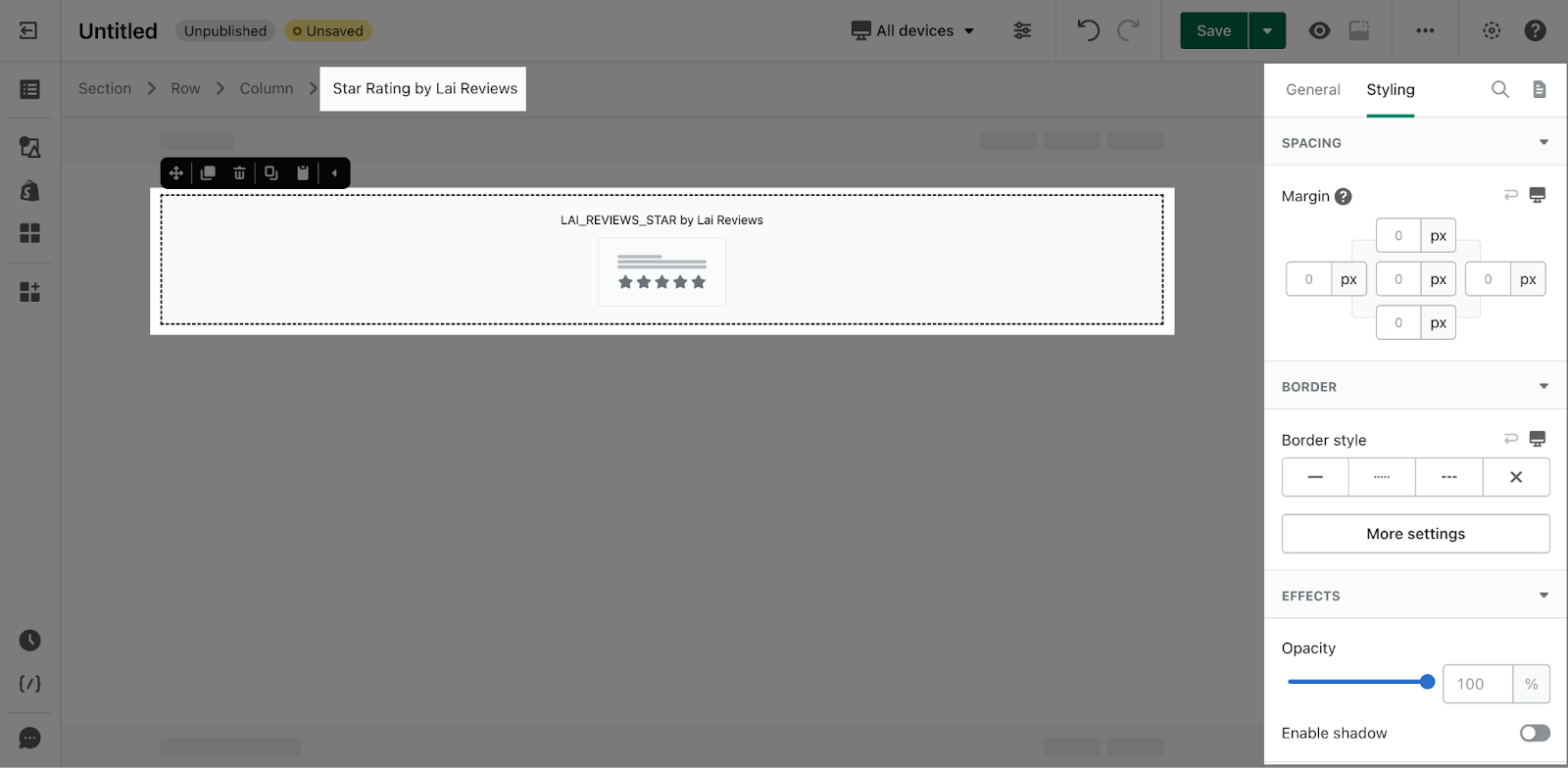 You can check more information about the Styling tab here.
LAI Product Settings
From your LAI app dashboard, go to Display > Advanced sections and customize the elements that you want to use in PageFly.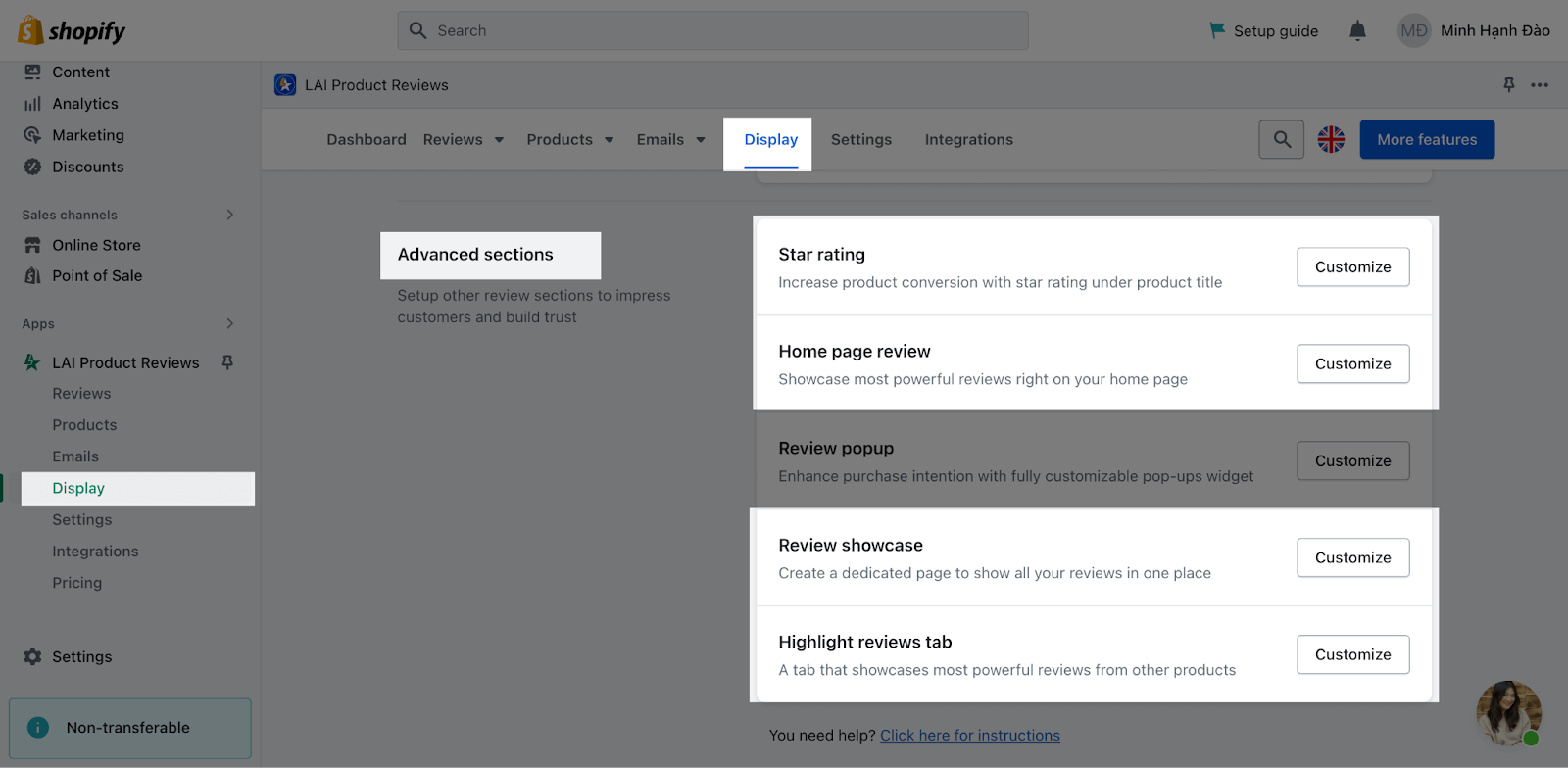 For more information about the app configuration, you can check their documents here.
Key Takeaways
LAI Product is one of the best Shopify App to collect customer reviews, purposely to build trust and boost sales.
Frequently Asked Questions
Overview
| | |
| --- | --- |
| When was LAI Product created? | 2020 |
| How much is LAI Products? | $4.95/month |
| Can I use LAI Product on PageFly Editor? | Yes |
What is LAI Product Reviews App?
LAI Product Reviews App is the best way to collect customer reviews from multiple platforms such as AliExpress, Amazon, DSers and CJdropshipping.
Benefits when using LAI Product Reviews App?
Firstly, sellers can freely import product reviews from AliExpress, Amazon, DSers, CJ, or a custom CSV. The fully customizable widget is also available to match your store's aesthetic. This app is also intergrated with important partners, including Klaviyo, Google Shopping, PageFly… Automatic emails are also available to collect authentic reviews and encourage repeat purchases. You can display LAI Product Reviews on many important positions on Shopify Store, including homepage, collections, products, pop up banners…
What Are Included in LAI Product Reviews Plans?
Features including in the LAI Product Reviews Plan: (1) Import reviews from AliExpress; (2) Unlimited reviews migration from CSV; (3) Custom CSS for all widgets and (3) Homepage & showcase reviews section
Who are currently in partnership with the LAI Product Reviews App?
AliExpress, Amazon, DSers (Oberlo), PageFly, Google Shopping, Klaviyo