In this article, you'll learn about the Appointment Booking App element and how to use it. In order to use this element, Appointment Booking App has to be installed on your Shopify store.
Install Appointment Booking App
Install PageFly
About Appointment Booking App
Appointment Booking App allows your customers to book a single/multiple-day appointment with you. You can also set up automated emails/texts for reminders, booking confirmations, rescheduling, cancellation, thank you and feedback for your customers and much more.
Before using this element, you have to install the Appointment Booking App to your store, configure all options in the app, and then come back to PageFly to use the element on your PageFly product pages.
With the Appointment Booking App element integrated into PageFly product page(s), it will display as a button for customers to click on and be directed to pop up to book an appointment.
Access the Appointment Booking App element
There are two ways to access the Appointment Booking App element:
1. From PageFly Admin
Step 1: In your PageFly Dashboard, head to the Integrations section > search for Appointment Booking App > Enable Appointment Booking App element.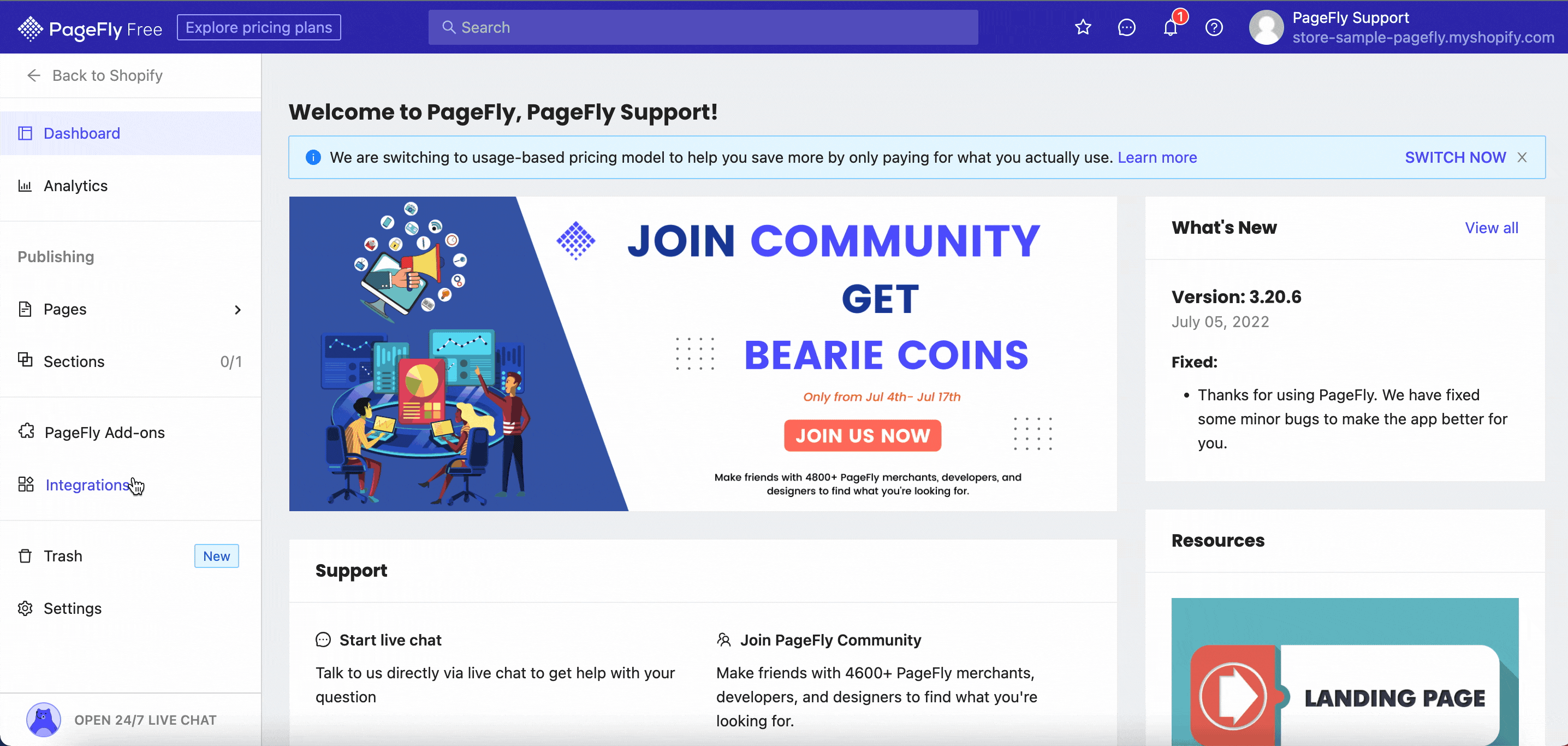 Step 2: Open your PageFly page editor. The Appointment Booking App's element will be listed under the Appointment Booking category and called SidePanda – Appointment Booking. Now you can drag and drop this element into your page editor.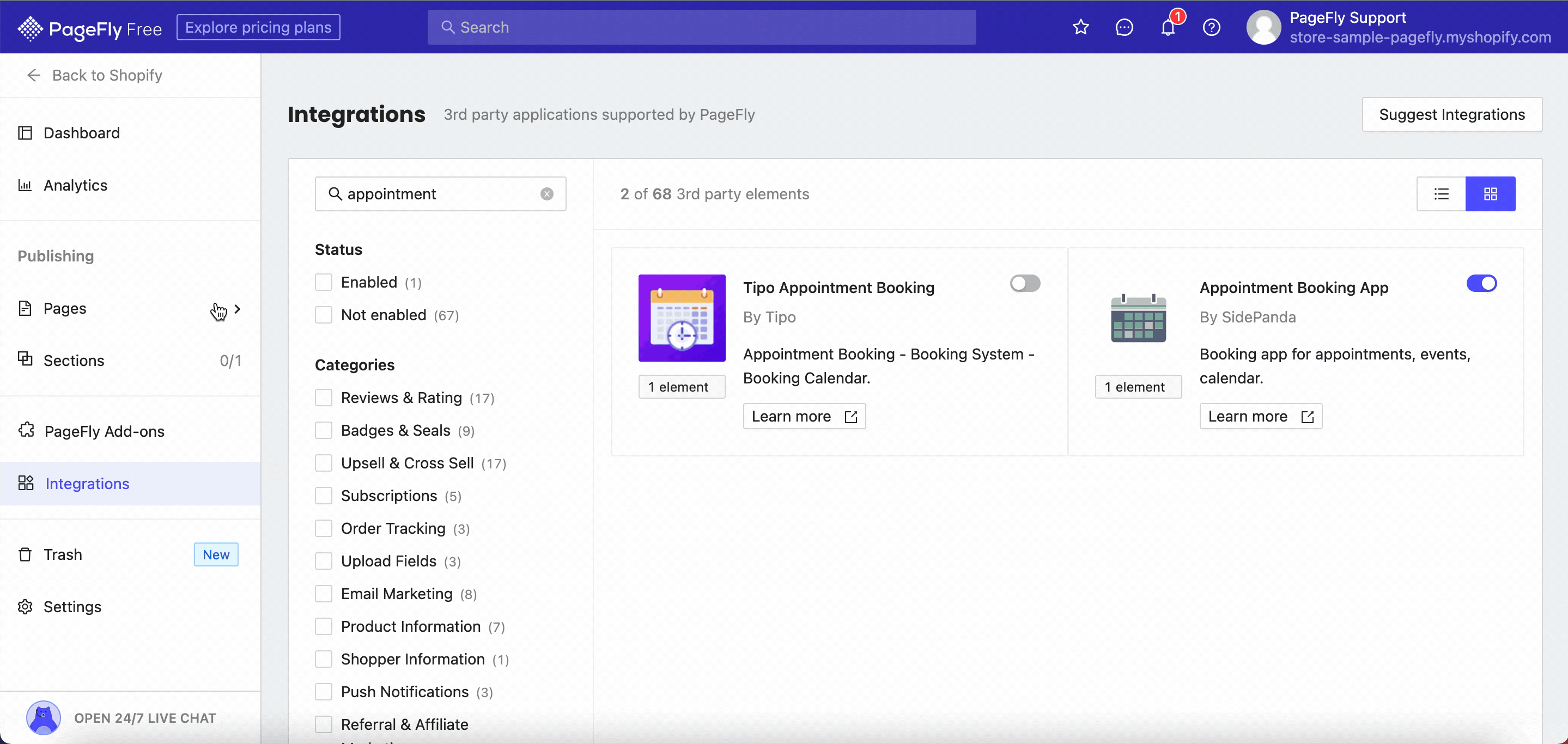 2. From PageFly editor
Step 1: Go to Add third party elements in the left toolbar > Click on the Edit your 3rd party elements button.
Step 2: In the Integrations popup page, you can search "Appointment Booking App" on the search bar
Step 3: Click on the Appointment booking element in the dropdown menu
Step 4: Drag and drop the Appointment booking element on the canvas
NOTE: the Appointment Booking App element only works once used in the Product page and inside the Product Details element. You can only use this element one time on each product page.
The SidePanda – Appointment Booking element comes with one variant: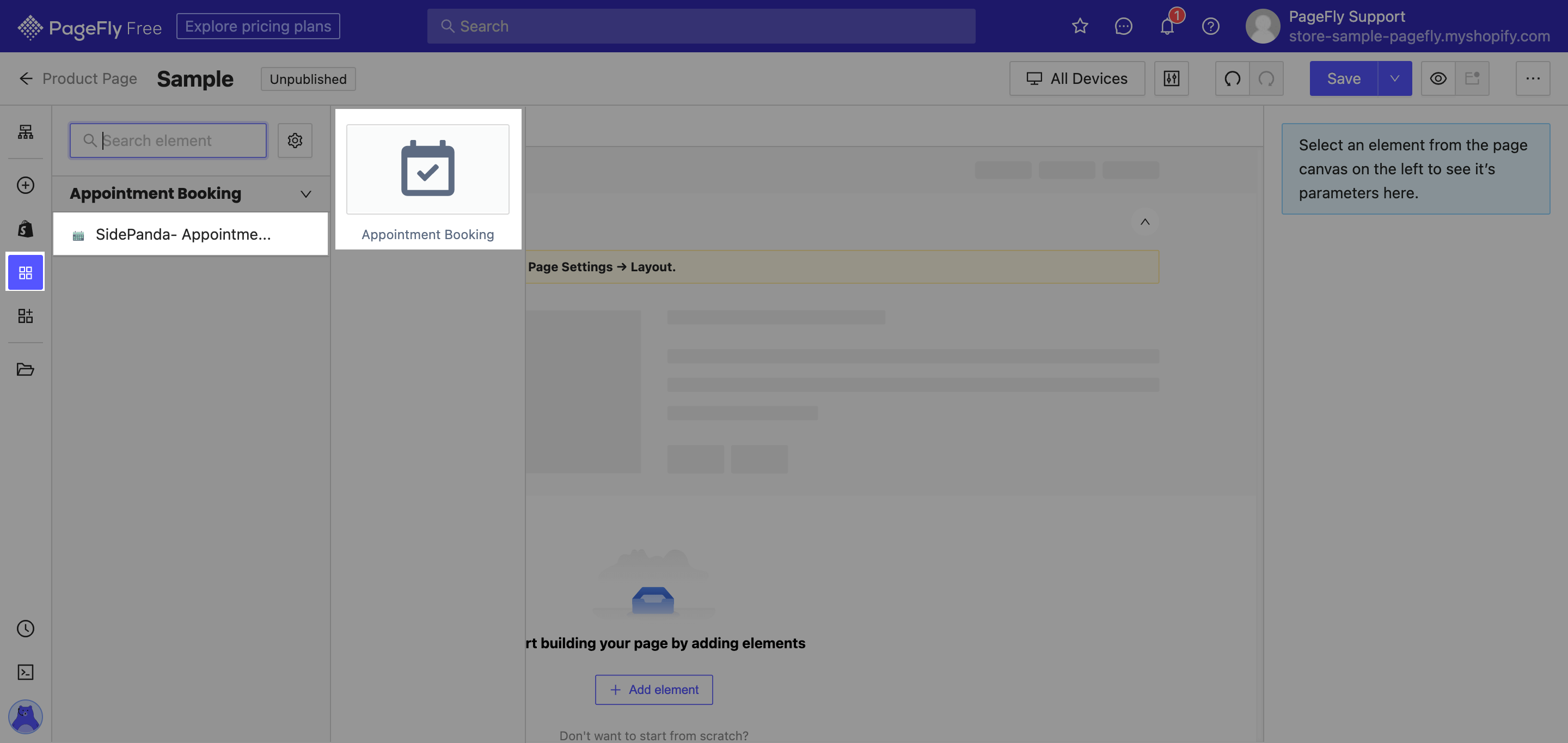 Appointment Booking App Configuration
To configure the options in Appointment Booking App, visit your Shopify Admin and open the Appointment Booking App. If you just install the app, the interface will look like the image below.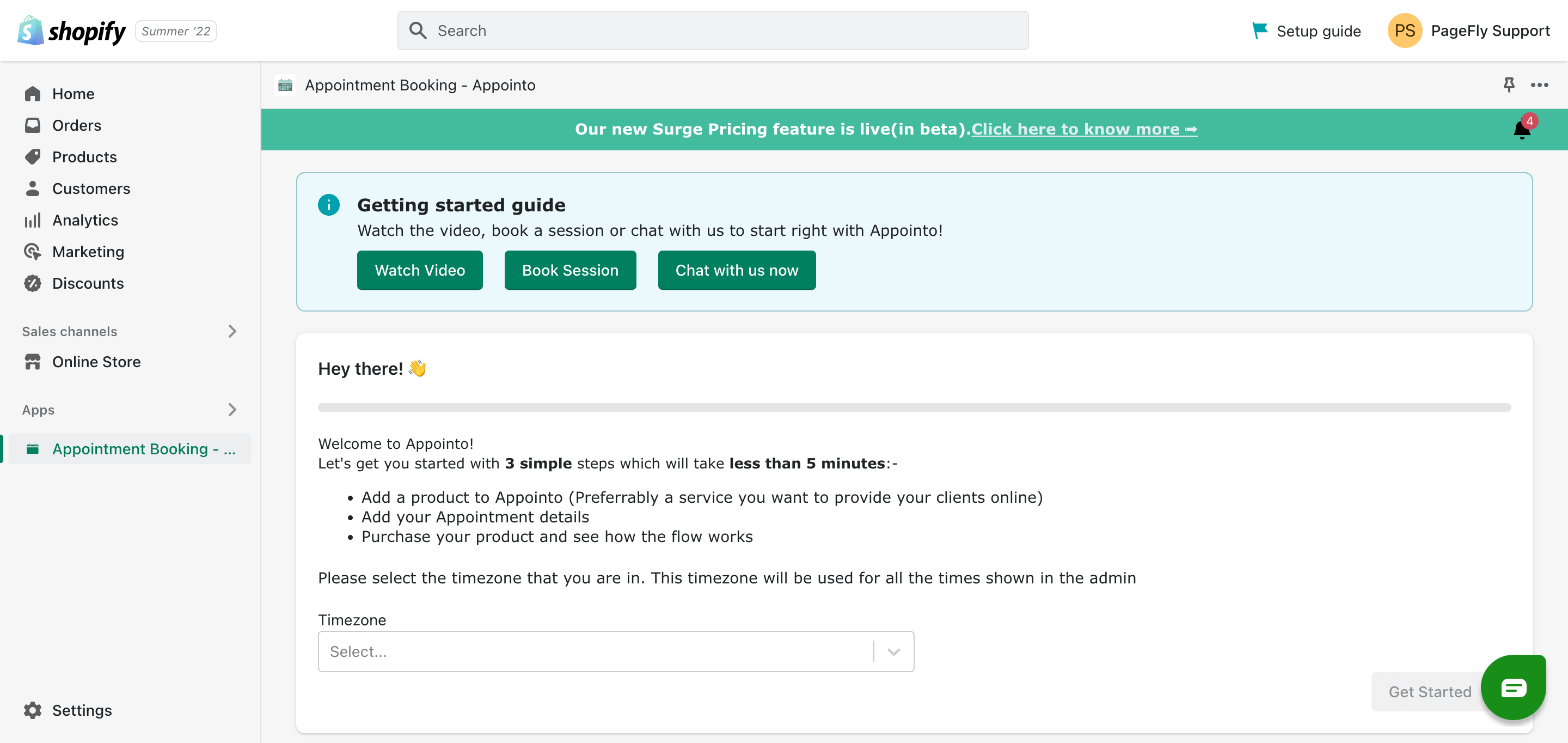 You can follow the steps in their guide to set up your appointments. If you have any questions related to the Appointment Booking App, you can visit their Help Center here. 
After all configurations are done, please go back to the PageFly page editor to drag and drop the element onto the canvas.
Styling Configuration
You can customize the styling of the Appointment Booking element in the Styling tab.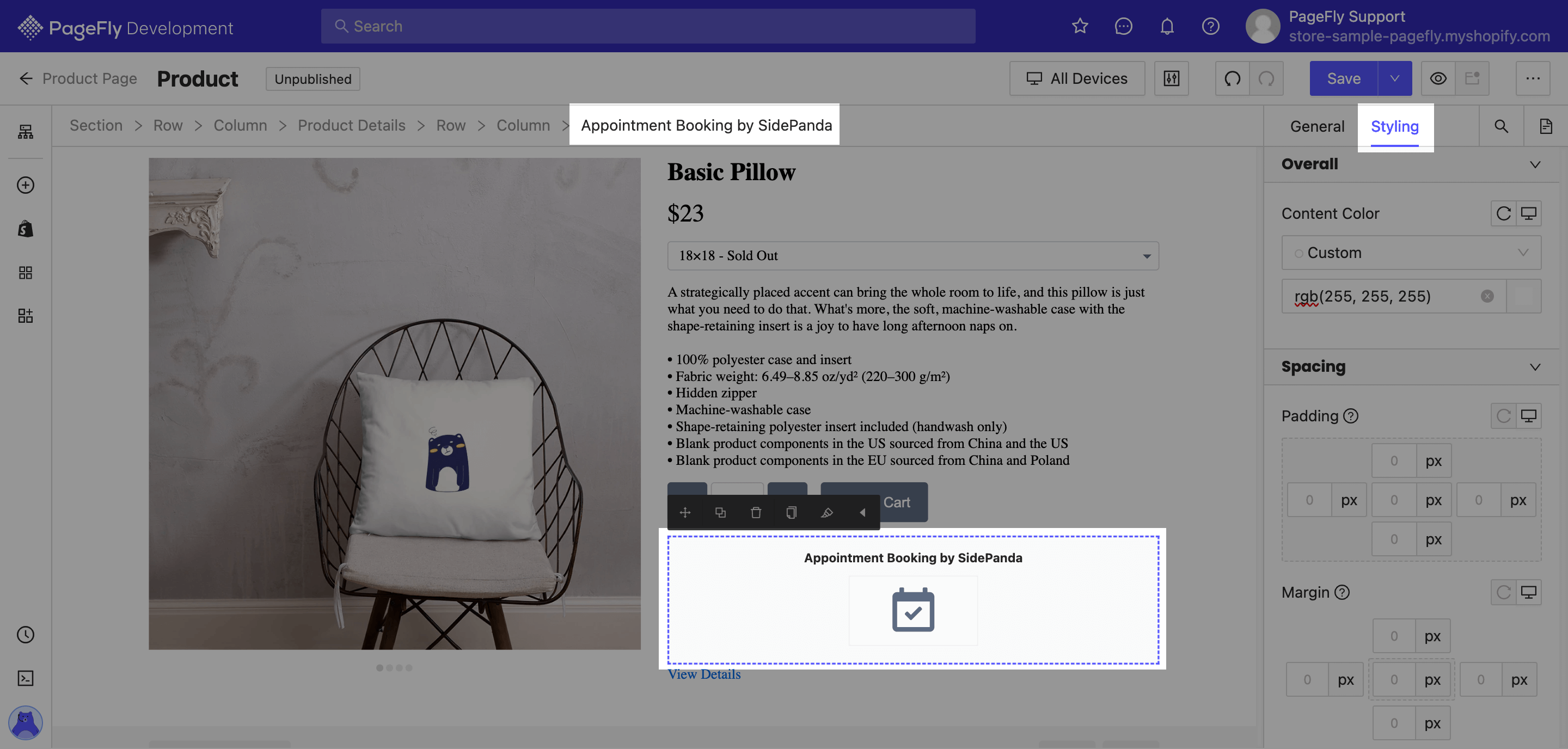 You can check more information about the Styling tab here.
That's it! Don't forget to Save and Publish your product page to see the element on your PageFly page.