In this article, you will learn about List element and how to use it.
About List element
The List element allows you to put a list of items on your page to better organize the layout. Ultimately, it does great work for SEO (Search Engine Optimization) and increases conversion rate!
Instead of bullet points or numbered lists of Paragraph element, the List element offers more customization options, with a better creation process as well. That being so, for the sake of your SEO, we encourage you to use the List element instead of bullet points or numbered lists.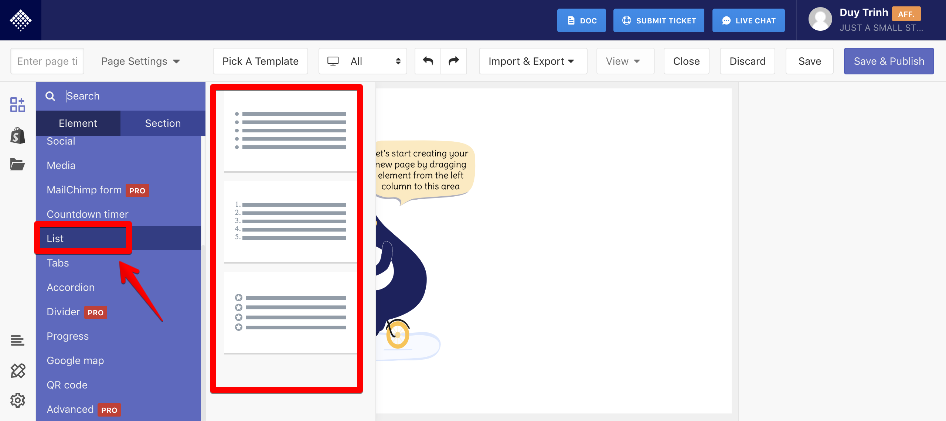 This element comes with multiple variations, covering diverse needs. However, our team will add more options in the future so you can have more choices.
To start, simply drag a variation to the Editor. Let's see how it works!
List element setting
The List element offers many variables, letting you edit the design to achieve the best conversion rate possible.
First, select the element in the Editor to see its variables.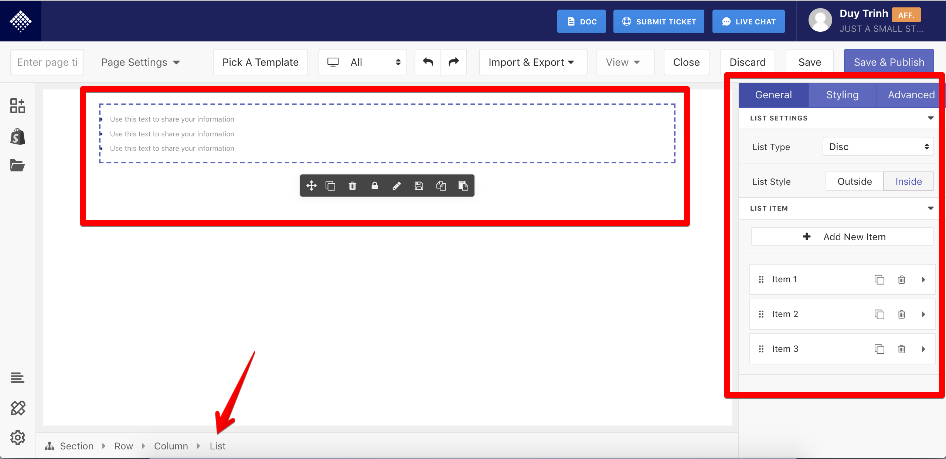 Since the variables in General tab are specific for this element, we will only discuss this tab of the List element below.
Those in Styling and Advanced tabs are common for all elements. Read about them here.
LIST SETTINGS
List Type

The type of the list you would like to display. There are multiple options for this.

List Style

There are two options:

Inside

and

Outside

. By default, it is

Inside

.

LIST ITEM
Add New Item

Use this to add a new item into the list

Item 1

Item 2

_       3

_   etc

The items displayed in the list. Here you can rearrange the order of the item in the list, duplicate or delete an item as well.

Clicking on the right arrow icon will show Text (the name of the list item) and Enable Icon (allow an icon to display next to Text).
Contained elements setting
It's important to know that List element is the combination of multiple List items.
To take a look, you can select it to see two additional variables of the List item.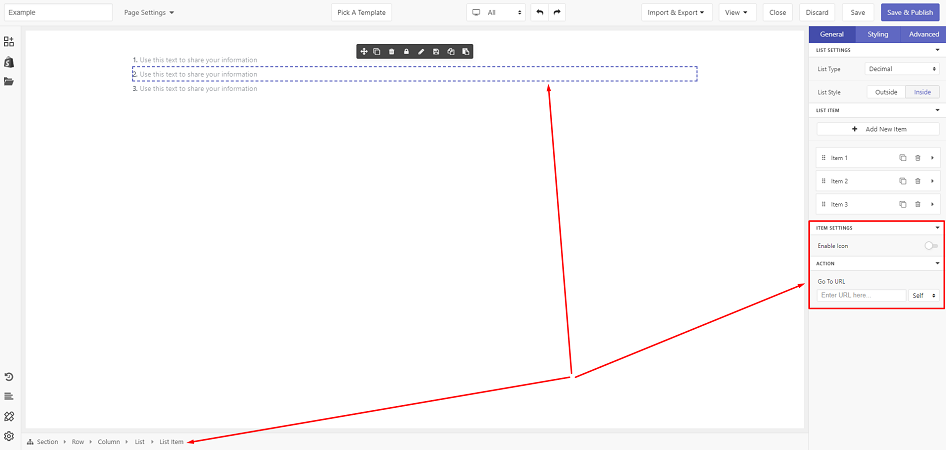 ITEM SETTINGS
Enable Icon

To display the icon next to each item

ACTION
Go to URL

Enter the URL where the user will be redirected after clicking on the list item.