In this article, you will learn about Blog Posts element, one of Shopify elements in PageFly, and how to use it to grow traffic to your store. 
About Blog Posts element
Blog Posts element lets you insert a single, or a list of blogs, from your Shopify store to a page. Above all, it promotes your brand story or announces an upcoming collection. As a result, it can increase conversion rate.
Even so, you can use this element to promote your blogs on other pages (ex. landing page).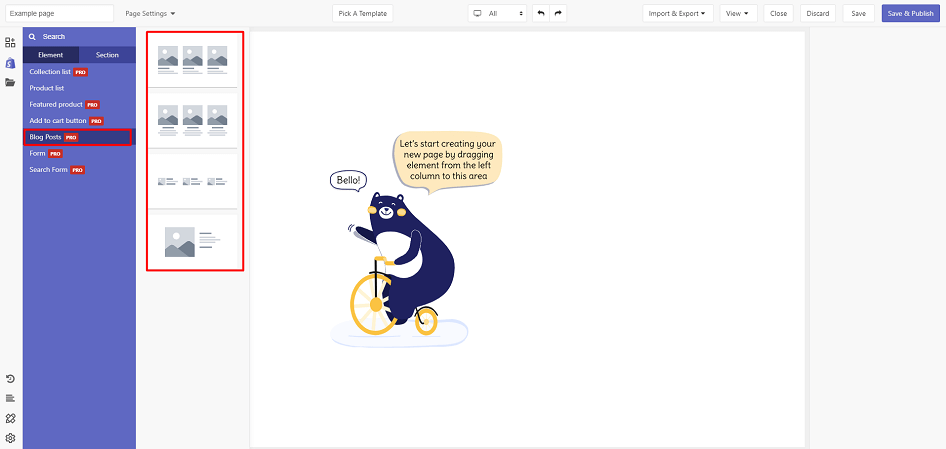 This element comes with 4 variations, covering most needs. Still, we will add more options soon to help you explore more design choices.
To start, let's drag a variation to the Editor and explore it!
Blog Posts element setting
Blog Posts element offers many variables with editable layout, so you can achieve better conversion rate of the page. 
In brief, you can select the element in Editor to see its variables.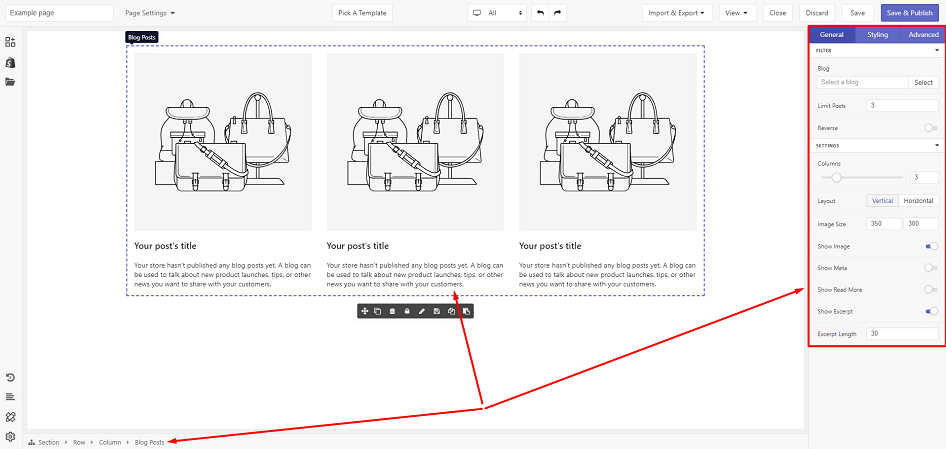 Because the variables in General tab are specific for this element, you can explore them below. 
However, those in Styling and Advanced tabs are similar to other elements. Read about them here.
FILTER
Blog

Select the blog category to show the posts

Limit Posts

Number of posts will be shown

Reverse

Reverse the order of columns

SETTINGS
Columns

Choose how many columns to display blog posts

Layout

Choose how the post is displayed

Vertical: The blog featured image will display above the blog excerpt.

Horizontal: The blog featured image will display beside the blog excerpt.

Image Size

Featured image size. Unit is pixel, left input is the width and right is the height.

Show Image

Show / Hide featured image

Show Meta

Show / Hide blog meta (date, author)

Show Read More

Show / Hide read more button

Show Excerpt

Show / Hide blog excerpt

Excerpt Length

Number of words to show. This field is available when

Show Excerpt

is enabled