Activate Weglot to Translate Your PageFly Pages
1. About Weglot
In this article, you'll learn how to translate your PageFly pages into different languages with Weglot – Translate Your Store. Weglot is a simple solution to make your Shopify store multilingual.
Before you can start translating your website, you need to install the Weglot Translate Your Store.  From the main page of Shopify, go to app section and search for Weglot Translate Your Store.
Video Tutorials
You can watch this video tutorial to know how to use Weglot app to translate PageFly pages:
Click on Weglot – Translate Your Store app and it will display the Weglot page.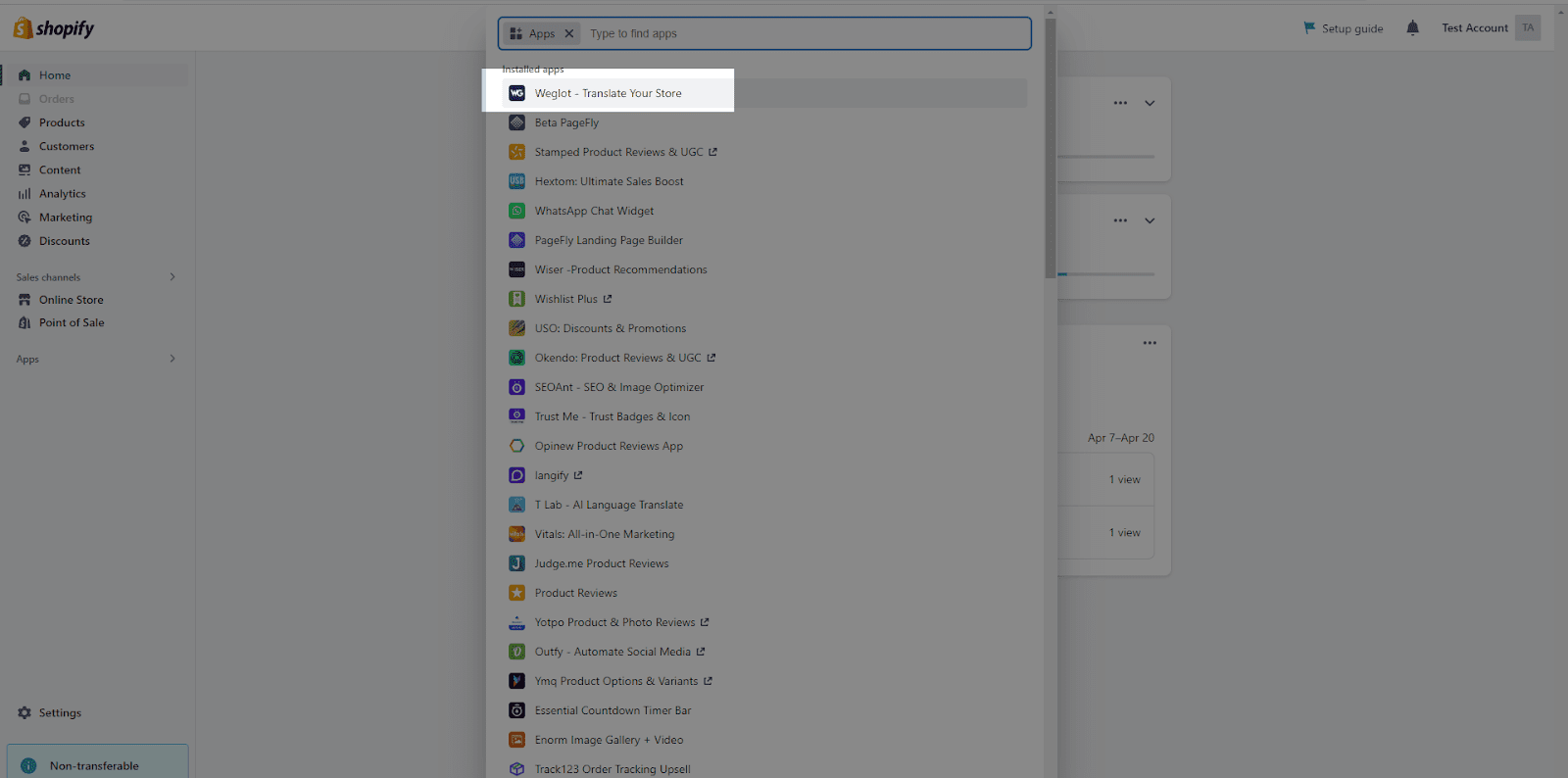 2. How to Register to Weglot
You can register to Weglot by searching for Weglot Translate your Store in the apps section of Shopify. Click on Weglot Translate your Store, it will display the sign-up page of Weglot. Register your email address and password.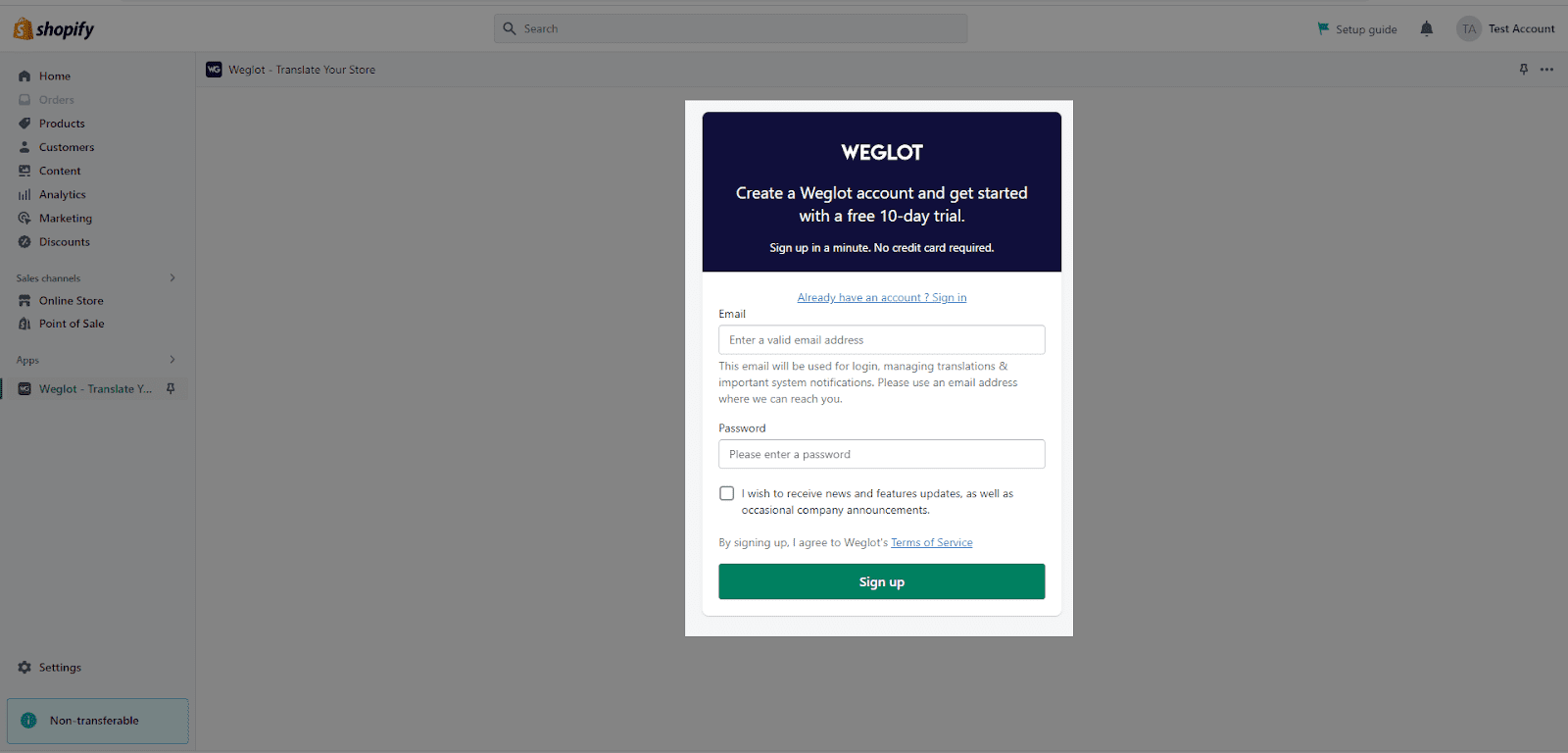 Upon registration, choose your language to be added.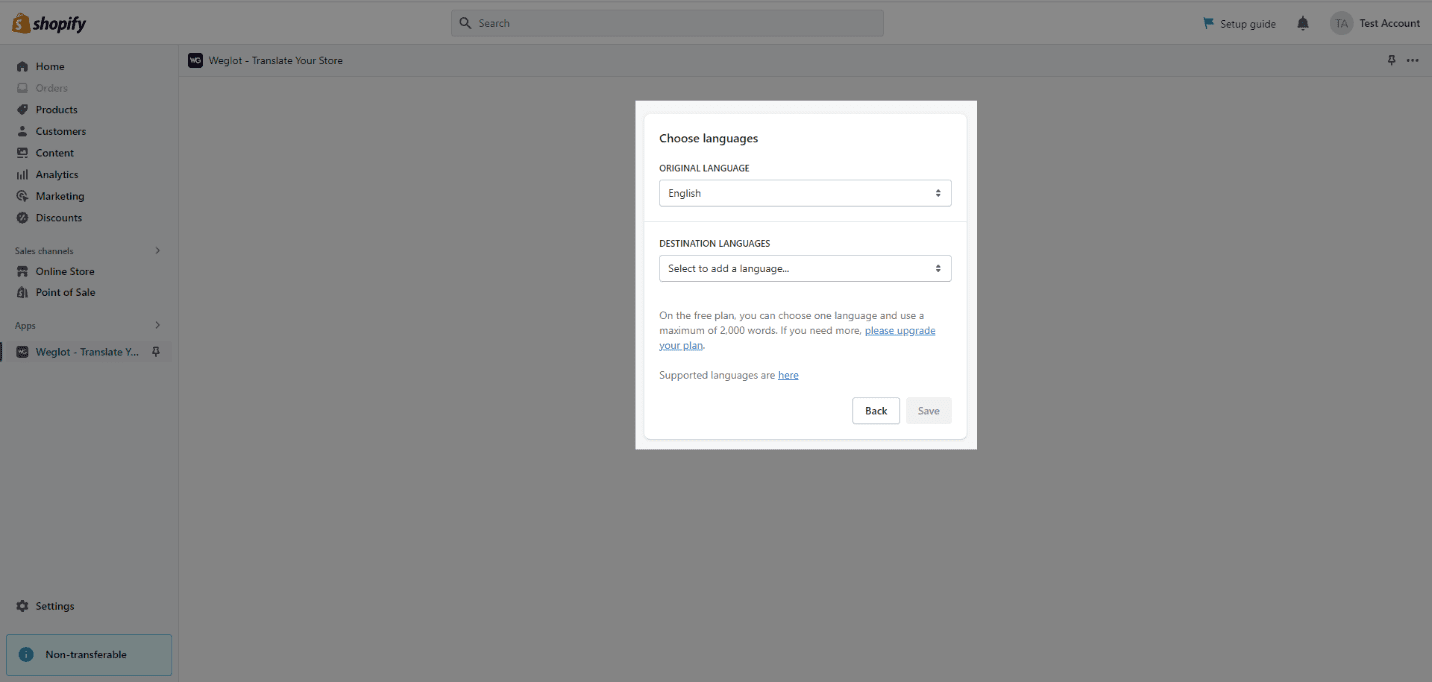 Upon saving all the languages, press Activate.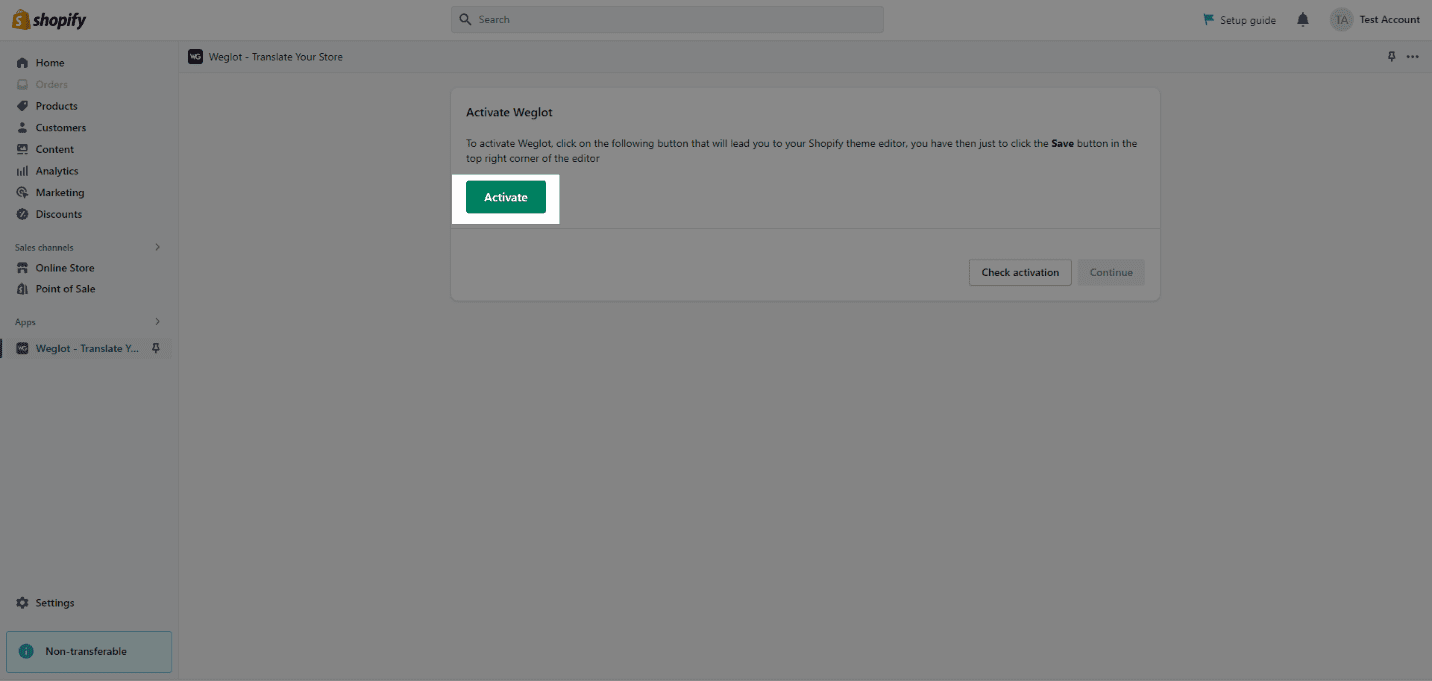 Upon activation of Weglot, it will be redirected to the Shopify Theme editor.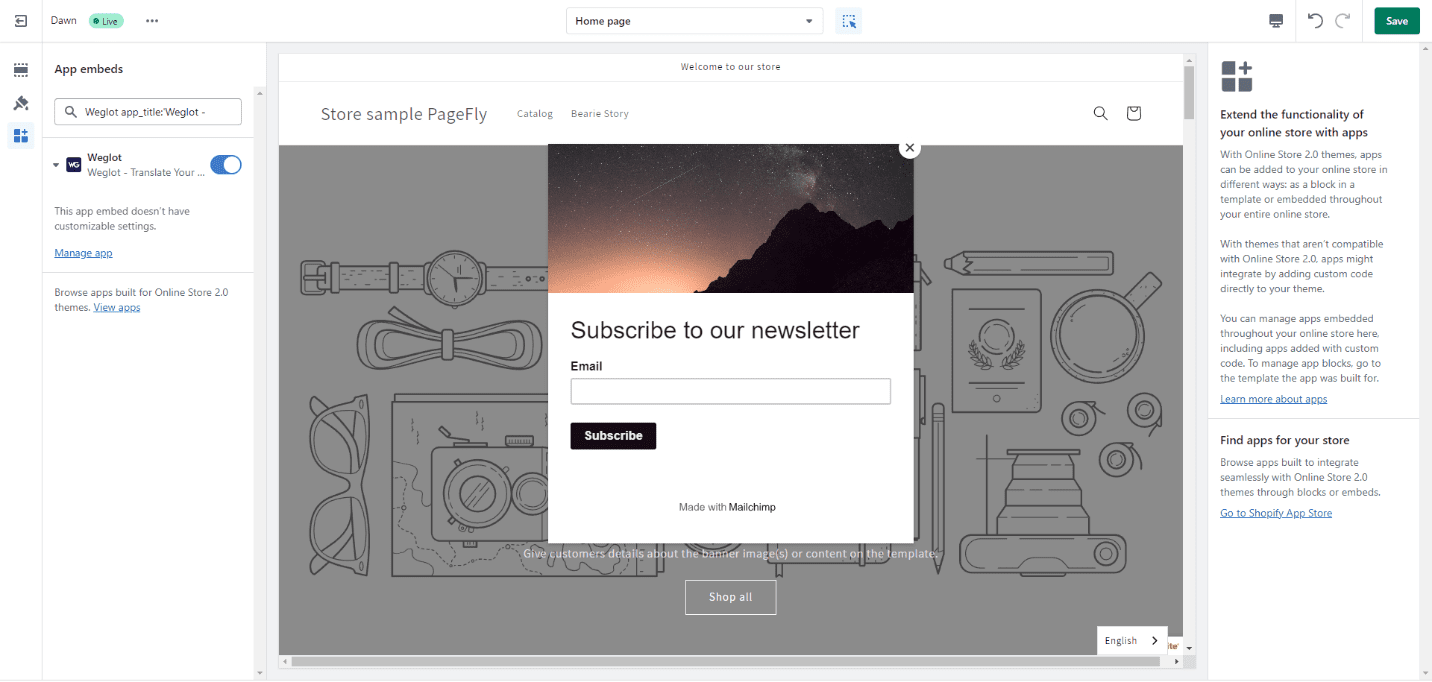 PageFly is seamlessly integrated with Weglot so after installation and sign-up, it will automatically translate PageFly content, meaning there is no need for you to translate your content manually. In the live view, you can see a language switcher right away to toggle between languages seamlessly.
3. Weglot Advance Configuration
To configure the Weglot app, go to Edit My Translations, then select Language Translator.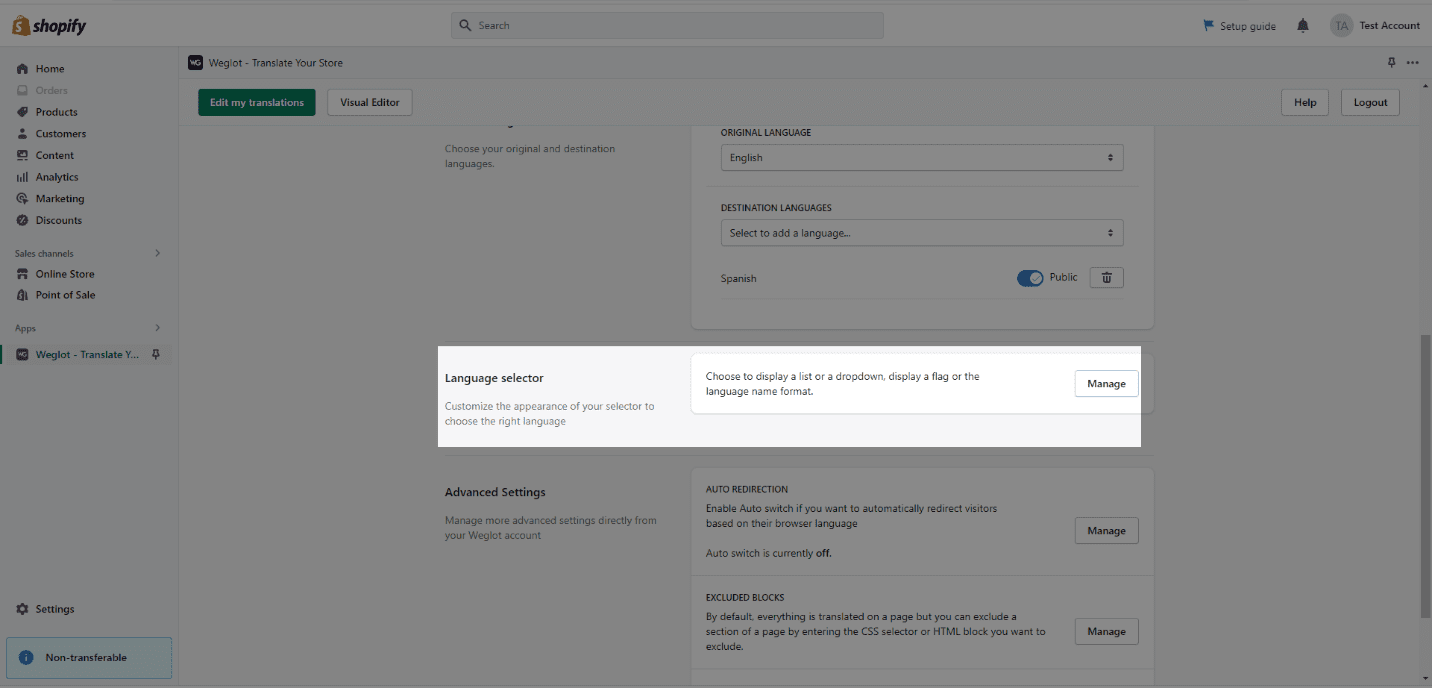 From the Language Translator section, click on Manage it will display the Language Switcher. The Language Switcher has different options on how to display the languages in your website. Languages can be displayed by Language name, Full Language name, Language flags and option to list the languages.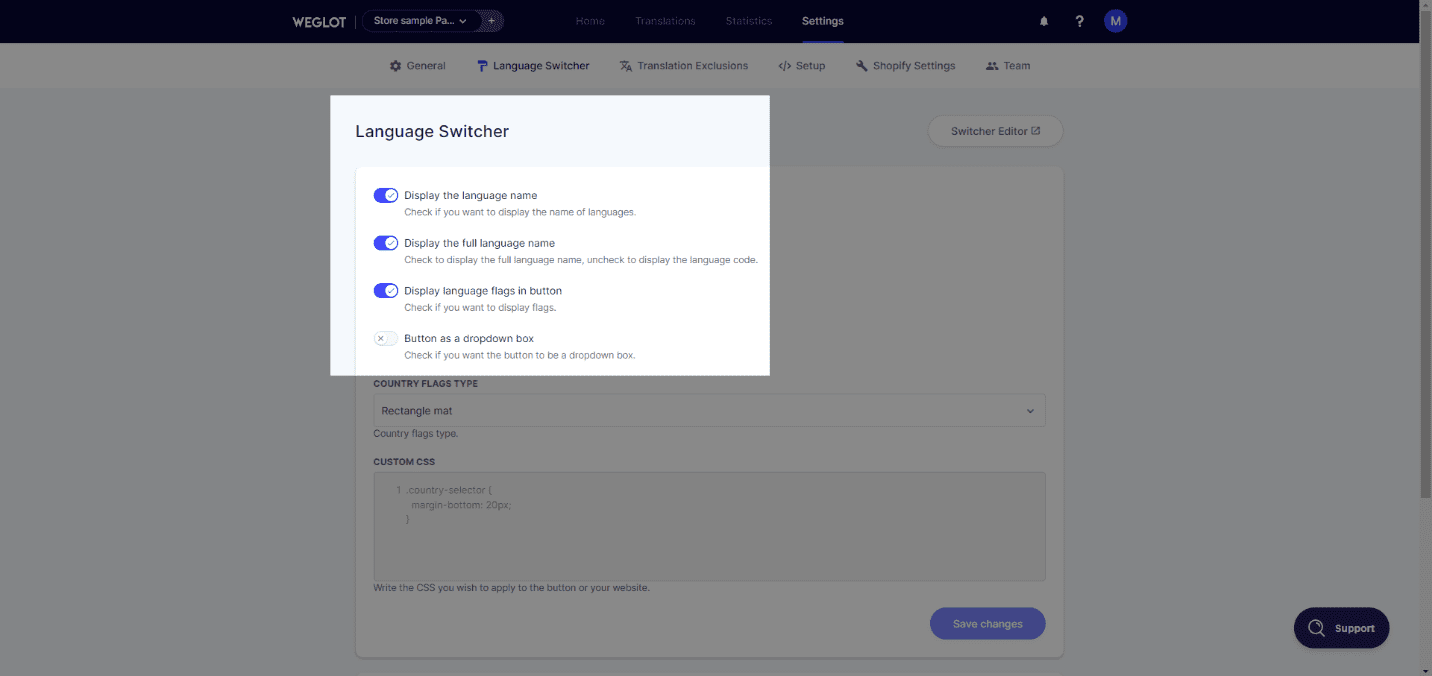 Features such as Custom CSS to customize the button can be found also in Language Switcher.
Note: To translate content that do not belong to PageFly, you have to follow the Weglot tutorial here.
For more tutorials, you can check out the Weglot Help Center.
A Weglot account has a limit of 2000 characters translated. To translate more than this, you'll need to upgrade your plan. You can explore Weglot's pricing plan here.
4. Frequently Asked Questions
4.1. Overview
| | |
| --- | --- |
| When was Weglot founded? | 3/2/2016 |
| Is there a free version of Weglot? | Yes, under 2.000 words |
| Does Weglot translate alt text for SEO purpose? | Yes |
4.2. What is the use of Weglot?
Weglot connects directly with machine translation provider and automatically detects, translates, and displays the content of websites
4.3. Who are in partnership with Weglot?
WordPress, Partnerbase and Shopify App Store