What is the PageFly Affiliate Program?
The PageFly Affiliate Program allows enthusiastic partners to earn commission for each new merchant referral to PageFly. This includes App Developers, Themes Developers, Content Providers, Service Providers, or anyone who can reach a wider audience, monetize them and get extra rewards with PageFly.
There are several ways you can inspire, teach your users, as well as engage with them. As a developer, you can create a development store with the unlocked PageFly features to test the app, at no costs and limitations. Then, transfer the store to customers who would like to subscribe to paid plans to get extra money from successful conversions.
You can do it the other ways by creating useful content, blog posts, offering educational courses, and video tutorials to drive traffic. Simply use the PageFly affiliate link to track the success of your campaign that counts conversions.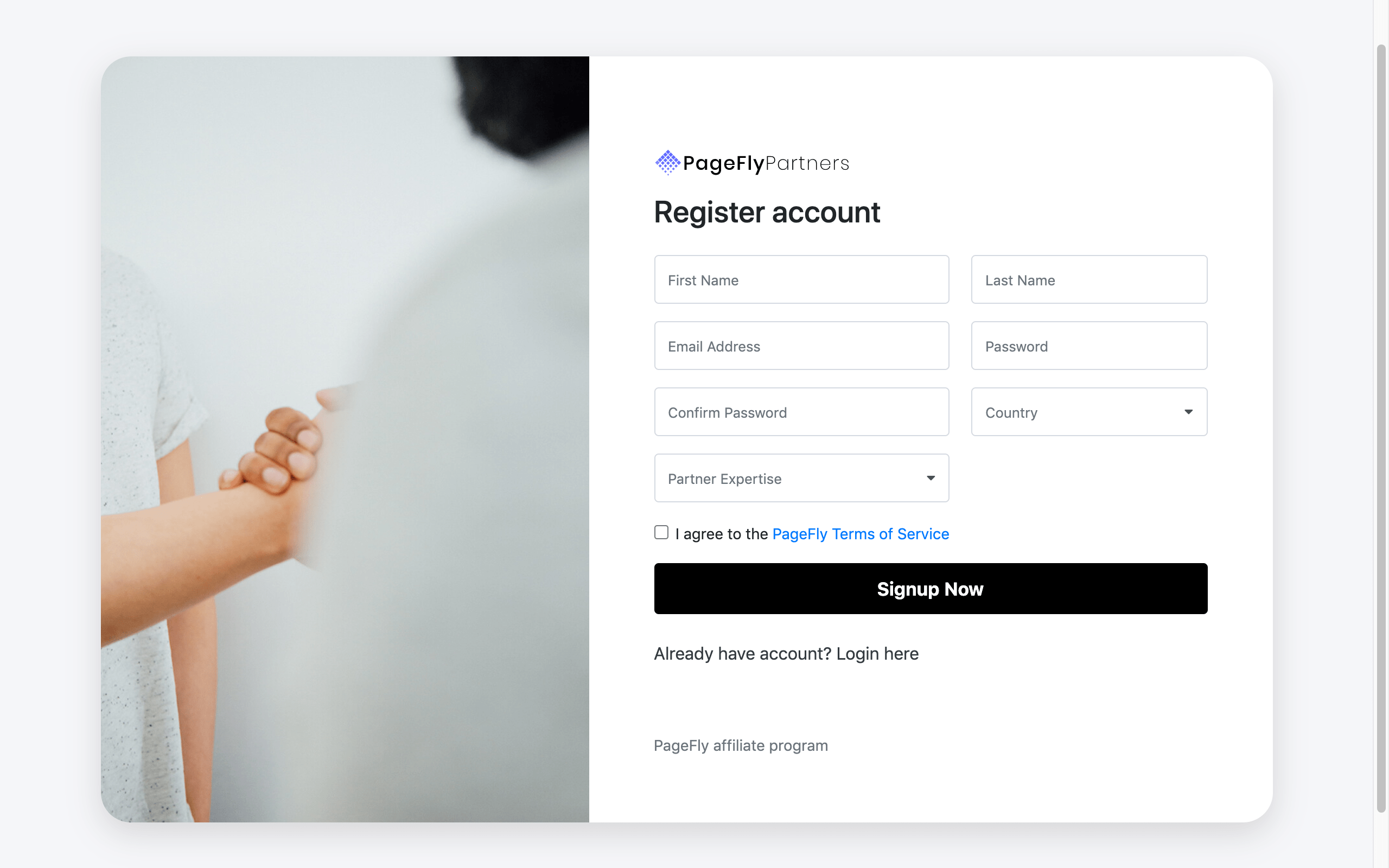 How much is the commission rate?
After signing-up to the program, you are eligible to receive commission for each referral to PageFly's monthly subscription through your unique affiliate link. For each new user who installs the app and subscribes to a paid plan, you are entitled to 50% commission for the 1st month (net) and 30% commission ongoing based on the number of "slots" (also known as the number of pages and sections published on PageFly) your customers choose.
For example, for a successfully referred store, below is the simple calculation of what you can earn per month:
| | | | |
| --- | --- | --- | --- |
| | 20 slots | 100 slots | Enterprise (Unlimited) |
| 1st month (50%) | $14.5 | $35.6 | $79.6 |
| From the 2nd month (30% per month) | $6.96 | $21.36 | $47.76 |
| 12 months (a year) | $88.16 | $270.56 | $604.96 |
Also, contact our Live Chat Support to get exclusive coupon codes for your customers (the standard discount is 20% OFF). Earning commission is unlimited
*Important note: You commission will be paid after the 20% deduction of Shopify App Store fee.
How does your affiliate link work?
A unique affiliate link with a 45-day tracking cookie will be used to keep track whether merchants install PageFly through your referral link.
This means you are entitled to earn commission if the visitor clicks on your affiliate link in blog posts, social media platforms, emails, videos, etc and install the PageFly App within 45 days. You will be able to receive your recurring commission once the merchant upgrades to one of the PageFly paid plans.
Tips: Using affiliate links to ensure the commissions will be counted.

Affiliate links with your unique tracking ID
There are 2 principles of referring a store:
Cross-domain tracking is also encouraged between help.pagefly.io / pagefly.io / academy.pagefly.io. A sample of affiliate link is as image above with "?ref=[your_unique_affiliate_ID]". You can add this unique tracking ID at the end of any page on PageFly to create your own referral link to a specific page, for example: https://pagefly.io/pages/templates?ref=[your_unique_affiliate_ID]. If a merchant goes to the Shopify App Store after your landing page, the information will be sent for tracking conversions.
Tips: As a Shopify Partner, you can use the affiliate link in PageFly Partner's Dashboard to install the PageFly app on your development store and upgrade to paid plans once finished. The conversion can be tracked also.
How do I measure the success of my campaigns?
To track the success of your campaign, you need to log in to the Partner's Dashboard via this link (also sent to your email after an approval of the PageFly Affiliate Program).
The Partner's Dashboard is where you can track the results of your campaign. This includes 3 main areas:
Total Number – The total number of merchants who installed PageFly app through affiliate links and their subscription plan.
Your Referrals – The number of referred stores in regards to their Shopify Plan and PageFly plan.
Affiliate links – You can use this unique affiliate link to track your campaign in a wide variety of promotional methods and channels.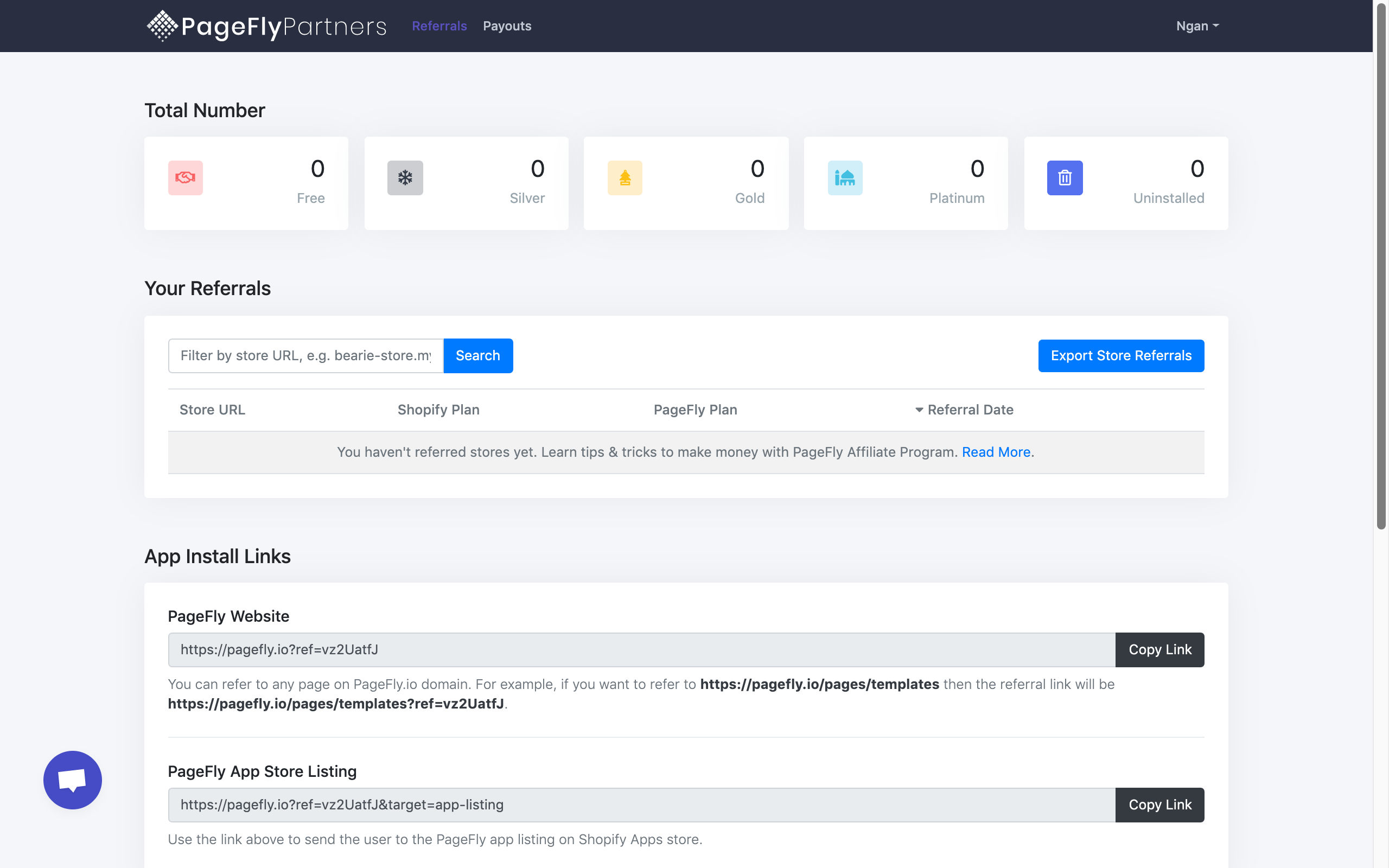 How do I get paid? Which payment options?
Payments for each successful referral will be paid out via PayPal, on the 14th of the month after a successful conversion.
Use PayPal Worldwide Offerings to learn more about offers available in a particular country.
Where can I find the educational resources?
Feel free to use our resources to share with your audience and educate them to be successful on Shopify. You can equip them with our tools, educational materials, and offer them dedicated support so that they can learn more about Shopify as well as PageFly.
Our Blog Posts and Guides
Our Help Center
PageFly Overview – An Overview of PageFly dashboard to educate your audience about the main features of PageFly, including working areas and where to contact the PageFly support team.
Other useful resources
Find details for PageFly Affiliate Platform here.
For further inquiries, please send a message to: affiliate@pagefly.io to get direct support from our Affiliate Manager.