In this article, you will learn about the Page Analytics from version 3.18.0.
By using the page analytics, you will have a general view on the page's performances and how PageFly pages help you grow fast and gain more sales. Moreover, visualizing metrics helps you to take an overall look at the numbers and see how your pages are improved or not from a day to another day and contribute to making your business decision making better.
How does Page Analytics work?
PageFly uses cookies to collect data for the Page Analytics feature and without your consent, it won't work. Therefore, if you want to activate this feature, choose the Analytics button on the left menu bar of PageFly dashboard. If you are disabling the Analytics, there will be a notification message which will direct you to Open Analytics Settings to enable it.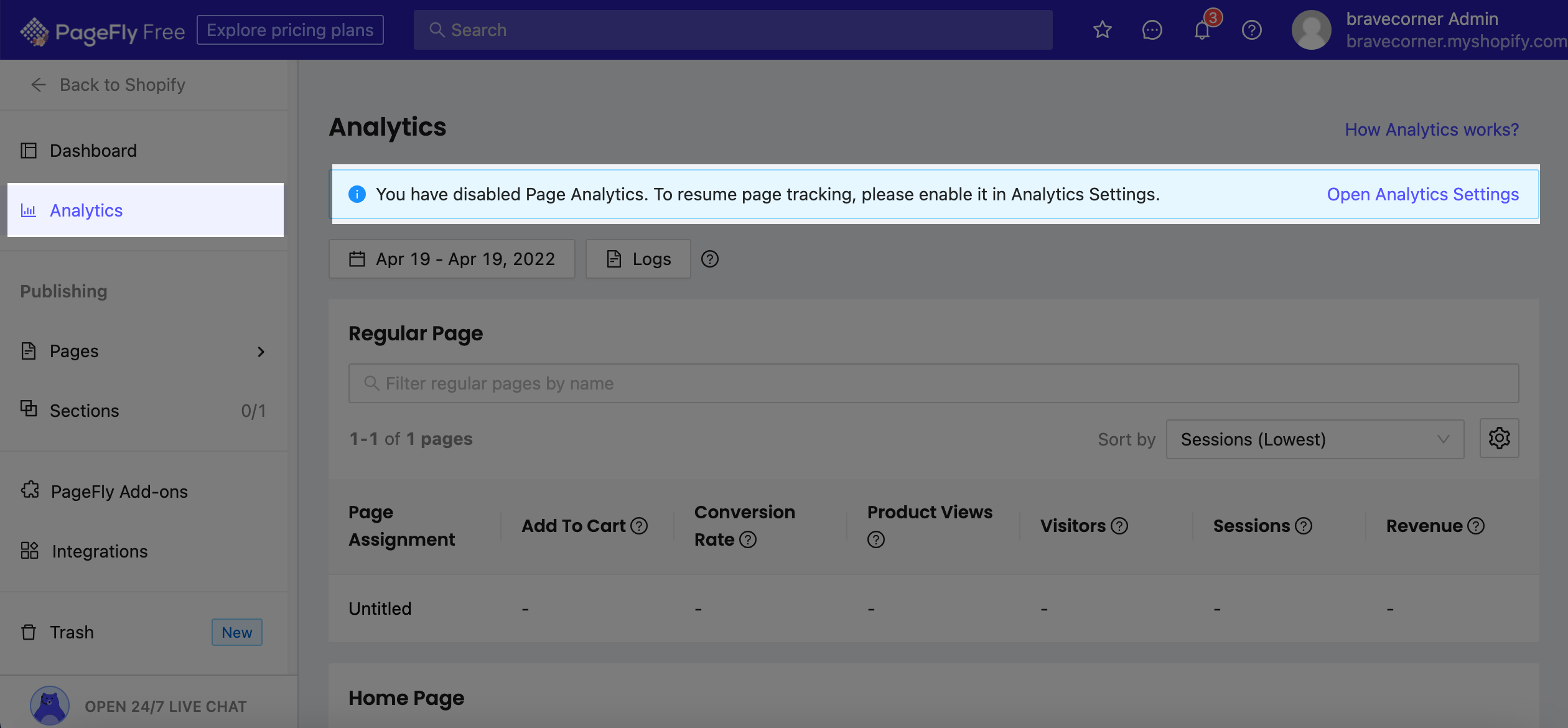 After choosing to Open Analytics and Enable Page Analytics, you will be directed to set up for your Analytics. You can choose to Enable Revenue Tracking, set up the default length for one session, and choose your Timezone for better tracking accuracy. 
NEXT, click Save.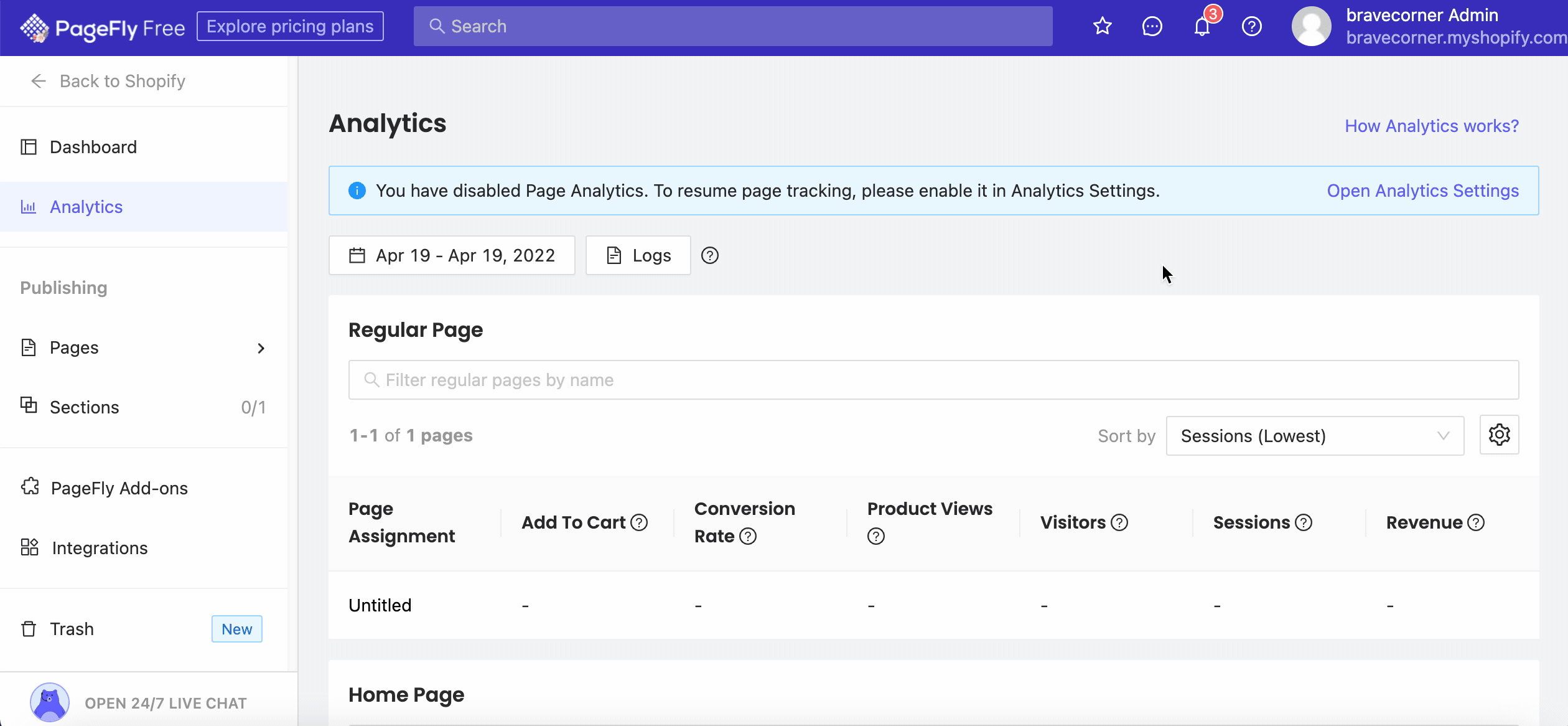 To know more about PageFly's Privacy Policy, you can check it here.
What can be measured?
6 key metrics
PageFly provides 6 key metrics to analyze page's performance as the demonstration below:
| | |
| --- | --- |
|     Metrics | What to be tracked |
| Add To Cart | The percentage of sessions which have Add to Cart actions from visitors.  |
| Conversion Rate | The average percentage of sessions which have visitors clicking on trackable CTAs on the page. |
| Product Views | The percentage of sessions which have visitors clicking and redirecting to the Product page from the page. |
| Visitors | The total number of unique users visited the page. |
| Sessions | The total sessions that customers visitors spent on the page.  |
| Revenue | The total amount of revenue generated by the page. |
About Tracking Session
An individual session for a given user ends either after a specific time, according to your set up, or when it has reached the end of a day.
By default, on the 1st of every month, you will have 50,000 tracking sessions available.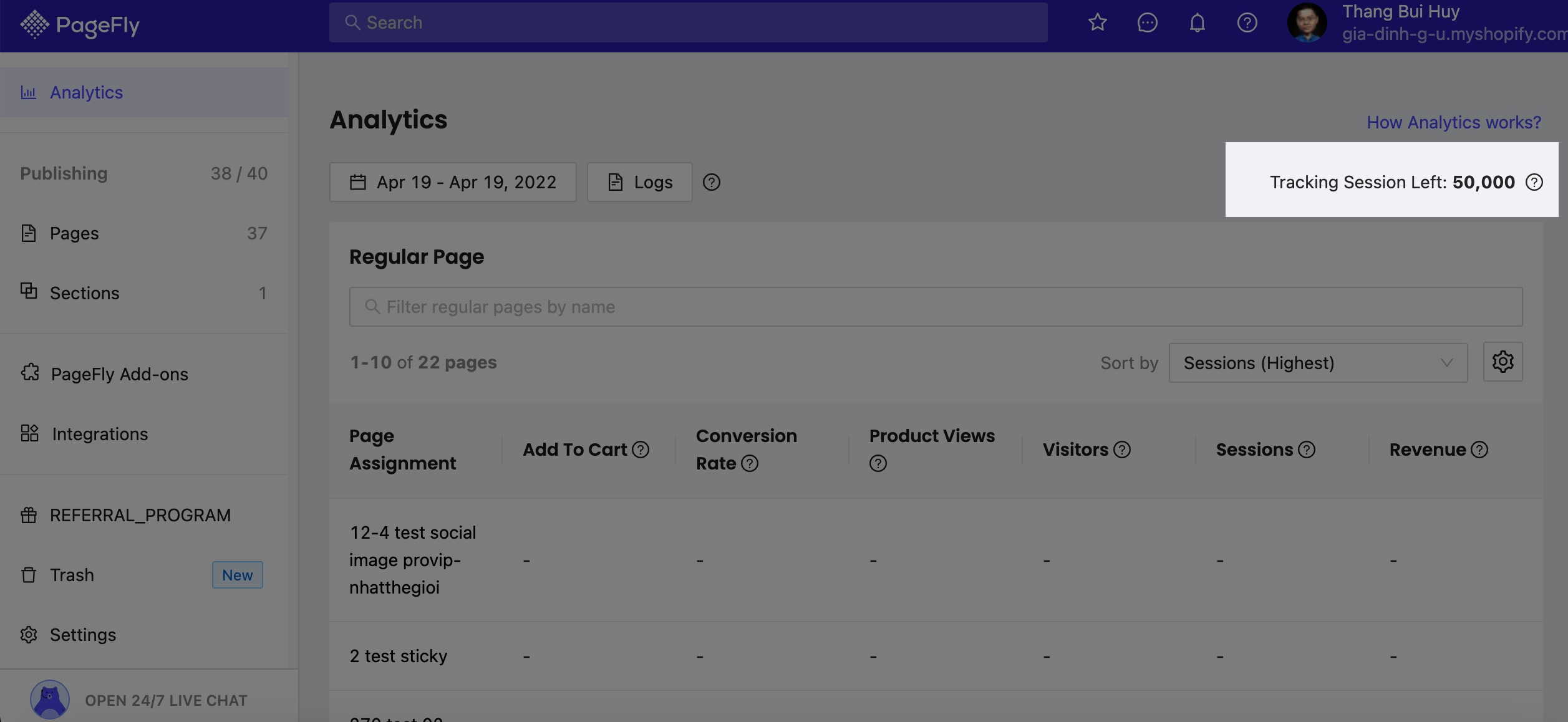 If you have more than 50,000 sessions a month, then when the tracking session is 5000 left,  there will be a notification message which directs you to Buy More sessions. Please check the photo to know about the notification message. Please note that this message only shows when your sessions reach 5,000.
It costs 5 US$ for one purchase to get 50,000 more sessions.

You can always View sessions package purchase history by heading to Settings in the Dashboard > Billing > One-time Charge.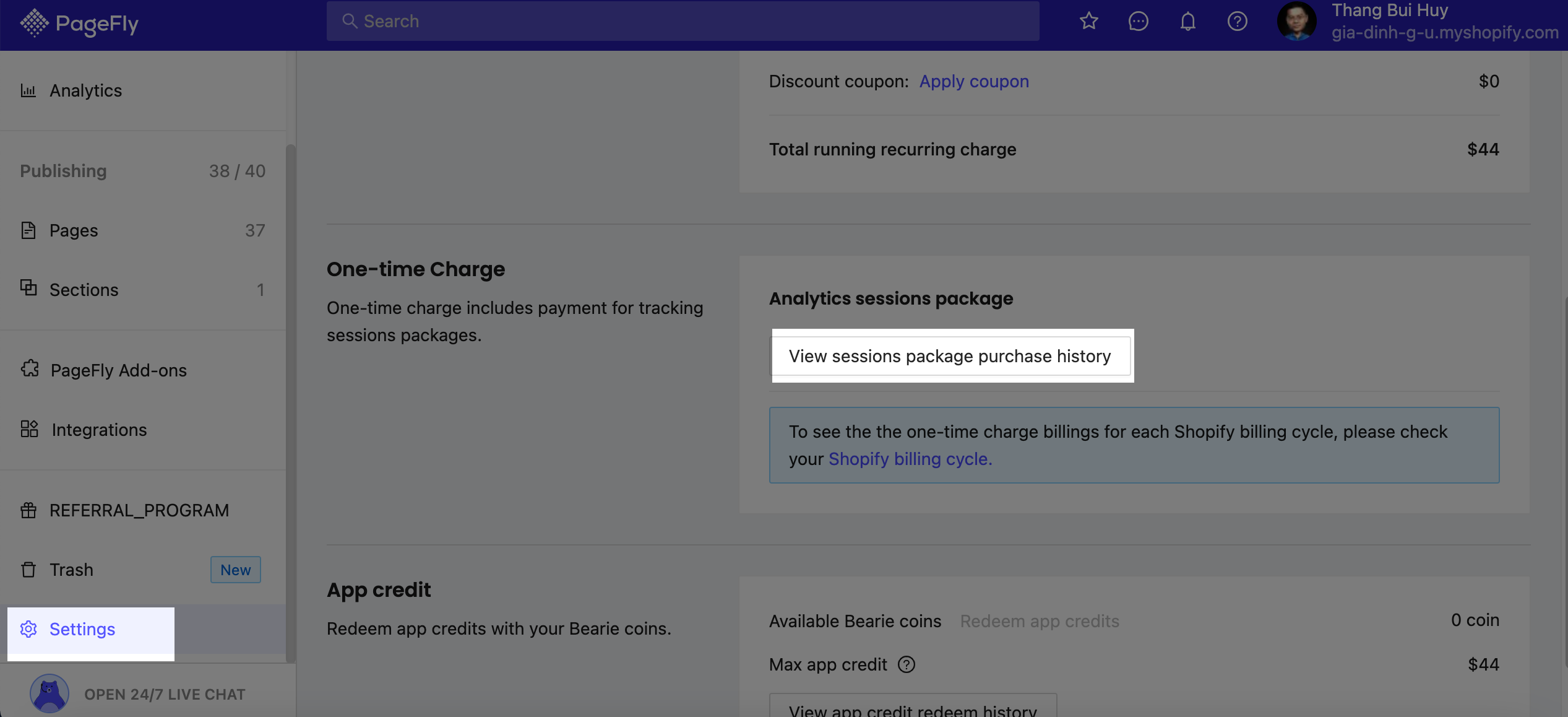 In addition, you can Disable Page Analytics any time you want to. PageFly System will record all session logs whenever you Enable and then Disable it. The session logs will record the start time – end time of each tracking period and total sessions in that tracking period.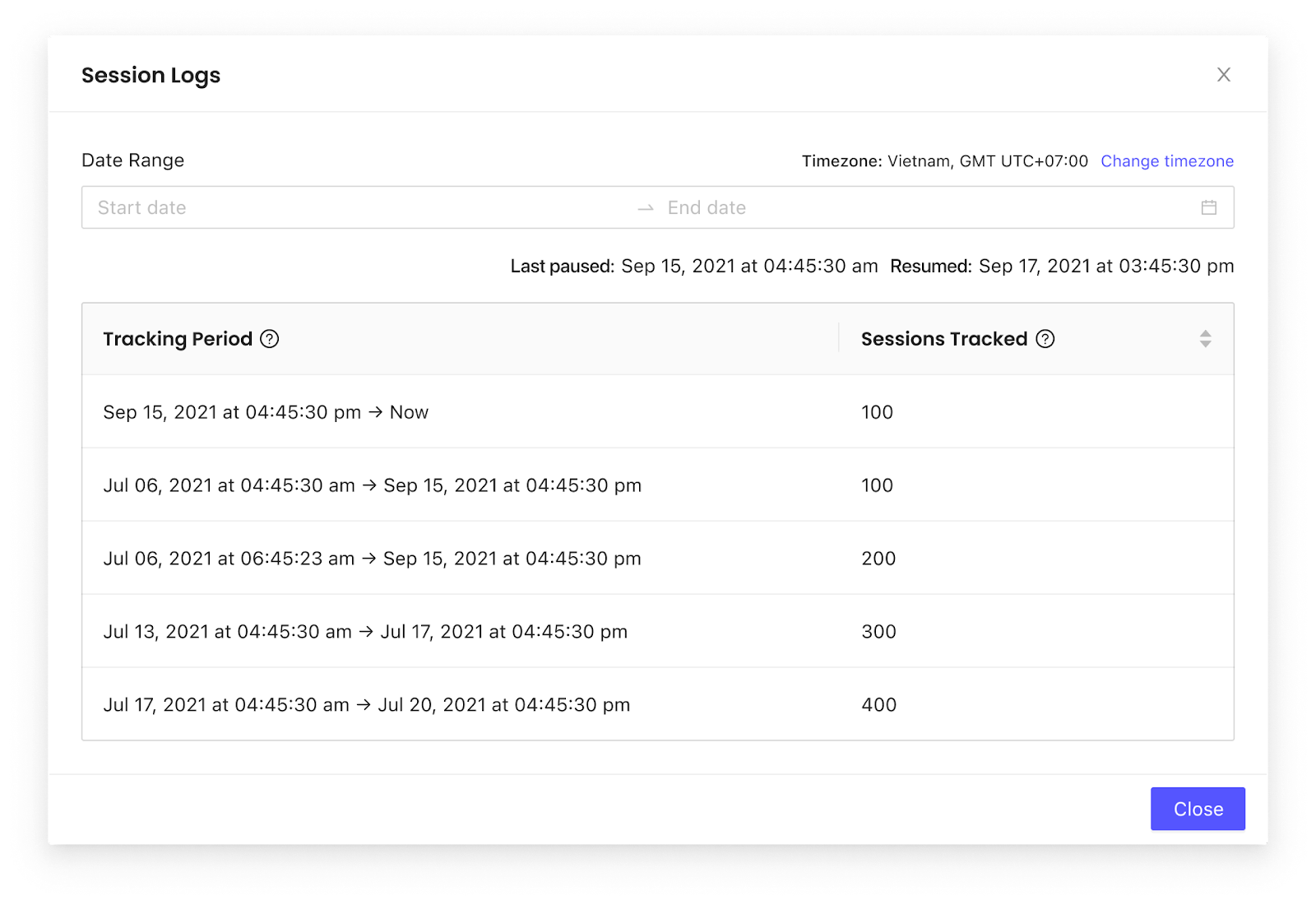 If you have further questions, please join our community. This community is exclusive for PageFly merchants only with our experts and merchants from all around the world!