What is the FAQ page?
A FAQ page is a page in your online store that answers common customer questions, concerns, and objections.
It is important to collect all the questions you hear from your customers and research more about the problems that they have trouble understanding. It can be about the shipping, products, orders issues, sizing, return policy.
Note that you must write clear answers to questions.
You should write your questions from your customer's point of view (e.g. "How do I …") and answer from your business's perspective (e.g., "You should …" or "We provide …"). 
The FAQ page commonly includes the following sections:
FAQs Section
Testimonial Section
Newsletter
Trust Badge
How to create a FAQ page with PageFly?
Step 1: Create a regular page
In the PageFly dashboard, select the Regular Pages on Pages tab and click on the Create a new page button on the right screen to start building your page from scratch.

Or hit the Create new page from templates button to use PageFly templates for your FAQs page.
You can simply check them from FAQ & Policy Page template category: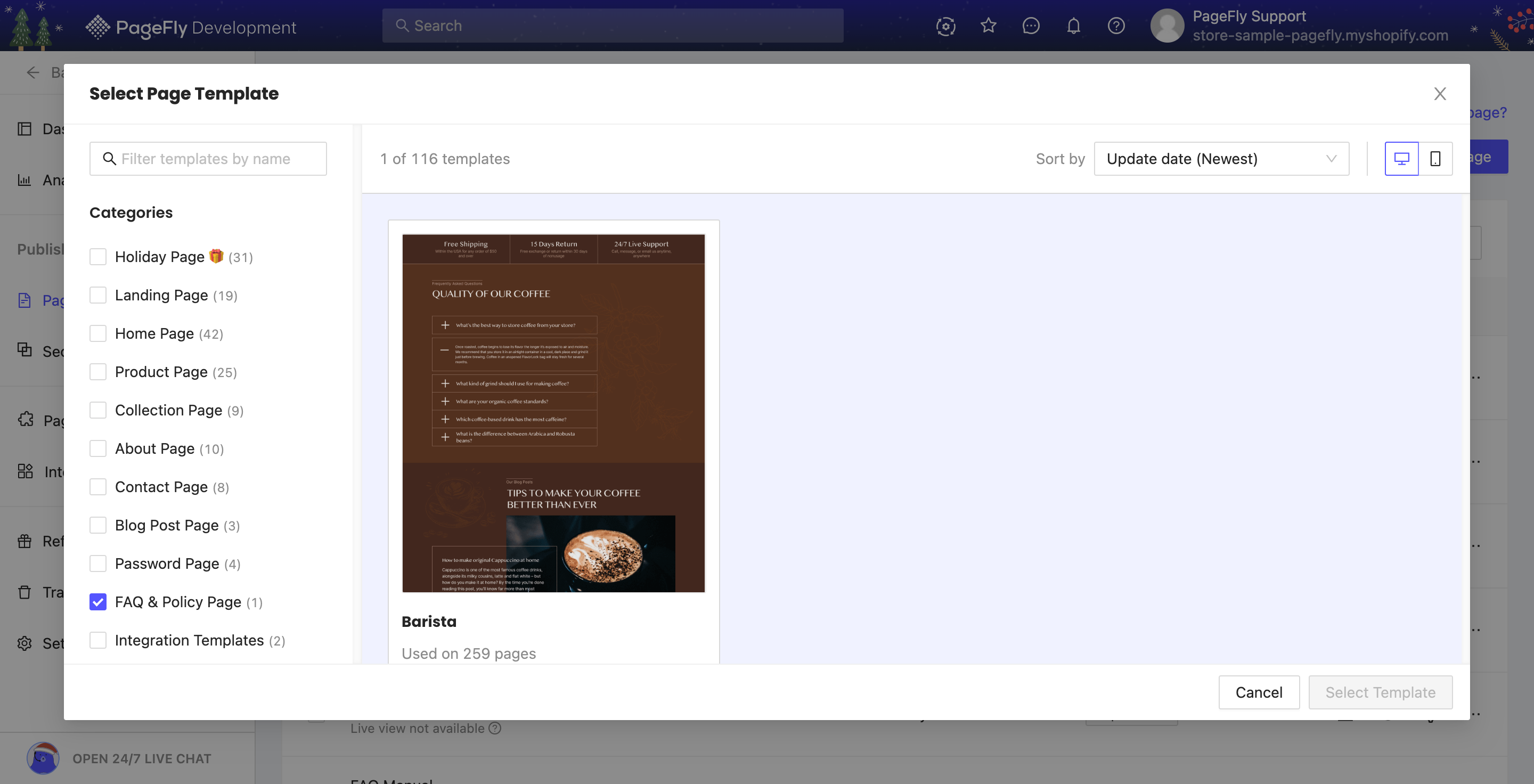 Step 2: Add FAQs sections
To save your time, you can access PageFly pre-made section and select FAQs sections here.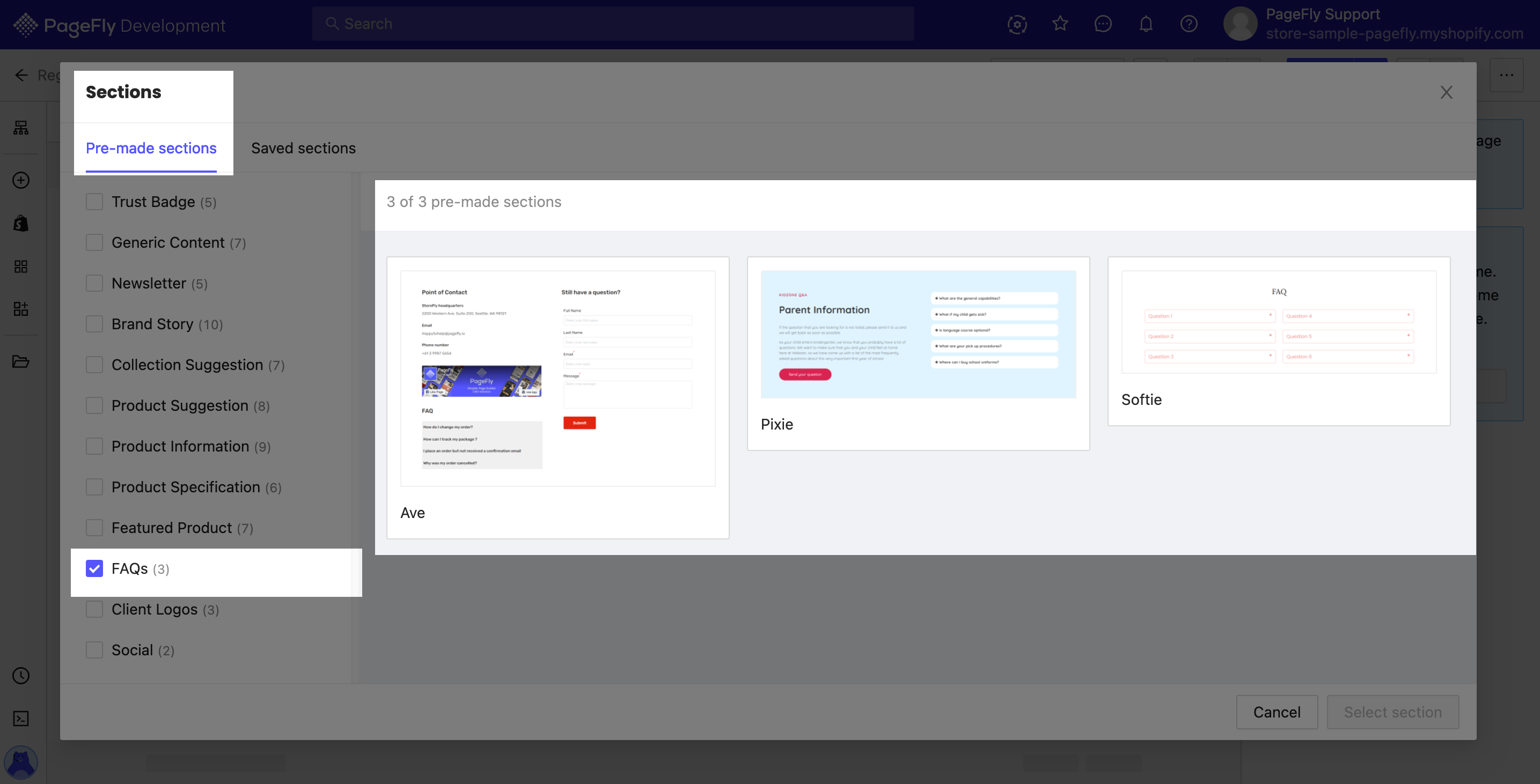 After that, you can freely change content on this section to your prepared content.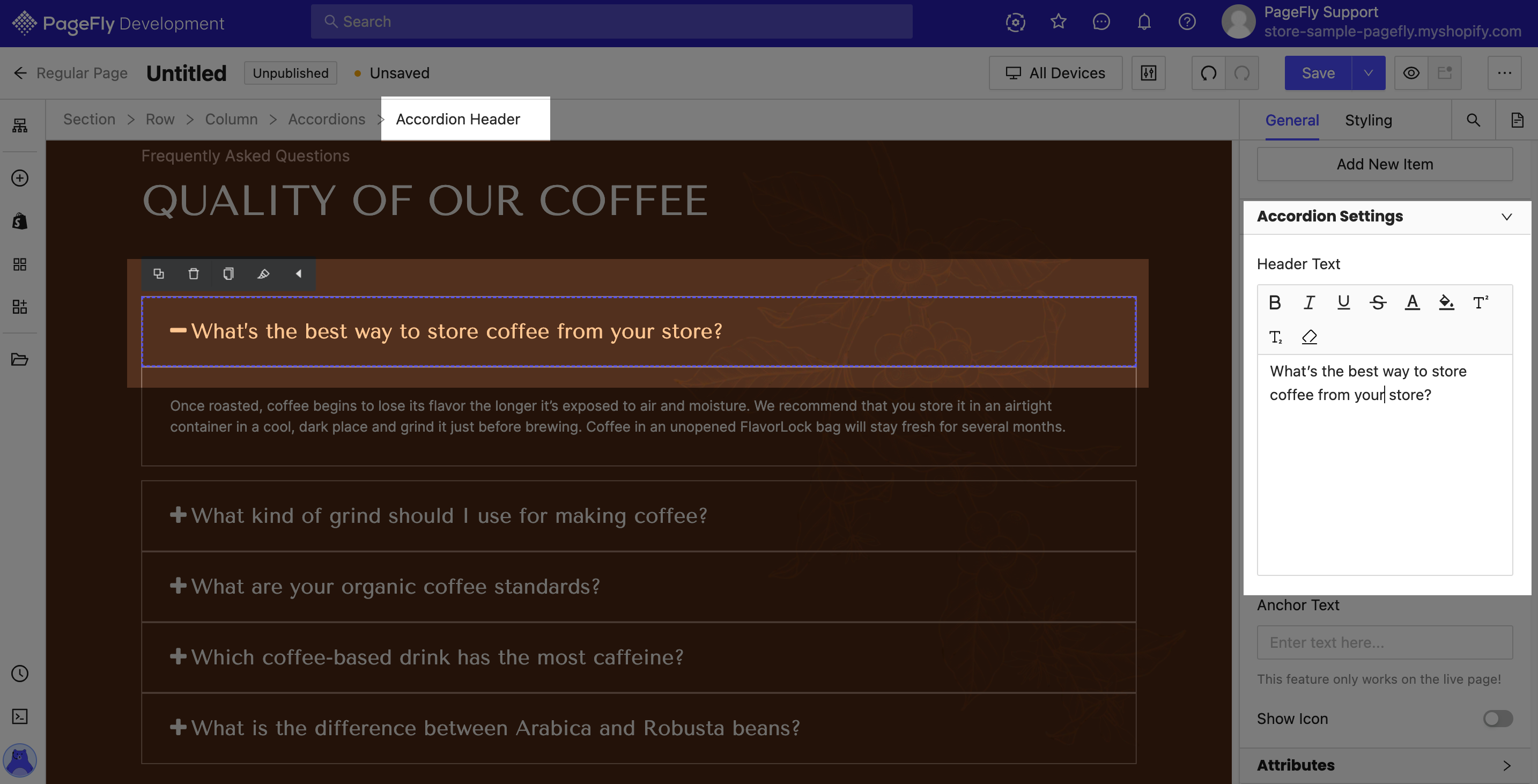 Elements that can use for this section:
Accordion element: Then the Accordion element is highly recommended because it is used to create collapsible content on a page to provide a cleaner user experience.
Tab element: If you end up with a long list of questions,you can organize many questions into categories like "Shipping" or "Sizing & Fit" so visitors can find what they're looking for more easily. In this case, you can use Tab element for it.
Step 3: Add Testimonial Section
To save your time, you can access PageFly pre-made section and select Testimonial sections here.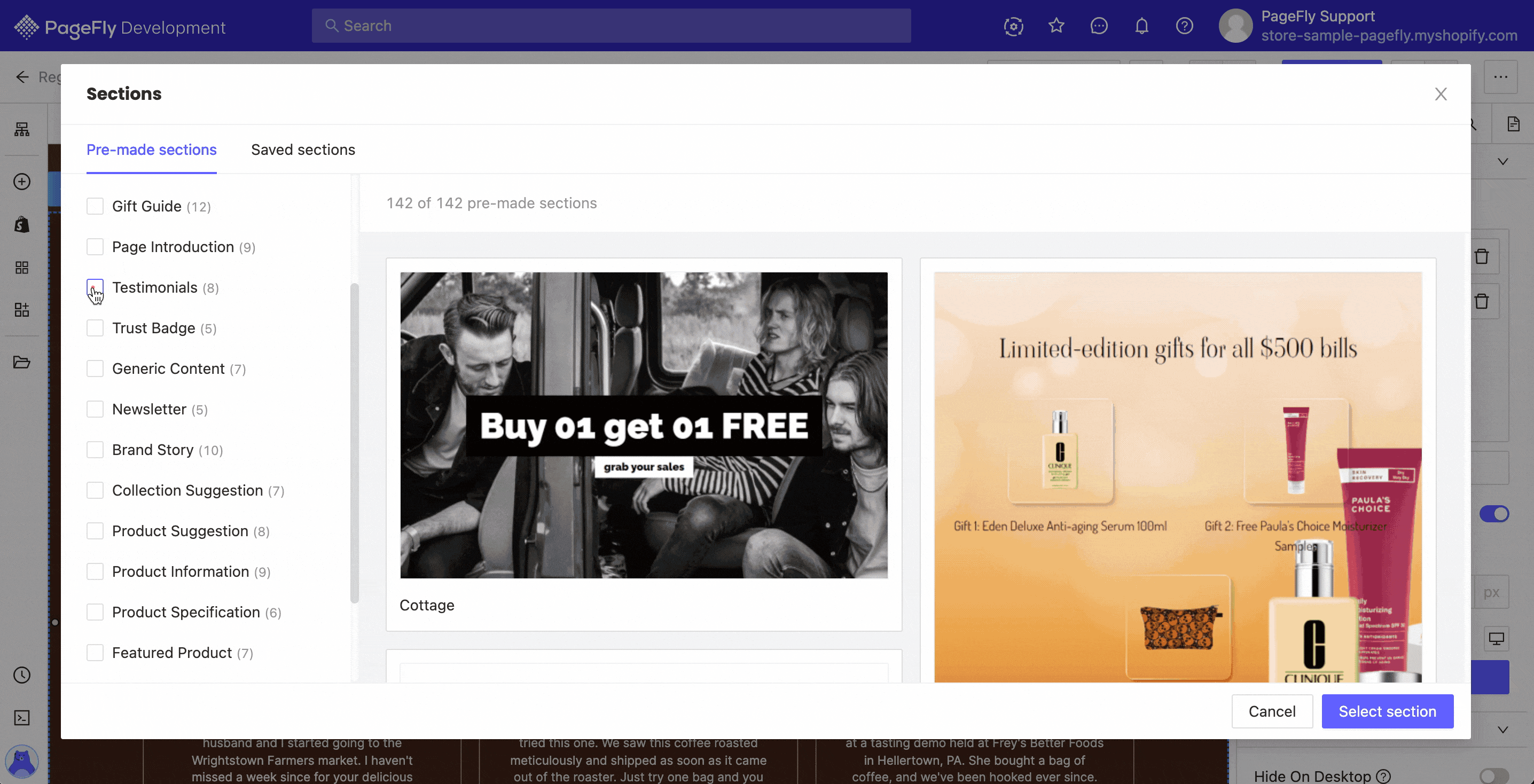 Next, click on each element to change in the general tab and adjust styling in the styling tab. You can check this gif for reference: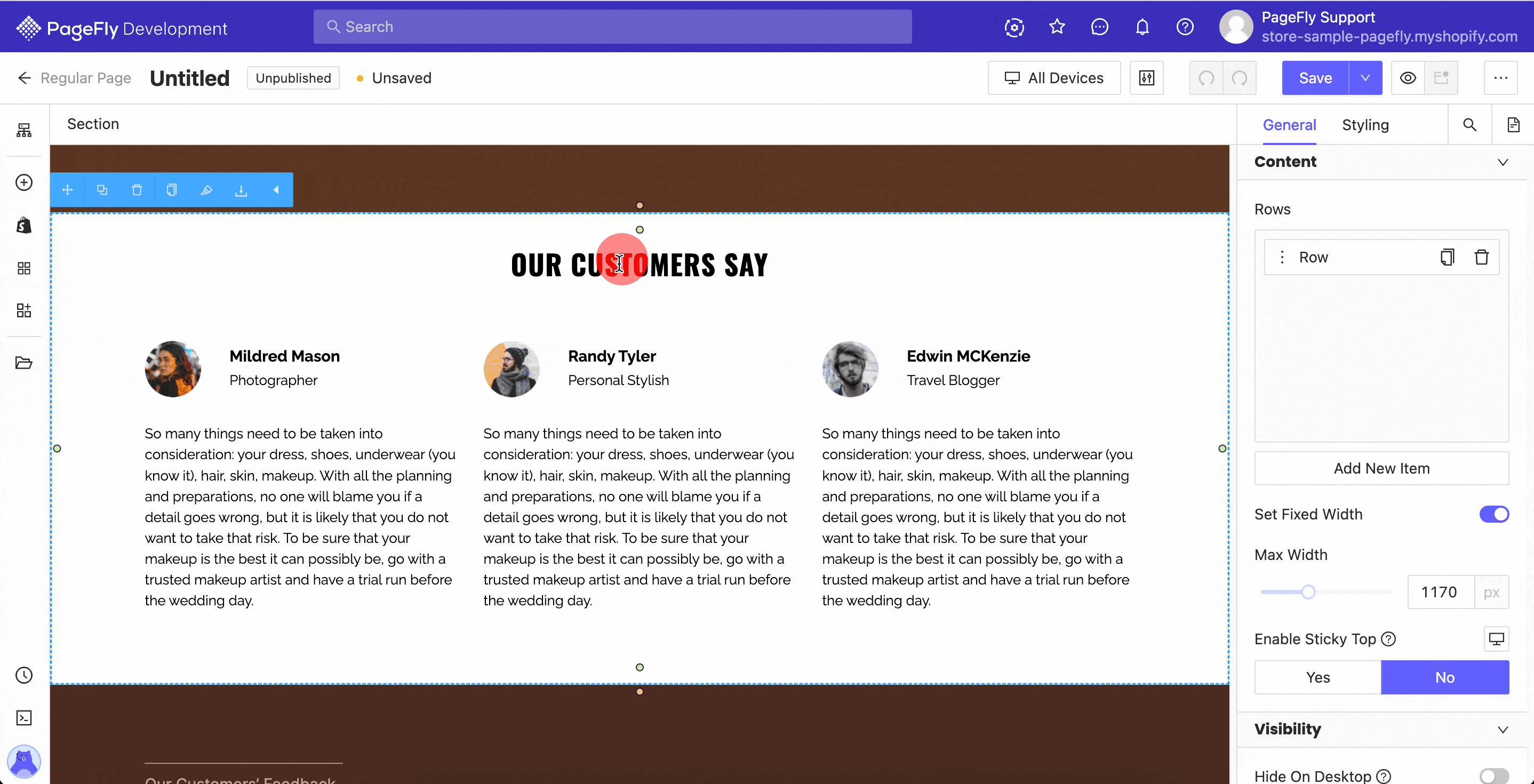 You can also build the section from scratch using Content list element. In the Element catalog, click on the Add element icon to add Content list element.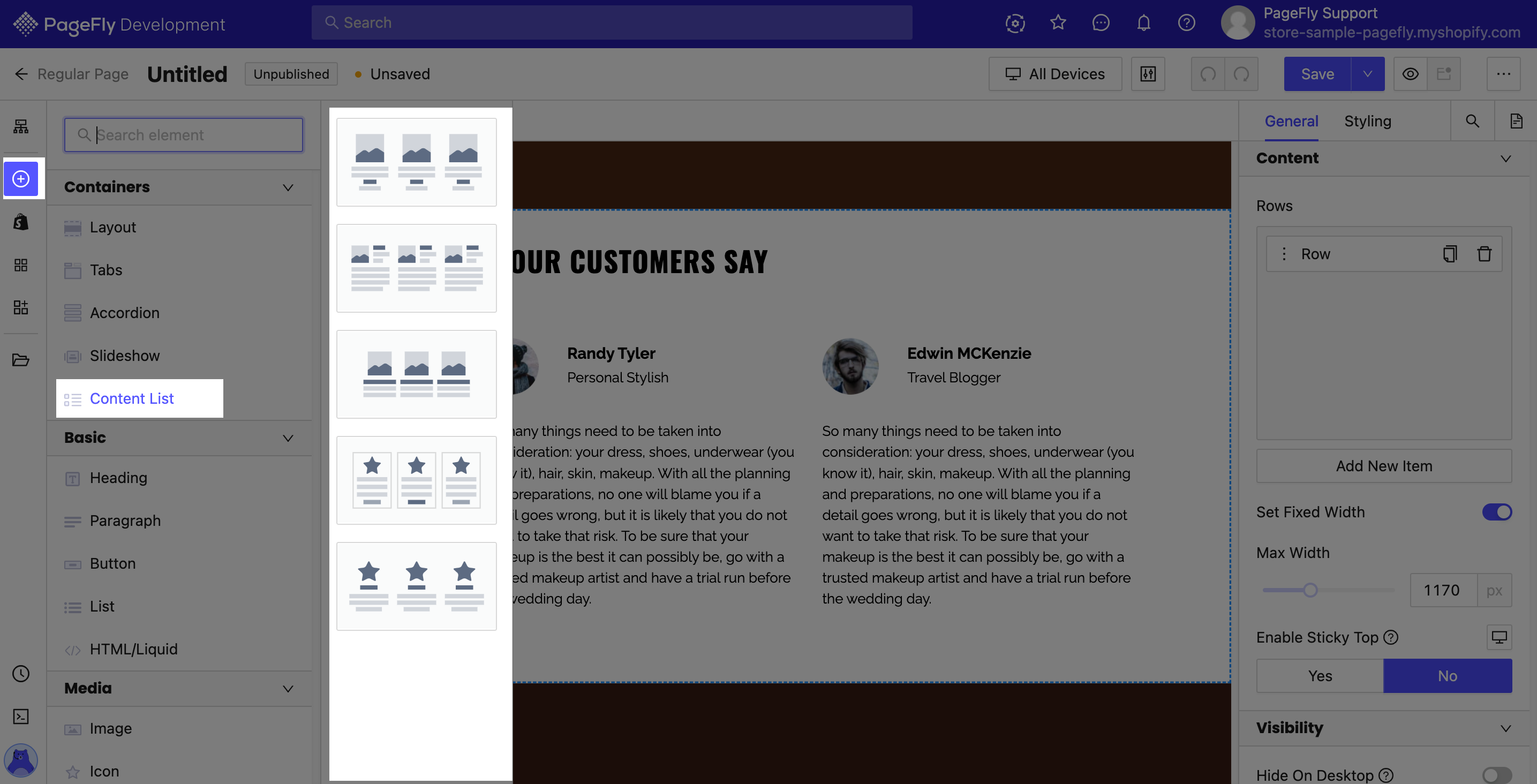 Step 4: Add Contact form
Customers may concern other questions and they have not found the answer, they will need to send you the question immediately.
The Contact Form element is designed to help you easily collect customer's messages or inquiries to increase your conversion rate.
Create layout
In the Element catalog, click on the Add element and select ½ and ½ layout. 
After that, adjust padding top and bottom for the section and scroll down to change Background color, Background image like this: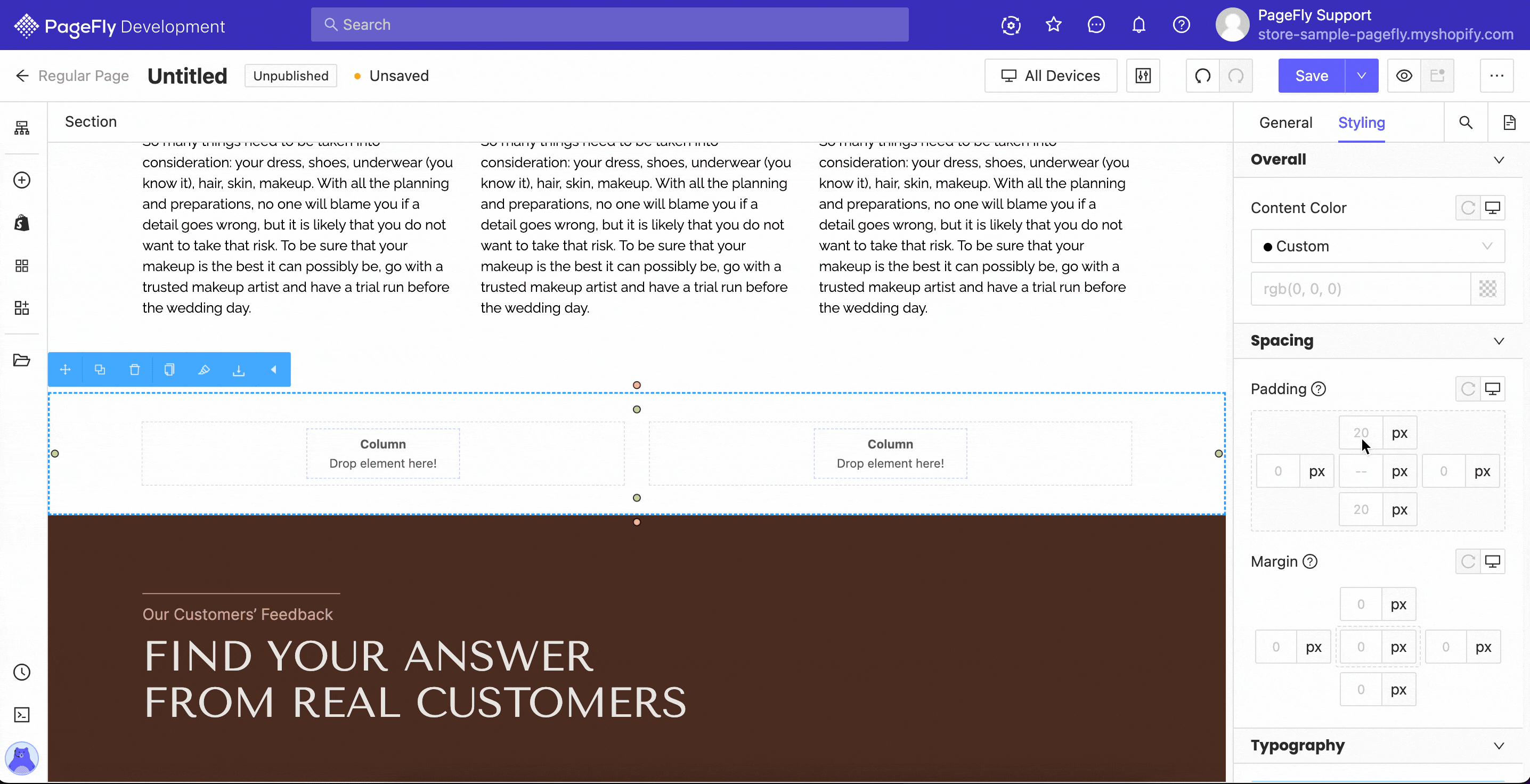 Add content
Now add a heading element into the first column. Now change the content in the general tab and switch to rgb(82, 48, 30) tab, change:
Font size: 48Px 
Font family: Tenor Sans
Color: rgb(227, 225, 221)
You can see the result as below: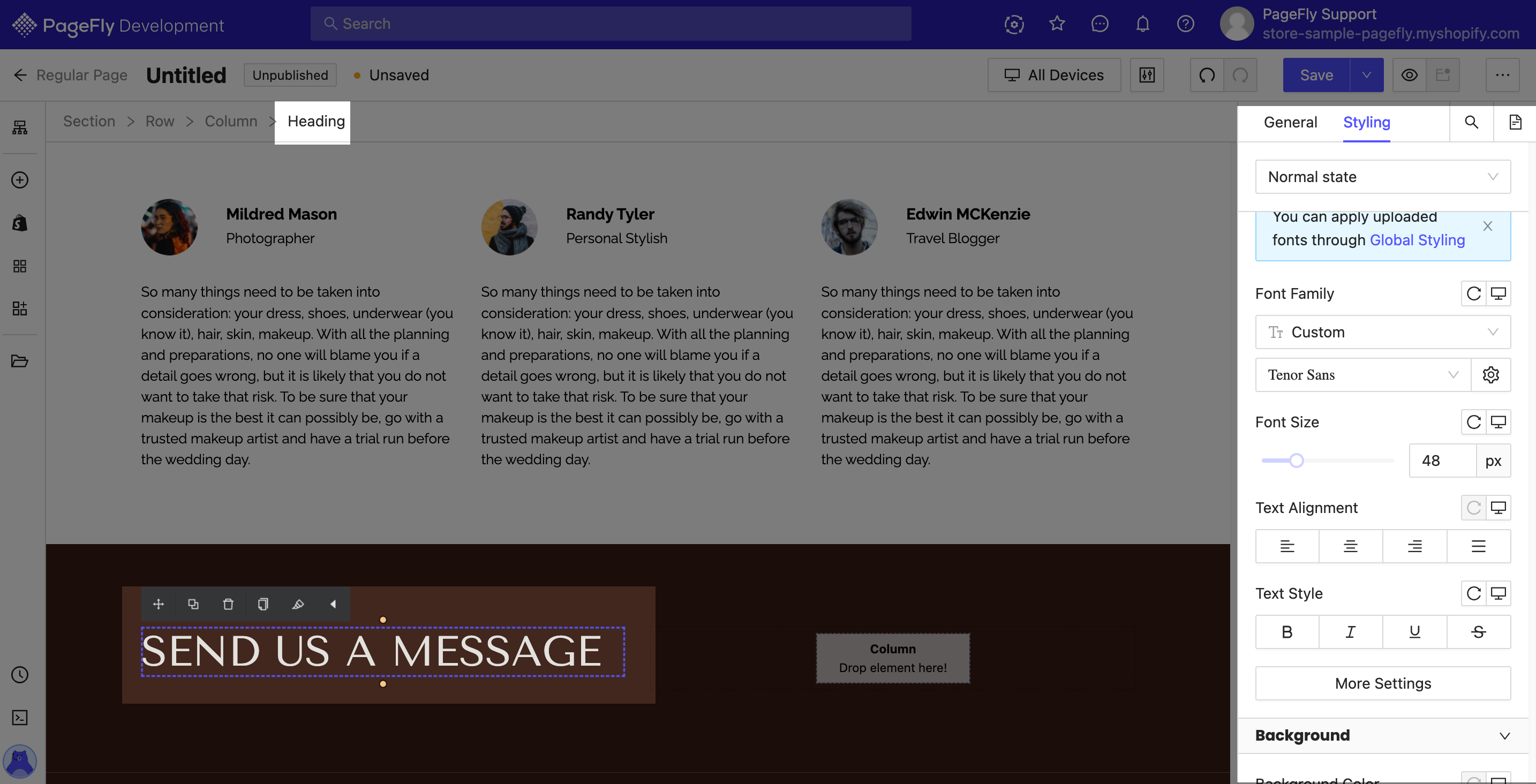 In the Element catalog, click on the Add Shopify element icon > add Contact form element into the second column. You can see the result here: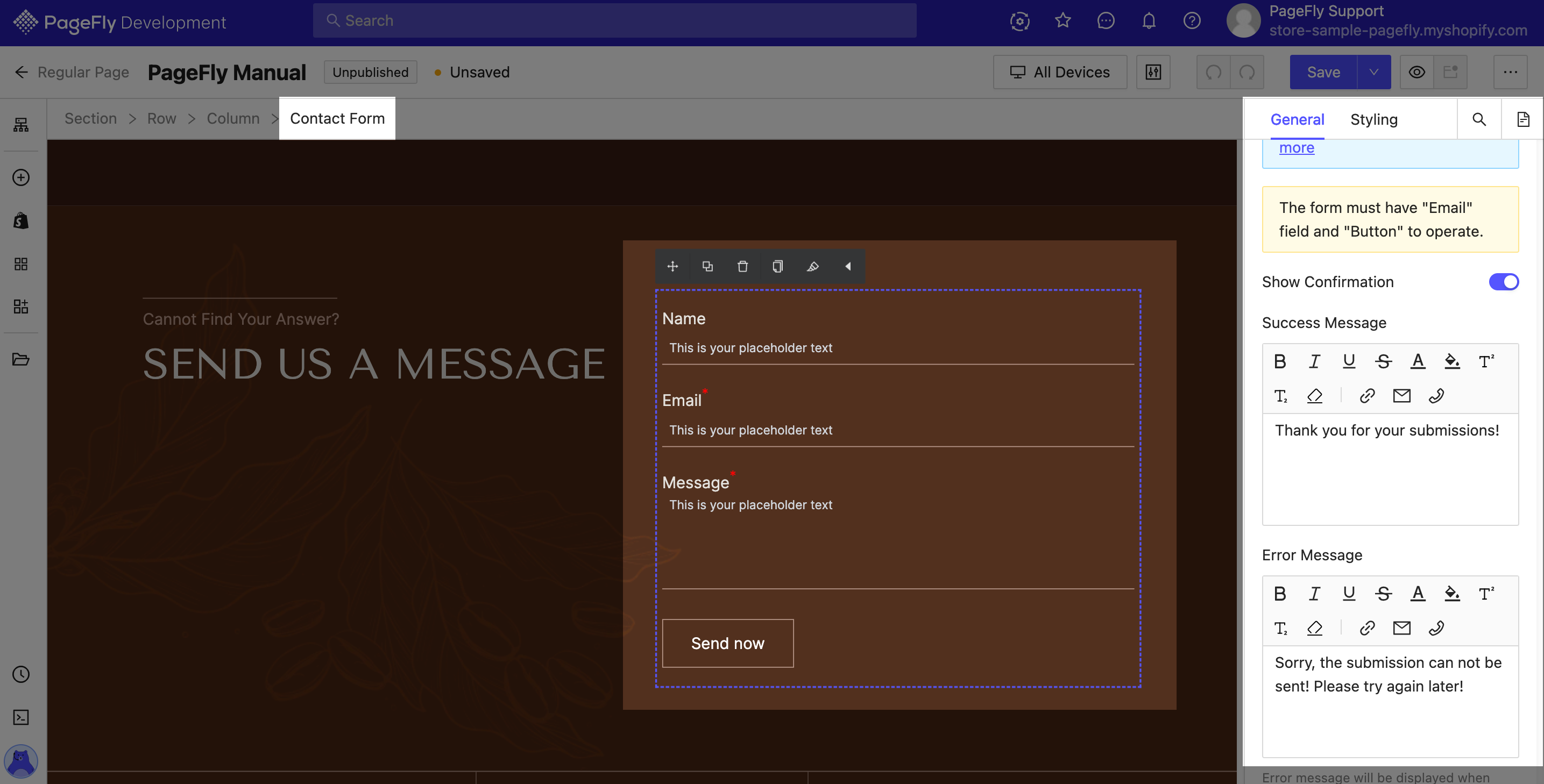 Step 5: Save and Publish the page
After the page is done, click on the Save&Publish button and Live view to see the page in the live.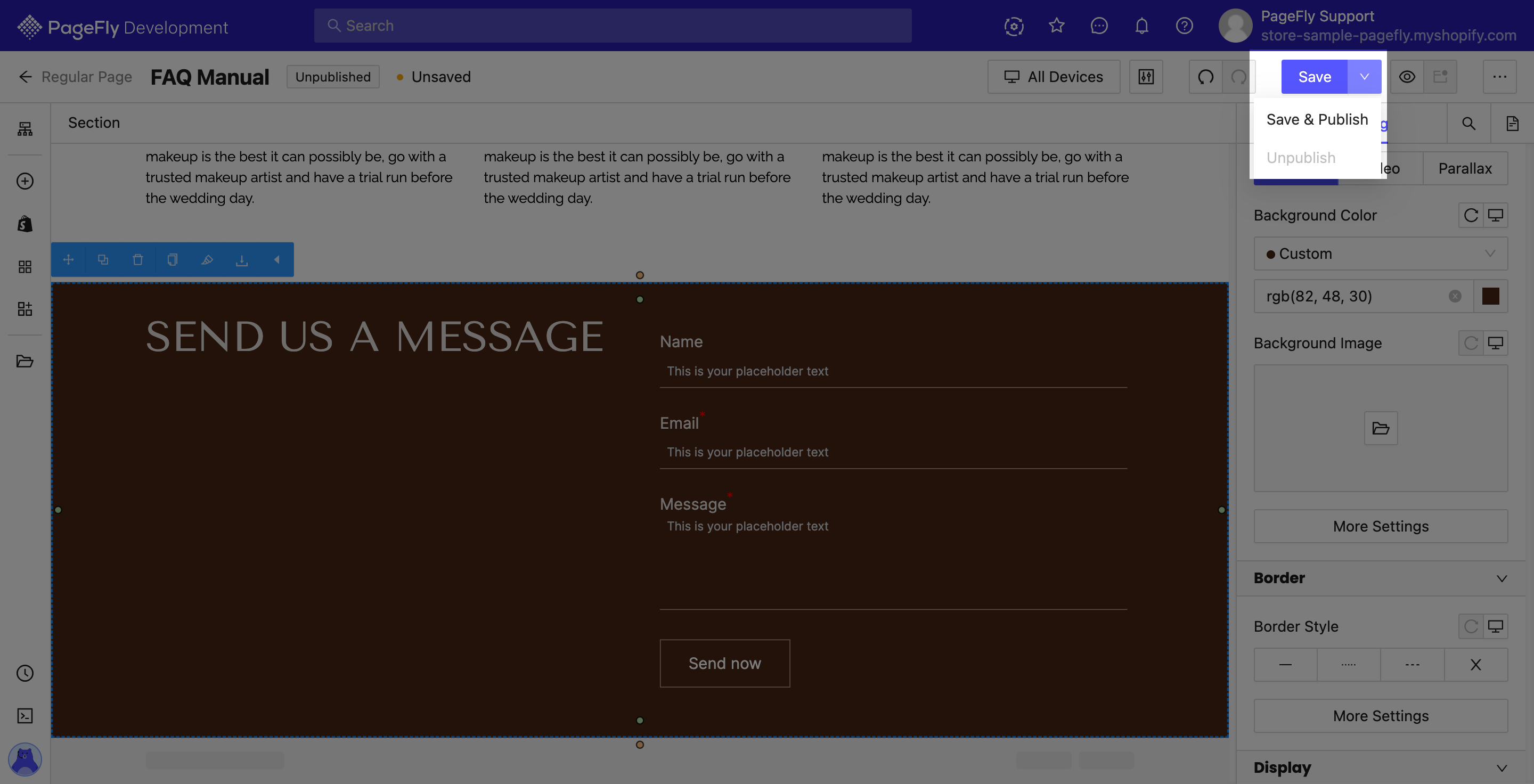 You can see the Live page as below: