In our latest version 3.18.0, PageFly is proud to announce the biggest update up to now, that is our New Pricing Plan. 
In the old versions, PageFly used to have FREE and Silver, Gold, Platinum Plans. However, from now on, your pricing plan will be calculated based on the number of pages you published.
How to switch to the new pricing model?
First, on your PageFly Dashboard, there will be a notification message which informs: "We are switching to usage-based pricing model to help you save more by only paying for what you actually use". Choose Switch Now if you want to.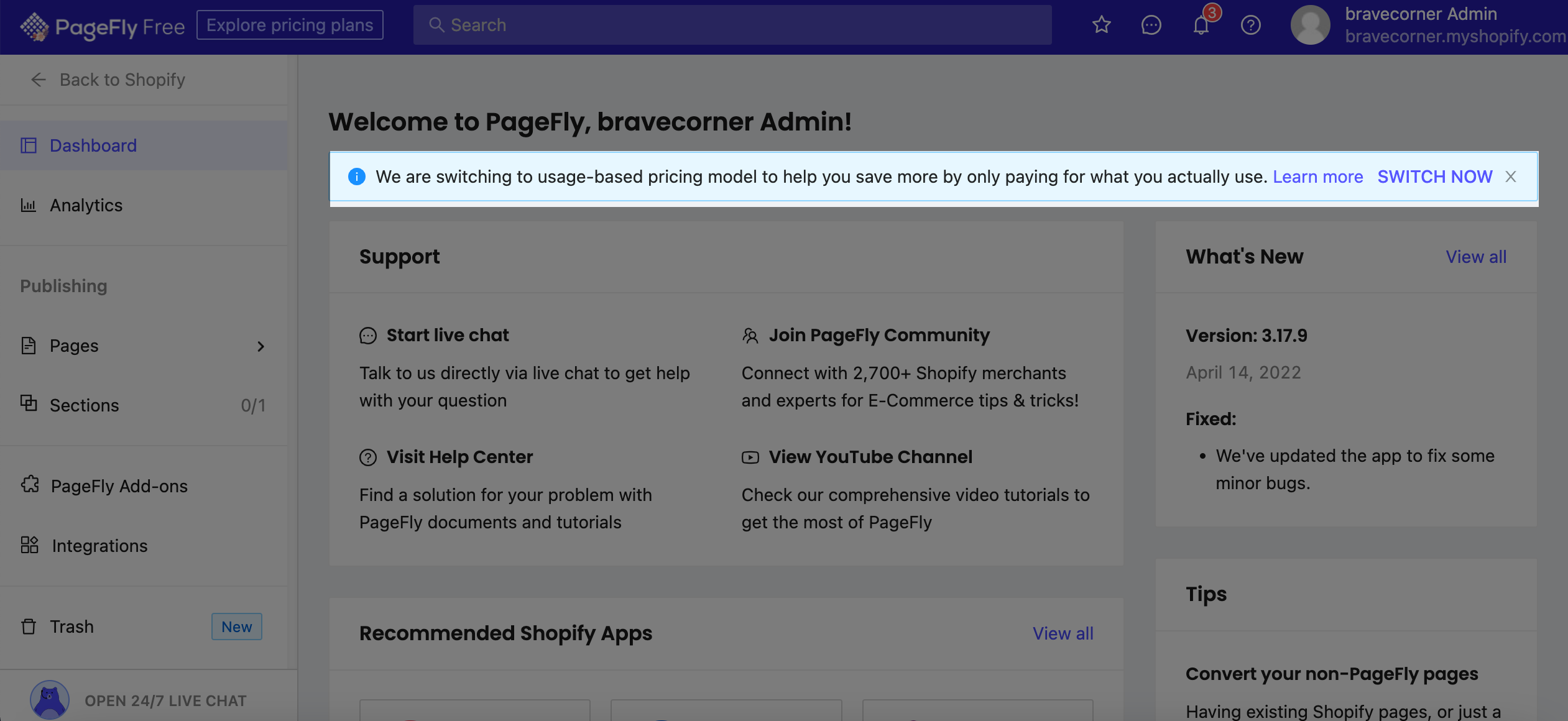 2. After choosing Switch Now, you will be directed to choose your plan.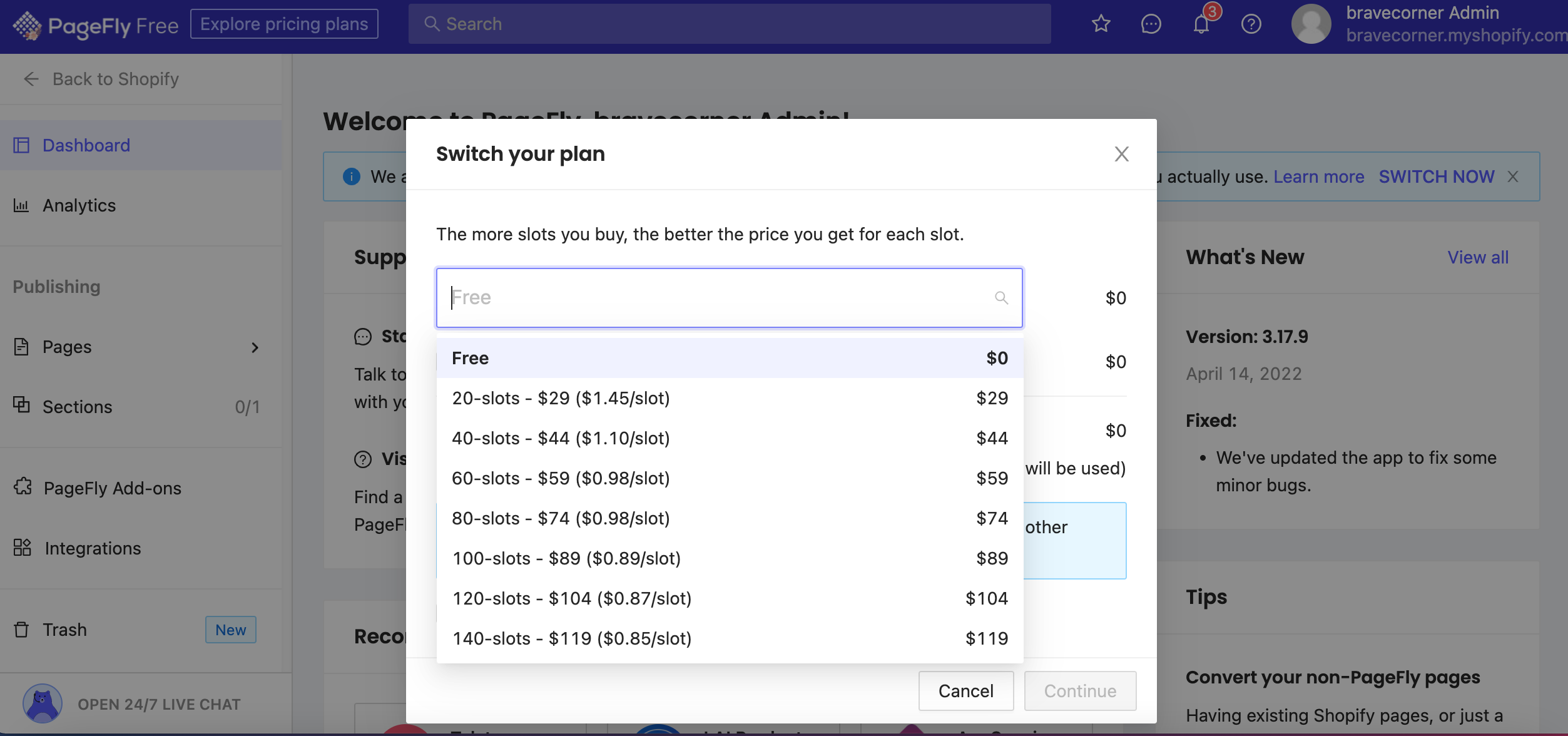 The pricing plan will be calculated as the published page you want. For example, if you want to publish 20 pages, choose plan 20 Slots. Each slot here means a published page. And each slot can be any page type: home page, product page, collection page, regular page.
The more slots you buy, the better price you get for each slot.
In addition, there is an add-on package for Unlimited Blog Post pages which costs 49 US$.
After choosing, the system will calculate your Total Monthly Recurring Charge > Mark "I understand what I'm doing > choose Continue > you will be directed to Payment.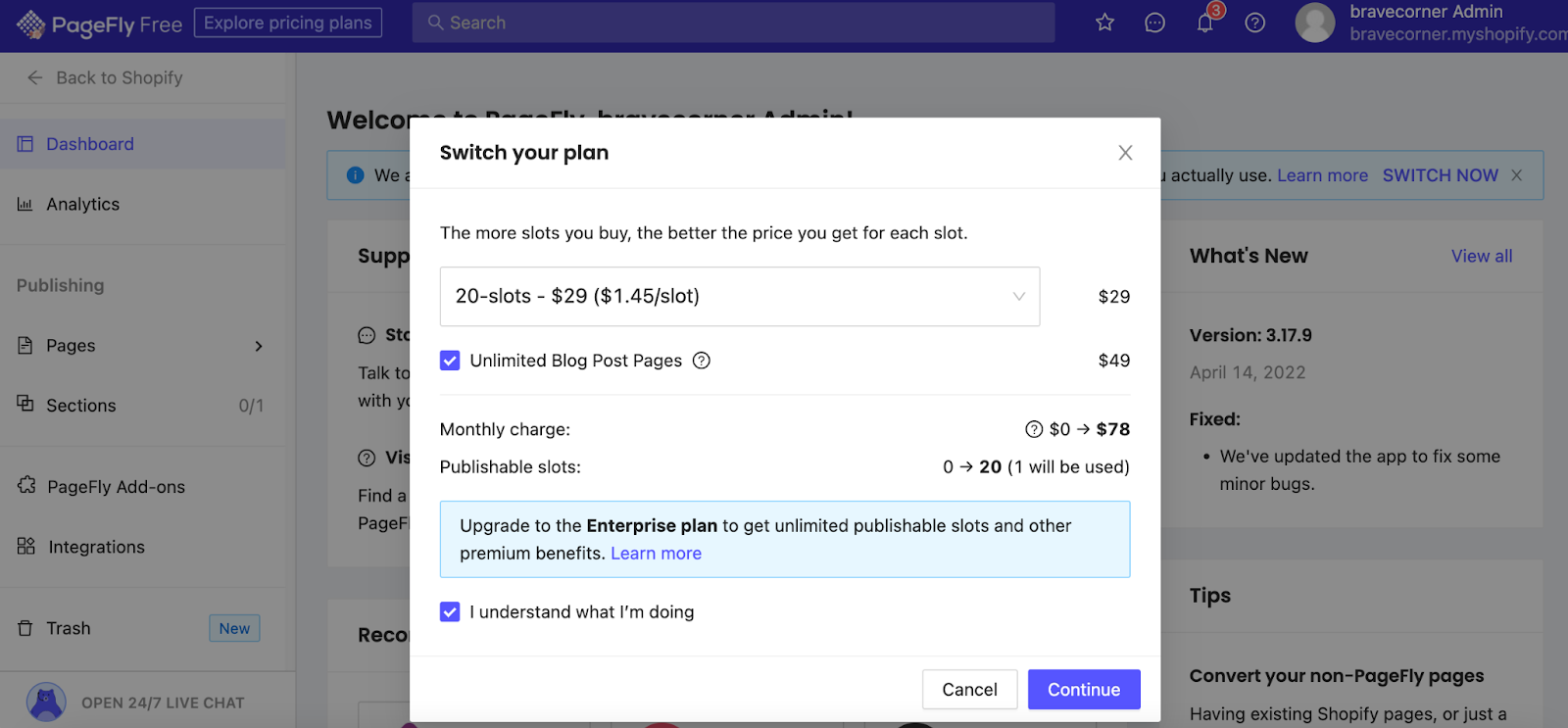 Highest priority plan: Enterprise
In this latest version, we have released the highest priority plan which is Enterprise. In the Switching Plan interface, you can choose to upgrade to Enterprise plan for unlimited perks.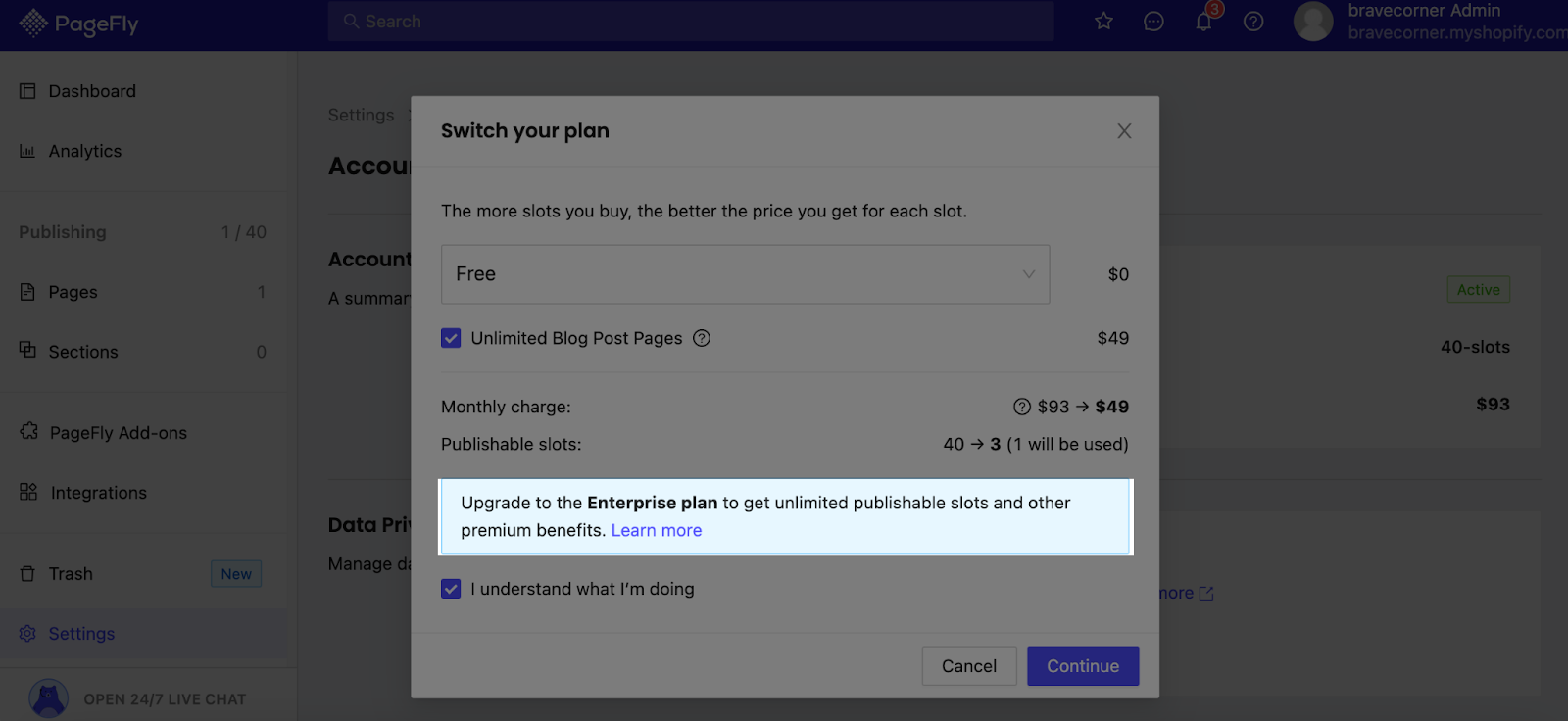 Enterprise is an ultimate package with exclusive services, including:
Unlimited publishable slots
Unlimited tracking sessions
Priority 24/7 live chat support
Exclusive call support line
More exclusive perks
Enterprise Plan costs 199 US$ monthly, however if you buy an annual package, you can save 17% which is equal to 165,8 US$ for Monthly Recurring Charge. 
All plans in the new pricing model
You can check this table for all information of new pricing model: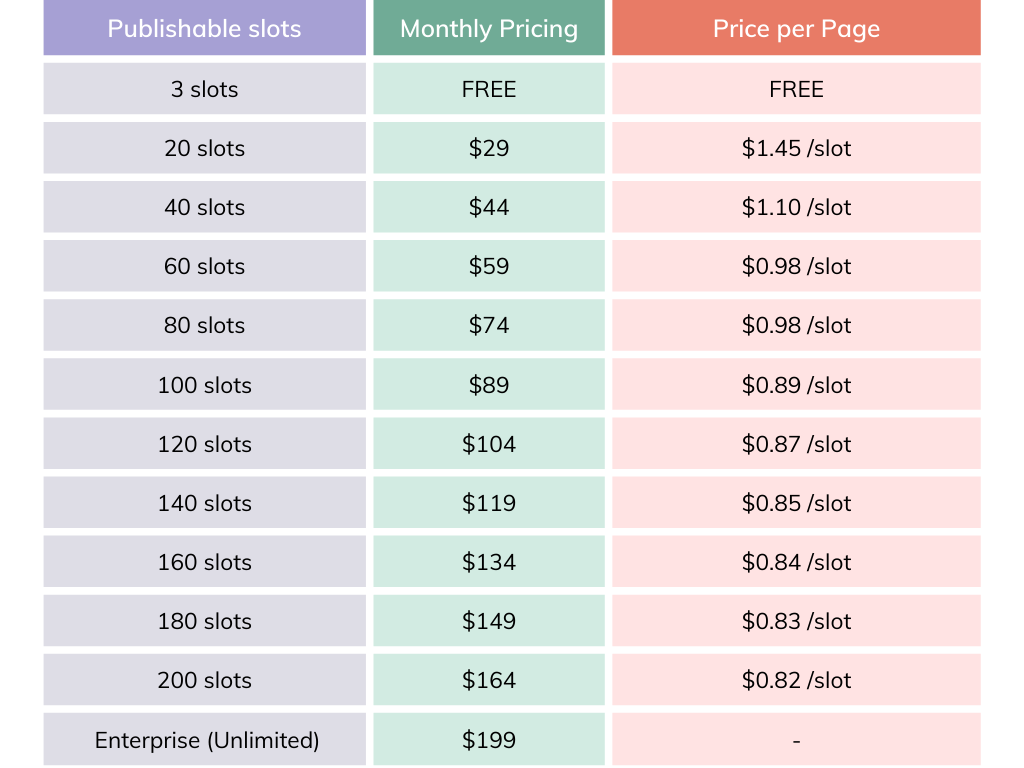 IMPORTANT NOTE:
The new pricing plan will be still charged as Monthly Recurring Charge
You can choose to Switch to new pricing model, OR not. This depends on your demand. However, please note that once you switch to new pricing model, you will not be able to go back to your old plans.
How to Downgrade?
After switching to new pricing model, if you want to downgrade:
First, you need to Unpublish your pages to the corresponding number of slots in the plan you want to downgrade to.
In the PageFly Dashboard, head to Settings > Account > Account Status > choose Switch Plan > Choose the Plan you want to downgrade > the system will re-calculate the Monthly Recurring Charge > click Continue to complete.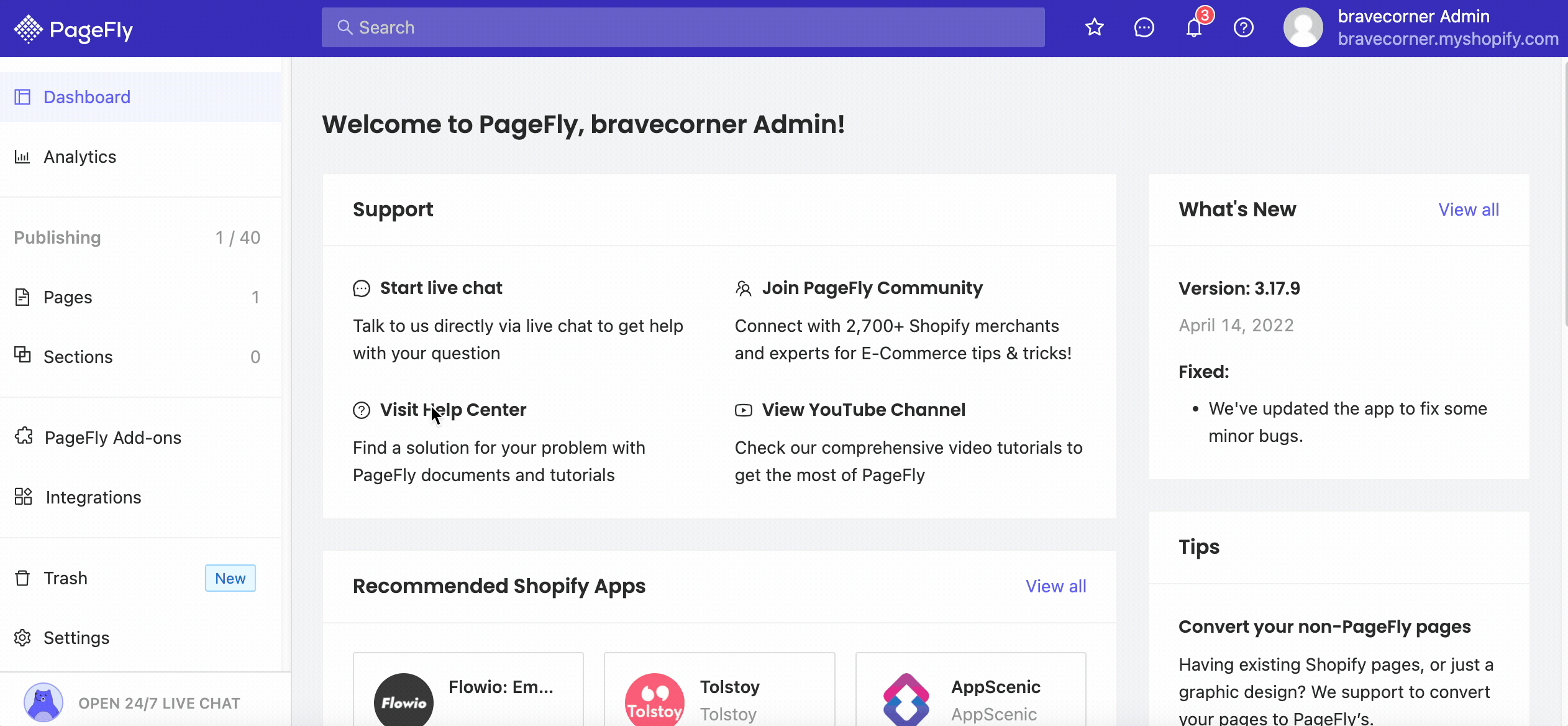 Frequently Asked Questions
What happens to users who are still using the old pricing plan?
For those who stay at the old pricing plan, nothing will change except that you will no longer have access to PageFly's Referral Program anymore.
      2. Is there a different price for certain page types?
No, there's no discrimination over the page price. No matter what page type you publish, it will count as one page. 
      3. Can I upgrade to the new pricing model if I'm not in the experimental group?
No you can't, this will be exclusively for that group
      4. What happens if I want to downgrade from paid slots to free?
If you want to downgrade, you'll have to unpublish your pages until there's only 3 slots left (which is the amount of slots allowed on the FREE version)
      5. If I subscribe to the unlimited blog pages, will my blog pages be counted in my slots?
No, your blog pages will be counted separately from your published page slots.
     6. Can I go back to the old pricing after switching to the new one?
No, once you've switched to the new pricing model, you can't revert back to the old one.
If you have further questions, please join our community. This community is exclusive for PageFly merchants only with our experts and merchants from all around the world!