Even if you've already joined or are about to getting started with the PageFly Affiliate program, the critical thing you need to know is our Golden Rules of Affiliate Practices. Understanding what you should do and shouldn't do to avoid getting removed or banned during your affiliate journey is necessary to becoming a successful affiliate partner.
Remember: This is just a PageFly Affiliate practices guideline. Partners should always be aware of the commercial legal requirements in their own respective countries or regions.
1. Messaging and Claims
As a PageFly Affiliate, it is crucially important to know how to deliver messages and claims to your audience. PageFly DOESN'T ALLOW any misleading or deceptive statements or promises of merchants' instant success and profits. Your Partner account will be deactivated temporarily or permanently if PageFly finds any evidence of false or misleading messaging.
Here's a little guide:
Don't say…
"Generate 10x the traffic to your store in one month with PageFly"
"Earn $10K in one month with the PageFly sales landing page"
"Make hundreds of sales with PageFly pages overnight"
"My PageFly tutorial can help you boost your conversion rate 5 times in just a week"
Do say…
"How PageFly helped me create a landing page to boost sales"
"This course can help you build a high-converting store with PageFly"
"Customize your product page in PageFly for better sales"
Important: This rule is applied to any form of messaging that you use: blogs, YouTube videos and thumbnails, vlogs, courses, webinars, reviews and comparisons, etc.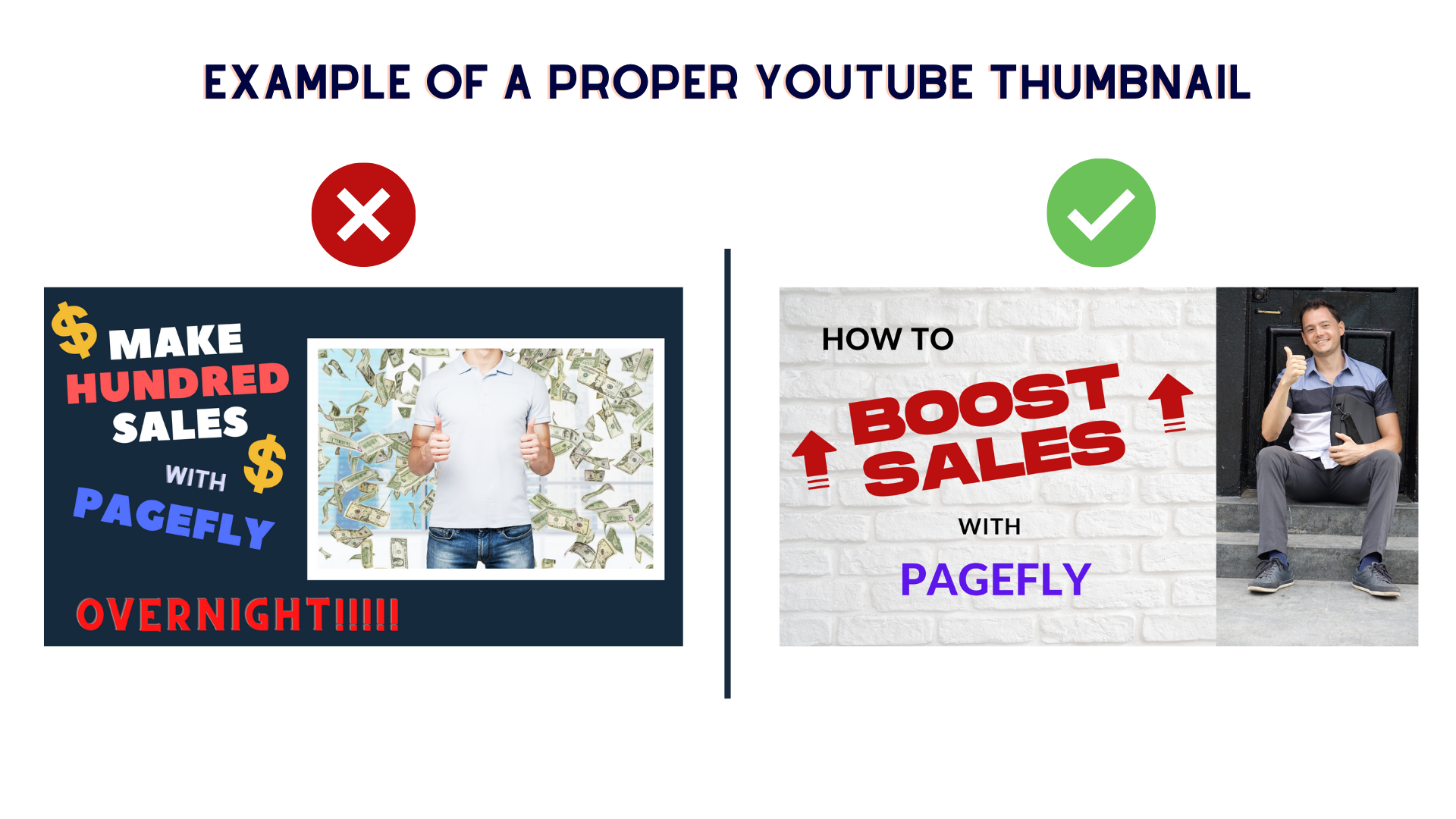 2. Trademark and Advertising
You're NOT PERMITTED to bid on our trademark term "PageFly" (including equivalent words such as "Pagefly", "pagefly", "Page fly", "Page Fly" or any other similar forms that can cause ambiguity) for paid advertising on Google or other platforms.
If an average visitor can't distinguish your channel from the official PageFly one, then you need to make changes or risk having your Partner account terminated. You need to fully disclose that you are an affiliate and follow the other disclosure guidelines:
For US-based partners: Follow the Federal Trade Commission and read the Endorsement Guides to ensure that your messages are compliant.
For other partners: Follow the disclosure guidelines or equivalent official instructions in your countries or regions.
It's important to provide your audience with a clear and distinguishable statement as a PageFly Affiliate:
For vlogs and YouTube videos: In your video, you should make a disclosure long and clear enough for viewers to recognize and understand your affiliation, whether that's by speaking or showing text or headlines (mentioning the relationship in the description is not enough).
For social media (Facebook, Twitter, Instagram, blog posts, etc.): There is no specific format, but disclosing that you are an affiliate is required. For Twitter or Instagram, having a hashtag "#sponsored" or "#ad" is acceptable.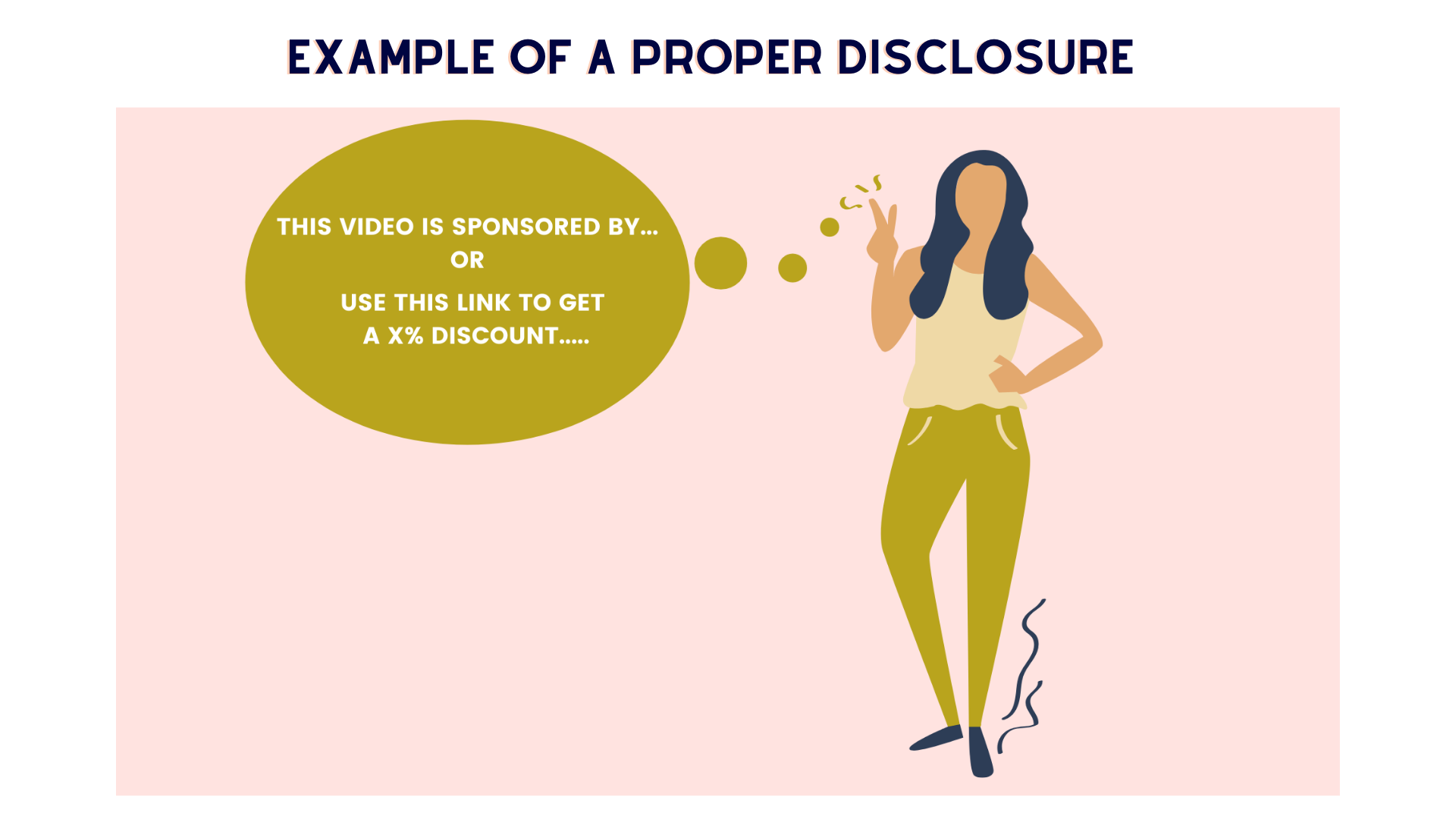 3. Using Affiliate Links
As an affiliate, your job is to create bridges that connect your audience with PageFly. Those bridges are affiliate links, and they need to be used properly.
Don't: Run paid ads to drive traffic directly to PageFly affiliate links.
Do: Get your audience and prospects to visit your channel to understand YOU and your business first, then direct them to PageFly channels with affiliate links.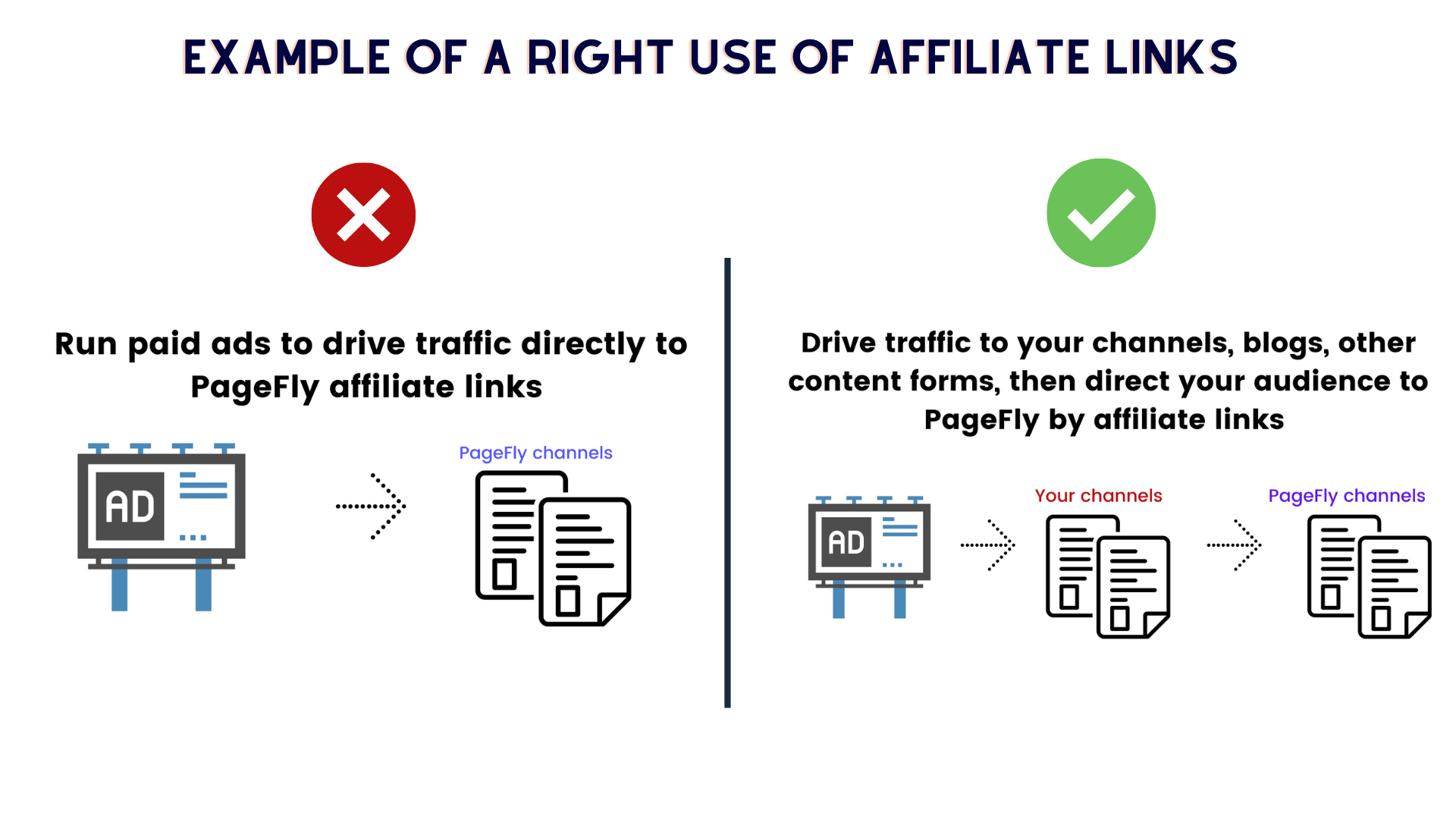 Tips: When using PageFly affiliate links, you can refer both to pagefly.io and other domains such as help.pagefly.io / academy.pagefly.io / pagefly.io/pricings, etc.
4. Brand Guidelines Compliance
You must use PageFly brand assets correctly and in a way that will not violate the guidelines below. There is no tolerance for any breach of the guidelines; your permission or license to use our brand assets will be immediately terminated.
Using our PageFly logo for videos, thumbnails, banners, and designs must follow our Brand Guidelines.
DOWNLOAD PAGEFLY BRAND GUIDELINES
Your use of PageFly brand assets must not be used in a way that will damage PageFly's reputation or goodwill.
Please DO NOT use PageFly brand assets for any illegal activities that can be harmful or misleading to our image.
PageFly will benefit from any goodwill that stems from your use of our brand assets, and you will not take any action against the ownership of our brand assets.
5.Tips for PageFly Affiliate Practices
The tips listed below are some of the specific activities that you can include or mention in your content for better affiliate practices:
Utilize PageFly templates in your tutorials, blog topics, or in other related content.
Educate your audience about the PageFly Free plan and how merchants can benefit from its features.
Use testimonials through our merchants' reviews on the Shopify App Store.
You can download the PDF file of PageFly Affiliate Golden Rules here: