This article will help you to understand more about the PageFly Dashboard. The PageFly dashboard looks like the image below.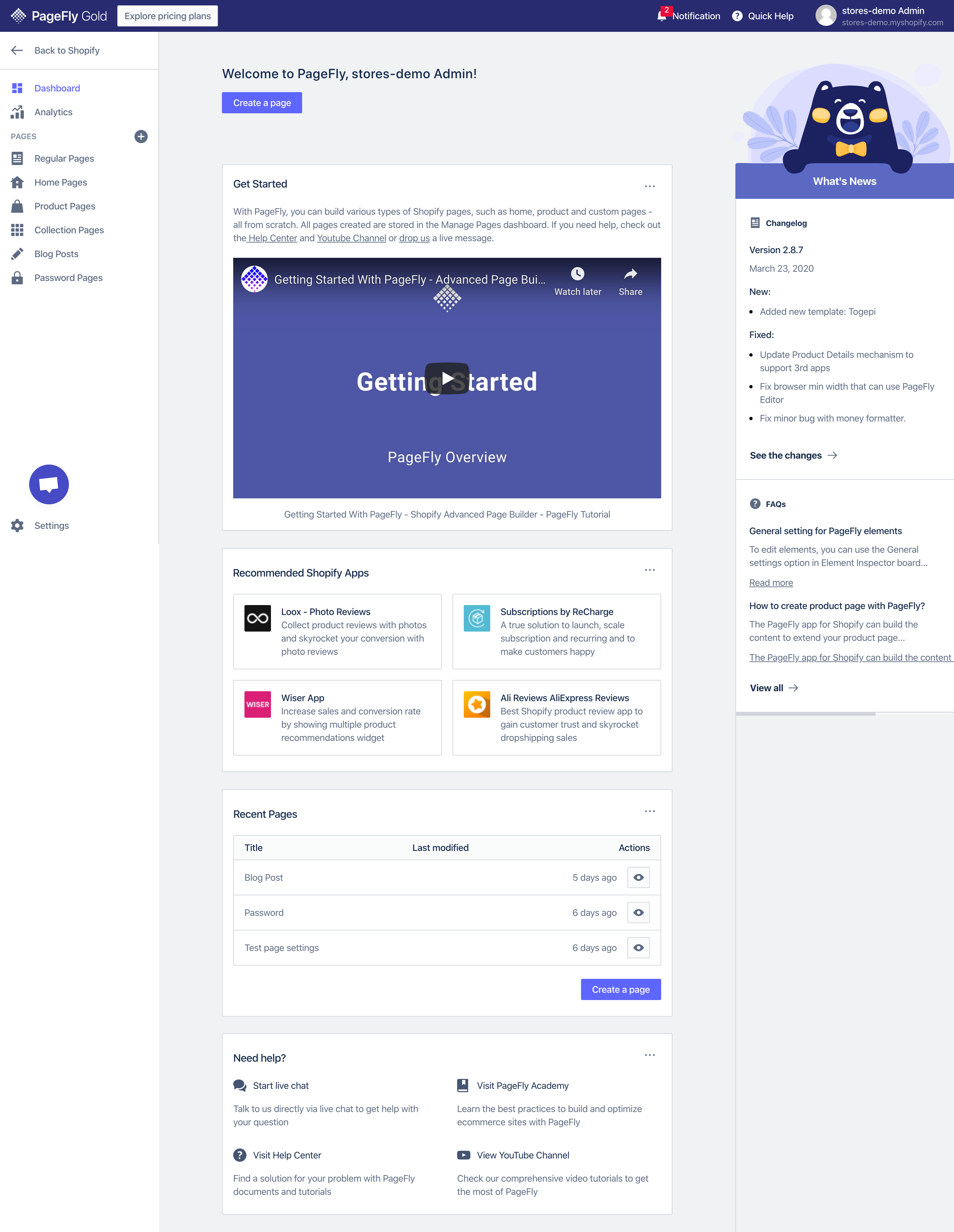 Welcome message
This message welcomes the store owner and details the current PageFly plan that you are using.
Under this message is the Create a Page button. When you press this button, a Page Settings modal will open, you can create a new page here. You can read more about the Page Settings modal here.
Getting started
This section introduces you to the 'How to create a new page with PageFly' video tutorial.
Recent pages
You can see the recent pages you open along with the time they were last modified. Click on the eye icon to see those pages.
Need Help?
There are 4 methods listed in this section if you have any questions or need help.
Start live chat
Click this option if you want to chat directly with the PageFly Support team. The live chat window is on the left of the screen.
They can help you navigate your page and support you when you're having issues.
Visit Help Center
You can find solutions to all your problems and find many useful documents and articles in the PageFly Help Center.
Send a support ticket
Choose this option if you want to submit a support ticket and we will be in touch within 12 hours to help you out. You will be brought to the Submit Ticket page. And then, fill in your information and message here.
Join PageFly FB group
If you also get the latest news about PageFly and connect with other app users, click this option to join the official PageFly Facebook group.
What's news
Changelog
You can see the latest PageFly version here with the corresponding time of release. Moreover, all the new changes are listed here, for example, new elements and so on. In addition, the problems that users often have fixed by PageFly team are also indicated here.
If you want to see all the previous versions with the corresponding released time, new changes and fixed problems, then click the See the changes option.
FAQs
There are two representative articles here:
To read the details of these articles, click the corresponding Read more buttons.
You can visit the Help Center to read more articles by choosing the View all option.