In this article, you will learn about the top sections of PageFly editor page.
Top bar
The top bar includes all useful links to Submit a support ticket, Live chat, Help center, Dashboard, Manage account.
Key features in the top bar:
| | |
| --- | --- |
| Name | Description |
| 1 – Go to Dashboard | Click to go back to the PageFly app dashboard |
| 2 – Free Service | Click to submit a form for free service request (only available for PREMIUM user) |
| 3 – DOC | Click to check on PageFly documentations at our help center |
| 4 – Submit Ticket | Click to go to the Help Center and submit a new support ticket |
| 5 – Live Chat | Click to open the live chat window to start or continue a conversation with PageFly support agents |
| 6 – Management | Links to your Account setting, Page list, Log out, PageFly's help center and Facebook group |
Menu bar
Menu bar includes settings for your Page Title, Website SEO and Save option.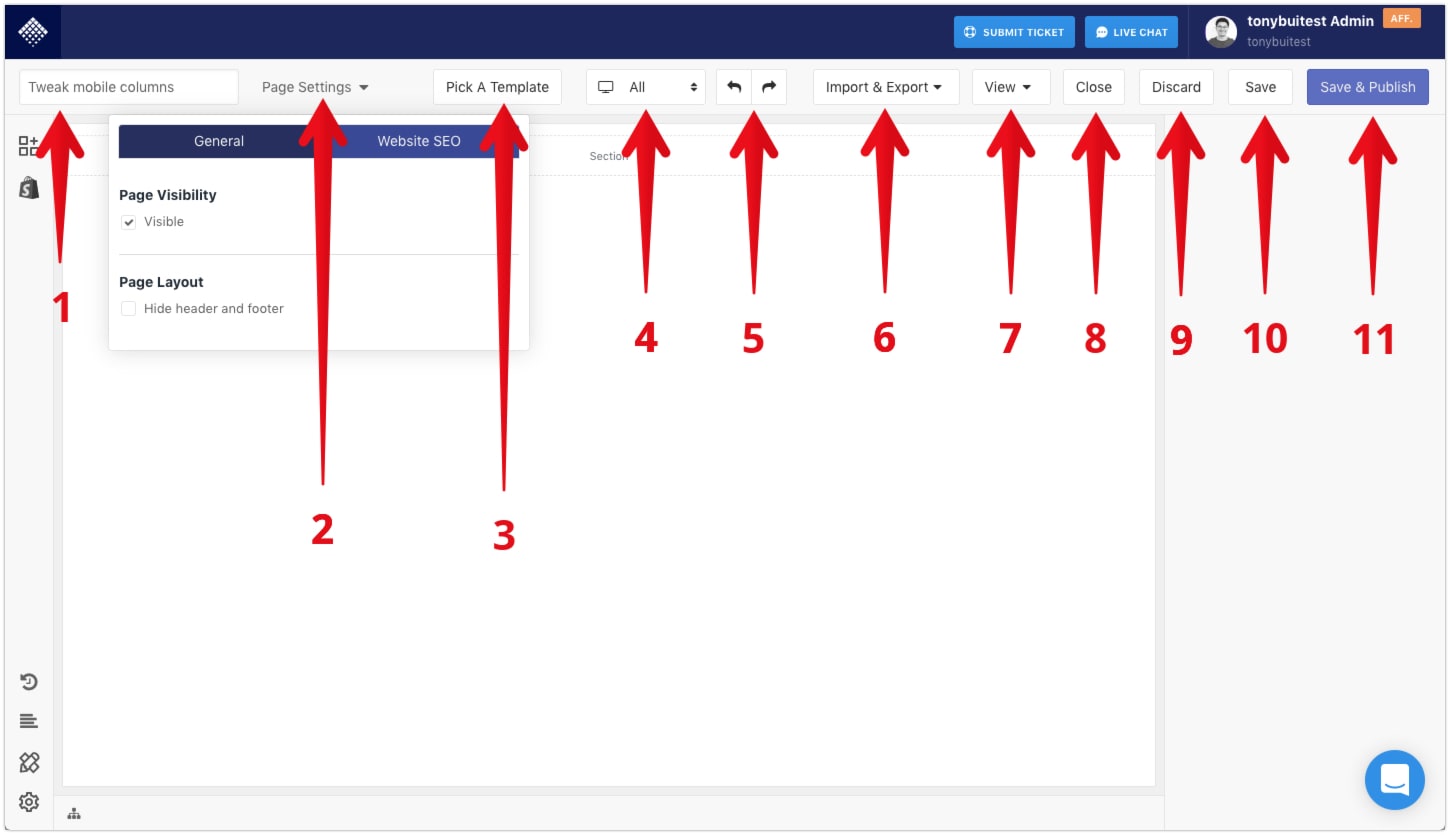 Key features in the menu bar:
Name
Description
1 – Enter Page Title

Enter the page name. This name will be displayed in your PageFly

Manage pages

dashboard

2 – Page Settings

General

Website SEO

For more details please scroll down to the bottom of this page.

3 – Pick A Template

Click to open the Template Library. PageFly support 40+ page templates. Note that if you choose another template while editing your page, all the current content on that page will be gone.

4 – Device Switcher

Click to choose the device screen you want to see or customize the design layout on (default mode is All, you can choose Laptop, Tablet, or Mobile)

5 – Undo and Redo

Click Undo to erases the last change done to the page reverting it to an older state. Redo reverses the undo or advances the page to a more current state

6 – Import & Export

Import or export the the current page in JSON format file. Use this feature to migrate the page from one store to another one.

7 – View

Preview

: see the preview of your page. Note that some page elements must use data from Shopify (product variants, product list other, etc) and can only be fully displayed on live page but not in this mode.

Live page

: see the live version of the current page.

8 – Close

Click to close without save and back to PageFly

Manage pages

dashboard

9 – Discard

Click to remove all unsaved changes on the current page

10 – Save

Click to save all changes to the page without publishing

11 – Save & Publish

Save the page and synchronize it to your Shopify store
Page Settings
As you can see the page settings have two tabs: General and Website SEO.
General
Depending on the type of your page (Home, Product, Regular, Blog, Collection, Password) the settings might be different.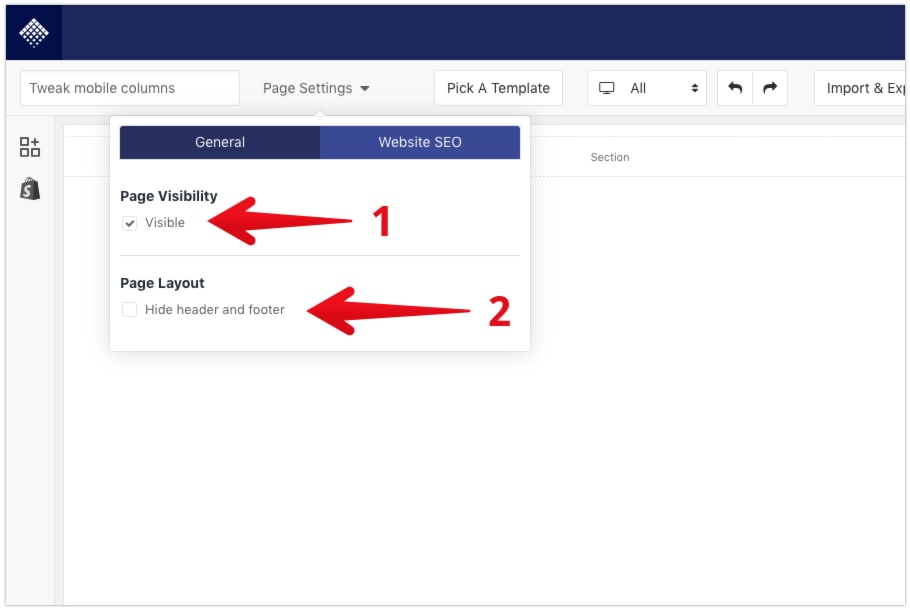 Key features in the General tab:
| | |
| --- | --- |
| Name | Description |
| 1 – Visible | Publish or Unpublish your page to your Shopify store |
| 2 – Hide header and footer | Hide or display the header and footer of your page |
Website SEO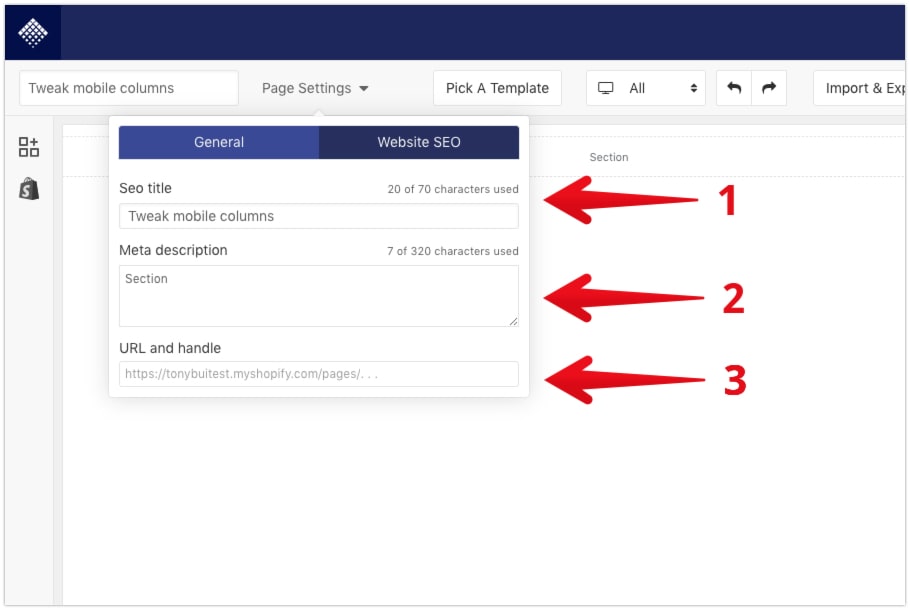 Key features in the Website SEO tab:
| | |
| --- | --- |
| Name | Description |
| 1 – SEO Title | The page title for onsite search engine optimization. |
| 2 – Meta description | Describe what is your page about in here. One of onsite search engine optimization technique. |
| 3 – URL and handle | Customize your page URL to make it SEO friendly. |