In this article, you will learn about another Shopify element namely Product list.
About Product list element
Product list is designed to present a list of products on your page in order to increase conversion rate. You can use Product list element to up-sell and cross-sell your products. Imagine you are selling a product and you would like to sell the other products in the same collection, this element will empower your sales.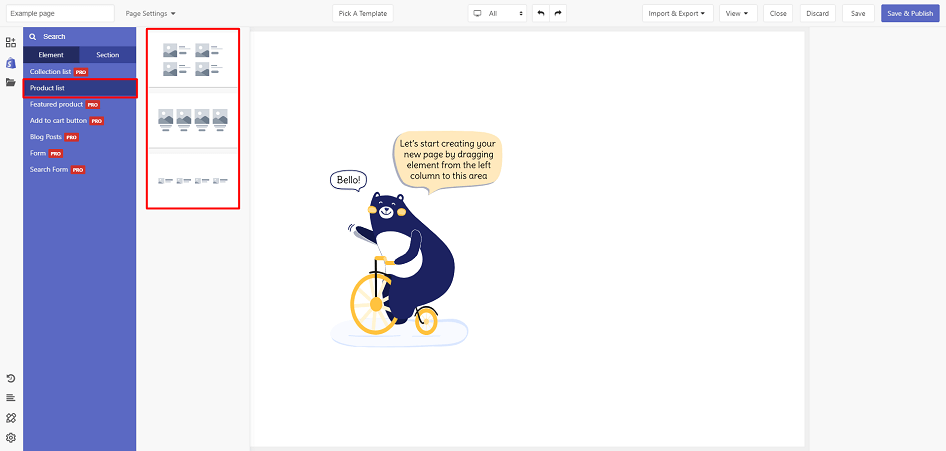 Product list element comes with multiple variations covering most needs but we will continue to add more variations to help you save time.
Drag a variation to the layout and see how it can be configured.
Product list element configuration
Product list element comes with plenty of parameters allowing you to fine-tune content appearance reaching the best possible conversion rate.
Select the element in the layout to see its parameters.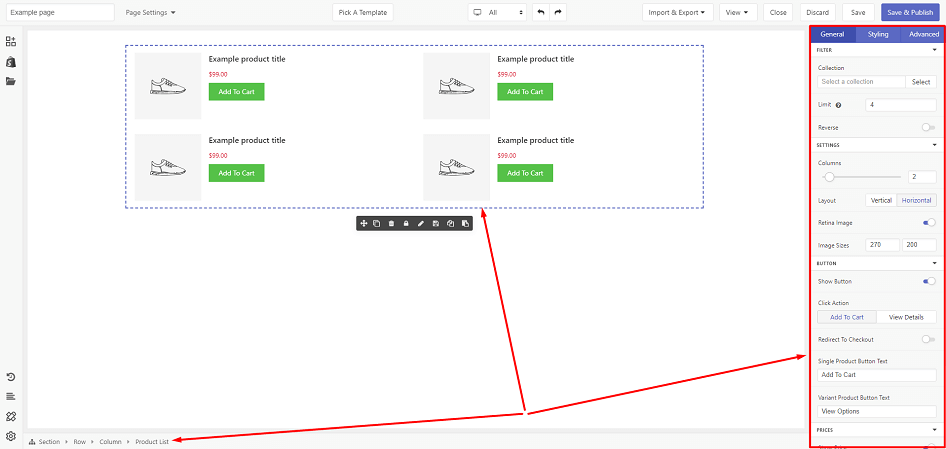 The parameters in General tab are specific for this element.
The parameters in Styling and Advanced tabs are common for all elements. Read about them in this article.
FILTERS
Collection

Select the collection that you want to display in the product list. The order of your products on the

live

version of the page will be based on the order of the products in your

Shopify Admin

>

Products

>

Collections

> The collection that you picked

Limit

The number of products you want to show

Reverse

Reverse the order of the products that you choose to show in

Limit

field. This will not reverse the order of all the products in the collection you picked

SETTINGS
Columns

The number of columns you want to show in the product list

Layout

There are two options:

Vertical: The product featured image will display above the product description

Horizontal: The product featured image will display beside the product description

Retina Image

Enable / Disable the retina display for image

Image Size

Featured image size. Unit is pixel, left input is the width and right is the height

BUTTON
Show Button

Show / Hide "Add To Cart" button. All the below fields are hidden if this is disabled

Click Action

There are two options for this:

Add To Cart: when this option is selected, the following settings displayed:

Redirect to Checkout, Single Product Button Text, Variant Product Button Text

View Details: when this option is selected, the following setting is displayed:

View Details Button Text

Redirect To Checkout

Enable / Disable function to redirect to checkout page after "Add To Cart" is clicked

Single Product Button Text

Text of normal product button

Variant Product Button Text

Text of variant product button

View Details Button Text

Text of view details button

PRICES
Show Price

Show / Hide product price. All the below fields are hidden if this is disabled

Show Compare at Price

Show / Hide sales price

Regular Price

Select the color of the regular price

Compare At Price

Select the color of

the sale price

Font Size

Font size of the prices