In this article, you will learn about one of the Shopify elements available in PageFly called Form.
About Form element
Form element is designed to help you easily gather customer information to increase conversion rate. You can use Form element to build the contact form, to collect the leads for executing the email marketing campaigns, etc.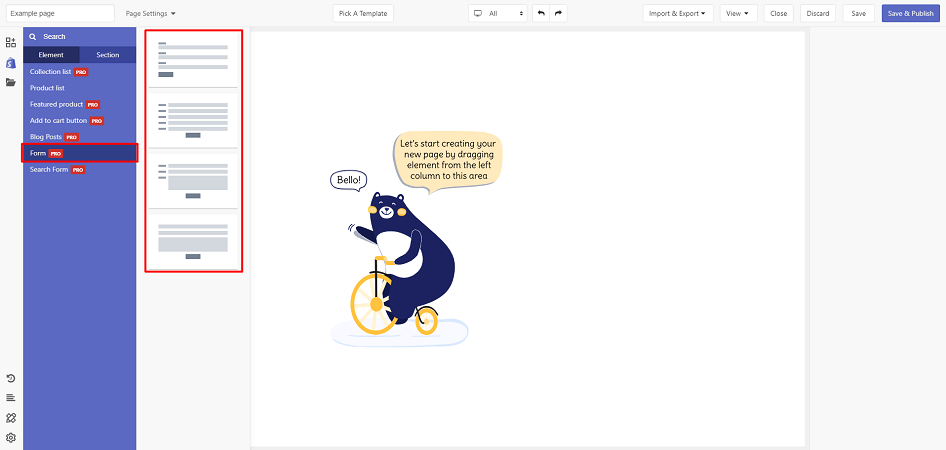 Form element comes with multiple variations covering most of the needs but we will continue to add more variations to help you save time.
Drag a variation to layout and see how it can be configured.
Form element configuration
Form element comes with plenty of parameters allowing you to fine-tune content appearance reaching the best possible conversion rate.
Select the element in layout to see its parameters.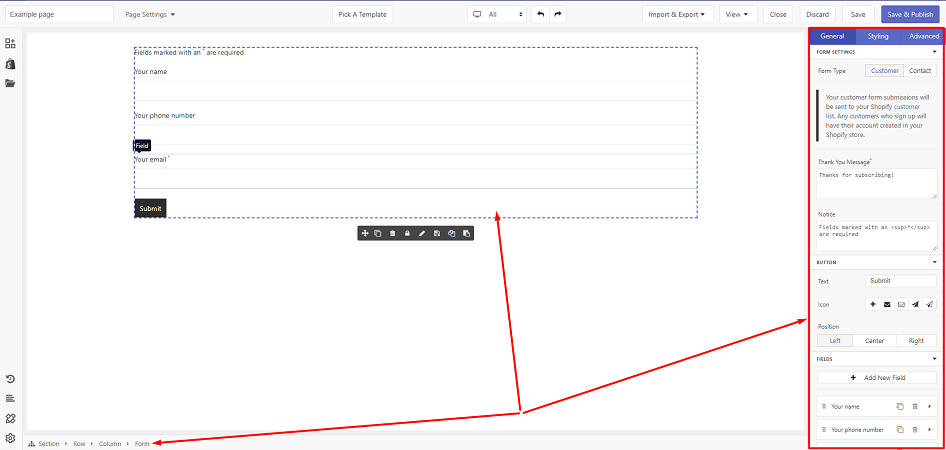 The parameters in General tab are specific for this element.
The parameters in Styling and Advanced tabs are common for all elements. Read about them in this article.
FORM SETTINGS
Form Type

Customer: Choose this form if you want to collect customer email

Contact: Just a contact form

Thank You Message

The text displayed after a successful form submission

Notice

Add a notice above the form

BUTTON
Text

The text of the submit button

Icon

Add an icon beside the text on the button

Position

Position for the "Submit" button in the form

FIELDS
Add New Field

Click to add a new field to the form

Field 1

Field 2

Field 3

etc

Field Name: The label of that field

Field Type: There are 12 field types (

First Name,

Last Name, Email, Single Line Text, Multiple Line Text, Number, Select, Radio, Checkbox, Data picker, Data local, Time picker

)

Placeholder: Text to shown in the input box until your visitor start typing.

Label Position: Position of the label with respect to the input box

Require: Make this field a required field
Nested elements configuration
Please notice that Form element is the combination of multiple fields. You can select and configure it independently.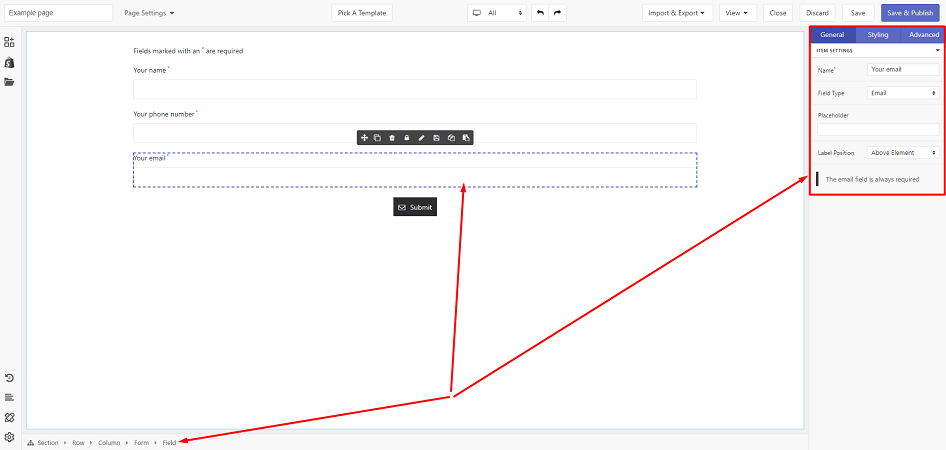 ITEM SETTINGS
Name

The label of that field

Field Type

There are 12 field types (

First Name,

Last Name, Email, Single Line Text, Multiple Line Text, Number, Select, Radio, Checkbox, Data picker, Data local, Time picker

)

Placeholder

Text to shown in the input box until your visitor start typing.

Label Position

Position of the label with respect to the input box

Require

Make this field a required field