In this article, you will learn about one of the most frequently used Shopify elements called Featured product.
About Featured product element
Featured product element is designed so you can put any product from your Shopify store on the page to increase conversion rate. You can use the Featured product element to promote your product on any non-product page or to use it on a product page if you do not like the Shopify default product element on the product page.
Note: Using this element on a Product page type will result in two product elements on your page; the Shopify product element is removable with custom code that you can get from contacting us on live support since the code is different depends on the store's current theme.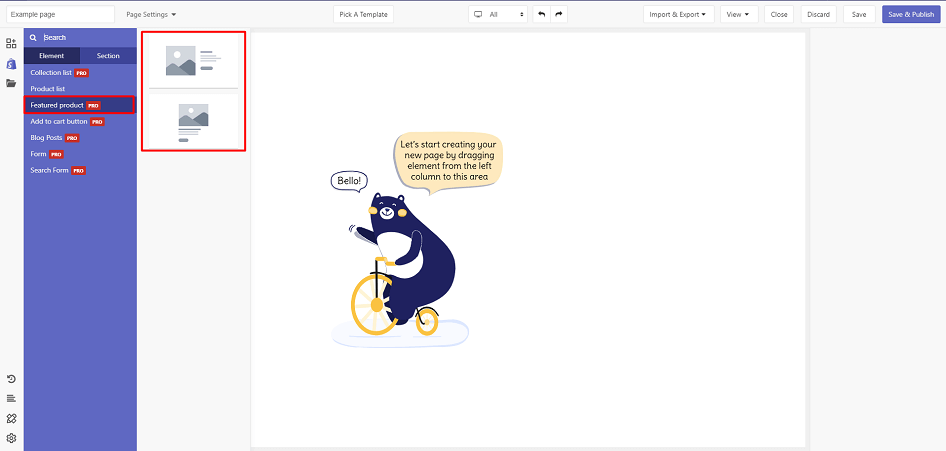 Featured product element comes with two common variations but we will continue to add more variations to help you save time.
Drag a variation to layout and see how it can be configured.
Featured product element configuration
Featured product element comes with plenty of parameters allowing you to fine-tune content appearance reaching the best possible conversion rate.
Select the element in layout to see its parameters.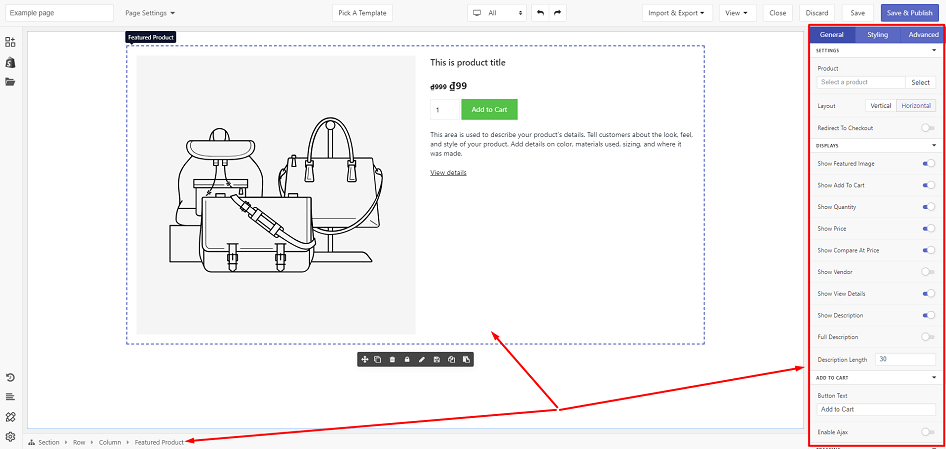 The parameters in General tab are specific for this element.
The parameters in Styling and Advanced tabs are common for all elements. Read about them in this article.
SETTINGS
Product Select

Choose a product to display

Layout

This is a radio field. Only one option can be selected at a time:

Vertical: The product featured image will display above the product description

Horizontal: The product featured image will display beside the product description

Redirect To Checkout

Enable / Disable function to redirect to checkout page after "Add To Cart" button is clicked

DISPLAY
Show Featured Image

Show / Hide the product image

Show Add To Cart

Show / Hide Add to cart button

Show Quantity

Show / Hide product quantity. This field is hidden if "Show Add To Cart" is disabled.

Show Price

Show / Hide product price

Show Compare At Price

Show / Hide sale price. This field is hidden if "Show Price" is disabled.

Show Vendor

Show / Hide product vendor

Show View Details

Show / Hide view detail button

Show Description

Show / Hide product description

Full Description

Show / Hide full product description. This field is hidden if "Show Description" is disabled.

Description Length

Length of the product description. This field is hidden if "Show Description" is disabled.

ADD TO CART
Button Text

Button text: Text of Add to cart button. This field is hidden if "Show Add To Cart" is disabled.

Enable Ajax

Enable / Disable function to redirect to cart page after "Add To Cart" button is clicked.

TRACKING
Google Analytics

Fire Google Analytics event to your Google Analytics account

Pixel Event

Fire Facebook pixel events