Images are one of the most useful visual clues to convey your ideas to your website's viewers. In this article, you will learn how to use Image element.
About Image element
Image element allows you to add images to your page in order to increase conversion rate. You can use this element to make a banner image for your page, to add additional visual proof for something you are talking about on the page or to simply decorate your page.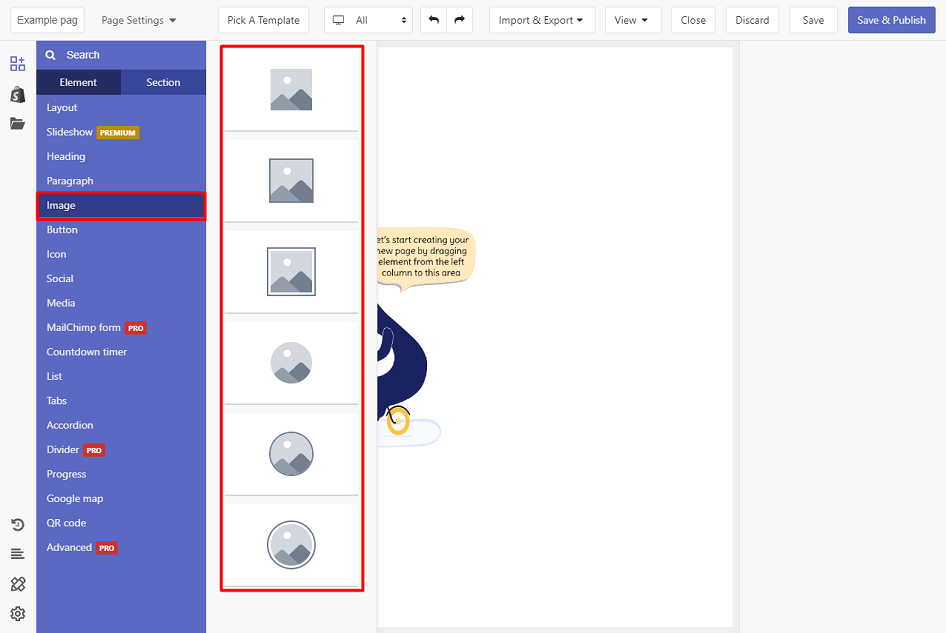 By default, Image element comes with six variations, in different shapes and border styles. However, just bear in mind that we are going to add more variants so that you will have more options to choose from.
Drag a variation to the layout and see how it can be configured.
Image element configuration
Image element comes with plenty of parameters of settings allowing you to fine-tune content appearance reaching the best possible conversion rate.
Select the element in the layout to see its parameters.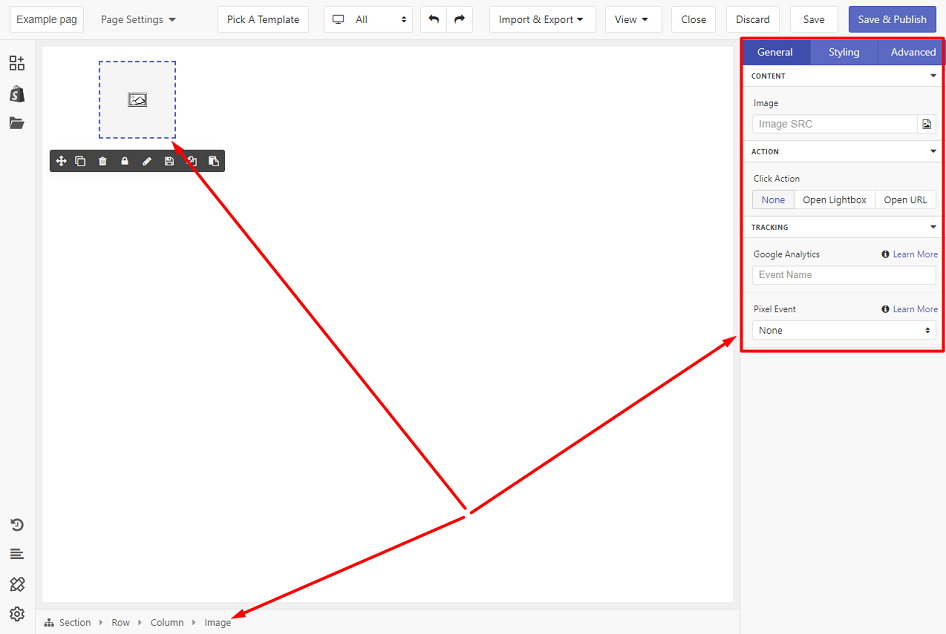 The parameters in General tab are specific for this element.
The parameters in Styling and Advanced tabs are common for all elements. Read about them in this article.
CONTENT
Image

Input the source link for the image to be displayed or click on the icon to upload the image to PageFly server.

Alt Text

Alt Text for your image, this is displayed when your visitors hover on the image and related to Search Engine Optimization (SEO)

Title Text

Title text for your image, this is related to Search Engine Optimization (SEO)

Horizontal Align

Choose a way to align the image horizontally

Vertical Align

Choose a way to align the image vertically

Image Size

Choose a fixed size for the image

Image Style

Border radius of the image

ACTION
Click Action

This comes with three options:

None: when the image is clicked, nothing will happen

Open lightbox: a lightbox will be opened when the image is clicked

Open URL: clicking on the image will redirect your visitor to the given URL

TRACKING
Google Analytics

Fire the custom Google Analytics event name

Pixel Event

Fire predefined Facebook pixel event (search, view content, add to cart…)