In this article, you will learn about The EU General Data Protection Regulation (GDPR) sets a new standard for how companies use and protect EU citizens' data. It took effect on May 2018. For PageFly, we worked hard to prepare for GDPR, to ensure that we fulfil its obligations and maintain our transparency about customer messaging and how we use data. We've now completed our GDPR readiness program.
What is GDPR?
The EU General Data Protection Regulation ("GDPR") is a comprehensive data protection law that came into effect on May 25, 2018. It replaced existing EU Data Protection law to strengthen the protection of "personal data" and the rights of the individual. It's a single set of rules which governs the processing and monitoring of EU data.
Does it affect me?
Yes, most likely. If you are in the EU, you should be aware of this law to better protect your information and data. If you hold or process the data of any person in the EU, the GDPR will apply to you, whether you're based in the EU or not.
How PageFly prepared for GDPR?
Our teams worked hard to ensure we comply with GDPR. This was a massive overhaul of processes and data models to make sure we met our legal obligations and did the best thing for our customers while still letting us move fast and build great results.
Here are the main things we did to ensure we set up ourselves and our customers to meet GDPR obligations:
We give first notice
Once you install PageFly, a modal will pop up to ask for your permission to track and store your data.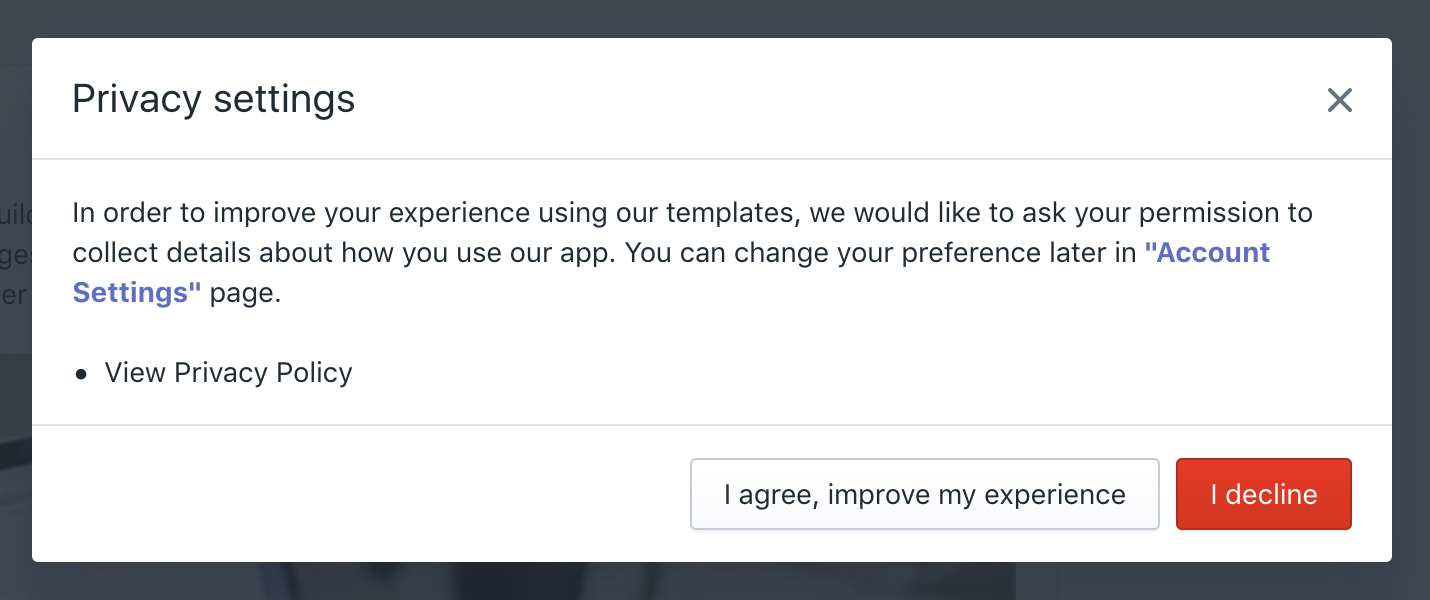 We built new features
Our teams built the necessary features to enable our customers to easily meet their GDPR obligations.  
PageFly can help you meet your data portability requirements for GDPR, you can easily export all of your data and/or permanently delete all data linked to your account.
We leave an option for the user to opt out of data storage after uninstallation, to ensure we comply with GDPR.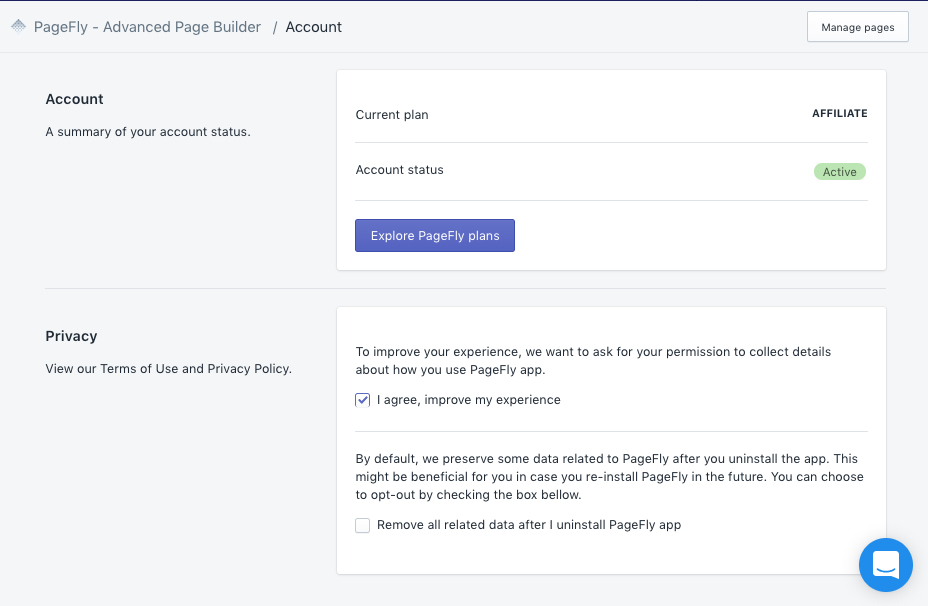 We updated our Privacy Policy
Strong data protection commitments are a key part of GDPR's requirements. Our updated privacy policy shares our privacy commitments and sets out the terms for PageFly and our customers to meet GDPR requirements.
How we track data?
Below is a full list of data we track:
Standard personal Information the app collects
Store ID

Store plan

Name of store owner

Email

Domain (URL)

City

ZIP code

Country

Phone number

Payment history of the store with PageFly

Usage information and habit of PageFly (including but not limited to: date of installation, upgrade, uninstallation, payment and contact via Live Chat window)
Additionally, we collect the following types of personal information from you and/or your customers once you have installed PageFly:
Web sessions inside PageFly

Device used

Browser information (type, version, language)

Operating system

Involvement in any PageFly campaign

Referral URL inside PageFly

Twitter address

LinkedIn address
Information about you and others who may access PageFly on behalf of your store, such as your name, address, email address, phone number, and billing information.
We collect personal information directly from the relevant individual, through your Shopify account, or using the following technologies: "Cookies" are data files that are placed on your device or computer and often include an anonymous unique identifier. For more information about cookies, and how to disable cookies, visit http://www.allaboutcookies.org. "Log files" track actions occurring on the Site, and collect data including your IP address, browser type, Internet service provider, referring/exit pages, and date/time stamps. "Web beacons," "tags," and "pixels" are electronic files used to record information about how you browse the Site.
Information about you and others who use the PageFly on behalf of your store, including but not limited to app activities.
We collect in-app behavioral activities directly from the app user, through your use of the app.
How we store data?
Your data is encrypted and stored in our database. No one is allowed to access the database except for the CEO, the system admin and the lead developer.
The data stored is never distributed, promoted or used for illegal and/or personal purposes.
Questions?
Feel free to reach out to us in the Messenger if you have any questions about GDPR – we'd be happy to chat with you about it.