In this article, you will learn about the Countdown timer element and how to use it.
About Countdown timer element
The Countdown Timer element allows you to add a real-time countdown to your page. You can use this element to create a sense of urgency for the products, or simply give an estimated time of arrival on a special occasion (spring sale, new collection, store opening, etc) of your business. Ultimately, it can boost conversion rate like magic!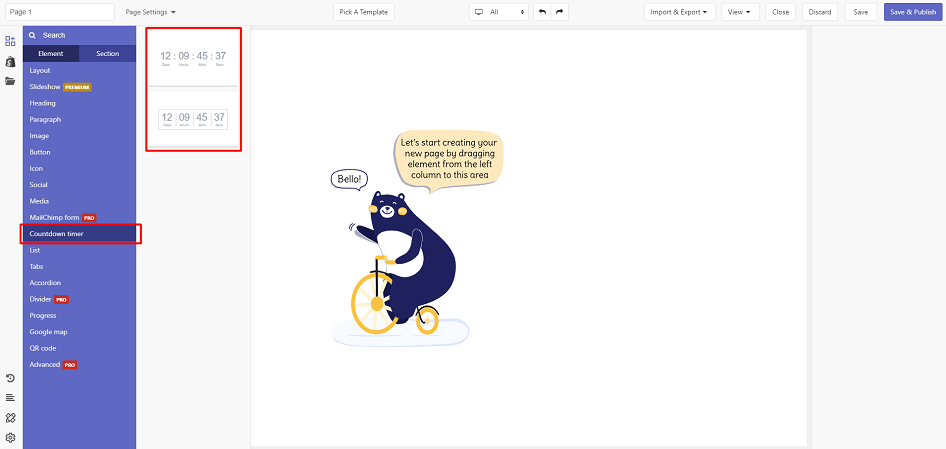 Countdown timer element comes with 2 variations. We will add more variations in the future.
Let's drag a variation to layout and see how to set it up.
Countdown timer configuration
Countdown timer element comes with plenty of variables, letting you edit its design to achieve better conversion rate.
To start off, select the element in layout to see its parameters.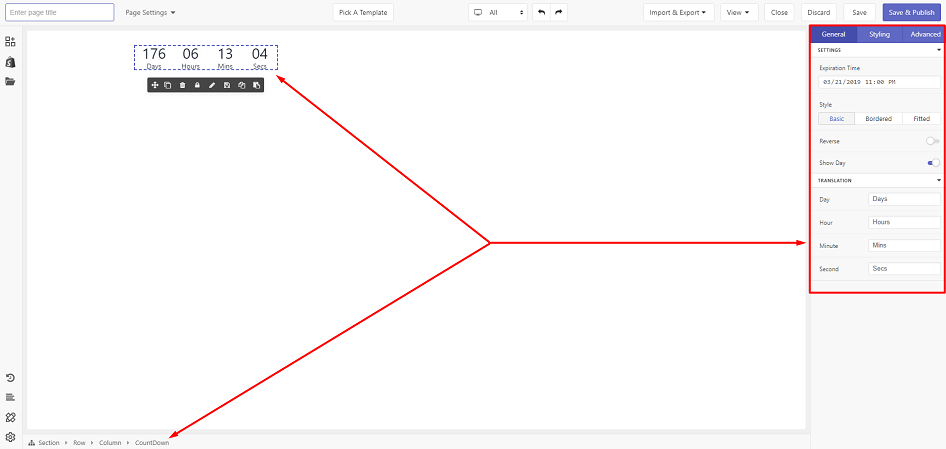 While the variables in the General tab are specific for this element, variables in Styling and Advanced tabs are common for all elements.
Read about the Styling and Advanced tabs in this article.
SETTINGS
Expiration Time

Enter the date and time that you want the countdown to be expired on.

Format: month / day / year, hour:minute

Style

Choose the style preset you want for the countdown timer (Basic, Bordered or Fitted)

Reverse

Enable this option will switch the place of the text (Days, Hours, Mins, Secs) and the number.

Show Day

Choose to show or hide the number of Days on the timer.

TRANSLATION
Day

The text you want to be used for "Day"

Hour

The text you want to be used for "Hour"

Minute

The text you want to be used for "Minute"

Second

The text you want to be used for "Second"
Important
PageFly doesn't support the evergreen feature because we believe that it is unethical to create a false sense of scarcity and urgency for buyers.
Note: Evergreen countdown timer is a timer that can reset itself every time the page is loaded instead of expiring after a fixed amount of time.